If you are my mother or close friend, you can probably feel free to skip on over this post.
As for anyone else who doesn't already know me — oh, hey there. What's up?
The goals of this blog are twofold:
1) To keep people informed about our happenings since we are moving about 5,167 miles away, and to thus make me feel like less of an asshole when I forget to respond to texts, Facebook messages and e-mails.
2) To share our experiences in traveling with little kids throughout Europe (and beyond, eventually) for the next several years. I'd like to be able to let others know what worked for us, what didn't and what you should OH MY GOD NEVER TRY TO DO BECAUSE IT WAS THE WORST. Let's not pretend there won't be a few of those, ok?
Speaking of advice, I'd really appreciate it if any of you veteran travelers would share any advice of yours with me. Pretty please?
Anyway, those who know me know that I'm a little bit obsessed with travel. I have my parents to thank for that (more on that at a later date). My inbox is basically half airfare alerts from various websites showing me can't-miss deals, and my Facebook newsfeed isn't a whole lot better (sorry to everyone I tag in all those good deal posts …). Before we found out that we were moving to Sicily, I was driving Chris a bit nuts with my constant e-mails about where should book our next trip. Thus far, we have only taken the kids on car trips to various beaches — learning a lot along the way! — though we were planning our first plane trip with them to New Orleans next month before this all happened. I was plotting to take the kids to Europe next spring, destination TBD based on wherever I found an incredible deal to a place we were interested in. Or even ones we weren't all that interested in — I once strongly considered a trip to a random country in Eastern Europe because we could have flown there for like $250 each. Chris was not impressed by my position that we'd actually be losing money by not taking a trip that cheap.
So, a little about us. Here's our cast of characters:
Chris: My husband. Best guy ever. His interests include video games, college basketball (go Hoosiers!), soccer, cycling, history, travel and being a human jungle gym for our kids every evening. We met at Indiana University through mutual friends and alcohol, and have been together since the fall of 2007. We got married in September 2010, and still like each other =-)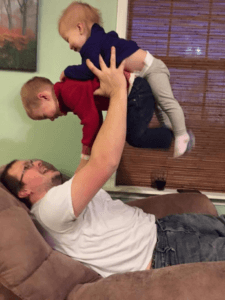 Owen: Our almost 4-year-old. Where to even start? He's hilarious, goofy, inventive, logical, insanely stubborn and is already starting to outsmart us in negotiations. He's a bit of a sensitive soul, and tends to worry about other people a lot. His imagination astonishes me. His interests include Star Wars, Wild Kratts, building things, dinosaurs, reading, swimming and Harry Potter (yesssss).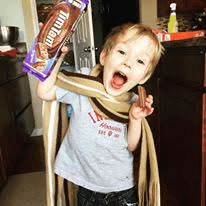 Fiona: Close enough to be called 2 now. Our wild child! Sweet Fi is always climbing things, hiding in cabinets and jumping off of shit. I have about six heart attacks a day because of her antics, but that's down from about 60 a day when she first started walking so that, I'd say, is progress. She is also the sweetest little girl in the world and always wants hugs and kisses and cuddles, and tells complete strangers "Hi! I'm Fiona!" whenever we go out. She's also a baby genius like her brother, in my humble opinion.

Moi: I grew up in the suburbs of Chicago, came to Indiana for school and stayed for love. Before kids, I was a newspaper reporter in southern Indiana for three years, followed by another 11 months at a different paper in our college town. When my son was born, I became a stay-at-home mom and freelance writer. Now I write for some local magazines, as well as doing some technical writing for a law firm (way more interesting than it sounds). As to the rest — I think you can probably gauge my crazy for yourself.