Today is our anniversary! Chris and I got married six years ago today (yes, Sept. 11) in Bolingbrook, Ill. I might be biased, but I think our wedding was a blast!

I love this photo because it looks like we think we are getting away with something. Like I'm going, 'ha! I tricked him into marrying me! No going back now, dude. MWHAHAHAHA.'
But one of the best parts of getting married, in my humble opinion, came the next day when we left for our honeymoon. (Minus the unfortunate morning when I was yelling at everyone because we couldn't find anything and I thought we were going to miss our plane and also drunk friends had been pounding on our hotel room door at like 4 a.m. … but I digress). We had never been on an actual vacation together, and Chris had never been outside of the country. We agreed that we wanted to go outside the U.S., and Chris wasn't interested in a beach vacation. So, Europe it was. We originally started by trying to cram about five cities in five countries into a less-than-two-week trip, then realized that was madness and settled on four. And then we realized again that that was crazy, and ultimately cut it down to three. Chris was dying to see London, I wanted to go to Paris for the romance factor and we both liked beer so Munich — for Oktoberfest! — it was.
I had traveled a fair bit by that point (Europe a couple times, Australia for a six-month study abroad, and a two-month trip to the Middle East and Asia that I'll talk about some other time) but Chris later confessed that he didn't necessarily see the appeal. I mean, he could see why traveling was cool and why people (including himself) would want to do it, but he didn't really get why I'd want to sink so much money (coughcoughASIATRIPcoughcough) into it.
Well, that trip pretty much changed that. And with it — I think it is fair to say — the course of our lives. Because he completely fell in love with travel as much as I already was, which led to his strong interest in moving overseas with his job "some day," which led to now.
We started in Paris, where we loved everything except the Louvre. That's sacrilege, I'm pretty sure, but we were over the place pretty quickly. Viva La Musee d'Orsay instead! Our hotel was one I had stayed in before, right near Notre Dame. We'd pick up some pastries and drinks from one of the local shops and have lunch in the park right next to it. Bliss.
I'd say we saw our fair share of sights, but one of my favorite things was visiting Sacre Coeur and just sitting on the steps for hours people watching and drinking beers we'd bought from guys walking around with cases of them. We laughed our asses off negotiating them down on price because for whatever reason we only had so much cash handy and didn't feel like hunting out an ATM. At one point we offered a euro and ten cents and the seller was so disgusted he took the Euro and refused the ten cents with a massive French eye roll. C'est la vie.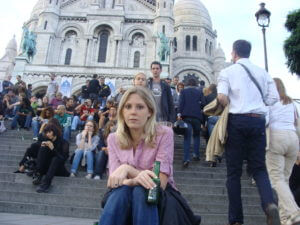 I'm not sure why I look vaguely pissed off in this picture. This was legit one of my favorite things.
From there, we went on to Munich where we took a day trip to see Neuschwanstein Castle, went to a soccer game (which ended 0-0, what the hell kind of sport is this?!) and made some friends at the hotel bar. We intended to attend the tapping of the first keg for Oktoberfest the next morning with these friends, and even — apparently — set up a wake up call at the front desk at some point in the evening. Regrettably, our buddies at the bar ended up buying a pretty fair number of shots that evening and when morning came at least one of us* wasn't in any shape to go. But, once we made it down there we had a blast! Dancing on tables, Ein Prosit, the works.
*It was me.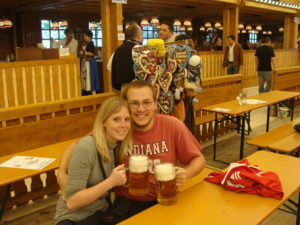 The thing we loved most about the Munich part of the trip was that we met so many people along the way. I'm even still friends with a few of them on Facebook (hi Emily! hi Natanael!). The places I've had the most fun are always the ones where I've put myself out there and talked to people the most. Something about traveling makes you want to latch on to anyone else who can understand you and start swapping stories.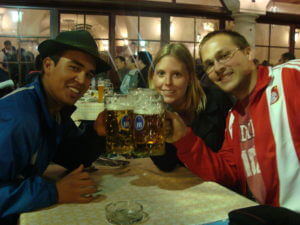 Us and our friend Natanael. Not pictured: the couples we hung with, which included a guy who looked EXACTLY like the dentist from The Hangover. I suspect he was less amused by this observation by round three of those beers.
Our final destination was London, which was lovely except for the sticker shock on everything.


Isn't he the handsomest??
Unfortunately, I did not find the entrance to Diagon Alley. Perhaps next trip?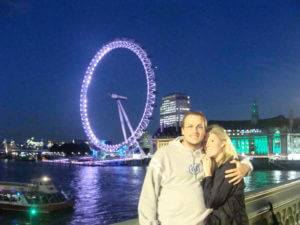 Plans are already in the works to go back to at least two of those locations next year, Paris and Munich for Oktoberfest next September. Speaking of which, we would love for family and friends to join us in Munich! Just mentioning again …