Things that we should have done before coming to Sicily:
1) Learn the metric system. Kilometers/meters? Uhhhhhhhh
2) Learn how to order a large diet coke from McDonald's in Italian.
3) Learn ALL THE ITALIAN.
Whoops.
So, these first few days have been absolutely insane adventure. We've spent a lot of time dealing with administrative stuff and trying to learn how to navigate the insane roads here. Well, Chris has. I haven't even tried yet because, uh, it looks terrifying. My thought Day One was, "how will our minivan ever manage on these tiny roads?" My thought Day Two, on the other hand, was "thank God I'll have my minivan because I'm coming out on top in a collision." Chris says he'll buy me spikes for my rims and a battle helmet. WATCH OUT, FIATS

Speaking of driving, here's a picture of Motta Sant'Anastasia (town we are staying in at present) taken from our car.
We still don't have working cell phones because we can't get them until Chris receives some kind of Italian ID number (Friday at best) so apologies to people who have been trying to get in touch with us. We have WhatsApp and Facebook messenger, but obviously we can only get messages when we are in our hotel room on wifi.
This afternoon's adventure was checking out three homes in what turned out to be our own little game of House Hunters International, with the added excitement of the owners having English fluency ranging from fairly decent to none at all. And — as I mentioned — we don't have any Italian ourselves. Like, I didn't even realize that I was saying "thank you" wrong until today. Embarrassing.
Anyway, when we go through the Housing Office on base they'll drive us to the homes we want to see and then escort us through. Since we set up these particular showings online, however, we were on our own. Luckily, our sponsor loaned us a GPS because otherwise I have NO IDEA how we would have ever found these houses. One of them seemed to require us to go through someone else's yard to get to it, and another was on a street that was unexpectedly blocked by a random wall.
All three houses ended up being absolutely lovely. All three had balconies (is this the right descriptor?) that went around the entire house — sometimes on multiple levels — so you could enter from practically every room. All three had beautiful sea views, nice grounds and security gates. Allthree were better than I expected. All three DID have some quirks though that mean none of them is the clear winner.
House One: Enormous 5 bedroom, 4 bathroom home in an area that turns out to be only about half an hour from base. It was on four levels, and the flooring was all either marble (very common here) or parquet. Our only real complaint was that while it previously had two kitchens — one on the lowest level and one on the main level — they had decided to take out the main level kitchen and leave only the lowest level one. To me that seems a little nuts (why wouldn't you want the kitchen on the same level as the living/dining room?) but I'm not sure it is a deal breaker. The showers were also hilariously tiny, but the owners said they would be willing to expand at least one of them to a more reasonable size. So that's good!

This view!
House Two: Was billed as a 5 bed, 4 bath, but turned out to be only three bedrooms. It actually took us quite a while to even realize that though because we were DAZZLED. It was so unbelievably gorgeous inside, and the kitchen and bathrooms were perfect. It also had a pool with outdoor showers, outdoor kitchen and the like, which is shared with just one neighbor. However, it is probably off our list since it doesn't have enough bedrooms and because of the Stairs of Death. It boggled my mind that someone had installed these things because it was terrifying for me, as an adult, to try to climb them. Not only was there no rail, no back to the stairs and a much-too-large gap in one spot, but the things also WOBBLED. The non-English speaking landlord summoned her son to tell us, rather unconvincingly, "it's safe" before we even started walking on them. Yeah, no.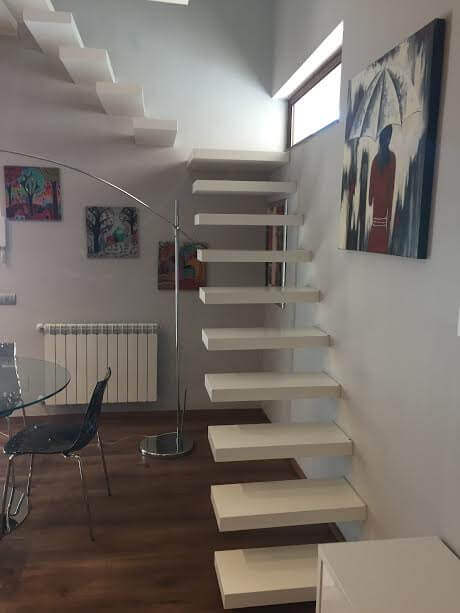 So death-y, right?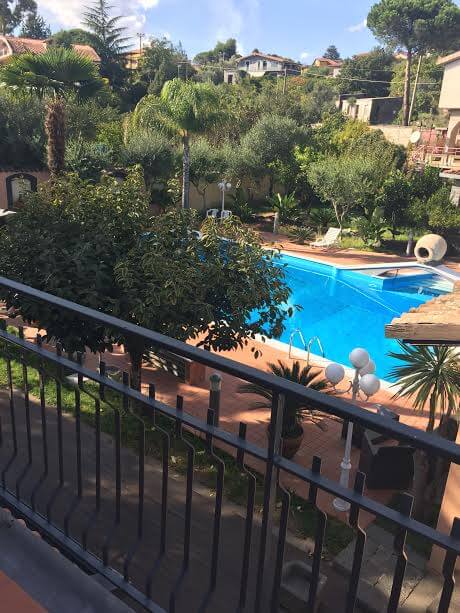 I've always been opposed to having a pool, but damn this is pretty
House Three: This one was also massive, 6 bedroom (or possibly 5 beds plus a dining room) and 4 baths. We loved that right down the street from it was a town square of sorts, with a really beautiful church in the center. It was also a little further up Mt. Etna, so beautiful scenery on all sides. The house was pretty similar to the first one in that it had all marble/tile floors and stairs, but it was a little less quirky. We loved that there were four bedrooms on the second floor, plus a large room upstairs that is being turned into a master suite (however, the slant of the ceiling means a lot of the room isn't as usable and the bathroom will be tiny). We didn't love that the kitchen was pretty tiny though, and it is a bit further away from base than we hoped to be.

Whichever house we choose, I'm pretty sure at least one kid will knock his or her front teeth out falling down the marble stairs some time
We'll still see more houses through the Housing Office soon (there is one in particular that I'm dying to see) but we saw some really good options today. Exciting!