House hunting continues Tuesday with five more houses to see (yay!), but in the meantime I've been meaning to talk about our hotel! Brett, this one is for you.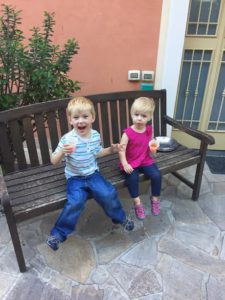 We are staying at a hotel in the town closest to base. So far, it's been a good experience overall — and better since we made some changes. In an effort to be positive, here are the pros:
1) The location is perfect for getting to base quickly.
2) The staff could not be nicer or more helpful. One helped me carry breakfast upstairs today because she saw my kids were being unruly. Another gave us advice for our planned day trip tomorrow.
3) It comes with a rental car.
4) It has two bedrooms, so we don't share with the kids.

The kids have developed a super fun game where they jump between the two beds. Guess how long it took one to miscalculate and crash into the dresser? Guess.
5) Our room has a great balcony that stretches around three sides of our room.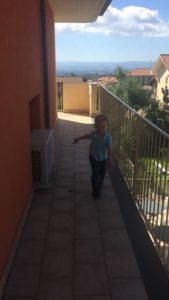 6) Breakfast is my favorite thing ever. Those of you who know me know I am NOT a breakfast person at all. But every morning here they have an assortment of pastries, some cereal, juice, toast with nutella or jam and — most importantly — cheese and the most amazing hard rolls. They also will make you coffee, espresso or cappuccino. I have a cheese sandwich for breakfast every single day and I'm in love. LOL.

Nice breakfast area
As for the cons — well, every bit of furniture in this place is pretty impressively uncomfortable (for example, the mystery metal bar just sort of lurking in the couch?). Chris has been waking up every morning with an aching back from the beds, and we are both itchy and suspect it is the linens. BUT things have vastly improved since we bought a mattress topper, pillows and new sheets. I assume that the maid probably thinks we are super high maintenance and is rolling her eyes.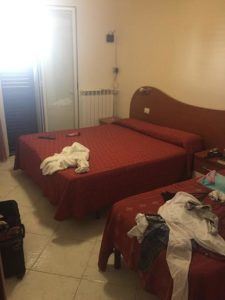 Our room, pre-bed transformation.
On the other hand, the kids don't seem bothered about any of this, so possibly we are high maintenance. Though I'm not sure I trust their judgement on what's comfortable, considering Fiona literally slept on the marble floor with just a blanket once night after (apparently) getting out of bed at some point.

Last complaint — the stove's igniter broke somewhere along the way, so they left a box of matches to use instead. It works, but scares the shit out of you. Feels like there is a metaphor in there somewhere, but I'm tired.