Well, yesterday was the one week anniversary of our arrival in Sicily so to celebrate we took our first day trip! As an added bonus, we made it through an entire day with only three major messes and one wardrobe change:
1) Fiona and Owen covered in chocolate ice cream from their first-ever gelato
2) Fiona's random blow-out diaper, during which I realized that I'd blown through waaaaaay too many of the wipes from the ice cream mess. Thankfully no picture here.
3) Fiona dumping a massive amount of sunscreen on herself while I was trying to put some on Owen. Fortunately she just ended up really well protected from the sun.
Man, I'm seeing a theme here …
But I digress. We went to Taormina, a gorgeous tourist town about an hour north of us on the coast. We'd heard and read that we should go there at first opportunity and we weren't disappointed.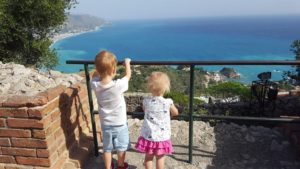 "Could that water BE any bluer?" – Chandler Bing
We had meant to try and find the cable cars that will take you up to the city, but we ended up spotting a free shuttle and jumping on that instead so that we didn't have to waste time searching further. The drive itself was really nice, a quick hop on a very nice highway along the coast — few potholes and separated lanes for traffic moving in different directions. After today's accidental jaunt on a two-way road lined with fences but literally only big enough for one small car (I have so many questions) I'm even more grateful for nice roads.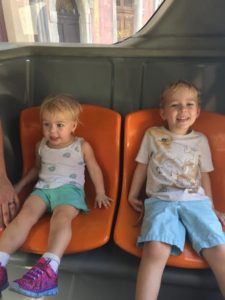 The kids liked the shuttle bus
So Taormina is a city on the east coast of Sicily that has been inhabited since around 700 B.C. (Thanks, Google). Its most famous site is the Ancient Theatre, which, if I remember correctly, is thought to date back to around 300 B.C. When we arrived, we basically just followed the crowd and wound up at the theatre almost immediately. It was very impressive, to say the least.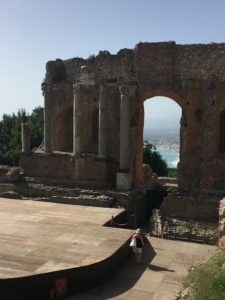 I spent a fair bit of time trying to impress on Owen exactly how old "more than 2,000 years old" is, but I don't think I quite made an impression. About the furthest back he can imagine is "older than great-grandma?" as far as I can tell.
The city was exactly the mixture of old, interesting and lovely that I think of when I hear "Italy." Tons of old stone and brick buildings. Hundreds of little restaurants with tables shoved along the outside wherever possible. Wandering streets with a million small side-roads/alleys you can disappear down. Just beautiful.
The kids did quite well all day long (probably helped by the fact that we kept buying them snacks — so far, this is my top "traveling with children" tip), though early on Fiona gave us some scares by her insistence on trying to navigate all the steep, uneven steps alone all the damn time. "I do it by my big self" is her catch-phrase lately. However, once we settled that she was actually helping ME navigate the stairs, things went more smoothly.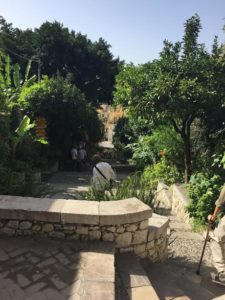 The views from near the Temple were absolutely incredible, and we lingered there for what seemed like ages just looking. Because how could we NOT?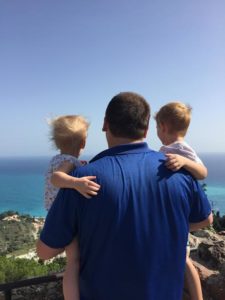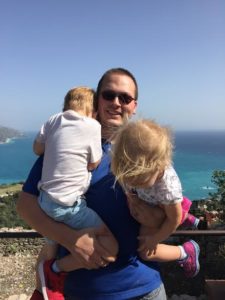 This last one is the outtakes from the first two …just keeping it real.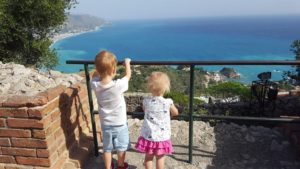 City view
We had lunch at a nice little restaurant not far from the Theatre, where Owen got super excited about ordering fish with Daddy. Obviously, that enthusiasm didn't extend to actually eating it though.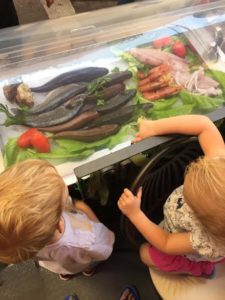 From there, we wandered down some of the streets just looking for a while until we ended up at the public gardens, where we spent a lovely time talking to a pair of British grandparents about their kids and grandkids (and their son's ex-wife and her new husband, ha!) and about our little munchkins. And about how worthless Donald Trump is on every level, and how insane the Brexit was and how much people regret it. They were on holiday in Sicily before heading over to Connecticut to see the grandkids and probably give their eldest grandson a lecture about how he should hurry up and propose to that nice girl he's dating soon.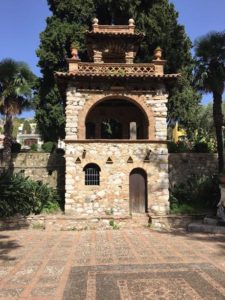 After a final snack of fresh cannoli — the owner pulled the cream out of the shells and stuffed it right there — we decided to head home. Our usual impulse when traveling in Europe together has been to spend all day out and about walking and try to see everything, but it is so different now since we know we can come back whenever. And with the kids being clearly so tired after miles of walking, we decided to quit while we were ahead. Unsurprisingly, they were asleep before we hit the highway.
All in all, I couldn't have asked for a more auspicious start to our European travels as a family of four. There is so much to see here, I imagine we'll spend a lot of weekends doing trips like this (though I freely admit most probably won't go this smoothly.)
Ah! As I type this, I am remembering one negative of the day … this mime scared the shit out of Fiona, just by existing. We reassured her that he was trying to be silly, not scary, and I swear to you she spent half the day repeating those words — "silly, not scary" — like she was trying to convince herself it was true. Today, Owen and Chris were talking about Taormina and she randomly brought up "that guy" again. I think he's haunting her.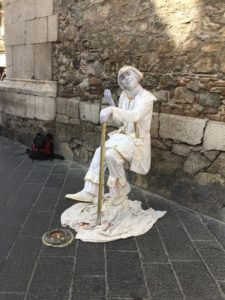 I mean, he is a little creepy.