So it turns out that what we thought was true love with the vineyard house was just a temporary infatuation.
We have THE HOUSE. We've signed papers. Failing any disaster with inspections or something, we'll move in to the house in a little less than a month.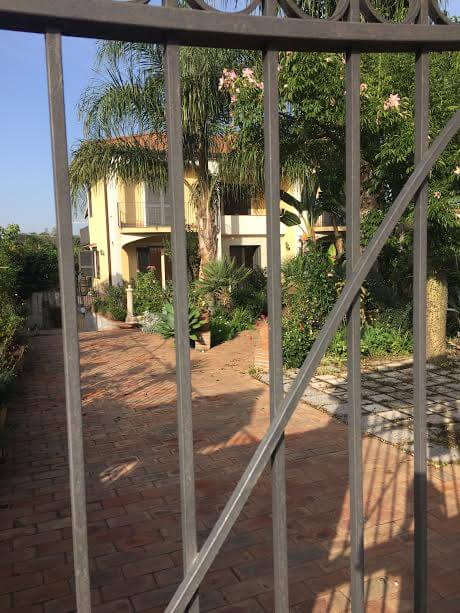 Telling you right now, pictures don't even do this house justice.
So, backing up. This house is one I first saw on homes.mil before we even left the United States. I loved it immediately, but figured it was unlikely to still be available by the time we arrived. To my surprise, it actually was. Since our arrival, I've been stalking it even more obsessively than before, like a 13-year-old with a crush and access to Facebook. Every time I logged on I was sure it would be gone. When it wasn't, I was sure it already was gone and they hadn't bothered to take it off the website. (Possible: there are houses from 2007 on there still). To our great surprise and relief, it was STILL THERE when we compiled our list for housing and we were intending to see it last week with the others. However, the owner's husband was hospitalized and we found out that morning that we couldn't see it. I was pretty crushed, at the time (though the vineyard house helped solve that!).
Anyway, so you know we were completely smitten by the vineyard house from the first. But the longer we stayed away, the more my concerns grew about the location. In particular we were worried about internet access (I work from home and need internet) which might be limited to very slow/unreliable options, and about getting Owen to school on base in a few years. I was also wondering whether we'd regret not having a house with neighbors closer by.
This villa, however, had almost everything we liked about the vineyard house (except the vineyard, obviously, and a sea view), minus the concerns. It is located in a neighborhood, with one American neighbor with a kid on one side and the rest mostly Italians.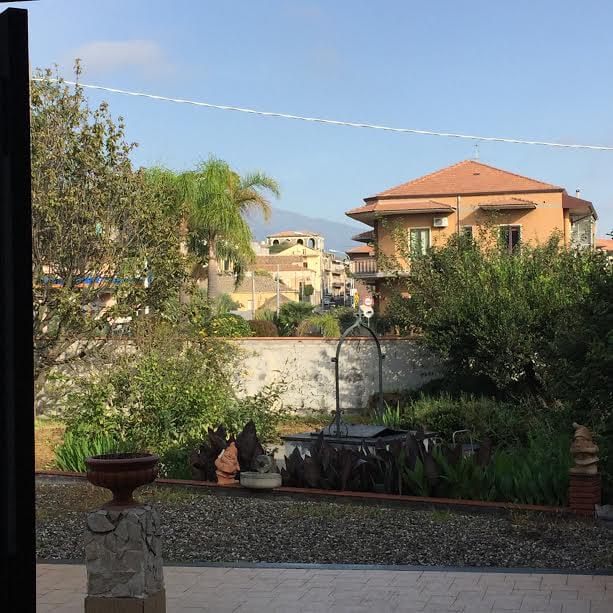 Neighbors are close but not on top of us
It has an amazingly beautiful yard with flowers and fruit trees, which thankfully (for the plants) a gardener tends so I won't be able to accidentally kill them. Plus, it is entirely fenced and there is plenty of room for the kids to run around and even a spot that is practically made for a basketball hoop. And did I mention there is an awesome view of Mount Etna?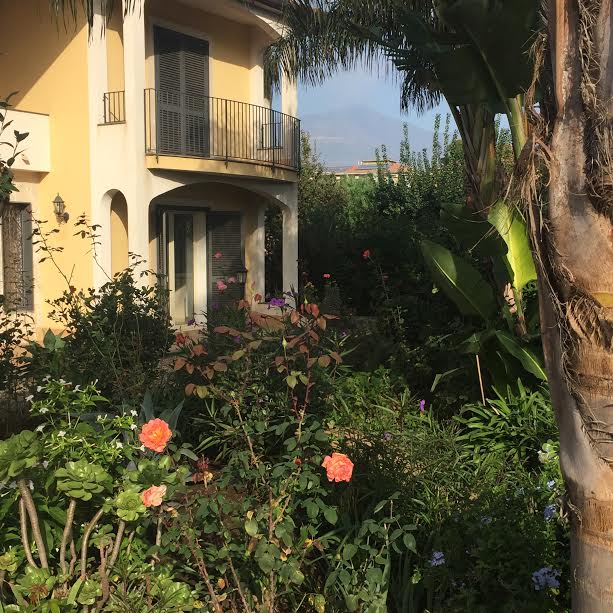 See the volcano?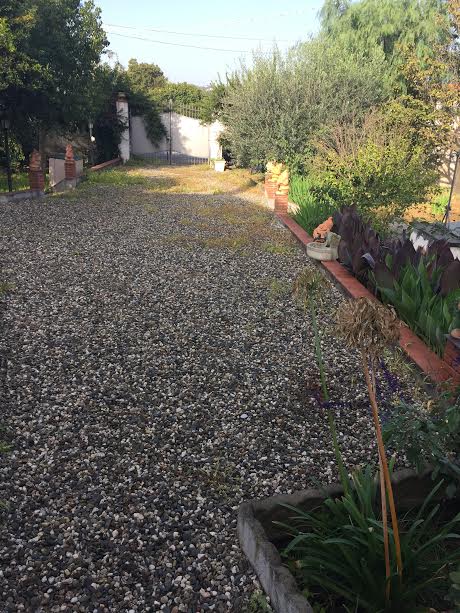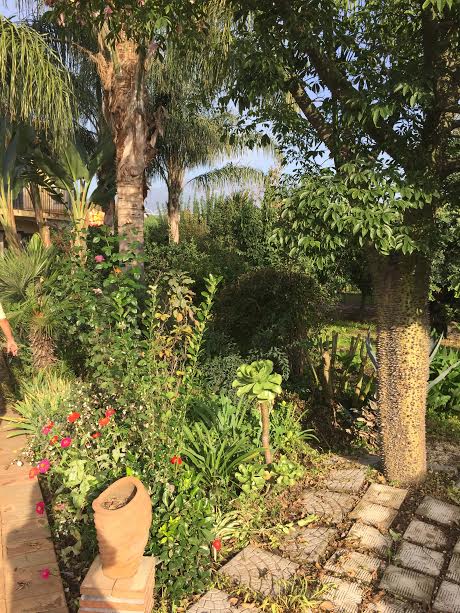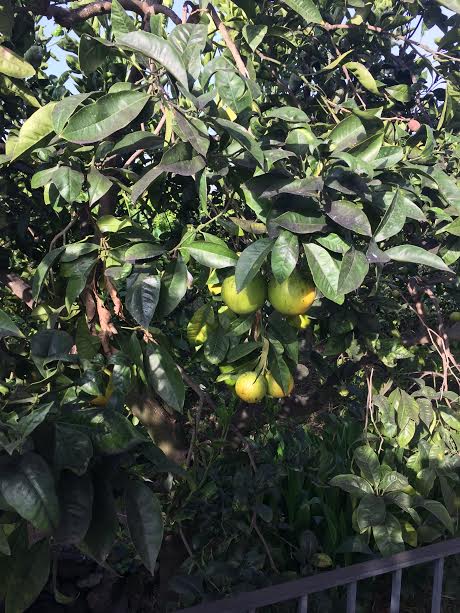 The landlord says the oranges will be ready in December, and there are mandarins too!
Even better, it may even be walkable to a grocery store and possibly a restaurant or two because it is right in town. I'm not sure how much we will do that because, as I think I've mentioned, there aren't a lot of sidewalks here and since the roads are so narrow it can be a little nerve-racking walking on them. But I like that it is a possibility!
So, we were already practically sold before we even walked into the house because the grounds were so nice. And then it got better!
On the first floor is a living room, dining room, two bathrooms (curious thing here, often they'll put two bathrooms right next to each other), a guest room and a kitchen. A main floor kitchen! I'd given up on hoping for that. Just about every room has a door to lead outside, and the kitchen is bright and sunny and large by Sicilian standards. It has a ton of storage space as well.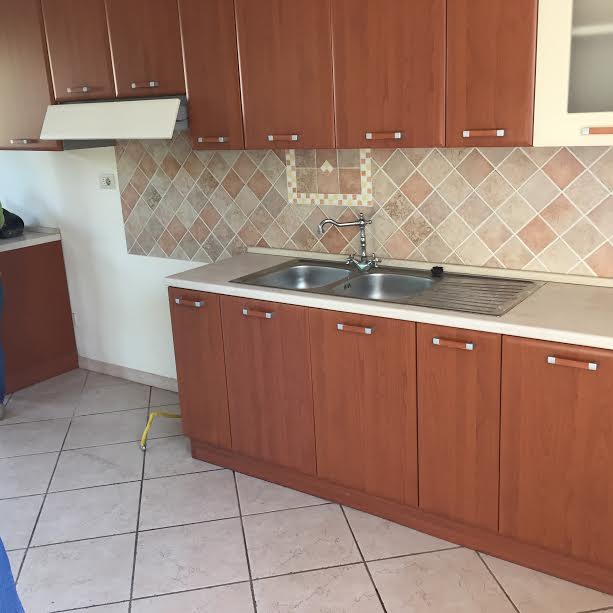 Not pictured: large pantry unit in the kitchen. We'll get loaner full-size American appliances through the base. Only tiny complaint is that the dishwasher will have to go in the storage room next door. Minor thing.
Upstairs are four more bedrooms, which is great for us since we can all be on the same level. There are two very nice bathrooms, one of which is actually an ensuite, which we haven't seen many of. Each of the bedrooms opens up onto at least a small balcony, and the room that Chris and I will probably take opens up onto an ENORMOUS balcony.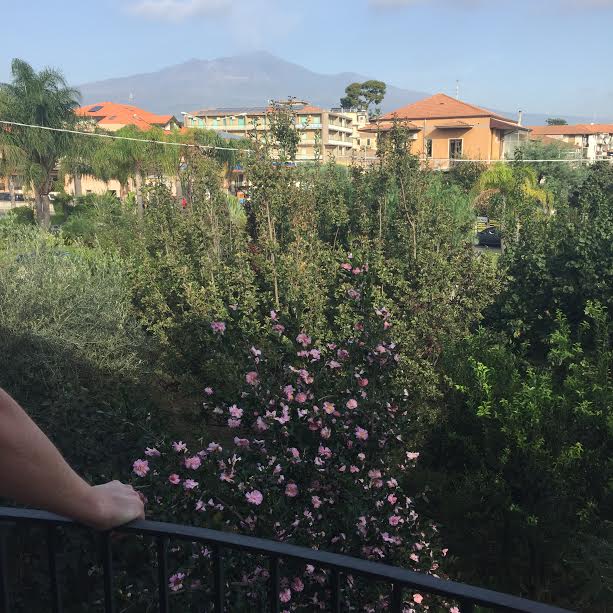 They said this balcony is great for watching eruptions!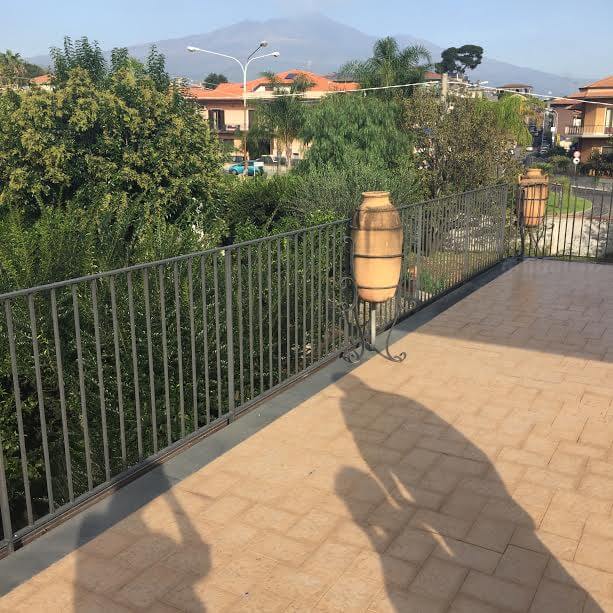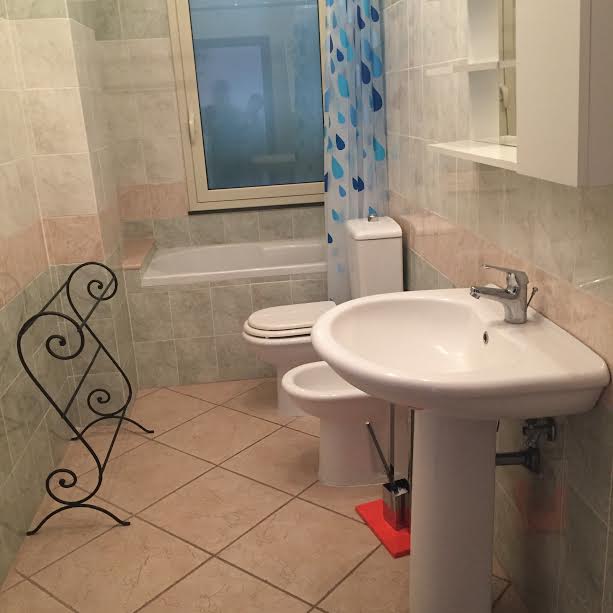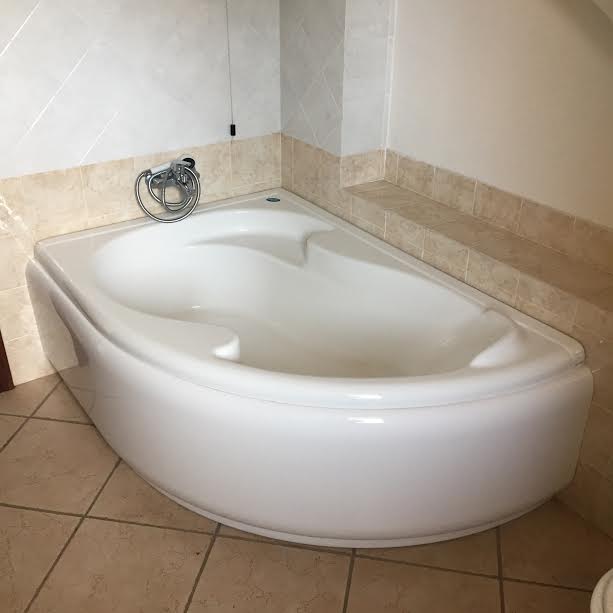 Five bathrooms in all, and they are all pretty nice!
The basement is enormous and we can even park our car down there (though I'm not sure we'll bother since the doors don't open automatically and it doesn't get too cold or snowy here). More likely, the kids will just be running around like crazy people down there because there is an insane amount of space. Woo!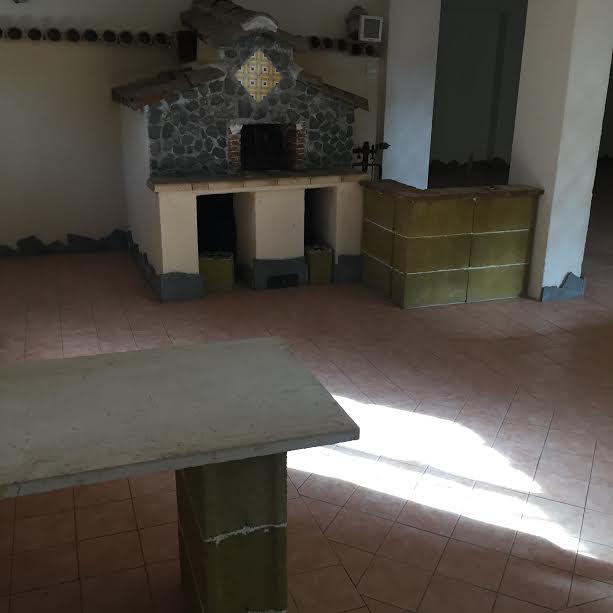 There is also a wood-fired pizza oven we should learn how to use
We were supposed to go see the vineyard house after seeing this one, but we ultimately decided not to bother because we were so sold. We didn't even end up asking for much from the landlord because the things we wanted were mostly already done, including screens on many of the windows. Sicilians seem to LOVE having the windows open at all time (and who can blame them, the weather is great) but it seems like we rarely see screens on the windows. Partially as a result of the maids' insistence of opening the windows whenever they clean our room, we all have a bunch of mosquito bites. I was SURE that there was something I was missing — some kind of Sicilian remedy of keeping mosquitoes out — but when I asked our housing counselor she said no, "mosquitoes are a really big problem." Glad we'll have some screens!
The housing counselor also warned us repeatedly to be conscious about our heat and air-conditioning use in this house, lest we run up huge bills because it is so large. She said the last people left because they thought the utility bills were so high, but she insisted that the problem was that they were "using them like an American. You have to adjust because it is Sicily." She said that we should turn off the heat/AC when we leave, and flip them back on when we get back and "it'll warm up in like half an hour or 45 minutes." She also said we shouldn't be trying to keep it "as warm as American houses always are." This seemed a little funny, given that Sicilians around here seem to think that it is now winter because it is the end of October, even though it is still about 80 degrees. So many people are bundled up already!
The kids have not yet seen the house because we decided to take them to the base daycare for a few hours so we could look in peace. They both had a bit of a rough morning — Owen threw an epic fit this morning because he didn't want to go, which we eventually figured out was because last time they tried to make him eat his lunch and he was worried they'd be on him again about "eating disgusting food." (By "disgusting," he means noodles. Have we talked about how a few months before we moved here he randomly decided he doesn't eat noodles?). We finally got him to pull it together by promising to tell the teachers that he didn't have to eat anything at all. Fiona, on the other hand, cried as usual at drop off but we assumed she'd stop. Instead, we got a call an hour later when we'd just finished walking the grounds of the house, telling us she was still sobbing and asking for suggestions. We couldn't exactly rush back given that we were like 35 minutes away, and the landlord had left her husband's bedside to show us the house. Apparently they got her calmed down without Owen's assistance (our suggestion), but then when we were almost back home we got the call that a kid had bitten her and she was upset again. She was calm by the time we got back, but man — the kid really did take a chunk out of her back. Poor thing!
But really, I'm sure they'll get over their trauma when they find out we got them a house where they can pick their own oranges!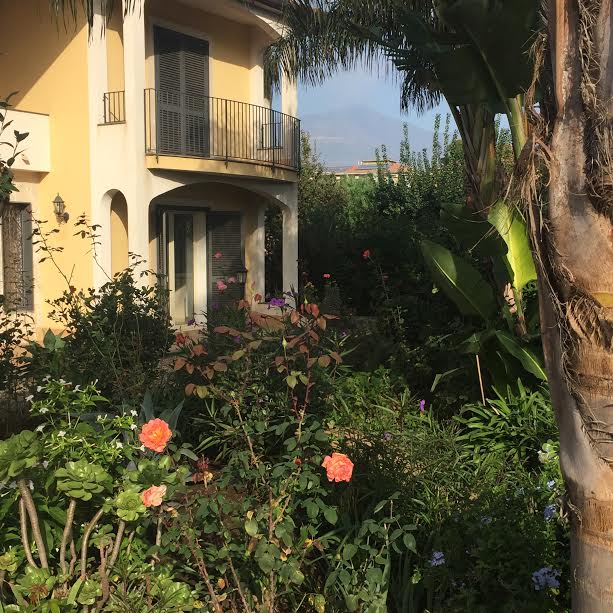 This picture again, because PRETTY.