It's only about 3 p.m. here* at the moment, but I'm already feeling like this was a great day. And like I'm a total badass, because I drove in Catania.
So, to back up we finally decided last night that we should check out Catania, the biggest city near us. We've been putting it off because whenever you read about driving there, the main advice is "don't."
With almost a month in Sicily under our belts, however, we decided that we might as well try. And I'm so glad we did – I liked it way more than I expected! I had fairly low expectations, but it was really a cool city.
So, the driving was ridiculous but didn't end up being too dramatic. Fortunately, Chris drove there and he is a freaking rock star. We did get a few surprises – like discovering that the road we (and Google Maps) believed was a one-way street actually had periodic traffic going the other way. Including a bus. To be fair, this doesn't necessarily mean it wasn't a one-way street because motorists here often ignore that when inconvenient but nevertheless it gave us a jolt.
We found some street parking eventually and looked around a bit for "a guy" to pay to watch the car but no one materialized. I was actually a teensy bit disappointed that we didn't get to bribe someone after all – we got small coins specifically for that purpose on the way.
Catania is the second-biggest city in Sicily, and in the top 10 biggest in Italy with a population of about 315,000. Luckily for us, however, pretty much all the sights we were looking for today were all in the same small area so walking everywhere was easy.
A quick history of Catania, as told by The Internet: it was founded in the 8th century BC and – like the rest of Sicily – has changed hands a lot over the centuries: the Carthaginians, Romans, Moors, Normans and Spanish, to name a few, have all held it. Catania has been repeatedly destroyed by natural disaster, usually earthquakes or volcanic eruptions. Accordingly, a lot of its architecture is "newer," done in the Baroque style after a 1693 earthquake.
So, one of the city's popular attractions is its market, especially the fish market. Since the kids aren't generally overly impressed with churches, we talked up the fish market a lot on the way and so as soon as we arrived Fiona was demanding the "fish marker." We've found it is best to give the people what they want early on, so off we went. It did not disappoint.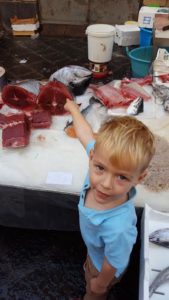 The market was huge, with plenty of stalls selling fruits, vegetables, meat, cheese and random items like hats, but the fish section was most exciting. Row after row of fish, crabs, mussels and every other sea critter – living and dead – were available for sale. Fiona kept repeating, "I eat that fish!" over and over. I'm not sure whether she meant for us to take them home and cook them for her first, but I hope so.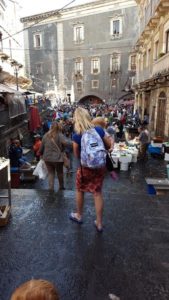 The place was amazingly busy, and I actually do wish that we were in our house so that it would have made sense for us to buy some meat, cheese, fish, etc. In the future, for sure! We did pick up some strawberries and small berries that looked like a cross between strawberries and raspberries (not sure of the name). Fiona destroyed them while Chris and I had a couple of cappuccinos, starting by taking a single large bite out of each one. Once she ran out, she went back to finish them off. Owen was scarfing down the little berries in the meantime, albeit not at quite the same rate.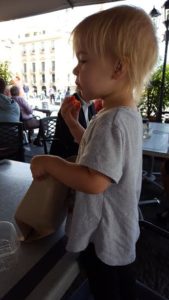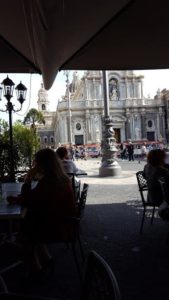 The view from our cafe
While we were waiting for a bill for the coffee, the kids wanted to go check out the elephant statue in the Piazza del Duoma, a square just outside the market. There we ended up befriending a nice woman named Danielle, a native of France who has lived in Los Angeles for at least a decade but spends three months of every year traveling in France and Italy. We actually ended up chatting for a long time, which was great. One of my favorite parts of traveling is meeting new people, and she had lots of interesting stories and advice for us. She also became fast friends with Owen, after he straightened her out when she asked if Fiona could go home with her. He was not amused. Anyway, he ended up coming back to the table to see Daddy and insisting that he come meet "my new friend Danielle."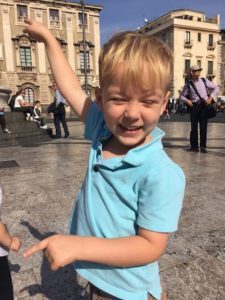 After that, we went to the Basilica Cattedrale Sant'Agata, a church dedicated to St. Agatha. We read about her martyrdom on the way to Catania, but I'll spare you the details since it made us shudder. The church is said to be built on the site were Saint Agata was killed in 251, and construction started sometime around 1090 after the Norman conquest. It too was reconstructed after the 1693 earthquake destroyed it.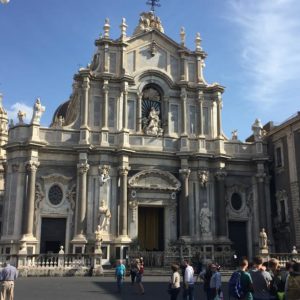 The kids did an amazing job of being quiet, since they requested silence upon entering.
Our last spot was the Castello Ursino, which dates back to around the 1200s. It definitely is more utilitarian-looking than decorative, which obviously makes sense given how many times the city has changed hands.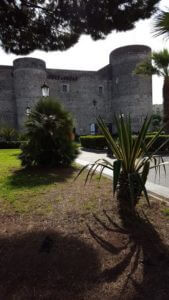 It was originally located on the coast for defensive purposes, but when the volcano erupted a few centuries later it sent enough lava to extend the land considerably and now it is a little further out.

An artistic rendering of what happened with the lava.
On the inside is a museum, which we didn't necessarily have interest in seeing on its own but getting a ticket for the museum is the only way to look around the castle itself. It was pretty interesting, but regrettably a little too creepy for the kids. For example, I looked into the "salt tower" – supposedly where salt was once stored – to find a lifelike scene of a man sitting at a table, playing chess against a pair of disembodied hands. Another whole exhibit was about madness, apparently, and there was a lot of creepy stuff so we covered Fiona's eyes and sped through.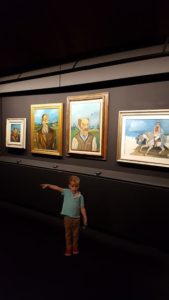 Ok, this isn't particularly strange (I should have taken pictures of the salt tower guy) but the super-creepy other painting I took a picture of — Mona Lisa with male anatomy surrounded by pigs — is probably not appropriate. But this was part of a random wall of self-portraits by the artist.
We decided that I should drive home for practice, so I ended up just deciding before I even started that I was going to be ridiculously calm. That I wasn't going to freak out at all, because everything would be fine. So, I just refused to be worried about anything even when there was a random mishmash of cars coming from a couple different directions into a roundabout. Sicilians do this every day (mostly) without incident, so why should it be any different for us? And it wasn't. Woo!
*It was 3 p.m. when I was writing this, but now I'm at the base to use with wifi since our hotel wifi no longer wants to work.