The scene:
The four of us are driving along, enjoying the scenery as we traveled south and discussing whether the extensive stacked-stone fences we saw might have been built with rubble from old buildings.
And then our car got literally showered with golf ball-sized rocks.
And we yelled.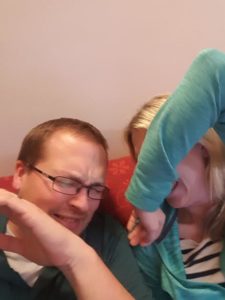 This is a carefully reconstructed photo of our reaction when showered with rocks.
A truck hauling these rocks (I assume for landscaping?) took a turn and literally hundreds of rocks came flying out of the back and POURED over our car. Nowhere to go, and no time to do it if we did. We are actually fairly amazed the windshield didn't shatter and 100 percent certain it has a bunch of new dents, but on the bright side … it is a rental.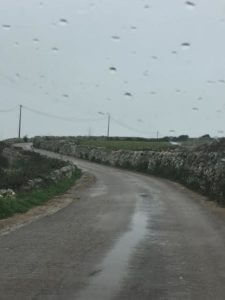 This is the kind of stone fencing I was talking about
The incident actually ended up being a taste of what would be a series of half-funny, half-alarming (and ultimately completely innocuous) car-related situations from this weekend. But despite a rocky start – I know, I'm hilarious – we ended up having a fabulous first weekend trip away!
This trip had been under consideration for a week or so since we knew Chris had Friday off, but we ultimately pulled the trigger on booking an AirBnb at about 6 p.m. the night before we left. From an Ikea. We had originally been thinking we might just do a day trip to Modica, Ragusa or Noto (or a couple other towns) because none of them are particularly far away, only about an hour and a half or so. As we were trying to narrow things down, however, we realized that we really wanted to see them all. We ended up booking a two-bedroom apartment in Modica for a couple of nights as our base of operations, with the intention of exploring one town per day. We obviously ended up spending a bit more time in Modica than anywhere else, which is probably why it ultimately ended up being our favorite.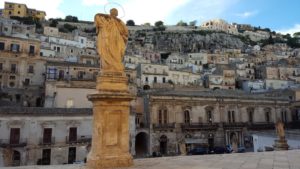 A note to start: booking apartments is, in our opinion, the only way to do things when you are traveling with kids. At least, if yours sleep as noisily as ours do. We love being able to put them to bed and then still stay up talking since there are other rooms to escape to. Of course, this doesn't guarantee a good night's rest – Fiona woke me up by shoving an apple into my face at 4 a.m. Saturday morning, and Owen had a night terror in the wee hours of Sunday morning that had all four of us up – but in our experience the odds are a lot better. Plus, you get to feel like you are more a part of a city than you do when you are in an impersonal hotel and have the added benefit of having a kitchen. The top of the fridge, if you are wondering, is basically the only place to store $40 worth of chocolate where the kids (probably) can't get to it while you think they are sleeping.
Another note: so far, we have only booked apartments through AirBnb or VRBO. However, I've recently heard there are some other sites that have lower service fees, so I'm planning to investigate that in the future.


THIS is how they choose to sleep?
Modica
Located on the southernmost part of Sicily, Modica is a UNESCO World Heritage Site as part of the late Baroque towns of the Val Di Noto. It (and the cities around it) are built onto the mountains and valleys of the Hyblaean Mountains. Driving there is a very up-and-down, curving experience with absolutely gorgeous scenery along the way. In addition to its architecture, it is known for its chocolate. This may or may not have been a major motivating factor in going – I'll never tell.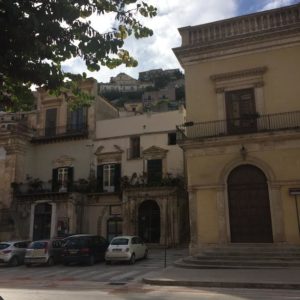 The sites:
We actually only explored a very small part of the city, so we'll need to go back sometime for sure to see more of the medieval part of the town, Modica Alta (Upper Modica). We stayed in Modica Bassa, the place where residents rebuilt the city after the 1693 earthquake destroyed most of it. If that sounds familiar, by the way, it is because that must have been one hell of an earthquake because it also destroyed most of Catania. Anyway, the city has some gorgeous architecture, especially along the main drag, Corso Umberto 1. In particular, we enjoyed looking at the ornate carvings on the supporting beams of balconies here.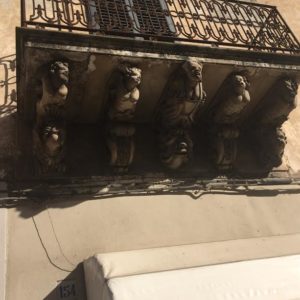 Its most well-known site is the Duomo Sant'Giorgio, dedicated to St. George. We weren't able to go in, but walked by it several times and always stopped to admire it. One Italian art historian has apparently referred to its as "one of the seven wonders of the Baroque world." It is made of what I'm thinking is sandstone, which gives it an interesting golden color. It actually reminds me a lot of some sites I saw in Jordan and in India in 2008. The kids enjoyed looking at the statues of all the apostles outside the church, and climbing the stairs.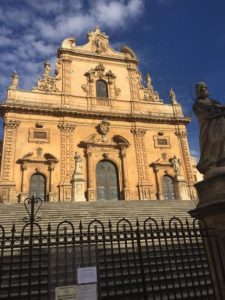 We also visited the Museo degli Arnesi di Una Volta by chance, as we stumbled across it while waiting in the Piazza Matteotti for our apartment to be ready. It certainly isn't a particularly fancy museum, but it was an interesting building (a former convent) and our tour guide was extremely charming. He also kept encouraging the kids to touch stuff and telling me to quit worrying when they were grabbing at things, so that was a welcome change for us all, I think. Mostly it was full of artifacts showing every day tools used by Sicilians of the past – looms, reeds weaved into containers for ricotta storage, infant beds suspended on ropes above the parents' bed, etc. Having a tour guide to explain what things were definitely made it worth going; without him, it would have been pretty boring and basically a guessing game since nothing much was labeled.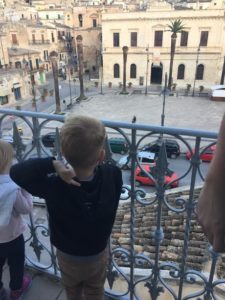 View of Piazza Matteotti from our balcony; the museum was in the building you see in the center
Owen and I also took a tour at a chocolate shop (more on the chocolate below), which turned out to be quite interesting. It was just the two of us, and Owen got a kick out of having to be wrapped up in a hospital gown-type thing to go into the kitchen. Our guide gave a brief explanation of where cocoa beans come front, then explained how Modica chocolate differs from traditional European chocolates. Owen and I got to see them pouring some of the chocolate into molds, and Owen took a turn rattling a wooden box where the molds are placed so that the chocolate settles before hardening. These days they put the bars in a fridge for about three hours to settle them, but before refrigeration the bars were often stored in caves. We also got more than our fair share of samples, which our teacher wrapped up for us to take home for Daddy and Fiona because she pulled out way too many samples for us. That meant that Chris (and ultimately the kids) got to try a Modica speciality – a cookie made with chocolate, nuts, fruit and minced meat. I can't report on the taste because that wasn't happening, but Chris said it just tasted like a chocolate cookie. Our guide explained that since the chocolate from Modica can last for a long time and does not readily melt, sailors baked meat into the cookies as a way of preserving it. Ingenious, I guess. But I still wasn't trying it.
The chocolate:
Modica is known for its chocolate, so obviously investigating its claims to fame was high on our agenda. Especially for the kids, who had been told we were going to "a chocolate town" on the ride there. We went to Antica Dolceria Bonajuto, which we'd seen recommended several places. It ended up being a great place to sample everything (including hot chocolate and chocolate liquor) and we bought a boatload of chocolate to spare ourselves from having to really make decisions.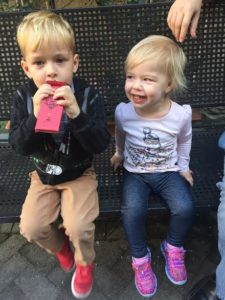 The chocolate itself is, for lack of a better word, weird. It is delicious in its own way, but it is like no chocolate I have ever had. When you bite into it, it doesn't melt – it crumbles. This chocolate came to Sicily with the Spanish, who had acquired it from the Aztecs in the so-called "New World." Today in Modica the Aztec technique of cold-processing is still used. This, apparently, is what makes it so distinctive. While chocolate that most of us will be familiar with is heated to high temperatures and usually mixed with butter, milk and sugar. Modica chocolate, however, is ground with sugar and basically nothing else (other than whatever its being flavored with). It is "cold-processed," meaning the temperature of the mixture never gets above 40 Celsius, so the sugar doesn't melt. The result is somewhat grainy but more pure mixture – one that I'm certainly hoping there is an argument for describing as "health food." That would definitely make me feel a little better about the state of our cupboard right now …
Anyway, the chocolate comes in a wide variety of flavors, our favorite of which was, oddly enough, vanilla. We also ended up buying some flavored with chili, orange, lemon, salt, cinnamon and one specialty one with chocolate from Peru.
The food:
We had some great meals in Modica! It was a bit of a nice change because in the town where we currently live, the restaurants all seem to have more or less the same menu (pizza, specific varieties of pizza, spinach with butter, etc). Perhaps appropriately given that we were in the 'Ragu'sa province, red sauces featured prominently on the menus we saw. I'm usually not such a huge fan of tomato sauce, but we had some really amazing meat sauces over ravioli (ricotta is also big here). I had the best ragu sauce I've ever had in my life at a restaurant recommended by a friend on Saturday evening – that is, until it was equaled Sunday in Noto. Delicious.
Of course, the only small complication was Owen. I've already talked about how he refuses to eat noodles, but I haven't mentioned that he's also off of pizza lately. In other words, the STAPLES of Sicily. He's been pretty much ordering a chicken or veal Milanese (breaded cutlet) everywhere we go, but while they have that in every restaurant in our current town it didn't seem to be a "thing" in the Ragusa area. In fact, of the restaurant we visited only one had chicken … and it came in the form of this pizza: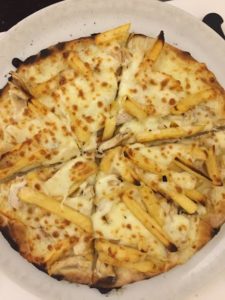 Yes, that is a pizza with chicken and French fries as the toppings. No, my son would not eat this, or the fried fish he insisted on ordering. I actually wasn't a fan either, though my four-cheese pizza was decent.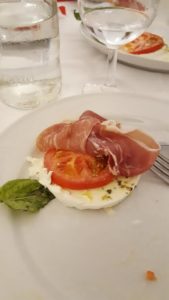 The pizza place, Restaurante Pizzeria La Contea, redeemed itself with this appetizer though, at least for Chris and Fi. Also a fun fact about this particular restaurant, while we were placing our order Fiona inexplicably picked up the bread basket and dumped it over her head.
We finally found him a veal cutlet in Noto on Sunday, but feeding him the rest of the weekend was pretty hit or miss. At our favorite restaurant in Modica, he ate a bunch of the mixed cheese we ordered as an appetizer but wouldn't touch the sausage he had agreed to order. He mostly survived on apples, chocolate and bread baskets since he wouldn't. eat. anything.
Our favorites:
Osteria dei sapari-perduli – Recommended by our host, we had a nice lunch here shortly after arriving. Chris has a delicious ravioli with meat sauce that we both loved, and we both liked the table wine. Which we got accidentally a little drunk on because when we asked for two glasses, this giant flask was what we got: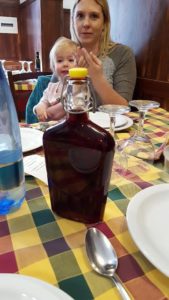 A Putia Ro'Vinu – This one was recommended by a friend, and I'm grateful because we definitely wouldn't have stumbled across it. While it wasn't far from the main street, Corso Umberto I, it was a bit of a walk through some tiny little cobblestone streets to get there. I had the ravioli with best meat sauce I've ever had, and Fiona absolutely devoured her cavati with tomato sauce. Even Owen ate the cheese platter we got for an appetizer, though he wouldn't even try his entrée. We would definitely go back the next time we are in Modica – highly recommend!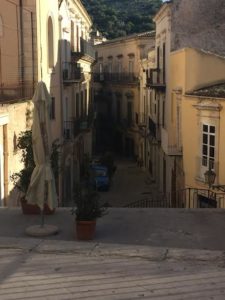 I also tried my first espresso here, which was pretty shocking on first sip but definitely drinkable after an entire sugar packet. I think I need more practice.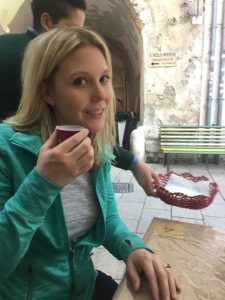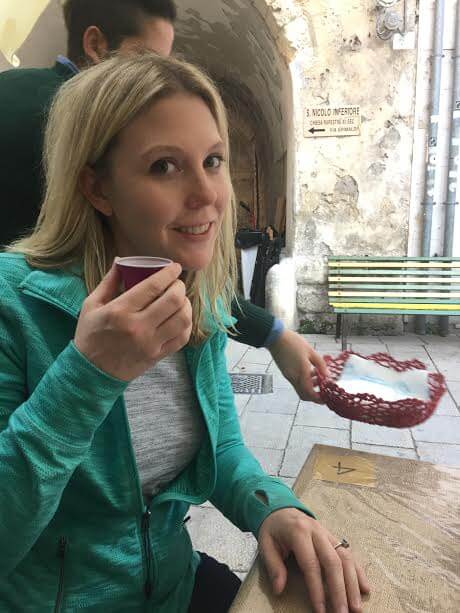 I'll talk some more about Ragusa and Noto, our other two destinations, sometime soon. In the meantime, however, I'll just finish up by saying that we really liked the staying overnight vs. day trip experience. This way, we were able to walk around a lot more, especially in the evenings, and really not feel all that rushed. I also loved that Modica was so walkable in general – the area where we were in, the main street, had excellent sidewalks (which isn't the case in the two where we are currently staying).