Well, it has been a little while again! In that time, the following things have happened:
1) We moved into our new home on the 21st
2) We found a car! Right after we gave up on just about all of our parameters (detailed here), we found one that met all of our original specs. We are picking up our Ford Fiesta tomorrow! (Also possibly our Sienna, which has just arrived! Albeit sans wing mirror, ugh.)
3) We spent six days in Naples and Rome with friends to celebrate Thanksgiving and Chris' birthday. You may have noticed we don't announce trips before we leave — small concession to security. A follow-up post about this to come!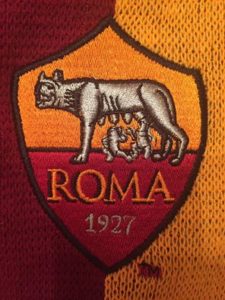 Chris and his buddy had quite the adventure trying to get to a Roma soccer game (my birthday present to him), thanks to a brief train and taxi strike. More on that later.
4) Our household goods arrived yesterday! Most of them. Seven of nine crates arrived, and it was really impressive to see the movers lifting stuff onto one of the second-floor balconies using a portable elevator they installed. Unfortunately, we are still missing some of our stuff. The most notable of the missing items are: our television, the frames of three bookshelves (but not the shelves themselves), a mattress, the legs to our patio table, half of our couch and the footboard for our guest bed. I have many, many questions about why some of these things would even be separated in the first place. I was very worried because a friend of mine noted that her neighbors didn't get a couple of crates and they ended up being lost forever, but we just got notice that the two stragglers should arrive tomorrow and we should get them Monday. We won't be entirely convinced until they are actually here, but it seems like a good sign.
So the last 10 days have basically been a whirlwind around here and we are exhausted, but happy to be in our home at last. And BEYOND HAPPY to be reunited with our bed after months of shitty mattresses. I do need to do a post about the many ways our house would make the perfect setting for an ax-murder movie, but that'll have to wait for another day. I know you're all disappointed.
I spent most of today unpacking the million of boxes of kitchen stuff, washing it all and trying to find a place for everything in a kitchen with considerably fewer cabinets than our last.


We had less than 6,000 pounds of items to ship to Italy, but I swear half of it was kitchen things.
The kids and I did take a break to go walk around our new town and try to find some milk* to make cappuccino, and it turns out that — holy cow — we actually *did* pick a house that is walkable to town. Somehow we were so dazzled by the house that I guess we never properly explored enough to realize that a bunch of shops were right down the street (and across the roundabout). I ended up strapping the kids into the double stroller, which hasn't gotten much use lately since there wasn't anywhere we could really walk with it in Motta (the town where we were staying in the hotel) because of the lack of sidewalks. I won't say our new town has perfect sidewalks — they are narrow and end randomly and there are a lot of curbs — but it has some and that is an immediate upgrade!
Anyway, probably about half a mile away ended up being a variety of shops and this giant church in the middle of the downtown (such as it is — this is a small town). Isn't it gorgeous?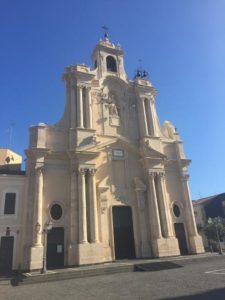 So the trip was basically exactly what I pictured when I imagined us moving to Italy. We popped into a bread shop and picked up a bunch of rolls, we stopped by a vegetable shop to buy some fresh broccoli for dinner and we would have gotten some pastries for dessert if we didn't forget that everything closes for riposto time. Whoops. Turns out, Chris' coworker also lives in our town (this is a pretty small town and further from base than most locals want to live, so that's an odd coincidence) and so Chris was texting me recommendations from the coworker while we were walking.
Walking around did reinforce, however, that we absolutely need Italian lessons. I went into a panino shop so the kids and I could have lunch (our kitchen still looking like it did in the above picture) and ordering a plain hamburger turned out to be a whole hilarious ordeal. The shop had hamburgers listed on the menu, but trying to explain "plain" or "only meat and bread" was definitely confusing. The cashier ended up yelling for a guy she saw walking across the street to come translate, and while he seemed to understand what I was saying and — I thought — told them, after he left they still had a lot of questions. They seemed fairly mystified that we didn't want prosciutto (bacon, here) on the burger and, I mean, fair point. The kid is weird, what can I say? At that point we turned to Google translate to explain "just bread and cheese" and ultimately this was the finished product.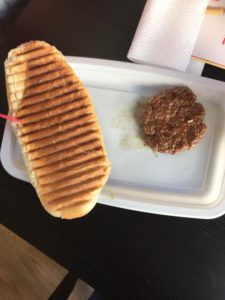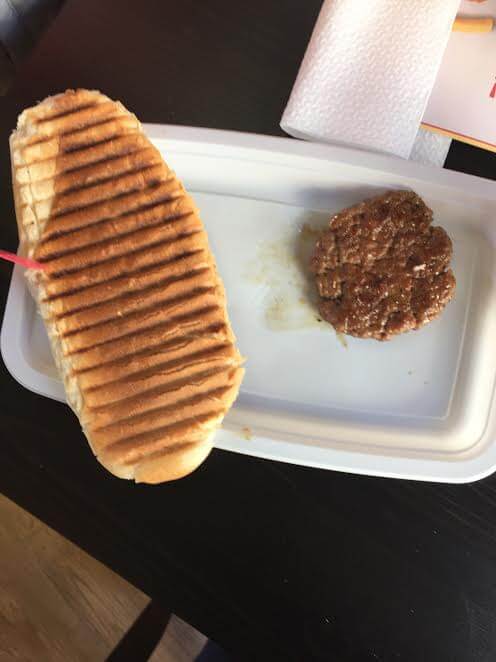 So close!
Incidentally, I reached out to an Italian tutor today. Let's hope we can start in January!
*I did not end up getting the milk because I'm an idiot. I walked into a shop that was labeled as selling milk, and when I couldn't find it I asked. I was all pleased with myself for remembering the Italian word for milk, but then the clerk tried to hand me something from the shelf. Confused, I went "refrigerated?" And he gave me a weird look and said, "No …." At that point, I fled because apparently I'm still 8 years old at heart. I have no idea whether he was trying to hand me powdered milk or what (Chris suggests formula?) and now I'm pretty sure I'm too embarrassed to ever go into that place again.