And Naples, too.
We took our first off-the-island trip to celebrate both Thanksgiving and Chris' birthday and we ended up having an absolute blast. I did learn, however, that I need to revisit baby-wearing. Like now. I had given up on my Ergo pretty quickly after Fiona learned to walk because she'd throw a fit every time I'd put her in there. But it turns out that even my insanely energetic kids get tired when you are walking this much: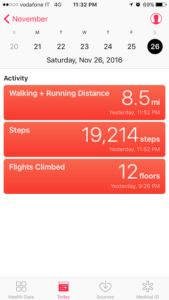 Admittedly this is a bit exaggerated because it includes the adults going out alone in the evening and doing a fair bit of walking, but still — this day was intense
We ended up carrying the Fiona (and sometimes even Owen) waaaaay more than we have on any day-trip, and our arms were absolutely about to fall off. The Ergo tends to kill my back, I still think that would be preferable. And we certainly aren't planning to cart a stroller around if we don't have to.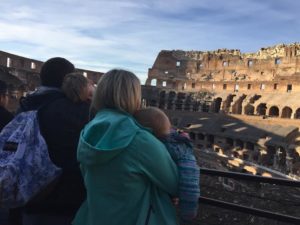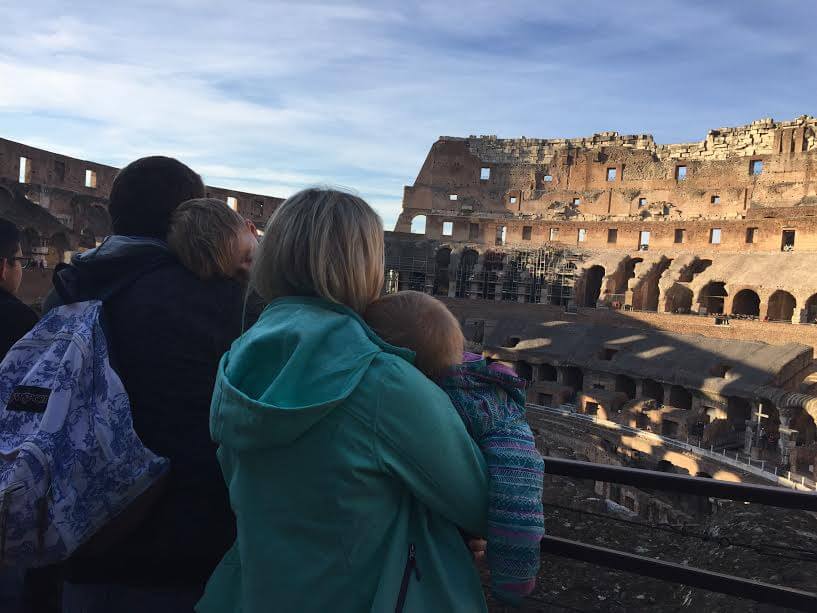 This is hour four of our tour

Owen got tired at the Vatican and our friend Andrea offered to carry his gigantic 4-year-old self in her Ergo. Because she is both SuperWoman and a freaking saint. He immediately fell asleep and missed out on the Sistine Chapel.
But, I digress. To start from the beginning, we decided to go to Naples to spend Thanksgiving with our friends from Bloomington, Mike and Andrea, and their three kids: Philip and Henry (6) and Sadie (3). Two years ago we were all in Bloomington celebrating Sadie's first birthday (with Fiona due like any second), and now all nine of us are in Italy. Life is weird.
Getting to the airport was a bit of a worry because, as I mentioned before, our new car was still being denationalized, the minivan was still at sea and we had also moved out of the hotel and didn't have a rental. We thought about getting a taxi but were worried because we'd need car seats for the kids to get there (Andrea had some for us to use when we arrived). Lucky, as always, The Internet Has All The Answers. We ended up hiring a local woman we found on our local Facebook page, who happened to have car seats she uses for transporting nieces and nephews. She ended up being super nice and informative (one funny thing she told us was that Italians think we're crazy for how much we drive — 40 minutes to work is unthinkable, and a two-hour trip to another city is basically an odyssey) and now we are supposed to hang out sometime. LOL.
Anyway, so we arrived Wednesday afternoon and spent the next couple days hanging out at Mike and Andrea's gorgeous home in a suburb of Naples. The kids were so insanely cute together I could barely stand it (minus a couple scuffles that required light-saber confiscation).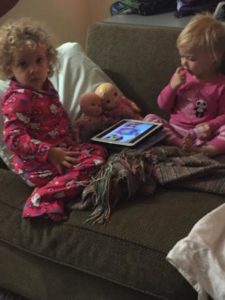 The girls spent a large part of the weekend taking care of their babies together, including making sure they got in some screen time. No judgments here, girls. We all need a break sometimes
Thanksgiving dinner was amazing and included a bunch more friends (American and Italian), lots of wine and the largest turkey I've ever seen in real life. And the only cranberry sauce I've ever liked. I could go on and on.
Friday we went to nearby Limatola Castle, about 50 minutes away, for their Christmas markets.


I have annoyingly few pictures of the castle because of the rain, but it is cooler than it looks in this picture
Unfortunately, we dealt with torrential downpours for the entire day. Picture five kids and four adults, two umbrellas and some slippery cobbles and you'll start to get the idea. We ended up trying to run from shelter to shelter, until at last we reached the indoor part of the shopping area since obviously the outside ones weren't going to happen for us.

Andrea and her boys hiding from the rain
Once inside, it was really neat and they had some nice shops (I ended up buying a few ornaments). Naturally we had to wreak some havoc by attempting to knock over a table at the cafe, but that's just what we do. It definitely would have been a little nicer if the weather was better because as it got dark there were some really pretty Christmas lights, but by then our soggy butts needed to get home.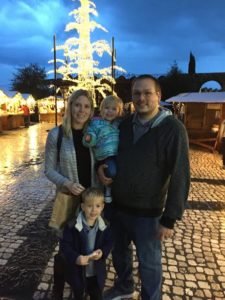 Somehow we managed to get a nice picture though!
Chris and I had planned to go up to Rome on Saturday, and originally Mike and Andrea and their crew planned to come for just the day. However, we eventually realized that we had booked an AirBnb that was way larger than we actually needed (we had been motivated by the price tag and the location, not the size) so they decided to stay the night. Then I decided to buy Chris soccer tickets for his birthday, so Mike ended up staying an extra day so he could go with him. Mike and Andrea also brought their babysitter/friend with them to be an extra set of hands and OMG BEST IDEA EVER. Not only did we have one extra person to corral the kids, but us adults got to go out. Alone. With no kids. On Saturday night.
It was glorious.
But, while I misleadingly titled this "Roman Holiday" with the best intentions, I think I'm going to call it for now. To be continued!
In the meantime, please enjoy this picture of Fiona enjoying herself on the bullet train to Rome while Chris tries to sleep. You are welcome.