The verdict:
Not As Bad As I Expected.
Actually, that's a bit of an understatement. It actually went a lot better than I imagined, and the kids were freaking rock stars about it all.
To sum up: we went up to Rome the night before on Alitalia (cheap Italian carrier), then flew from Rome to Chicago on Aer Lingus. If you aren't familiar, Aer Lingus is a fairly low-budget Irish carrier. I chose it because they were offering super cheap flights from Rome to Chicago. I chose to make separate arrangements to get to Rome because at the time, the difference between flying from Catania to Chicago on one ticket versus flying from Rome to Chicago was fairly astonishing. I think about $1,100 versus $500-something? The jury is still out on how we feel about doing this. On the one hand, it was considerably cheaper even with paying for a hotel room the night before. One the other, it is obviously a bit of a hassle — on the way back we had to collect our bags from our first flight, go to another terminal, check in for our new flight, clear security again and wait around for like three hours. On the other, other hand, however — that process was remarkably less infuriating than I expected. So, we'll see. Chris at several points on the way home vowed that he wants to do only tickets that take us all the way back to Catania in the future, but on the other hand … I'm cheap.
Cheap usually wins.
On the spot update: Chris just walked by and I asked him whether he'd consider flying into Rome again, and figuring out our own way back to Catania if it saved as much money. He said yes. It was annoying, but worth it to save the money. SEE? He's already forgotten. I still recommend you guys who want to visit us fly into Rome if it is a lot cheaper …
Anyway. There are a lot of negative things I could say about the Rome airport generally, but I have to say that they were amazing to me. At every point, officials went out of their way to help me. I sped through security, and then at an EPIC line at passport control (the kind that makes you think, 'am I going to make my flights in two hours?') someone spotted me and the kids immediately and waved me past everyone straight to the front. I briefly wondered if anyone was irritated, but I suspected everyone else in line was probably just glad they didn't have to deal with a toddler and preschooler alone on a plane/in airports for 14+ hours.
I was a little wary of the 11:30 a.m. leaving time because I was worried they would get bored more easily during the daytime (compared to the 6 p.m. flight we had on the way over) but it actually ended up being pretty decent. The kids did not sleep much, but they also weren't bad. The lack of televisions on the first leg of the trip, Rome-Dublin, did result in them devouring all the snacks and me spending an absurd 10 euros on a couple packs of chips and a juice (low-budget carrier, no free stuff on a short-hop!). But all in all, not bad. They were even better on the trip from Dublin-Chicago (about 7.5 hours), mostly watching The Secret Life of Pets over and over as long as I also supplied them with jelly beans regularly.
If anyone has any judgments about the sugar right now, I don't want to hear it. Survival mode, baby. lol
They both slept a couple hours right at the end, and between them we only ended up with one random crying jag from Fiona, which was about 20 minutes long and pretty excruciating. But really, she's 2. That's pretty decent. That said, we did have a few minor misadventures:
1) Our hotel in Rome had a "Christmas tree" made of lights strung up in the shape of a tree with ornaments hanging on it in the lobby. OBVIOUSLY Fiona tripped over the damn thing and sent ornaments flying everywhere while I was waiting in line to check in.
2) I had about had a heart attack in Dublin because I needed to get the kids something to eat (knowing they wouldn't eat plane food) and while waiting in Burger King I suddenly realized my boarding pass said I was to be getting on the plane in like 10 minutes. Cue panic (and confusion because I knew I was supposed to have two hours?). I ended up tossing the food into the carseat bag and dragging it and the kids frantically through the airport to get to USA Preclearance — you clear customs for the US in Dublin because reasons? — while barking at the children that we were going to miss our flights. We make it through Preclearance, arrive at our gate and … nothing. No one is boarding. No one is at the gate. Nothing is happening. Me, out loud, 'what is happening? where is the plane? WHAT THE HELL TIME IS IT?" At this point a helpful American couple let me know that you are required to go to Preclearance by that time, but we didn't actually board for another hour or so. Which is about the amount of time I needed to calm the fuck down.
3) Owen, for unknown reasons, refused to let the flight attendant take away his dinner tray containing turkey with sauce, potatoes and peas/lentils. He was "saving it." For what? Until he grows out of his dislike of turkey, sauce, potatoes and peas/lentils? Anyway, he obviously ended up flipping the tray and next thing you know I was on the floor trying to scrape that stuff out of the middle of the aisle of the plane with a single napkin.
4) I assumed O'Hare would have wifi so I could use my phone app to call my parents when we arrived. You know, like most of the European airports we've been to so far? Hahahahaha. It had half an hour free, which I quickly exhausted. Dad came in and found us though while I was whipping out my credit card to pay for some internet though. Also, it was colder than Mars.
Anyway, the kids were honestly so good on the plane on the way there that I fairly sure the way home would be a complete disaster to average things out. Especially because our "day" included a three-hour drive from Indy to Chicago, an eight-hour plane ride to Dublin, a two-and-a-half-hour plane ride to Rome, a four-hour wait until another hour-long plane ride to Catania. But a weird thing happened: it wasn't bad. Like, at all. Even RyanAir didn't mess with us about our baggage just to squeeze a few more bucks out of us.
It. Was. Amazing.
Owen slept almost the entire way to Dublin, then was basically a perfect angel the rest of the trip. (He kept going, "I'm really being a trooper, aren't I?" Fuck yeah you are, dude). Fiona slept more than half of the trip to Dublin, and the entire way from Dublin to Rome. The only incident with her was her insisting on sitting with me for the final two hours, which our flight attendants did not love (we got a baby belt so she was buckled with me though).


Even with the smooth travels, this is still about how we all felt by the time we hit Rome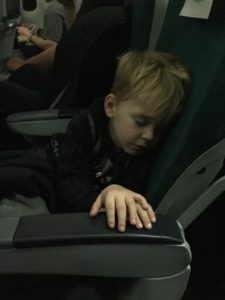 Only complaint was that since we turned off the heat in our house while we were gone, it was 11 degrees Celsius (about 51 degrees) when we arrived, quite a bit colder than it was outside even. That temperature actually put our house closer to the temperature of the fridge (4 Celsius) than the temperature at which we keep our house usually (22 C), though admittedly it was not nearly as cold as Mars. Remember how I mentioned our housing counselor told us that I should be turning off the heat every time I leave the house, and "it'll heat up in like an hour" when I return? Turns out when the temperature needs to double, it takes a little longer. 28 hours, to be exact.
This is long enough for now, but down the road I'll talk about:
-How the kids (and us) handled the jet lag, there and back
-Our advice for taking a RyanAir flight
-Unexpected perks of traveling with children
-Dealing with the (traveling version of) the bane of my existence, Fiona's car seat
Happy New Year, All!