Well, somehow it has been more than two weeks since I posted. Um. Whoops. I certainly didn't mean to let that much time go by, but the combination of having a lot of freelance work due at the same time and just trying to get back into a routine made the days fly by.
Some updates:
1) Owen started preschool! We have chosen to send him to an Italian nursery school where several other American/Canadian children also go. Classes are primarily in Italian but the teachers for the English-speaking kids' classes also speak English and speak that some of the time as well. This way, our kids learn Italian and the Italian kids get to pick up a little English.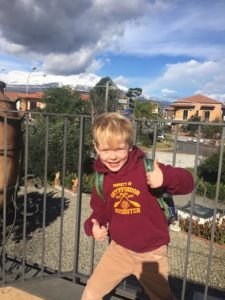 First day of school pic. He decided on a Batman t-shirt and a Gryffindor hoodie to help him be brave
So far, it has been fine — the first week he went every day for a little longer each day to try and ease him into it. (From now on he'll go three days a week). He clearly had fun every day, but getting him there every morning took some coaxing. I'm sure that will get easier with time though.
One fun thing about preschool — I'm pretty sure they eat better lunches than I do! Owen reported that the first day he stayed for lunch they had pasta with sauce, meatballs, salad, fruit and bread. Obviously, my son refused to eat everything.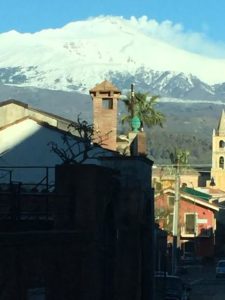 It is a nice view on the way to preschool too
We thought about sending Fiona to the 2-year-old preschool because she seemed to really enjoy it when she attended the base preschool for a couple weeks while Chris and I were doing Indoc classes. However, her classes would have been exclusively in Italian. We ultimately decided that we'll send her in the fall when she's 3 and can attend the same kind of class as Owen. In the meantime, we'll get lots of Mommy and Fi time.
2) We went to our first agriturismo! Basically an agriturismo is a restaurant (and sometimes hotel) on a working farm, where the food served is generally grown on site. Meals are usually about three hours long and include tons of food. The one we went to, Casale del Notaio, did not disappoint. For the first 45 minutes or so, they brought out so much food out that we could barely keep up — bread, antipasti, vegetable dishes, pasta etc. After that, we got a little break to drink wine while Owen and Fiona ran around with a bunch of other kids at the restaurant. Fiona was racing around the table and no one even blinked the eye; I can't imagine how much people would be judging if she did that back home. After that, it was on to meat, meat and more meat, plus dessert and espresso.
We *may* have bribed Owen with one dollar for every new thing he ate. Fiona ate almost every bite of one of the pasta dishes they brought for the table, then literally yelled at the waiter when he tried to clear the other away. He laughed and put it down. Smart guy.
3) I went to an olive oil factory (Oleificio Peltom) and learned a little about the process of making olive oil, plus got a giant jug filled with oil to take home. It is so insanely good that we are consuming it at a fairly alarming rate, so I'm trying hard not to think about the calorie count there.
One fun thing our guide told us (I went with a group of other preschool moms) was that after they get all the oil they can by pressing, the leftovers are sold to a company that uses chemical processes to extract the last bit of oil in it. The guide said that this is low quality oil, which is why they don't use it themselves … then hesitated (like he was worried about offending us) and said he's heard that's what they use in olive oil sold in the US. We laughed.

About two liters of oil for 18 euro — apparently prices are up this year because it was a really bad growing season. Usually prices would be more like 6 euro for a liter.
4) We paid our first "guy" for watching our parked car (though we didn't know it ahead of time …). We were leaving the market near our house where we'd parked on the street, and this guy just stands up next to me window, makes eye contact and nods. So we handed him a euro and drove away.
5) We went to a grocery store and my kids embarrassed the hell out of me by smashing some eggs on accident. Turns out that would not be the most embarrassing moment of the trip though, because I promptly went back to the van and backed into a SmartCar while trying not to hit the two cars on either side of me. FAIL. The owner happened to be standing RIGHT THERE too, but it turned out to be a woman who I had just let go ahead of me at the checkout because she only had a few things. Possibly this earned me some goodwill, because she basically just laughed at how worried I was, brushed off her car, and kept repeating "va bene, va bene, va bene," patting my arm and shooing me away. To its credit, the SmartCar had absolutely no damage at all once we brushed the paint from my van off it. I guess those tiny things are stronger than they look?

Just a cute picture of the kids with a rainbow because why not?