Well, I mentioned in this post that t I hoped Etna erupted while our guests were here. I was joking at the time, but sure enough — Etna puts on quite the show last night for my mom!
Last night I got a text from some of the other preschool moms asking if anyone could see what was going on, so we immediately turned off the stove where I was cooking dinner and raced upstairs to the balcony. While the pictures don't do it justice, it was one of the coolest things I've ever seen. Unlike last time, which was a lot of little flickers, this time there were a lot more dramatic flares and even lava spilling down the mountain. Close up videos of the eruption are absolutely amazing — you can find one of them here.
I think this has finally spurred me to finally get to work on learning how to use my good camera properly (a goal I've had for months). I'm kicking myself that it wasn't charged last night!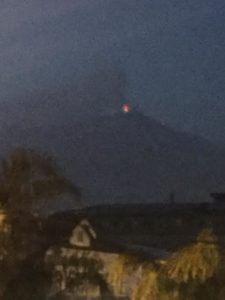 This one was basically the first my mom could even see of the mountain, as it has been rainy and very foggy since she arrived on Sunday. 
This one was me attempting to zoom in so you can see the lava spilling down the mountain better.