So, the past couple of weeks marked the first visit from family members to our new home! My mom came for almost two weeks, and my dad and sister were in for five and six days, respectively. As I mentioned in this post, we love our island and have been eager to share some of our favorite places with friends and family. I'm pleased to say we made it to almost all of the places we wanted to go, even if we didn't have as much time to explore some of them as I'd originally intended. AND my mom even got to see a volcanic eruption!
That said …
I should preface this by saying that my family in general (and me in particular) is sort of famous for drama on vacation. Sometimes funny, sometimes annoying. For instance, growing up I don't think there was a single vacation that didn't involve someone ending up in the ER for some reason (usually ear infections). Whenever we talk about our family trip to Europe, we always go back to the various "incidents" throughout the trip, like getting yelled at in German because my youngest siblings were (we found out after) pushing rocks off a wall and onto the man's new car. As for me? I'm kind of a walking disaster. The first one that pops to mind is having to take a last minute, middle-of-the-night cab ride across Melbourne, Australia, because we didn't realize our plane was leaving from a different airport than the one at which we had arrived. Or the one where we had to take a train, bum a ride from a friend, ride a bus, grab a cab and walk (between midnight and 5 a.m.) to get to Sydney's airport because we didn't realize that after midnight the trains would stop running because it was Easter. WHOOPS.
Anyway, in true Hawrysz form there was some kind of incident almost every day (sometimes my fault, sometimes not). I think in some cases it really gave my family a feel for the beautiful craziness that is Sicily. So, without further ado …
Saturday 
With my dad and sister not due to arrive until after 5 p.m., I had big plans for the five of us (me, Chris, the kids and my mom) to visit Caltigirone in the morning. We were all packed and ready to go when, of course, I got us locked out of the house. Fail. By the time we got that sorted out, it was too late to drive to Caltigirone so we went to Taormina instead. There aren't many places to park close to heart of the city, so we always park in a structure nearby and take the free shuttle into the city center. Last time we were there, we had a tiny little car and it was no big deal. Now that we have our van, we've discovered that the ramp up to the higher levels of the parking structure is TINY. Minuscule. Lilliputian. The result was Chris and Mom spent three harrowing levels trying to give me advice on when I was about to hit the stairs — because this tiny ramp included a narrow stair for people to walk on — or about to hit the wall. We hit both.*
*Future visitors: as we found out on Monday, going down the ramp was slightly easier than going up, and if you have a big-ass vehicle like ours I suggest trying that (or parking elsewhere).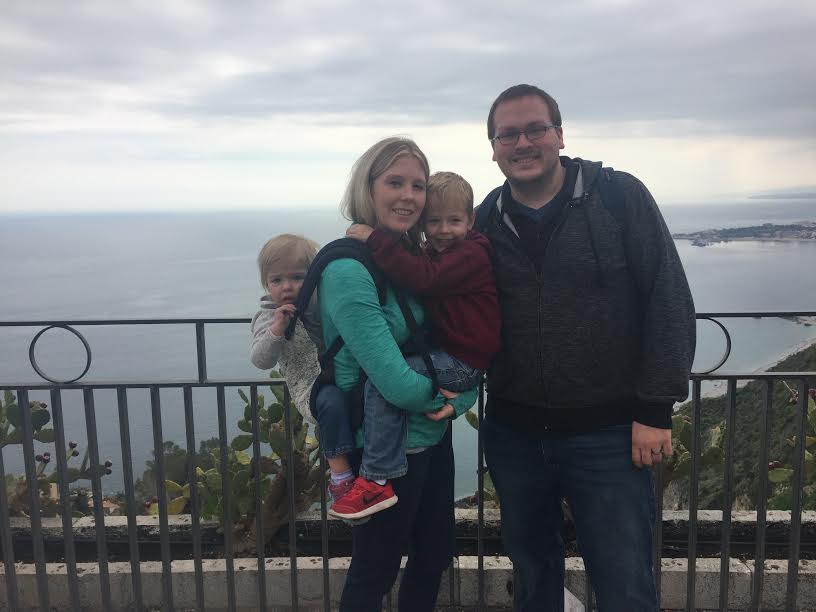 Once we made it into the city, we had a fabulous lunch at Ristorante Granduca. It was a little overpriced because of a fairly huge table charge, but it was a gorgeous view and the food was probably the best I had all week.
My dad and sister arrived in the evening (my sister making her connection despite a really close call!) and we went out for drinks and a dinner in nearby Acireale that evening. Three cheers for our babysitter, Antonella!
Duomo di Acireale
Daily Drama: Me locking us out of the house, obviously. Have I mentioned that our door isn't closing quite right now? I'm sure it is completely unrelated to the big chunk of metal they had to cut out and solder back into place.
Sunday
Everyone was kind of relaxing in the morning (though I did take my dad for a walk around Aci Sant'Antonio), but we had a great 3-hour lunch and wine tasting at Murgo Winery's restaurant Tenuta San Michele. We loved several of the wines, and the food was (mostly) delicious. The evening brought just hanging around the house, binge watching Friends and watching the kids get into shenanigans with their grandparents.
Daily drama: To my surprise, none? That I can remember.
Monday
Monday morning brought our second sick kid of the week (Owen had been sick the previous week with what I thought was bronchitis but proved to be officially diagnosed as "just a cough"). But we still had a good day, starting with a visit to the farmer's market in our own town and followed by a second trek to Taormina. We are so lucky that one of our favorite places is only about 40 minutes away … or less if I drive fast enough. While we had just been there Saturday, we wanted Dad and Torie to be able to see it too and we hadn't visited some of the other sights. We had been hoping to ride the cable cars into the center of town, but unfortunately they weren't scheduled to be reopened until the following day so it was back to the terrible parking garage for us. We strolled down the main drag, Corso Umberto, hung out in Piazza XI Aprile and had a nice lunch outdoors. We considered going to see the Greek Theater, but the big price tag (10 euro per person) and general lack of interest led to us instead deciding to pop into this cool hipster-ish bar for drinks instead. (If you are interested in the theatre, I did a post about it here.)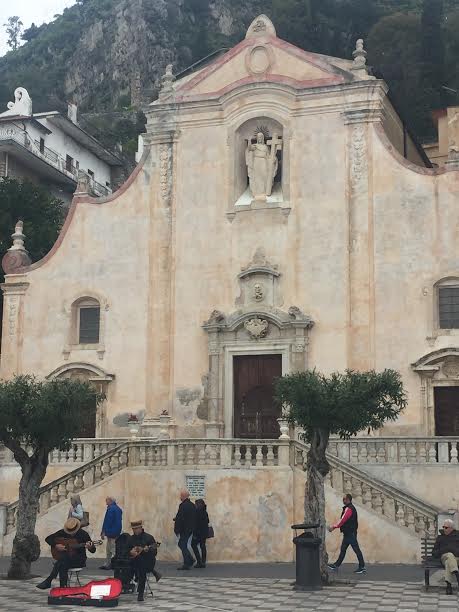 Chiesa di San Guiseppe is in the Piazza XI Aprile, which is one of my favorite places to hang out in Taormina. There is a gorgeous view of the sea, lots of restaurants, this church, and (on both Saturday and Monday) live musicians playing. 
Just a peek down an alley. 
Dad teaching Owen how to thumb wrestle at the hipster bar.
After our cocktails, we headed over to the Villa Communale Gardens for a quick walk before we went home. One of the nice things about Taormina is that it isn't very big and is well marked with signs, so finding things is never an issue. We had a nice little walk through the gardens, which include some WWII memorabilia and a great view of the coast.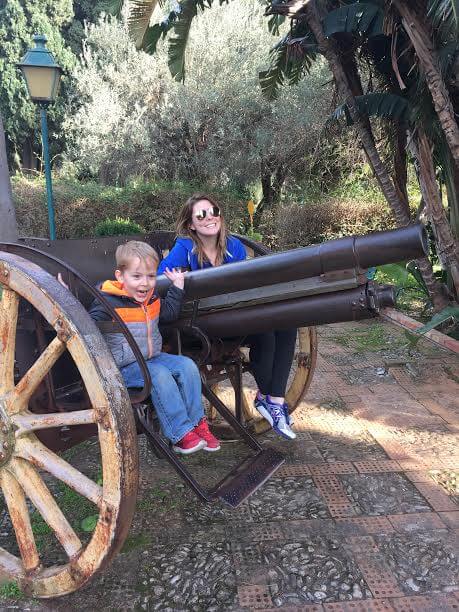 Daily drama: So as we walked into the center of Taormina, the first thing we noticed was that almost everything seemed to be closed and there weren't many people on the streets. We had a terrible time trying to find a restaurant that was open. At first we were guessing that a lot of places were closed on Mondays (though this seemed odd for a tourist town) and that maybe people were staying home because it wasn't very warm. We finally found a restaurant that was open and sat down on a nice terrace, but it wasn't until the waiter had to lead me and Fiona to the bathroom with his cell phone as a flashlight that we found out the real problem: a major power outage throughout Taormina. From what the waiter could tell us, it was related to construction work being done in the run-up to the G7 Summit being held in Taormina in May (I was unclear whether it was a planned outage or an accident). We kind of shrugged it off at first, but it wasn't until after we had ordered and started eating a whole bunch of food (and beer) that it occurred to us that no power = no credit card payment. Cue panic mode. I had almost no cash because we'd spent it all paying the guy to cut open our door Saturday and I hadn't yet found a working ATM yet in Taormina (mystery solved on that one). My dad, fortunately, had some that we thought would juuuuuuuuuuuust cover it, so we breathed a bit easier. Until the bill arrived and we saw that the table charge had bumped our bill up by 20 euro, and therefore beyond the amount of cash we actually had by about 10 euro (plus tip). We debated offering them some U.S. dollars on top on the euro, but in the end we talked to the owner and promised we'd come back another time. Luckily they were cool about it and sent us on our way.
To be fair, a "table charge" for a restaurant that was literally empty seemed a bit silly anyway … but it was pretty embarrassing still.
Tuesday 
Tuesday dawned with Fiona even sicker, so she and Chris had to stay home while Owen, Mom, Dad, Torie and I headed out for the day. First stop was the Oleificio Peltom olive oil factory, as there was a critical shortage at our house and the family was interested in picking some up anyway.
Sick Fiona. 
From there, it was on to Siracusa, a city about an hour south of base that was once the biggest city in the world. They have a great archaeological park with the largest Greek amphitheater in Sicily, which Chris and I have taken the kids to in the past. There wasn't a lot of interest though, so we headed instead for Ortigia, a small island connected to Siracusa by a couple of bridges. According to legend, it is the place where the goddess Leto gave birth to one or both of her twins, Artemis and Apollo.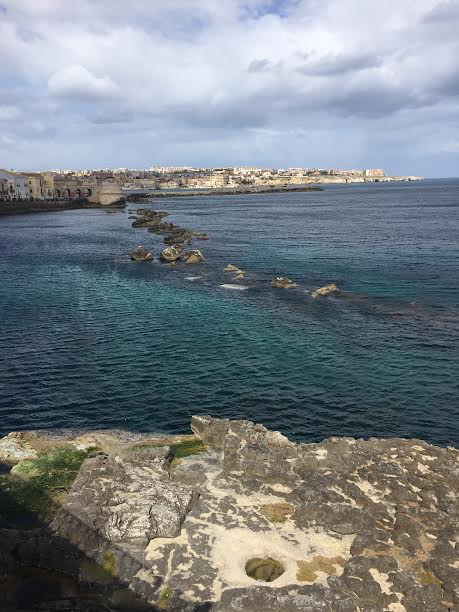 We parked near the ocean, then set off through the twisty alleys and roads until we ran into the area's various landmarks. Chris is usually the one who knows where we are going at all time (I have no sense of direction at all), but in his absence it was my sister who kept tabs on where we were. Thanks, Torie! (Travel tip: my own advice for keeping track of your car when you are directionally challenged is to take picture of the closest landmarks around you, so you can ask for directions or look them up when you need to get back. If your GPS isn't busted like mine is, dropping a pin is also a great idea).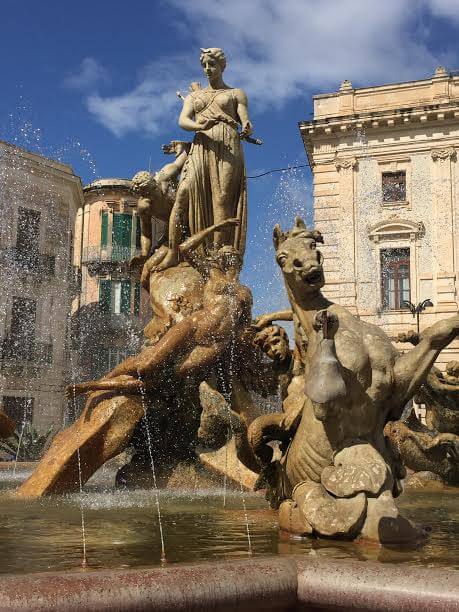 Fountain of Diana (Artemis!) with a couple of Gryffindors in front of it.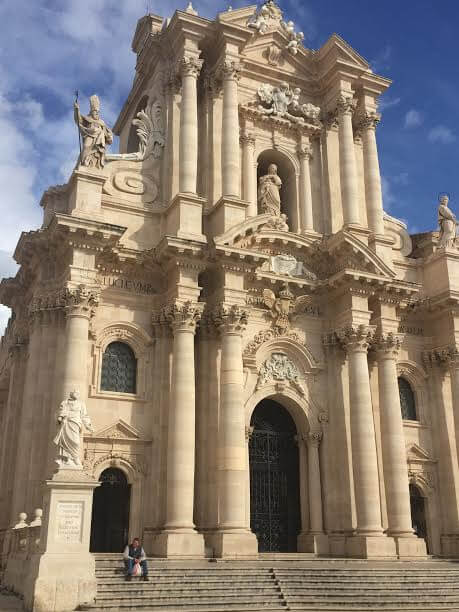 We also visited the Duomo di Siracusa (Cathedral of Siracusa), another UNESCO World Heritage Site as of 2005. It was fascinating because apparently it was built on the site of an ancient Greek temple sometime around the 7th Century A.D., then converted into a mosque a couple hundred years after that when the Moors captured Sicily, then converted back when the Normans took over about 200 years after that. The exterior is that Baroque style we've seen a lot of here, especially on our trip to Modica, Noto and Ragusa, because it was also largely rebuilt after that 1693 earthquake that destroyed so much of this part of the island. Inside, however, it is a bit more of a mix from throughout the centuries: rustic columns in some places, ornate, gilded surfaces in others. And according to its signage, they have St. Lucia's left arm there as a relic. 
This photo is a little dark, but you get the idea with the columns. 
Included in the entry fee for the Duomo was a visit to the nearby Municipal Building, which has the remains of an ionic Greek temple in what is effectively its basement. It wasn't the most exciting thing ever, but it did have signs in English explaining what things were (always a plus).
From there, we wandered over to the Temple of Apollo en route to our car. The Temple dates back to the 6th Century B.C., which is fairly boggles the mind. Obviously, the only thing to do in the face of such ancient history was to take a selfie.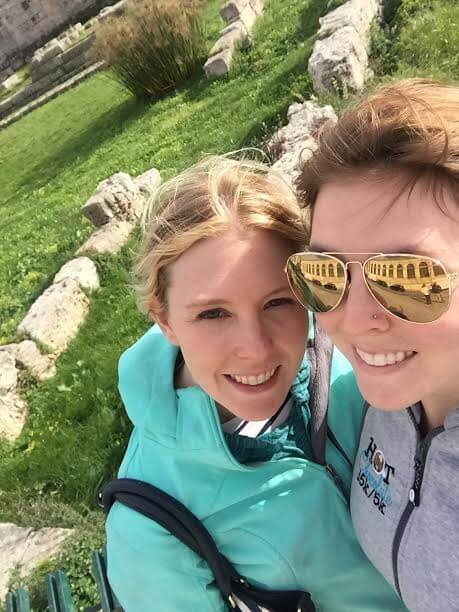 We also stopped and got gelato, because that's basically a requirement for every day when you are visiting Italy.
Daily Drama: A lot of little things. I forgot my jug for the oil at the olive oil factory, I forgot gas coupons and had to pay (gasp!) full price for gas and the restaurant we spent some time hunting for proved to be closed on Tuesdays. Also, I got my first parking ticket in Italy.
Wednesday 
The theme of the day was TRAFFIC. This time it was Fiona's turn for a solo trip with the family, as Owen needed to return to preschool after several days off. We set off for Catania (Sicily's second-largest city) but our GPS proved to be a major problem. While admittedly it did ultimately get us there, it chose to send us directly through the city rather than a more logical route that was a little longer but avoided the traffic. Driving in Catania makes driving in the rest of Sicily — which had already alarmed my parents and sister at several points on this trip — look like an easy jaunt in the countryside. The place was absolutely packed, and the streets are tiny. In a couple places we had to ignore our GPS directions because we didn't believe the van would make it down such a tight street. At several points, phrases like "You aren't going to like this, but it will be fine …" or "Don't freak out, but we're about to do something weird" came out of my mouth before I made some moves in the car. The good news, however, is that I really have gotten so used to driving in Sicily that it didn't actually make me anxious — just annoyed because it took at least twice the amount of time it should have to get there, both on the way in and way out. What a difference five months makes!
Because we got a late start and the drive took so long, we didn't have much time in Catania. Basically, we just parked near Elephant Square and walked through the fish market. My sister got sprayed by a clam/mussel, while my mom was grossed out by the calf intestines hanging in one shop. It was quieter than it normally would be because it was nearing closing time, but still an impressive sight.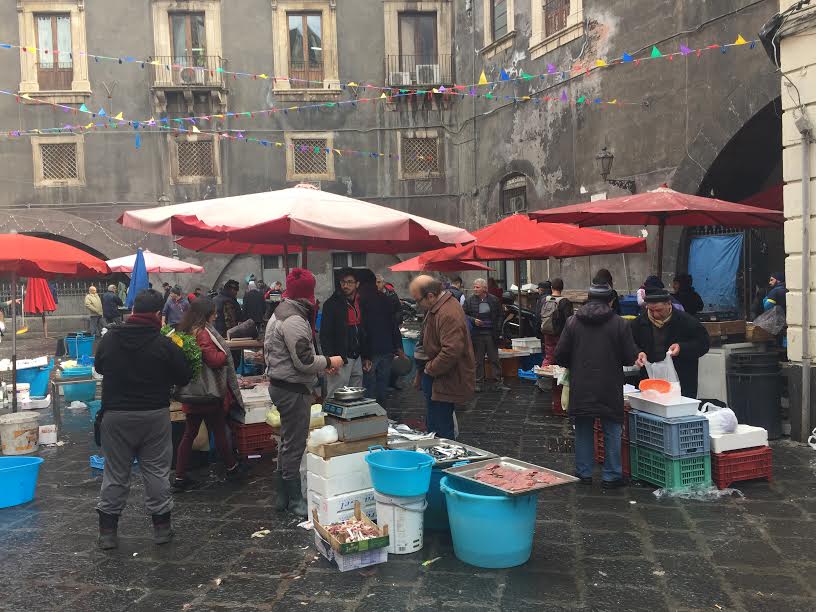 Most of the snails, mussels, clams, etc. we saw were still alive. We could have brought home a wiggling bag of snails to cook if I didn't think that was so gross. 
From there, we just decided to have a little coffee and wine at a restaurant right on the Piazza del Duomo, otherwise known as Elephant Square. They also turned out to have a bit of a tapas situation going on (free baby pizzas, mini arancini and small ham rolls) so we ended up with some lunch too. The Basilica Cattedrale Sant'Agata is right on the square, so we had a great view even though we didn't go inside.
A picture of the girls since it was International Women's Day, which in Sicily was celebrated by people selling bunches of yellow flowers absolutely EVERYWHERE. At dinner, we also got some free drinks because it was La Festa delle Donne. 
This is a picture from a different visit, but as a reminder this is where the "elephant" part of the name of the square comes from. 
Since it was my parents' last night in town, we got a babysitter again and went out for dinner at the restaurant only a couple blocks from our house, which doesn't open until 8 p.m. The size of Torie's wine compared to Chris and Dad's inspired some mirth.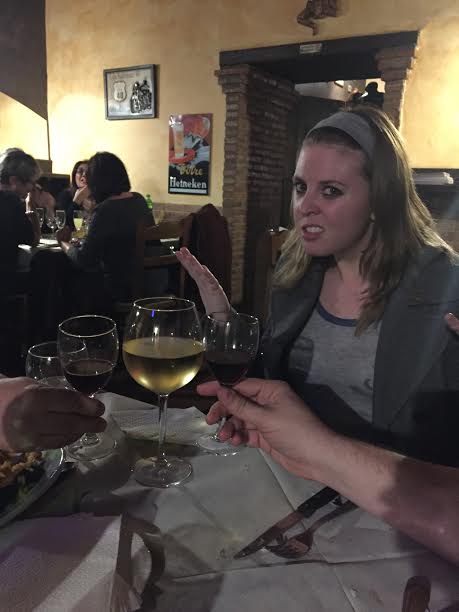 Daily drama: The GPS tried to send us THROUGH Elephant Square, and we actually did briefly try to go that way since I'd seen other vehicles driving through. We ended up doing a U-turn in front of Sant'Agata's  when the passengers in the backseat expressed some, er, reservations about driving through the piazza.
This is an old picture, but for reference this square (between the restaurant and the cathedral) is what we were trying to drive through. 
Thursday
This morning started off rocky, as we thought Fiona had an ear infection but an accident on the highway meant I couldn't make it to base in time for the only available doctor's appointment). Fortunately, I learned that you can buy amoxicillin for 3 euros in the local pharmacy without a prescription.
I dropped by parents off at the airport in the morning (sob!) and then Torie and I just hung around with the kids for a while, recovering from the night before. Eventually, we mobilized to try to drive as far as we could up Etna with a vague idea of hiking along a trail I'd read about on another blog. We didn't have solid directions, but over the last five months I have learned that the directional signs all over Sicily are actually very helpful. We just started following signs for Etna Sud, and next thing we knew we were driving up the mountain. We had to pull over several times to take pictures because it was just too gorgeous.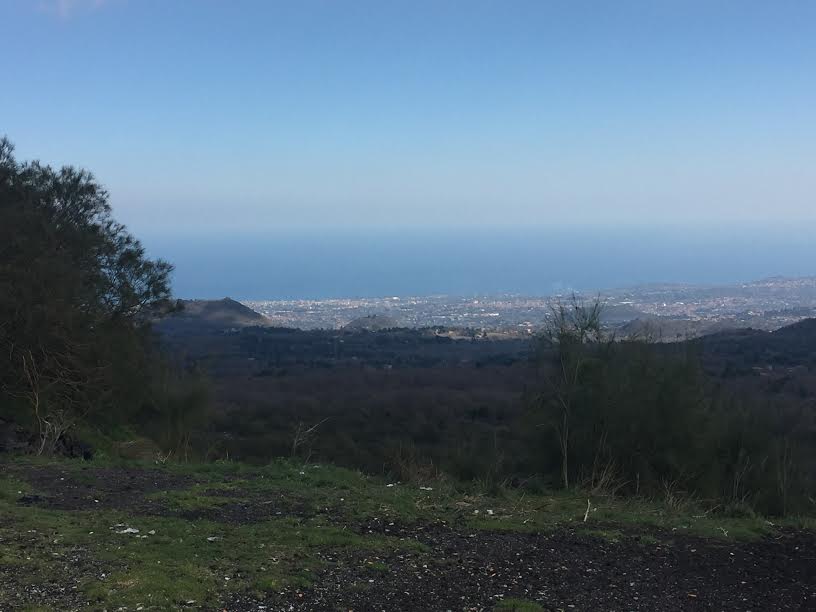 We could see the lava fields, and the higher we got up the more we felt like we were disappearing into the clouds. We actually only made it to about the snow line, but the roads were good and we could have gone further. Have I mentioned that Etna is huge?
Daily drama: Annnnnd here's the stupid part. I left the house with not all that much gas, but failed to notice until we were beyond all the gas stations. Because idiot. So we were driving up and realized that soon enough we were going to have to turn around, since the range was getting under 40 miles. So, we whip around and … the range hits ZERO.
Thinking about it logically now Torie and I agree that the most likely it was just the massive change in angle from uphill to downhill that made the sensor go to zero. Even at the time we agreed that we "probably" still had gas. But that didn't make it less freaking TERRIFYING as we were driving back, growing increasingly sure that we were going to run out of gas ON the mountain. And remember how our GPS the previous day had taken us the most populated possible way home? Ha. On the way back, it decided we needed to drive through the most isolated possible spots for maximum worry. And naturally it was riposto, so the first couple of gas stations we managed to find were closed.* At the end of the day, we actually did make it to a gas station near our house without incident, but I probably shaved a year or two off my life with all the anxiety during that trip.
Yes, I realize that one is completely my fault, by the way.
Torie and I wrapped up her visit by going out to dinner on our own in Motta Sant'Anastasia, the town where we lived for about six weeks after we arrived here. It was great to spend time some one-on-one time with my sister!
Torie left Friday morning, and since then I think my kids are having a bit of an adjustment to everyone being gone. They've both been absolutely crazy the last couple of days, and are talking about wanting Aunt Torie, Oma and Don Tomas. Luckily, we'll get to see them again in September!
*It has since been pointed out that some of these gas stations do have self-service that still works with a credit card even when they are closed; I've never done this since we have gas coupons so it didn't occur to me to check when I saw them all locked up.