"It's so beautiful that it hurts me," said Anne softly. "Perfect things like that always did hurt me — I remember I called it 'the queer ache' when I was a child. What is the reason that pain like this seems inseparable from perfection?" 
-Anne's House of Dreams
Day Two
This trip marked my fourth trip to Paris, but somehow I've never been to Sainte-Chapelle. After visiting, I can't imagine why.
Some backstory: Sainte-Chapelle is a royal chapel built starting 1238 to house the relics acquired by King Louis IX, chief among them the Crown of Thorns. Apparently the Crown cost about 500 million in today's terms, though presumably to Louis — later canonized as Saint Louis — it would have been priceless. Accordingly, he built an appropriately glorious place to house this treasure.
The exterior of the chapel isn't that impressive — it was a royal chapel within a palace on the Ile-de-la-Cite, which is now a government building. But once you walk inside … it's just wow.
The first floor, where more common folk could go, is impressive enough …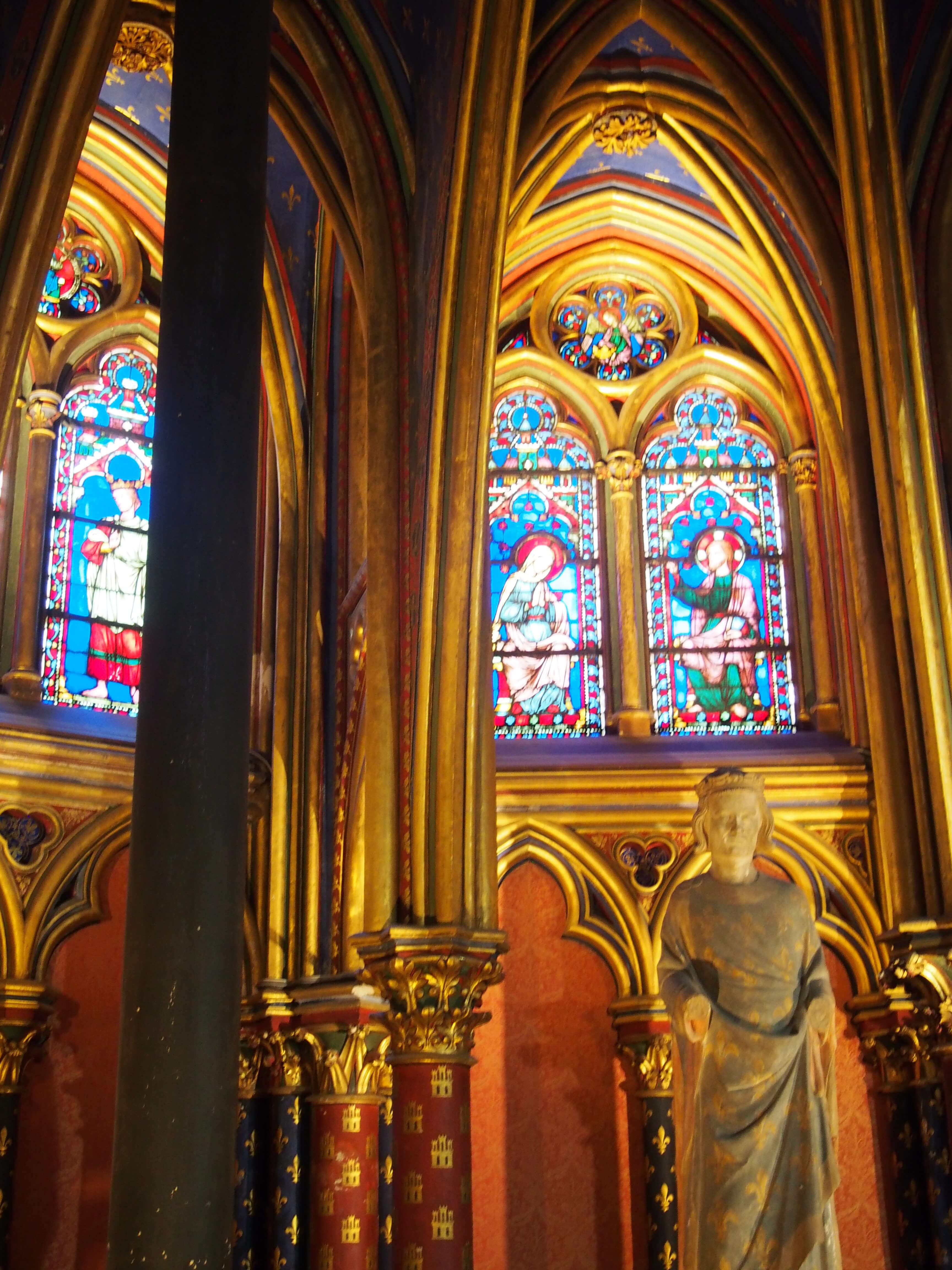 This is King/Saint Louis in the first level of the chapel. 
But walking upstairs, where the king would worship, was like walking into a jewelry box. It was amazing. It gave me Anne Shirley's "queer ache." I just stood there, thinking about how much more amazing it must have been to stand here 770 years ago and what it must have been like for Louis to be here in the presence what he can only have truly believed was the real Crown of Thorns.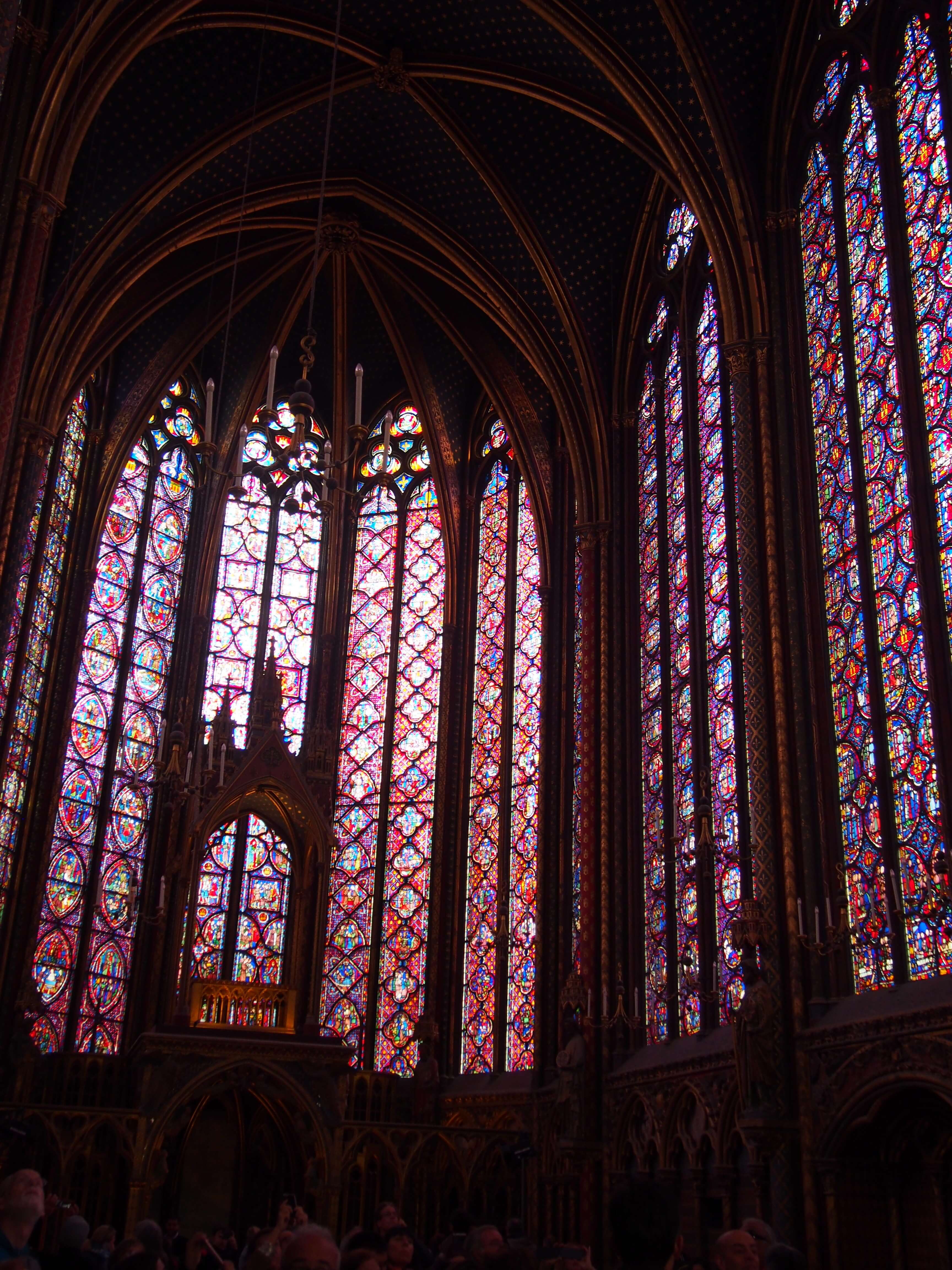 During this reverie, Fiona was standing next to me in what I guess I assumed was awed silence. Because even though I have two children, I apparently believe that 2-year-olds are capable of an "awed silence" of more than two seconds.
Naturally, she made a break for the wall to touch it (fortunately not the glass), ducking under a metal railing intended to keep people from doing just that. Instead of going under myself and grabbing her, like an idiot I tried to grab her over the railing, resulting in her hugging the wall even more to be out of my reach. At this point a security guy came running over going "NO NO NO NO" and, after approximately two seconds of watching my feeble effort, picked her up and handed her to me. This, of course, scared her senseless and so began the second embarrassing phase — bloodcurdling screaming in a a sacred and mostly silent chapel. I dragged her to the closest exit to at least keep her from shattering the 12th century glass, but that proved to be a fairly crowded balcony and I was basically trapped there begging her to stop screaming.
We left shortly after.
This feels like a good time to note that if I missed one thing from Sicily (other than good cappuccino), it was their remarkably indulgent attitude toward children. I'm not saying that the vast majority of people we encountered in Paris weren't lovely, but we absolutely got more nasty looks directed at the kids in four days in Paris than we have in six months in Sicily. To the Sicilians, pretty much everything a kid does is "va bene."
Anyway, Sainte Chapelle is quite near Notre Dame, so our next stop was there — mostly for nostalgia reasons. A million years ago, when Chris and I were on our honeymoon, we stayed at a hotel near Notre Dame. A few of the days we bought our lunch from a bakery and went to the park next to the cathedral for a picnic, so we wanted a repeat with the kids. There was also playground equipment, which is either new or we didn't notice it at the time since we didn't have kids. It was the perfect stop to recover from Sainte Chapelle, though in hindsight a little wine might have been in order.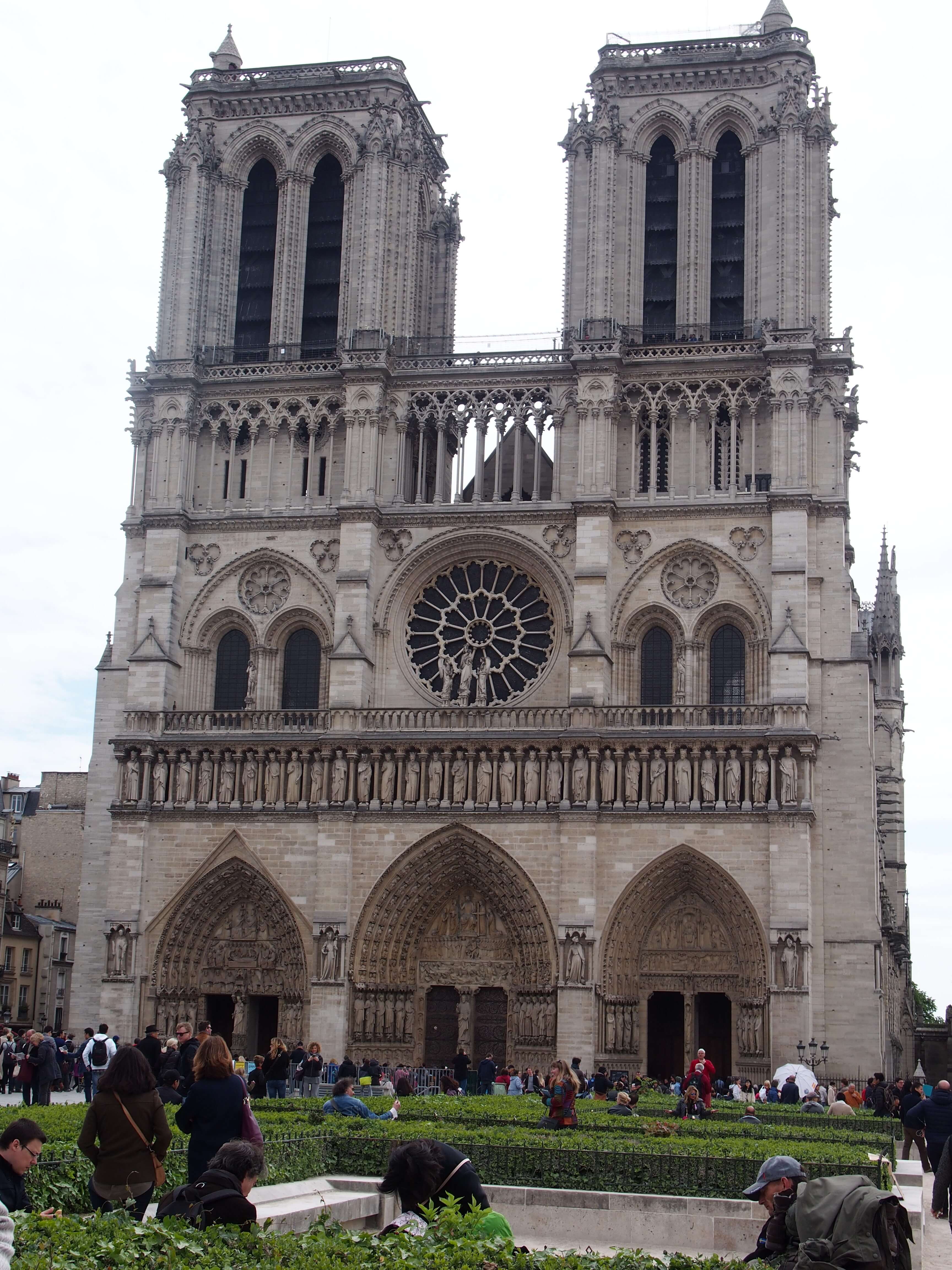 We chose not to go in because Chris and I had already been and we didn't feel it was necessary. Owen was actually a bit annoyed. 
Back view of Notre Dame, in the area where we had our picnic. 
I also really wanted to replicate a picture that Chris and I had taken in the garden almost seven years ago, this time with the kiddos. It was definitely easier the first time …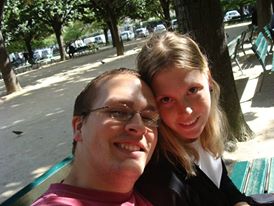 Best one we could get.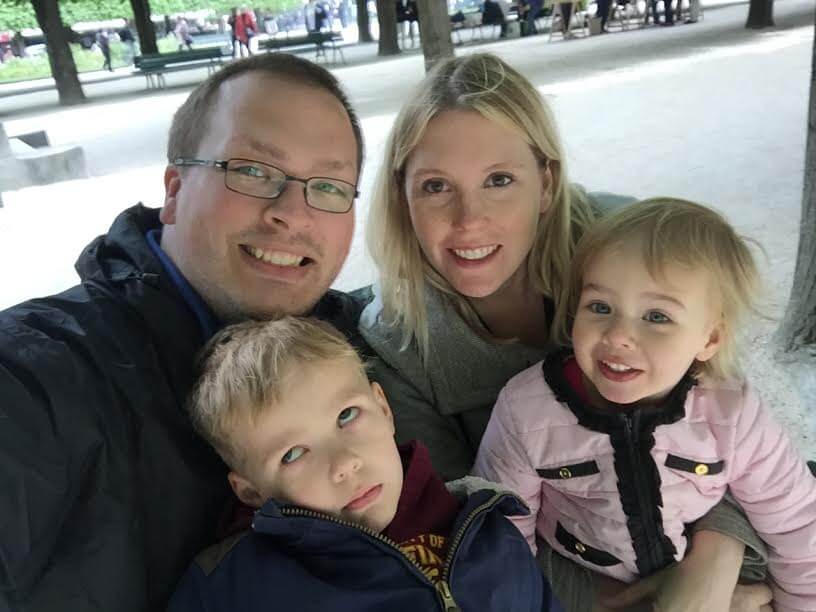 One of several outtakes. 
From here, it was off to the Tuileries Garden, a vast green space first created by Queen Catherine de Medici, whose personal history was very important to a couple of the castles we saw later in our trip. Since we rented an apartment in Montmartre, a little further from the center of things, going home for naps wasn't really an option. Fiona napped in my carrier as we were walking there. but unfortunately Chris got stuck carting a very tired Owen on his shoulders most of the the way. Sometimes a stroller would be super helpful, but sometime I'll have to do a post on why we don't bring one with us on trips. Update: I did do this post. Here it is.
Our walk took us past to Louvre as well, which we opted not to go into since we'd been there in 2010. And honestly, we found it ridiculously overwhelming even back then. We much preferred the more chill Musee D'Orsay last time. Still, I was glad Owen got to see the glass pyramids, even if he did inform me that they "weren't real pyramids because pyramids aren't made of glass."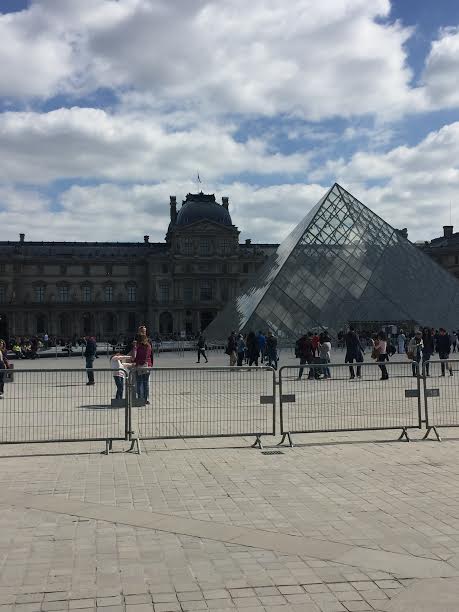 After a stop to admire the Tuileries and have cocktails and ice cream to power us through the rest of the day, we set off for Musee de l'Orangerie. I had been interested in going here specifically to see Monet's large water lily paintings (since we were going to Giverny the next day!) but I ended up loving every minute of this place. I am not a huge art person. I don't know much about it like, at all. But this museum was what it would look like if they were like, "hey Kasey, you know the only types of art you are particularly interested in, and the only artists you actually know? Well, we thought it might be easier if we just put them all in one place for you so we just … did. Enjoy."
So it was mostly impressionists — Monet, Matisse, Renoir, Cezanne, etc. Absolutely gorgeous. Also, they had a mandatory coat/backpack check (free) so we got to wander unencumbered. It tells you how sick I was of carrying things that this sticks out in my mind.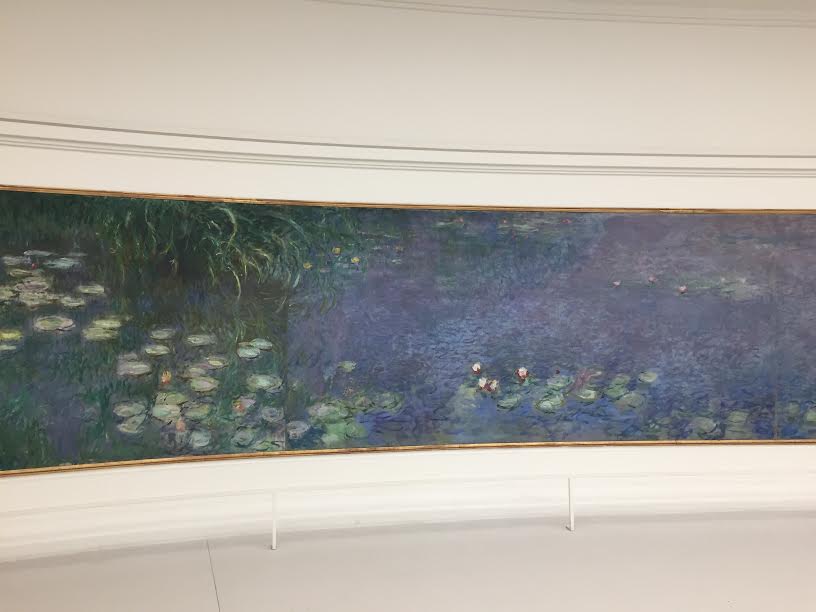 Deep discussion of art underway here, obviously. 
This was possibly one of the only museums I've ever visited where I earnestly wished to stay longer, but the troops were restless.
We ended our day outside of Sacre Coeur in Montmartre, one of my favorite places when we last visited because Chris and I spent a nice evening sitting on the steps overlooking the city, drinking Heinekens sold to us by guys wandering the area selling them out of boxes. Visiting with the kids wasn't quite as relaxing, but the kids were on great behavior during our (very overpriced) dinner.
This picture is from a couple days later; I think I was too tired for photos on this particular evening. But Sacre Coeur is exceptionally beautiful, though much younger than Notre Dame and Sainte Chapelle (finished in 1914). 
Even thought we were staying in the Montmartre area, getting to Sacre Coeur at the top of the hill still required a lot of stairs like this. At one point Owen was crying that he couldn't do more stairs, so I told him about Saint Denis, the patron saint of Paris, to distract him. Saint Denis came to Paris sometime in the third century to convert locals to Christianity. He was beheaded for his trouble, but apparently after the decapitation picked up his head, washed it off in a fountain (beheadings are messy affairs, I understand) and then walked up the hill to Montemartre to expire for real. Please refer to the picture above for even more reason why this walk was SUPER IMPRESSIVE. Anyway, Owen was fascinated, quit whining and then asked for "more stories about France" throughout the trip. Obviously, I need to save up more gruesome martyrdom stories for future emergencies.