One of the best parts of traveling with little kids is seeing their unexpected delight at the most random things.
Tuesday may have been one of the kids' absolutely favorite days, and the chief reason wasn't the one I expected. We started off the day at Napoleon's Tomb and the Musee de l'Armee, part of a complex of buildings known as Les Invalides because it was a former hospital/retirement home for soldiers. We went because I hadn't been there since I was a kid and because I assumed Chris, currently reading a series of books in which Napoleon features prominently, would be interested. Chris and I indeed enjoy the visit — I was much more interested in the museum at 30 than I was at 13, especially the excellent World War II exhibit — but it was Owen and Fiona who loved it.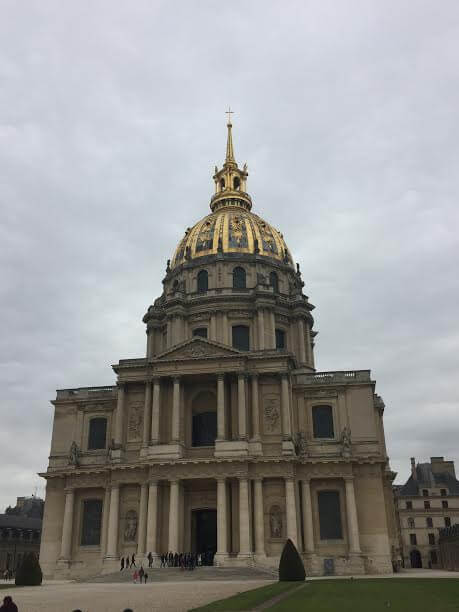 Fiona loved the gold on the dome and kept asked if a real princess lived here. She was fairly devastated throughout the trip when I had to keep telling her that we wouldn't be meeting a princess, and I didn't have the heart to tell her about Marie Antoinette. 
Both kids were keen to open Napoleon's tomb — I think they may have gotten the idea from the Catacombs that they should be allowed to see the bodies of all the tombs — but were suitably impressed with the side of the box even without getting to open it.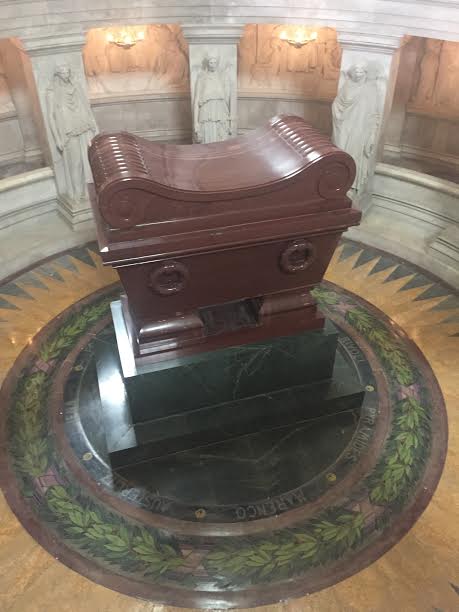 Several other prominent military leaders are also buried at this site, as are Napoleon's brothers, who he had made kings of various lands he conquered. Which is a pretty nice gift, if you ask me, but must have made it difficult to think of something to get him for Christmas in return. "Oh, this is a nice golden cup. Hey, remember that time I gave you a COUNTRY? But no, no, this is great. Thanks, Jerome. It's great. Really." 
The Army Museum was a big hit with Owen in particular because of the various weaponry for them to look at. They were all pretty impressed by these cannon and spent ages out here playing with them.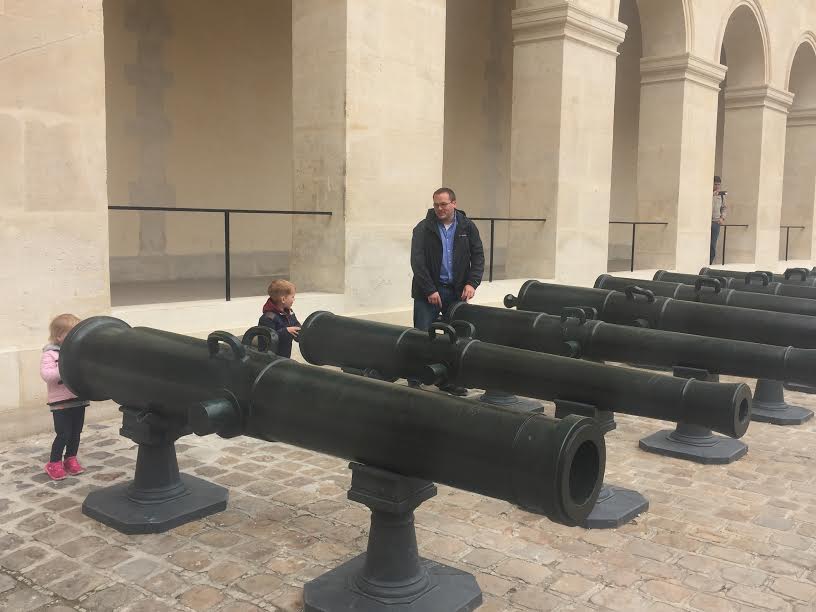 Leaving resulted in a bunch of tears from Owen, and I suspect we may have promised him we'd come back "sometime soon" because he spent the next several days asking if we were going back to the Army Museum and getting pissed when the answer was no. Whoops. Take away message though: you never really know what kids are going to like.
Our second stop of the day was the Luxembourg Garden, an enormous gorgeous garden in the middle of Paris. The place was enormous and included a pretty pond where you could rent toy boats to sail. Chris and Owen took a rest here while I walked around (Fiona being asleep on my back) and found tons of statutes of women who were influential in French history.
This is Margaret d'Anjou, wife to King Henry VI of England. She was an exceptionally driven woman who became the leader of the Lancastrian faction during the Wars of the Roses. Her husband, Henry VI, was mentally ill and had a nasty habit of falling into catatonic states for months and a time. He and Margaret (already hated because she was French and brought essentially no dowry) had an unpopular reign because of their mismanagement, duplicity and habit of playing favorites at court. When Henry VI was deposed by the Edward of York after the Battle of Towton, he and Margaret and their son went into exile. Henry VI was ultimately captured and imprisoned a few years later, but Margaret's resistance continued and, through her scheming with a disaffected York lord, Henry VI briefly regained his crown a decade after he lost it. This triumph was short-lived, however; Edward IV regained his throne about six months later. Margaret and her teenaged son, Edward,had  brought an army against the Yorks in an effort to defeat the Yorks once and for all, but Edward was killed and Margaret captured at the Battle of Tewkesbury. Henry VI died of "a broken heart" (probably murdered) in the Tower of London a week later. Margaret is a hard character to necessarily feel warm and fuzzy about given some pretty poor choices, such as ordering the deaths of two lords who kept her mad husband safe during a battle and had been promised safe conduct, but she was a woman of great courage and conviction and that makes her fascinating to me. 
The park included a large playground, which cost a couple euros each to get into but proved to be very fun. European playground equipment tends to remind me of playground equipment from when I was younger, awesome at the time but which now seems strangely hazardous compared to what we most often see in the United States. Still, my little climbers had a great time and spent a good two hours here despite it being quite chilly. I highly recommend a visit for anyone traveling with children, including bigger ones — the park was separated by age ranges and the "big kids" side had lots of cool looking stuff too.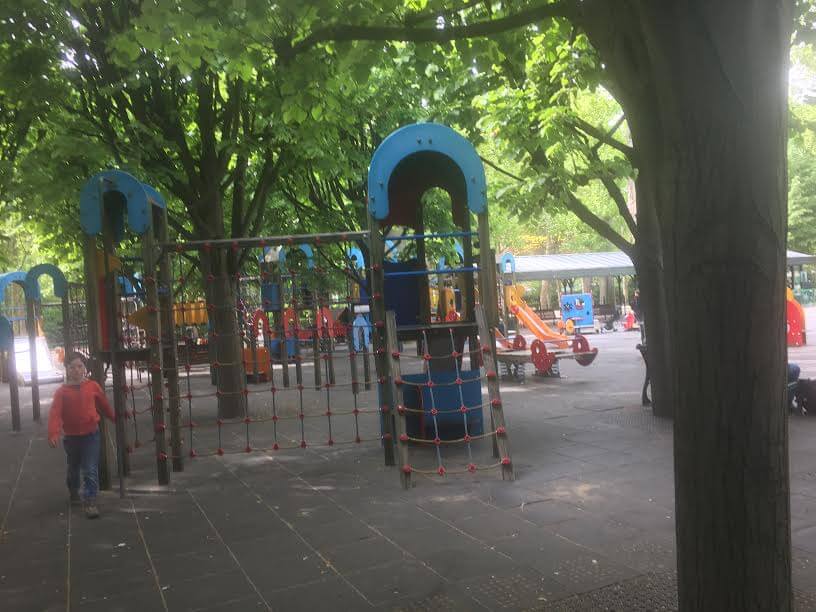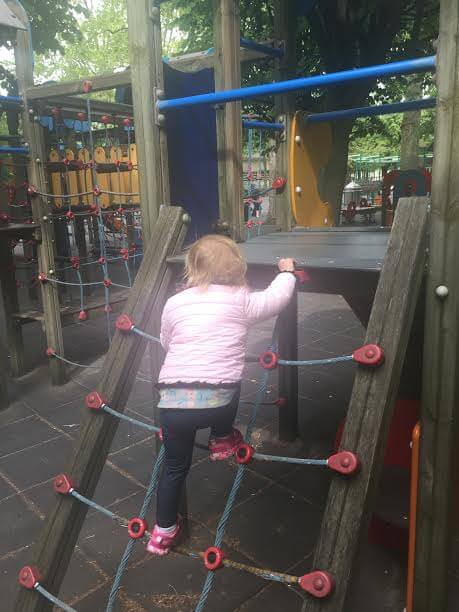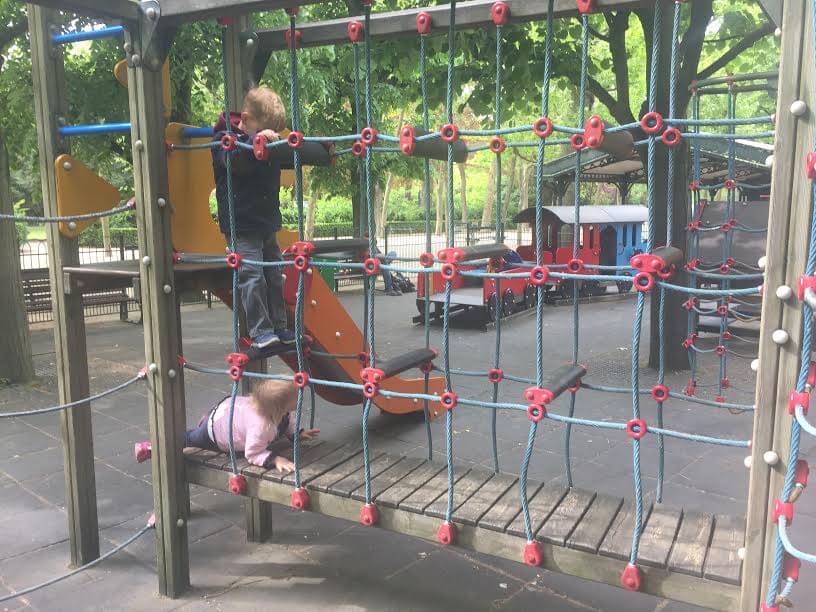 Afterward, I meant to visit the Pantheon, a structure originally envisioned as a church but repurposed as a burial place for French patriots and distinguished citizens after the French Revolution. People like Voltaire, Victor Hugo and Marie Curie have all been buried there. However, though we were right in the neighborhood we ultimately decided that the kids were too worn out for another visit. Instead, we opted to stroll through the Latin Quarter and grab a crepe. This area has always been one of my favorites in France little streets with tons of restaurants, very diverse and vibrant and with a fun vibe. I originally looked into finding an AirBnB in this area, but regrettably I couldn't find anything in our price range. Next time we go back though, I'd love to stay in the area.
Tuesday was also the day we took the subway most; we had been mostly walking or taking Ubers the rest of the time. Chris and I are fairly divided on the transportation issue, though we both like walking best when we don't have two kids to drag along. He prefers Uber because it is so hassle-free and he considers it not overly expensive. I prefer the metro because traffic makes me a crazy person. Paris has an amazing, easy to use subway system (we never waited more a couple minutes for our train) and I like feeling of being constantly in motion, versus sitting in traffic. And it is cheaper.
We had told him before, but for some reason he didn't really grasp that we were traveling underground until this particular Metro ride. He was shocked.