In a day marked by some great sightseeing, Thursday's top moment came not inside a great monument but just outside of it: sitting in a sweet little restaurant (Le Comptoir des Vins) just outside Fontevrault Abbey, having a great meal and two good glasses of wine and telling Owen the history of one of my favorite historical figures, Eleanor of Aquitaine.
I swear one of the best things about having kids is that they are a captive audience …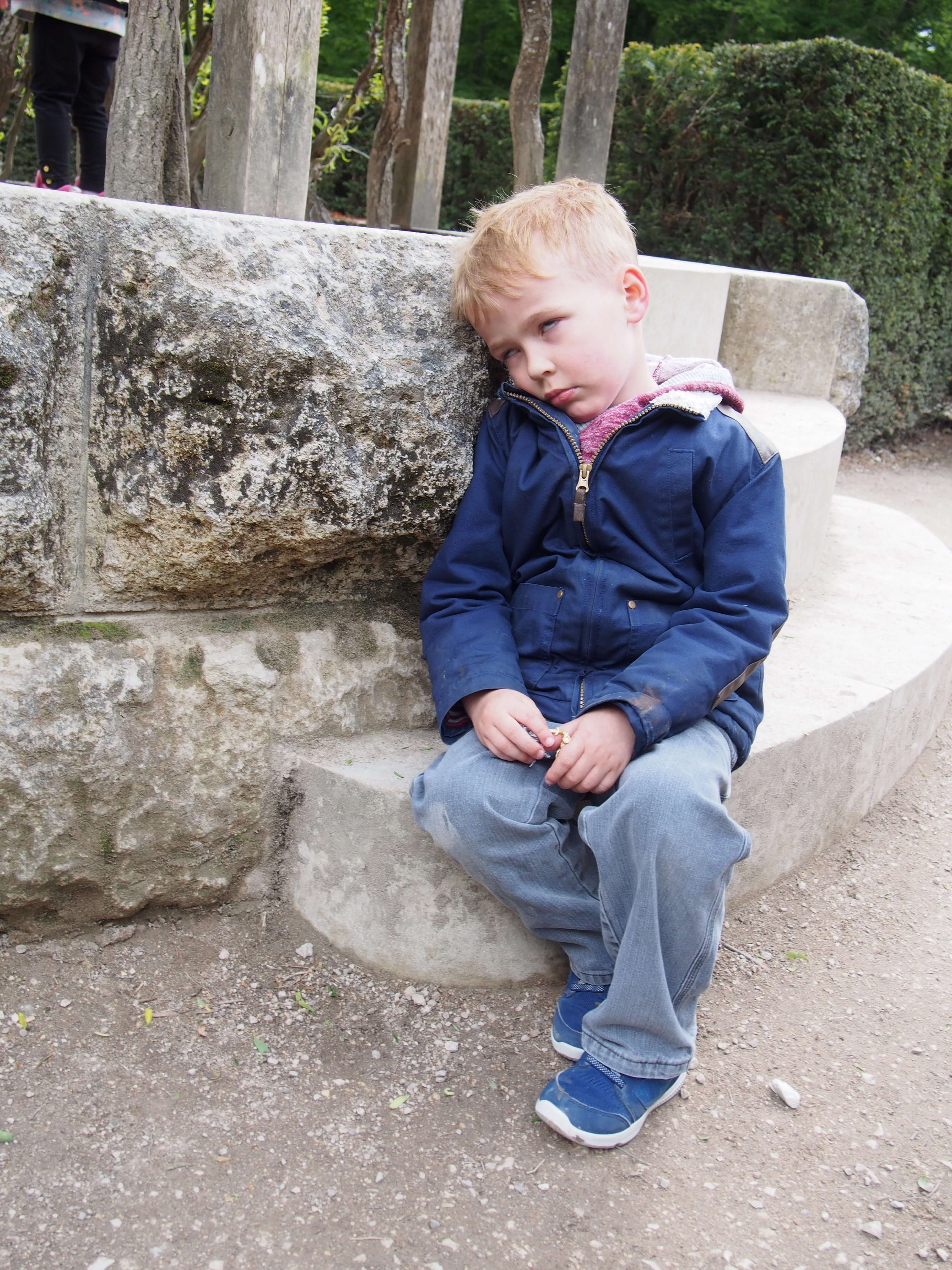 So, backing up a bit. Thursday dawned in our shared hotel room (after a night that reinforced why we usually rent apartments) and we headed off for the first of two full days planned in the Loire Valley. The Loire Valley, an area sometimes described as "The Garden of France," is in central France surrounding the Loire River. This area was of strategic importance in previous centuries, and the result is that there are literally hundreds of castles of varying sizes and levels of opulance throughout this region.
When we first planned by 30th birthday trip, my first priority was going to Paris, with the idea of doing "something else" as well. A little research led me to the idea of going to the Loire Valley, and soon enough I was more excited about that part of the trip than anything else. Luckily, it lived up to the hype! Because there are so very many castles and historically significant sites in the Loire Valley, and mostly all within very easy driving distance of each other, deciding what to prioritize was our biggest challenge. We ended up deciding on three activities per day, split up by location.
Thursday started with the Chateau d'Usse, a castle that I chose specifically with the kids in mind. Unlike the others we'd see in the next two days, it does not have enormous historical significance — choosing it over nearby Chateau de Chinon was a bit of a wrench for this history nerd — but it is gorgeous and is believed to have been the inspiration for the Sleeping Beauty fairy tale.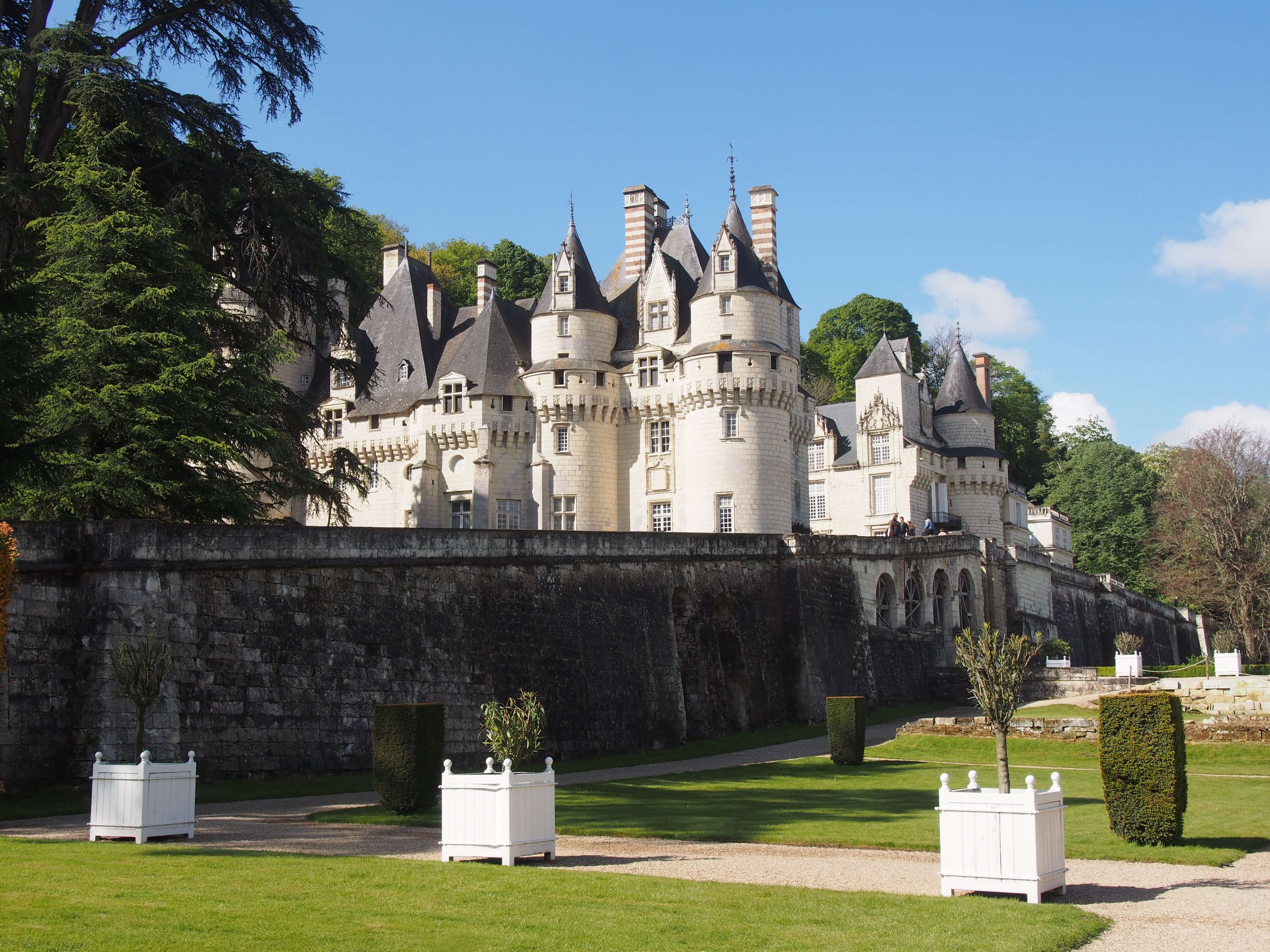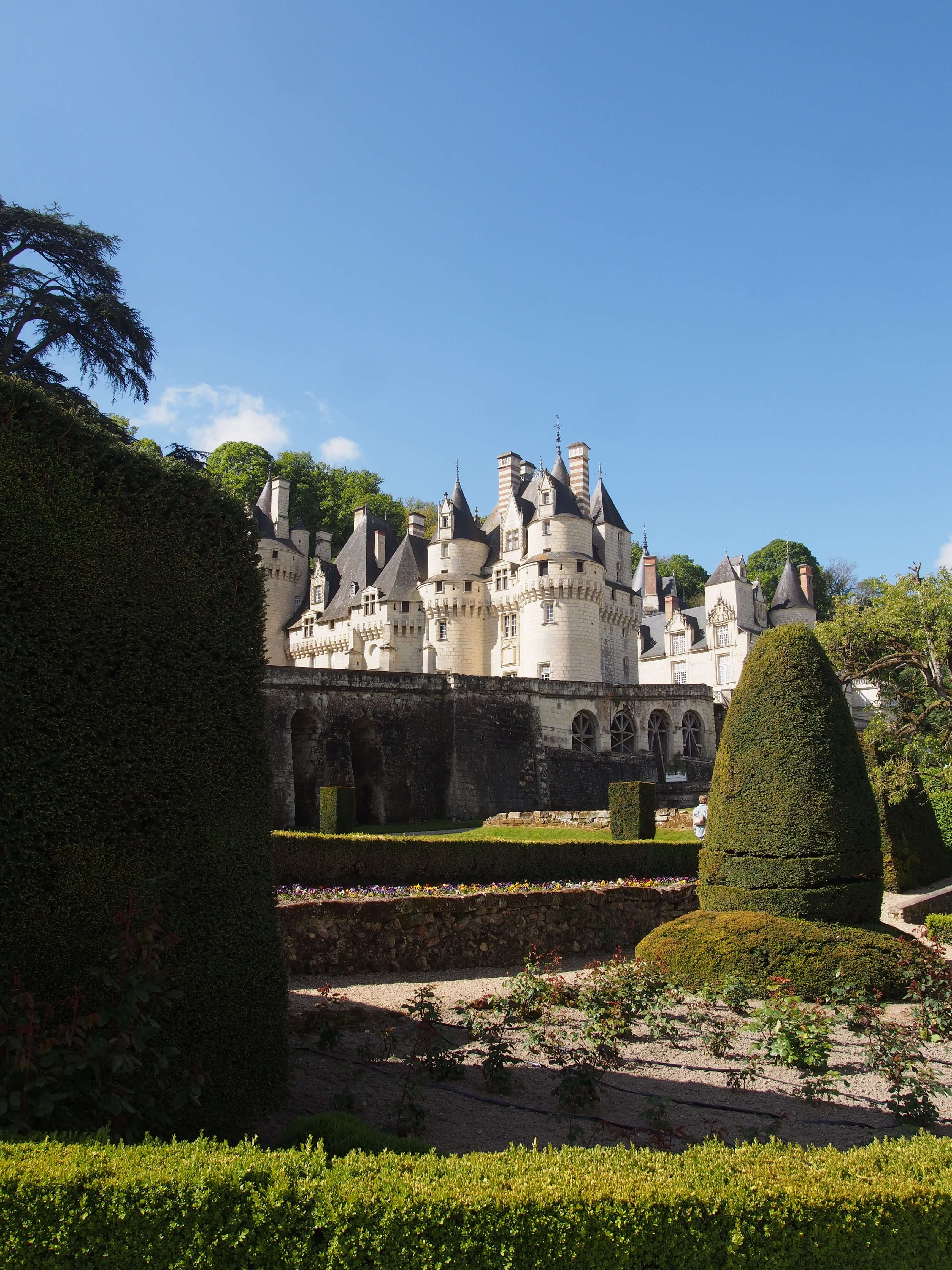 Although I would still like to see Chinon at some point, going here was the right choice. It wasn't overly busy, which meant we felt like we were just getting to wander around a castle by ourselves.
The castle has definitely leaned into the idea that the author of Sleeping Beauty had this castle in mind for Princess Aurora.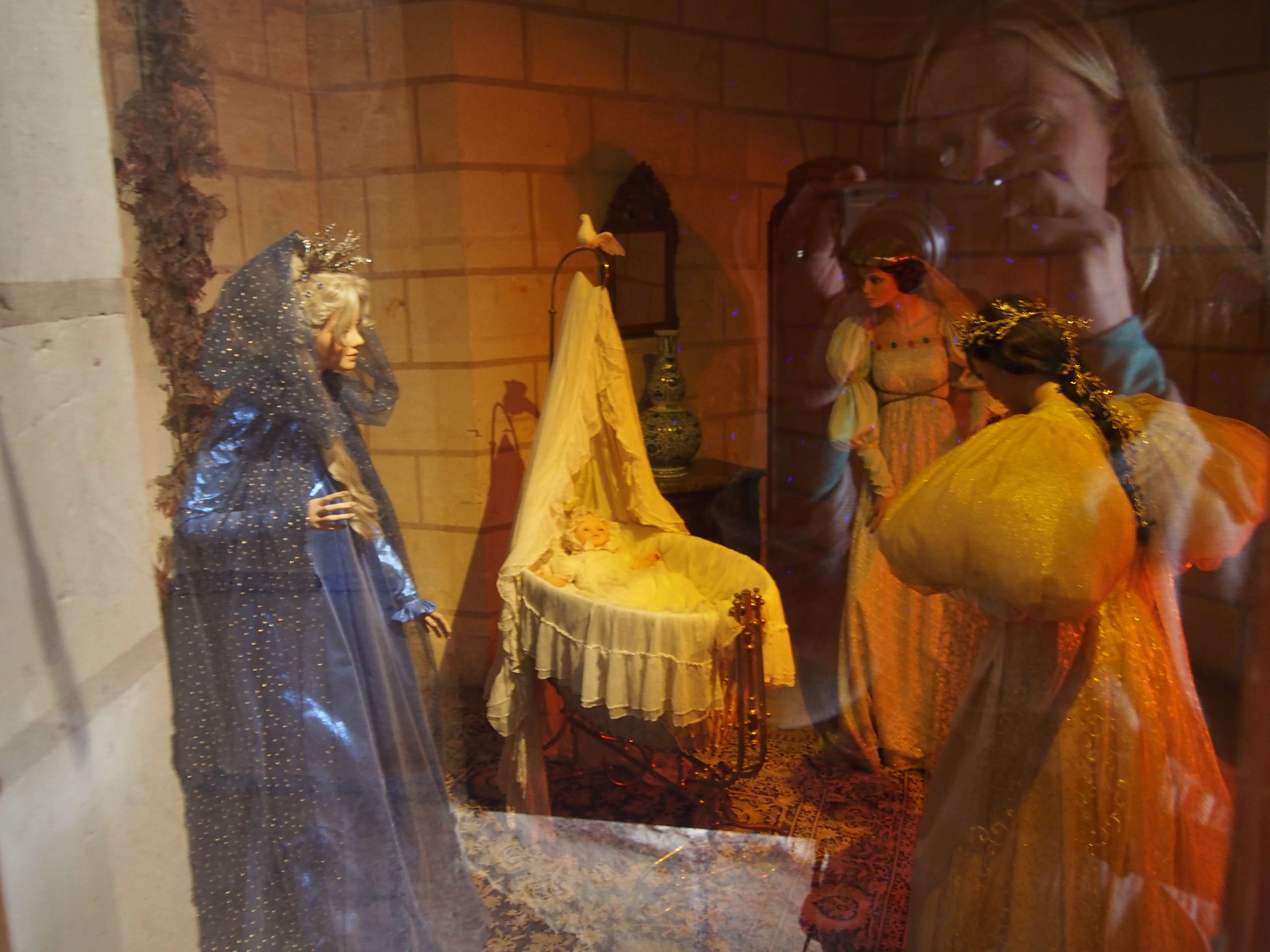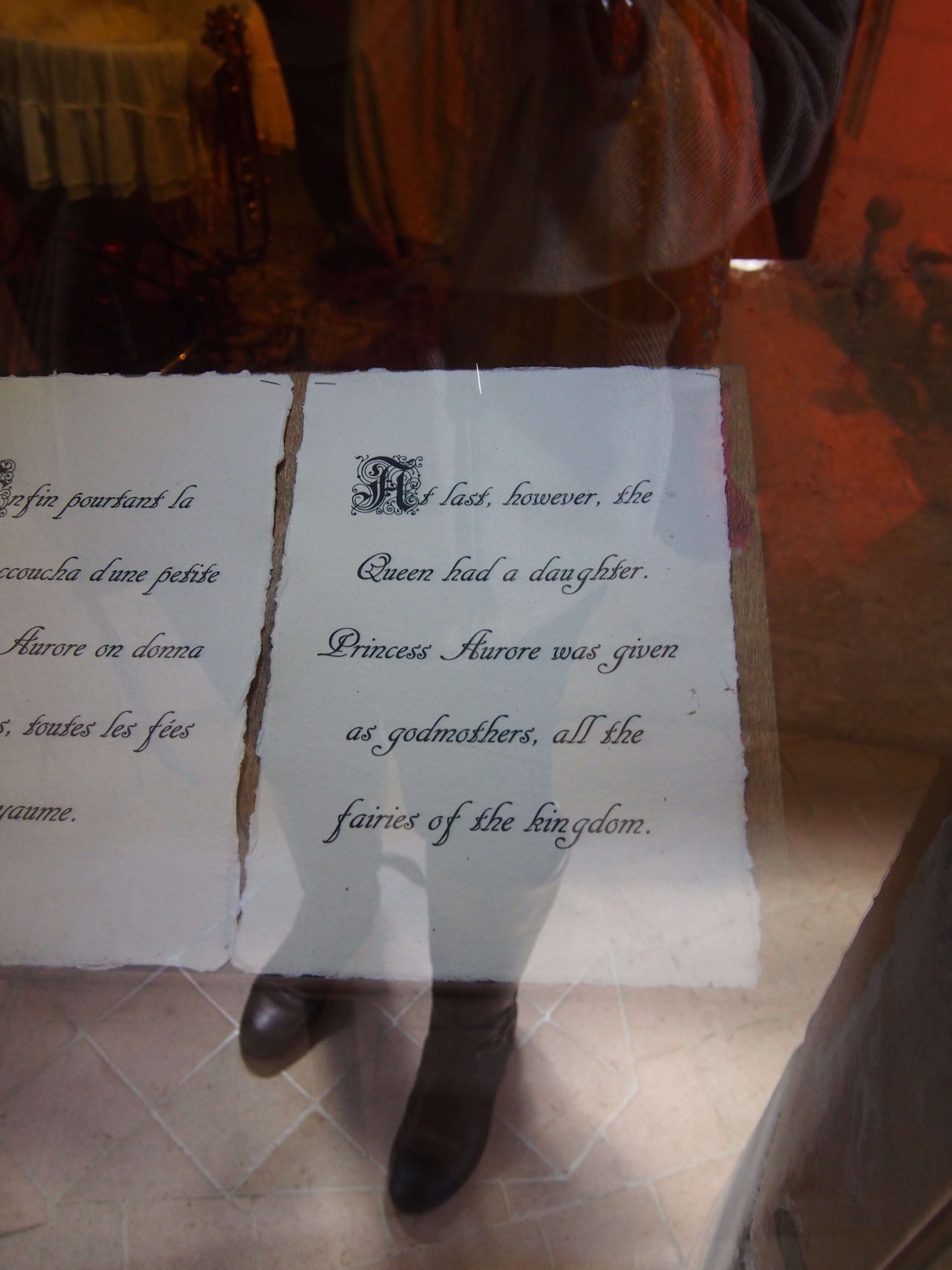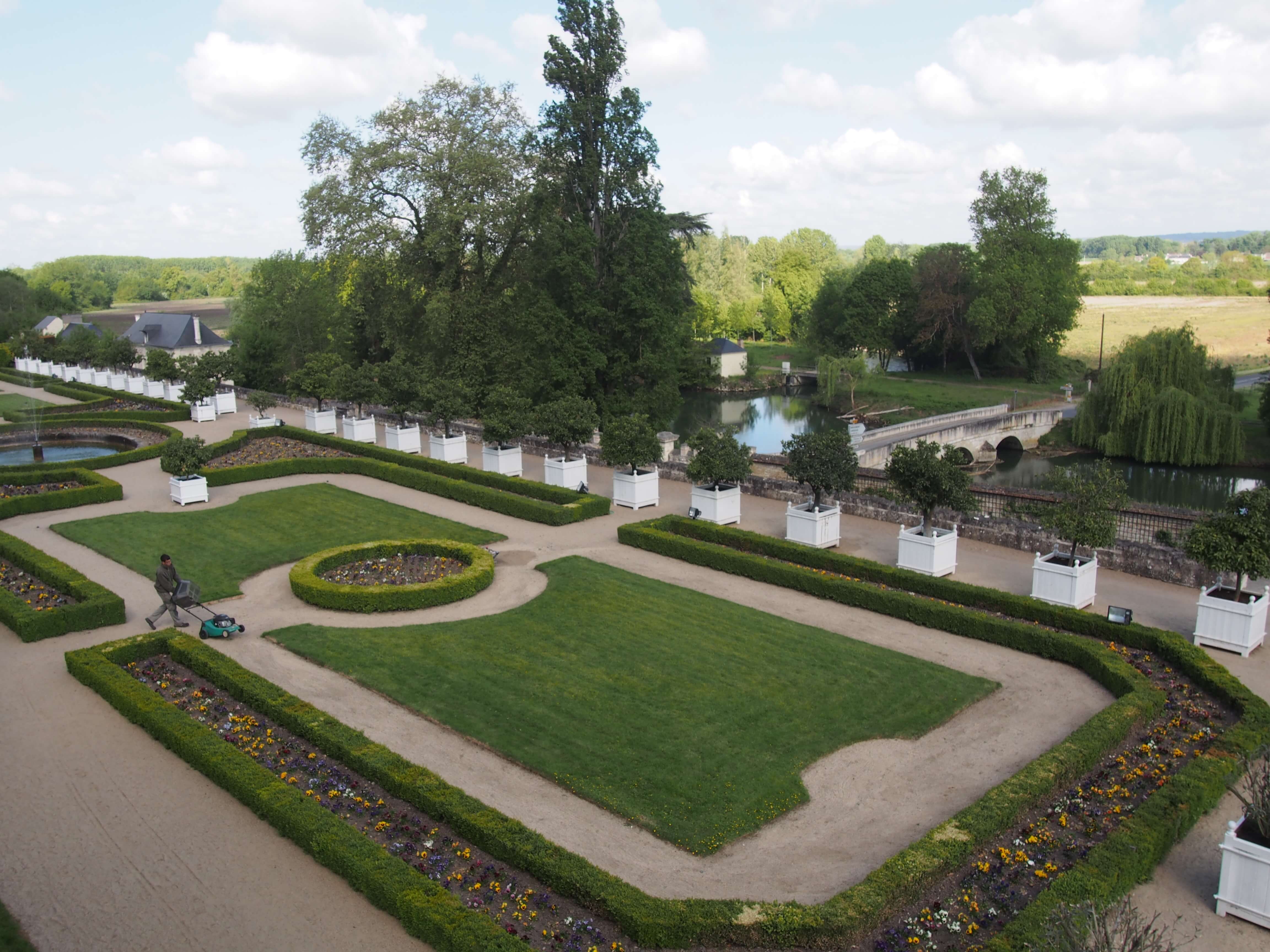 Fiona loved the princess stuff in this castle, even though her questions about when we'd see a "real princess" persisted. I guess we'll have to try and search for the Princess Charlotte in London some day, ha! Though if we ran into them at the park I expect she'd be disappointed by the lack of tiara.
These stairs led to an underground chamber that at one point was the beginning of a tunnel that ended in the forest. It was a way of escaping in case of attack. 
The Sleeping Beauty motif was contained largely to one tower of the castle. Elsewhere, the mannequins were dressed in 1920s style.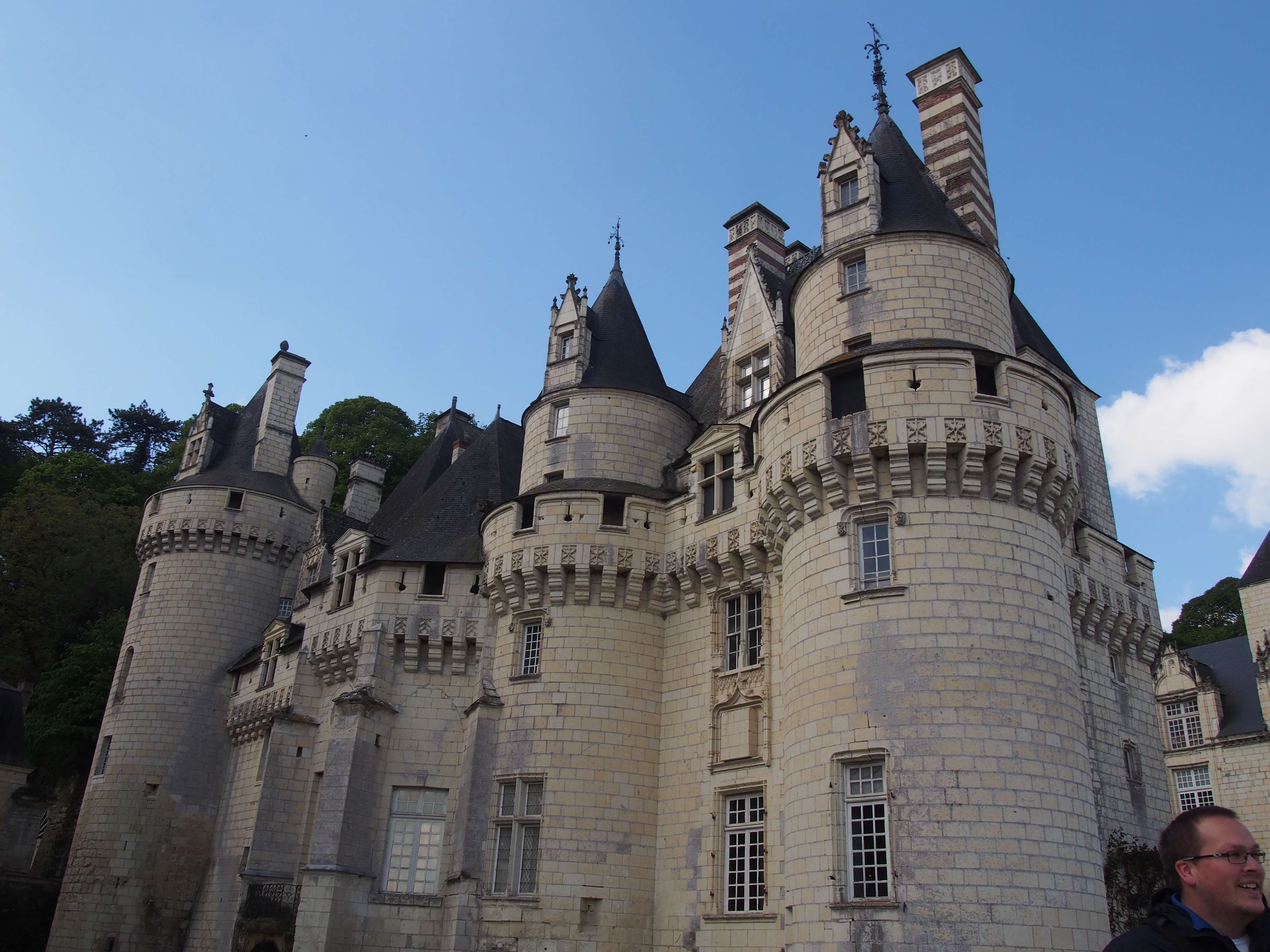 If the Chateau d'Usse visit was chosen in part because it would appeal to the kids, our next stop of the day — I freely admit — was entirely for me. If you are not overly interested in history, I encourage you to let your eyes wander down to the pictures now and rejoin us toward the end. I'll back back with wine after this!
The Abbaye de Fontevrauld is a fascinating part of Angevin history, and it dates back to 1101. During its heydey, it included four religious houses and though there were both nuns and monks in these houses, it was a woman who had the running of the overall establishment, the Abbess of Fontevrault. The abbess was usually a highborn, often well-connected woman (widow of the Duke of Burgundy is one example) and this was an important position. The abbey was patronized in particular by the Plantagenets, the family who would ultimately end up ruling England for centuries. Highborn children were often raised at Fontevrault, including at least two of Eleanor of Aquitaine's children.
My interest in going here was partially because of the history,and partially because I was interested in seeing the effigies of Eleanor, her husband Henry II, and her son King Richard "the Lionheart." If you aren't familiar with Eleanor, she was one of the most powerful women in Europe during the Middle Ages. Here are some highlights:
-She became soverign duchess of Aquitaine as a young teenager after the death of her father
-Almost immediately marries Louis VII, King of France
-Goes on the Second Crusade as one of its leaders
-Unsuccessfully makes a bid for an annulment from the Louis; Later, finally receives her annulment after 15 years of marriage results in just two daughters
-Almost immediately remarries, this time to the Count of Anjou/Duke of Normandy, a teenager 11 years her junior who would become the most powerful man in Europe in time — helped in no small part by Eleanor adding her lands to his. Henry Fitzempress was the son of the woman considered by many to be the rightful Queen of England, Empress Matilda. Matilda, only surviving legitimate child of King Henry I, was named by Henry as his heir but in the end lost the throne to her cousin Stephen after years of warfare. Her son Henry, therefore, had a claim to the English throne and ultimately convinced King Stephen to agree to name Henry as his heir in exchange for peace. Henry acended to the throne of England a year later, in 1154.
-With Henry II, had at least eight children, seven of whom survived to adulthood. Among them are four surviving sons: Henry, Richard, Geoffrey and John.
-During long periods of separation, Eleanor often ran parts of the now enormous and ever-growing Angevin empire, which stretched over England and wide swaths of France. In later life she returned to Aquitaine as its duchess again. Her court is known for celebrating troubadors, chivalry and courtly love.
-Joined her sons in a revolt against her husband/their father, in the process seeking help from her first husband, Louis VII. The sons wanted to weild more power in the domains they'd inherit.
-The sons lost. Eleanor is imprisoned by her husband for most of the next 16 years. During this time, her son Henry "the Young King" dies, as does her son Geoffrey, Duke of Brittany by virtue of his marriage to the duchy's heiress
-Eleanor is freed upon the death of Henry II, who ended his days at war with his heir, Richard, after finding out that his youngest and favorite son, John, had also betrayed him.
-Eleanor is basically running things while her son, Richard, goes off on the Third Crusade, then plays a huge role in raising the enormous ranson set by the Holy Roman Emperor when he captures Richard. Richard dies a few years later.
-In her late 70s she was still running all over the world, including a journey across the Pyrannees into Castile to pick one of her granddaughters to marry the new King of France.
-Eventually, she retires to Fontevrauld for some well-earned rest after decades of badassery. She died there in 82.
Queen Eleanor, King Henry II and King Richard the Lionheart (and King John's wife, Isabella d'Angouleme) were all buried at Fontevrauld, but their bones were scattered during the French Revolution. Their effigies, however, remain.
Seeing them was a surprisingly emotional experience, which I can't really explain.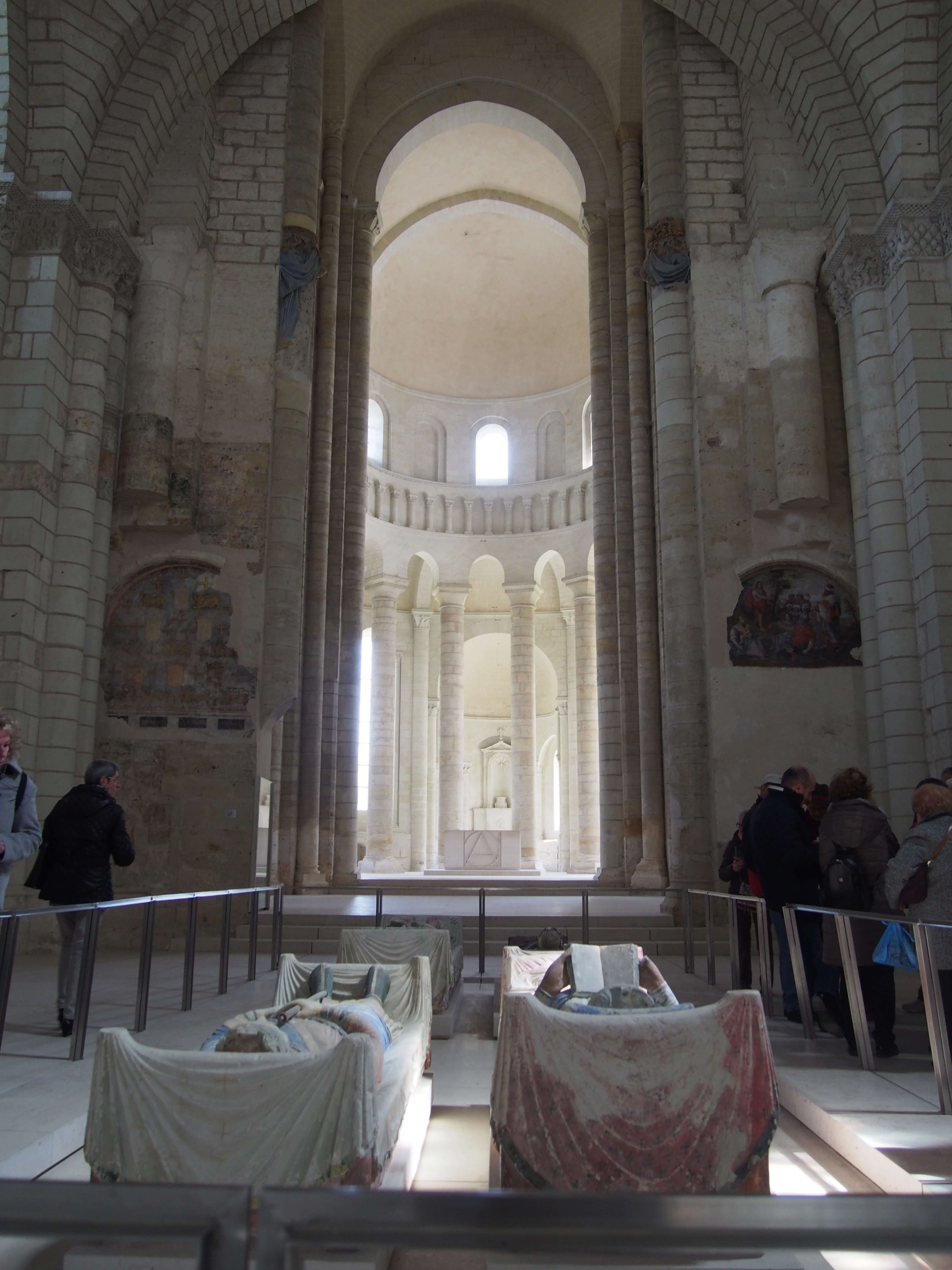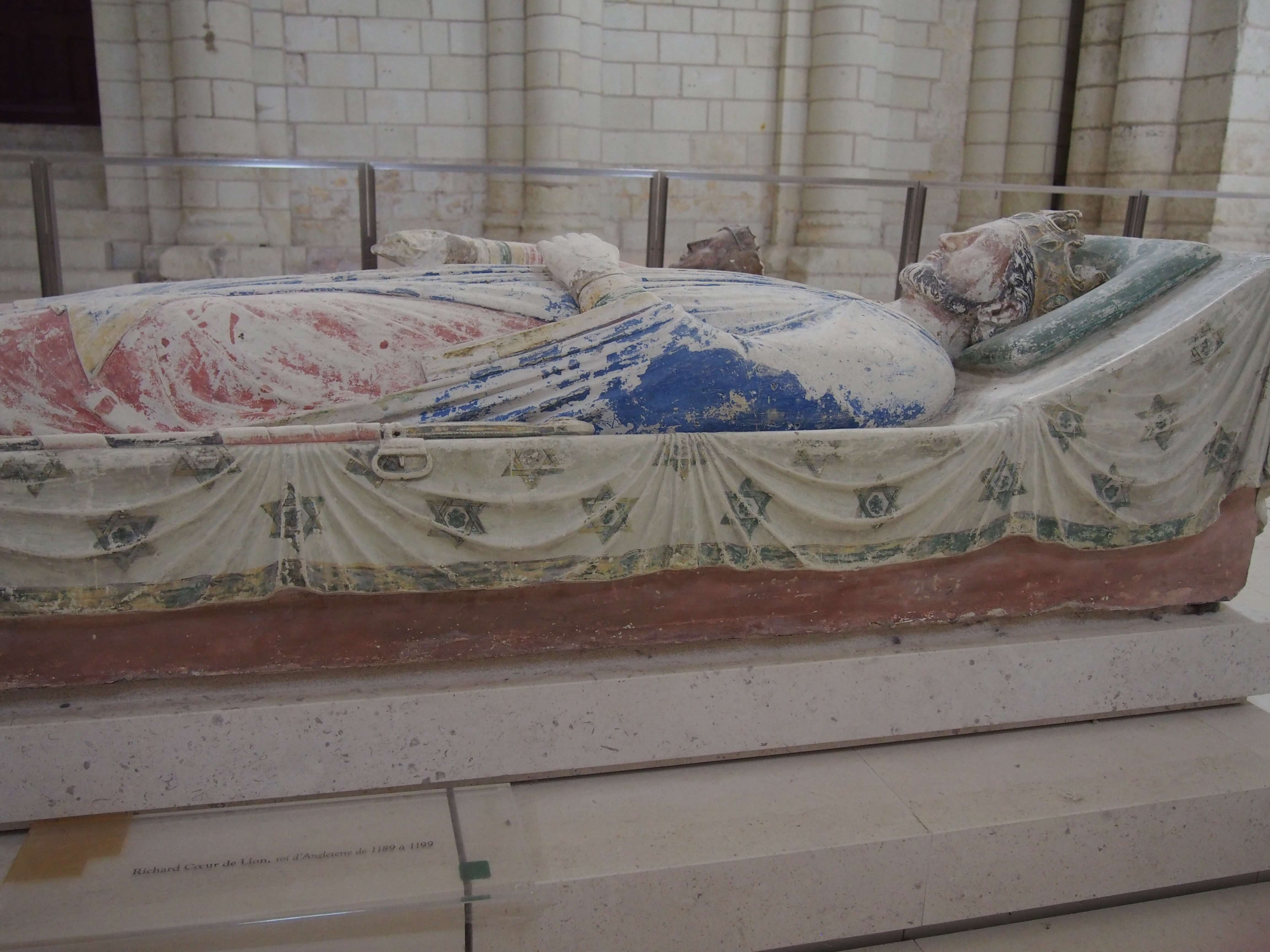 The rest of Fontevrauld was interesting, including learning about how it was converted into a prison after the French Revolution. From 1804 to 1963 it served as one of the toughest prisons in France, apparently. Members of the French Resistance were shot there under the orders of the Vichy Government.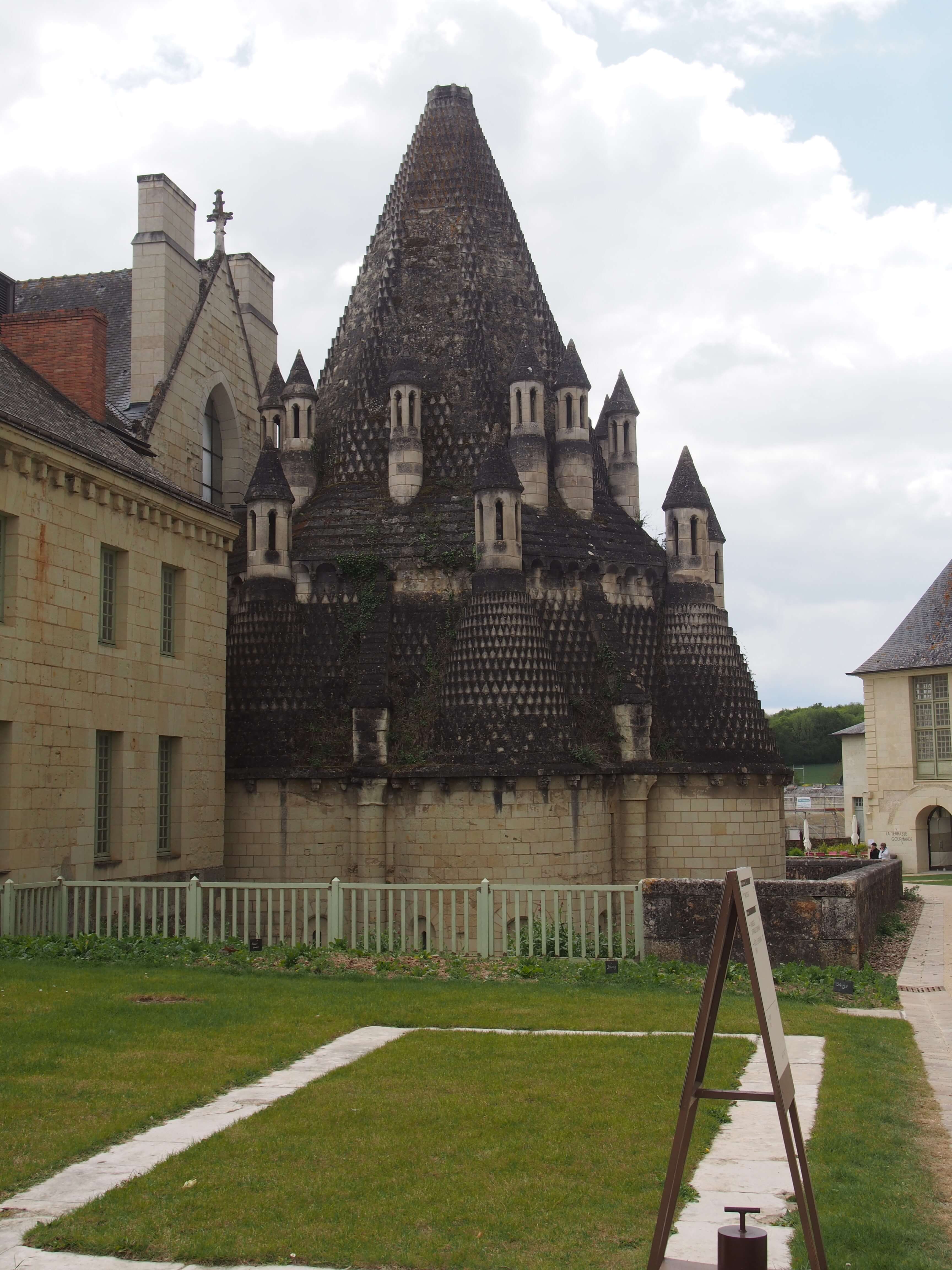 Overall, I would say the place is worthy of a visit if you are interested in that particular history. It may be boring for young children, but there is grassy area to run around in when they need a break. And frankly, it doesn't kill a kid to be bored once in a while!
Our final stop of the day was the second-oldest winery in (well, near) Saumur, a city known for its excellent wines. There were tons to choose from, but we ended up going to Bouvet Ladubay, which formed in 1851 when a married couple by the names of Etienne Bouvet and Celestine Ladubay purchased 8 kilometers of caves in which to produce and age their wines. The concept of "wine caves" seems to be quite common in the region, as we saw them advertised everywhere. I knew that this one had frequent tours of the caves and I planned for us to join one whenever we got there (instead of doing advanced tickets and being a slave to the clock), but unfortunately I failed to consider that the frequent wine tours might not be offered in English. Whoops. We joined a French one since you can't see the caves without going on the tour and it was only a few euro anyway — plus it ended with a tasting. It was interesting to see the caves and we did have a pamphlet to read describing the things our guide would be talking about, but I'd recommend hitting an English tour.
I only have a few crappy pictures because it was dark and I was tired of carrying my big camera. 
The wine tasting afterward helped make up for the awkwardness of our tour, however. We liked some of the wines enough to buy a couple bottles, and even Owen got to try some sparkling grape juice (Fiona was asleep on my back).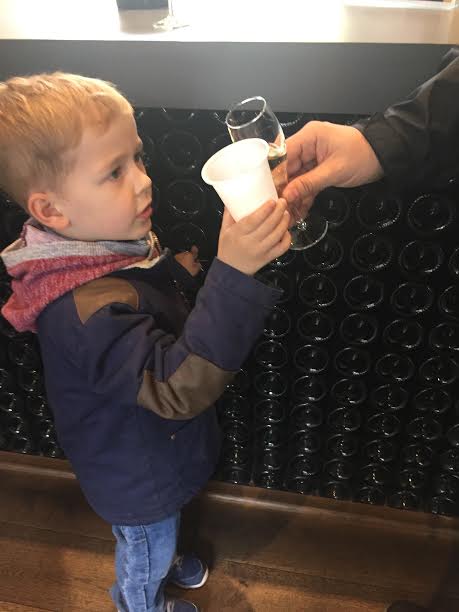 From here, our exhausted bunch piled into the SpaceCar and headed to our final destination of the evening — the cottage we had rented with a mysterious address: "Le Parc, Veretz." Fortunately, our faithful SpaceCar's navigation system got us there.
A note about the driving: loved it. It was like driving in Indiana again — wide open spaces, pretty farmland, less honking and very chill. I ended up doing all the driving because I was the one who went to retrieve the car from the rental agency and didn't know I was supposed to bring Chris' driver's licence with me. It worked out great though, because when you are driving it turns out you can pull over and take a picture whenever the hell you feel like it even when the rest of the car is begging to JUST GET HOME ALREADY.
Worth it.