Well, we're back from what Chris has officially dubbed "my favorite place we've been." High praise!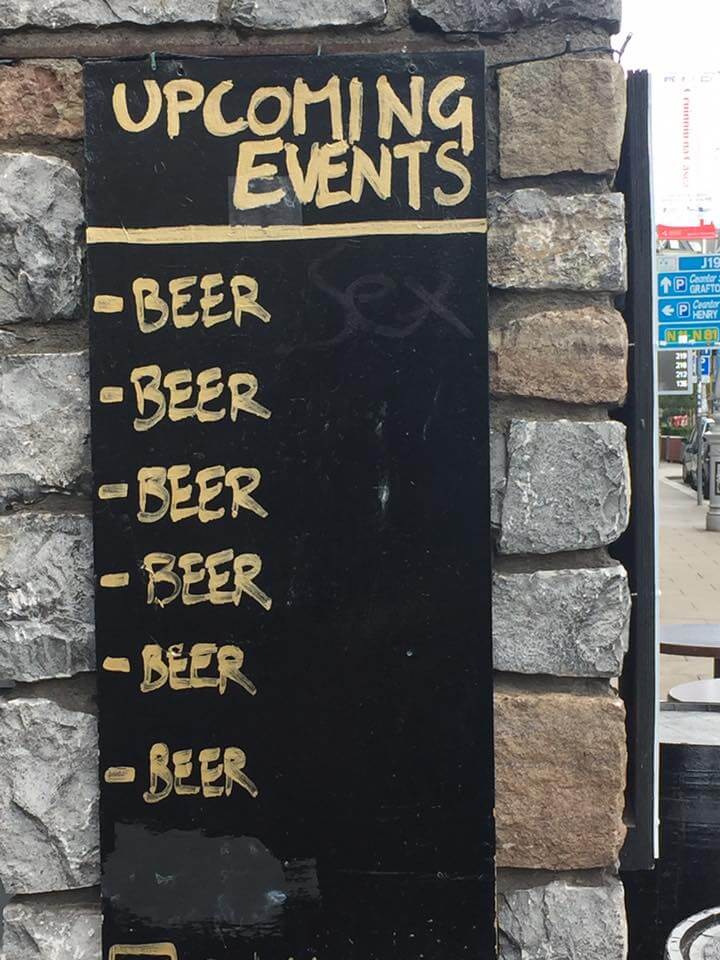 I'm sure this has nothing to do with it. 
We spent six days in Ireland with my mother-in-law, Gail, and her husband, David. They were planning to come see us this year, but we also wanted to do some kind of a trip together. To be honest, I have no idea how we finally settled on Ireland given that when we first started discussing it Gail said she was basically interested in everywhere in Europe except Portugal. And then David chimed in that he thought Portugal would actually be cool … as you can imagine, narrowing it down was tricky! None of us had been to Ireland and we all wanted to see it, so it eventually won out. One bonus was that it was an easy, nonstop flight from Chicago. (My in-laws live in Indianapolis, but since overseas flights from Indianapolis tend to be dramatically more expensive they chose to drive to Chicago to fly from there). Overall, all four of us were (I think!) thrilled with our choice, though we wish we'd spent more time there.
One note: if it feels like we just got back from our trip to France – well, it feels like that for us too. It just kind of worked out this way because we planned France around my 30th birthday and this trip around Memorial Day, and those are close together. We won't be doing a big trip every month, haha.
Chris, the kids and I arrived in Dublin around 1 a.m. Sunday morning because Aer Lingus offers just two nonstop flights between Catania and Dublin per week at this time of year, so choices were limited. We picked a hotel near the airport so that we could get to bed quickly (wishful thinking) and as an easy meetup point with Gail and David when they arrived later Sunday morning. We also arranged for a large taxi-van with car seats to pick us up from there, and arranged with our AirBnB host to drop off our bags early.
Sunday was a low-key day in Dublin because we were exhausted from our late-night flight, and Gail and David hadn't been able to get any sleep at all on the plane. We decided to have lunch at The Brazen Head, which was founded in 1198 and is reported to be the oldest pub in Dublin. It also proved to be a rather further walk than we thought – sorry, guys. I didn't love my food, but everyone else really liked theirs and it was generally a fun pub atmosphere.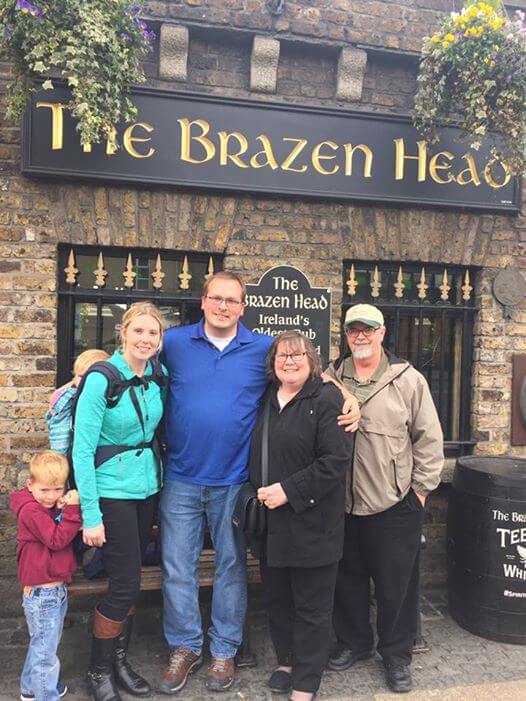 I had optimistically booked us a free walking tour through Sanderman's Walking Tours for the afternoon, but by the time out 2 p.m. meetup point came around we were exhausted and drinking beer in The Brazen Head felt like a much better idea. If we had more time, I would have rebooked though – I've heard really good things.
From there, Chris and the kids and I just explored Dublin a bit while Gail and David got some sleep at last. We walked through Temple Bar and had some snacks, including possibly the best wings we've ever had. Temple Bar seemed like a fun area, if you don't have two cranky preschoolers in tow! Speaking of the kids – Owen and Fiona were asleep by about 5:30 and 6 p.m., respectively, and slept until the next morning. Poor guys were tired!
We took turns grabbing dinner while they slept – it was SO NICE to be in a place where you can eat before 8 p.m. if you are so inclined. And even nicer to have a date opportunity with Chris! We went to the Bleecker Street Café – it isn't super impressive looking on the outside, but it was good food and good times inside. I recommend the chicken curry.