Short story: everything people say about the Irish countryside is true. Green and gorgeous! I'm not going to bother with a lot of words today because the pictures (almost) say it all.
For our final full day in Ireland, we visited the Cliffs of Moher on the west coast of the country in County Clare. We stayed at the most wonderful AirBnB house in a town not far outside the city of Ennis, Kilysdart, which was only about 40 minutes from the Cliffs.
Friday was the first day we didn't get lucky and avoid the rain, but the Cliffs were so gorgeous it hardly mattered.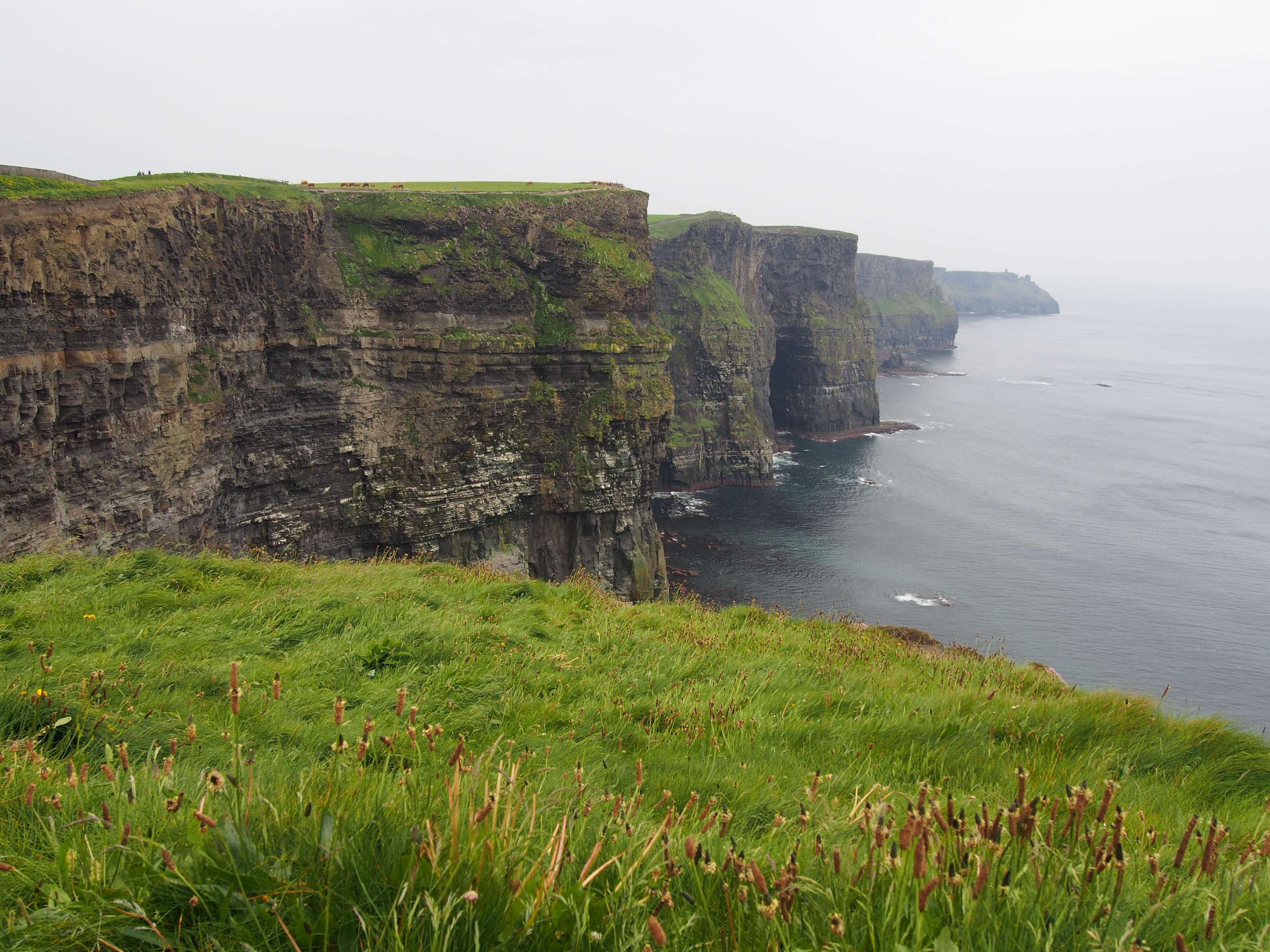 The Cliffs are between about 400 and 700 feet above the sea.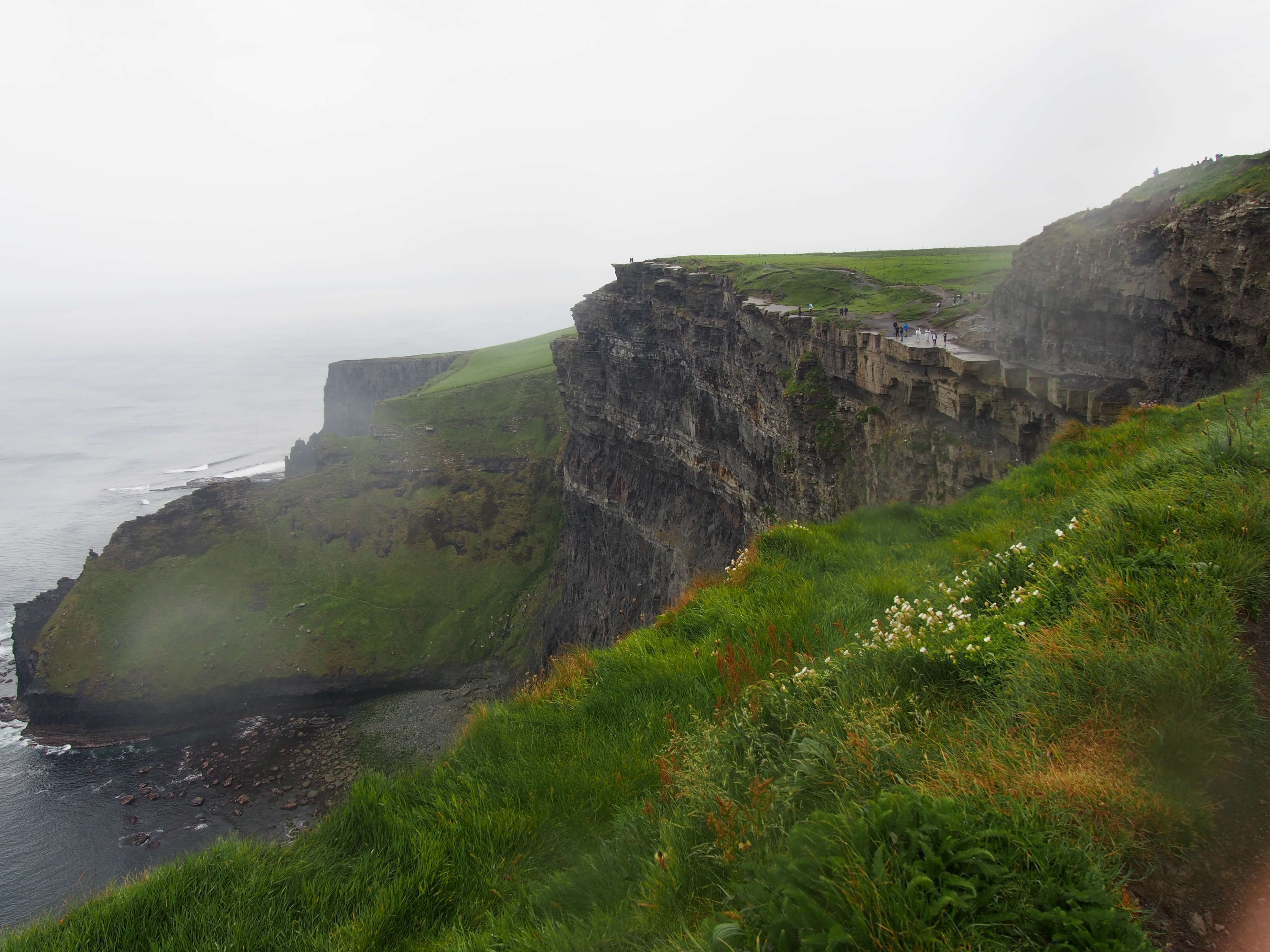 My lens was a little fuzzy from the rain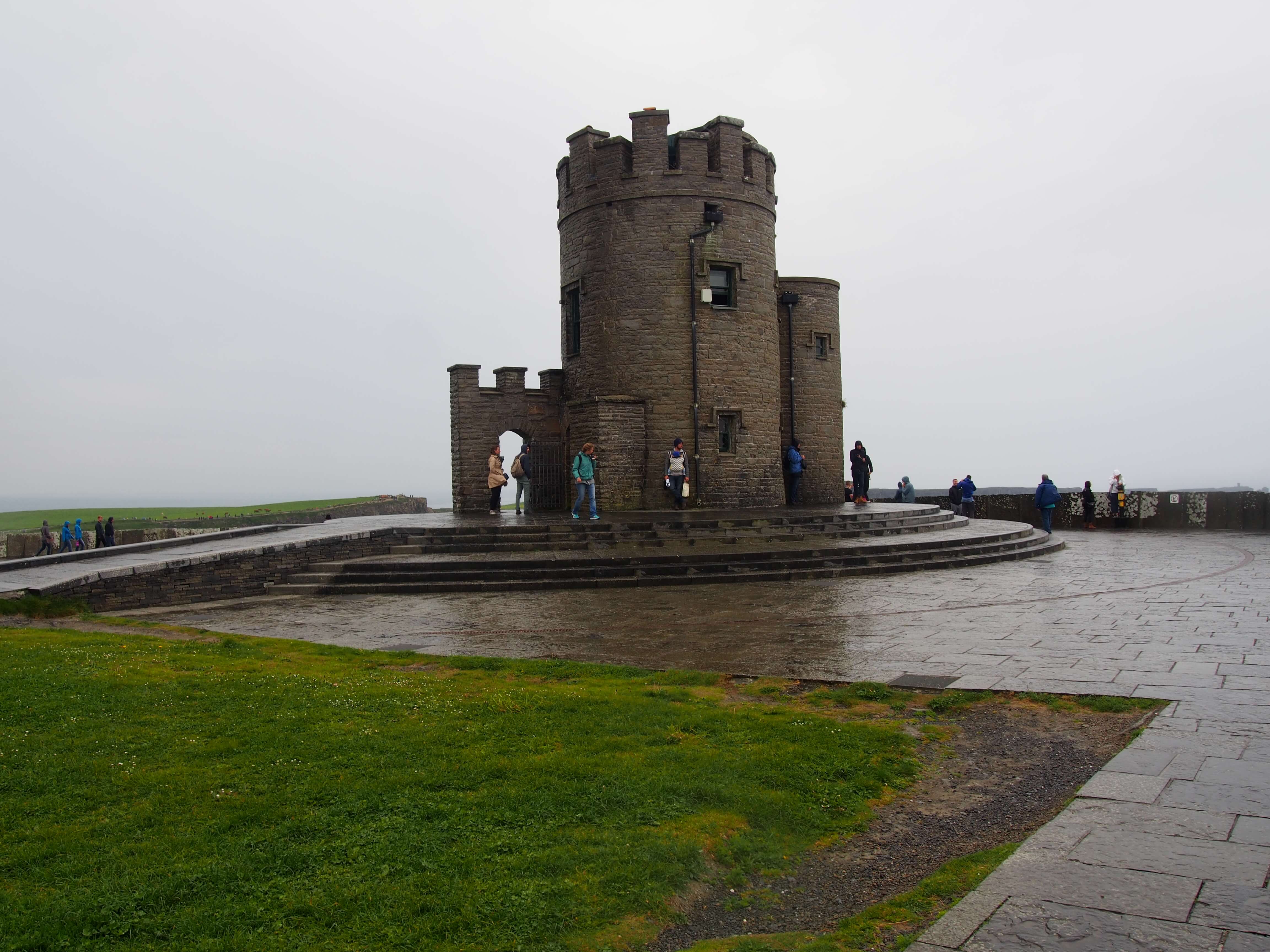 This is O'Brien's Tower, built in 1835 to mark the highest point of the cliffs and as a tourist attraction. We didn't go in because Rick Steves said the view isn't any more magnificent another 30 feet up. 
We parked in the visitor's center area and walked over to see the Cliffs. A good portion of this area had paved areas, concrete viewing places, steps and a wall to keep people from plummeting to their doom.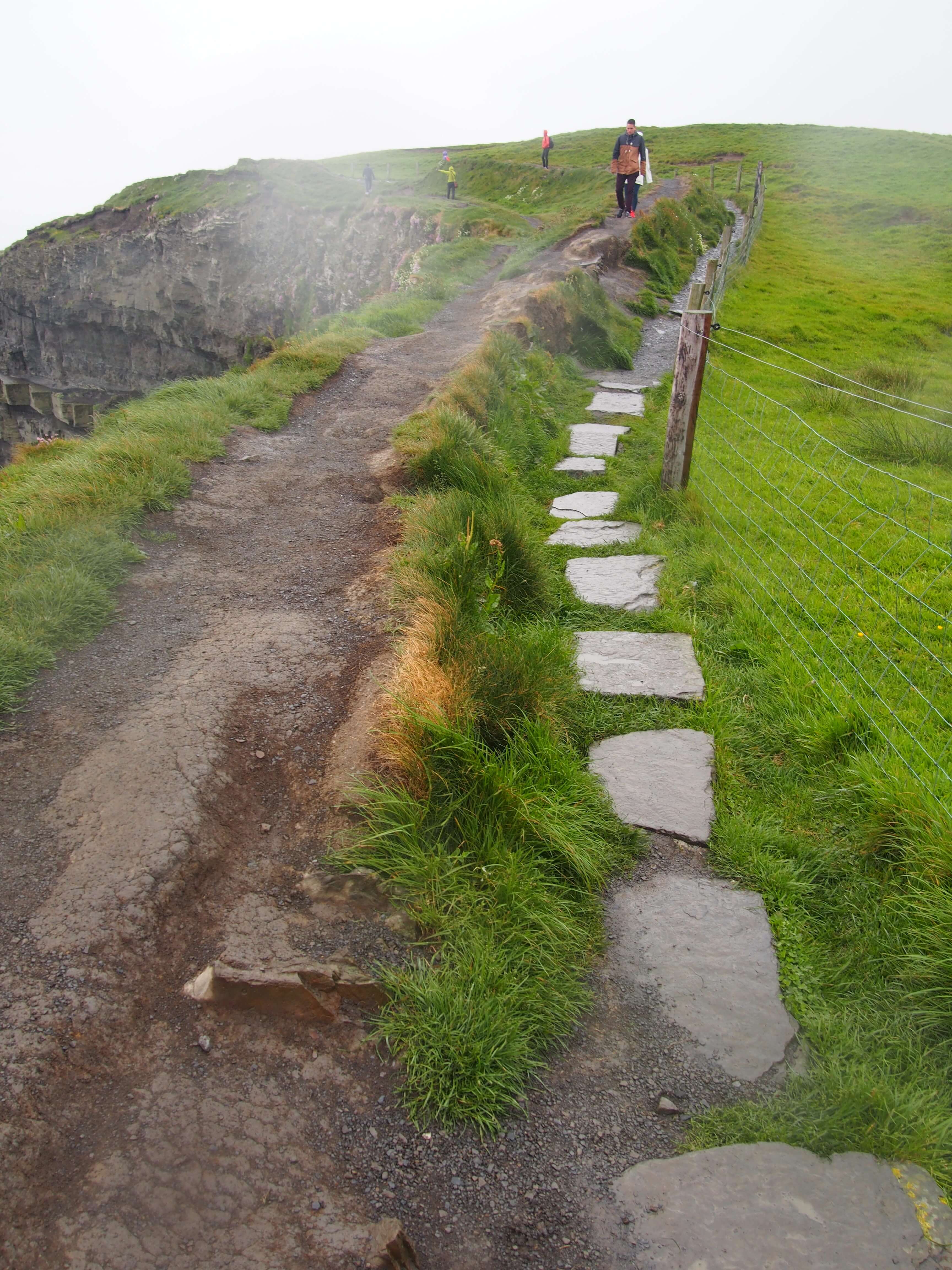 Further down you could walk on a much rougher path with no fence. We didn't want the kids to jump offf of it but we did want to walk further, so we sent Owen with Gail and David back to the visitor's center. It can be so handy traveling with other adults!
This is an example of a crazy person who abandoned the path to get closer to the edge even though it was rainy and slippery as hell.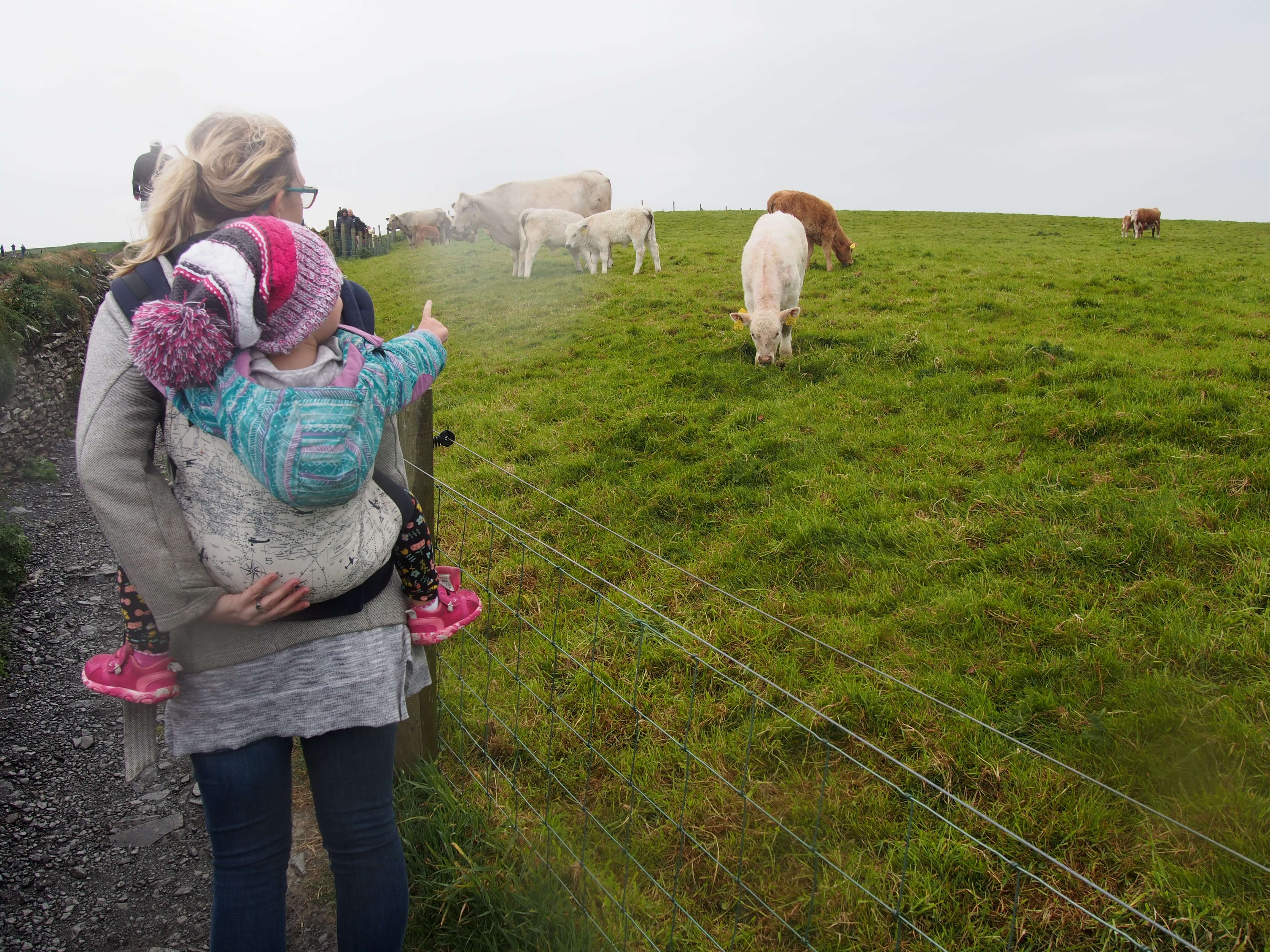 Fiona stayed with us because she was safely strapped to my back.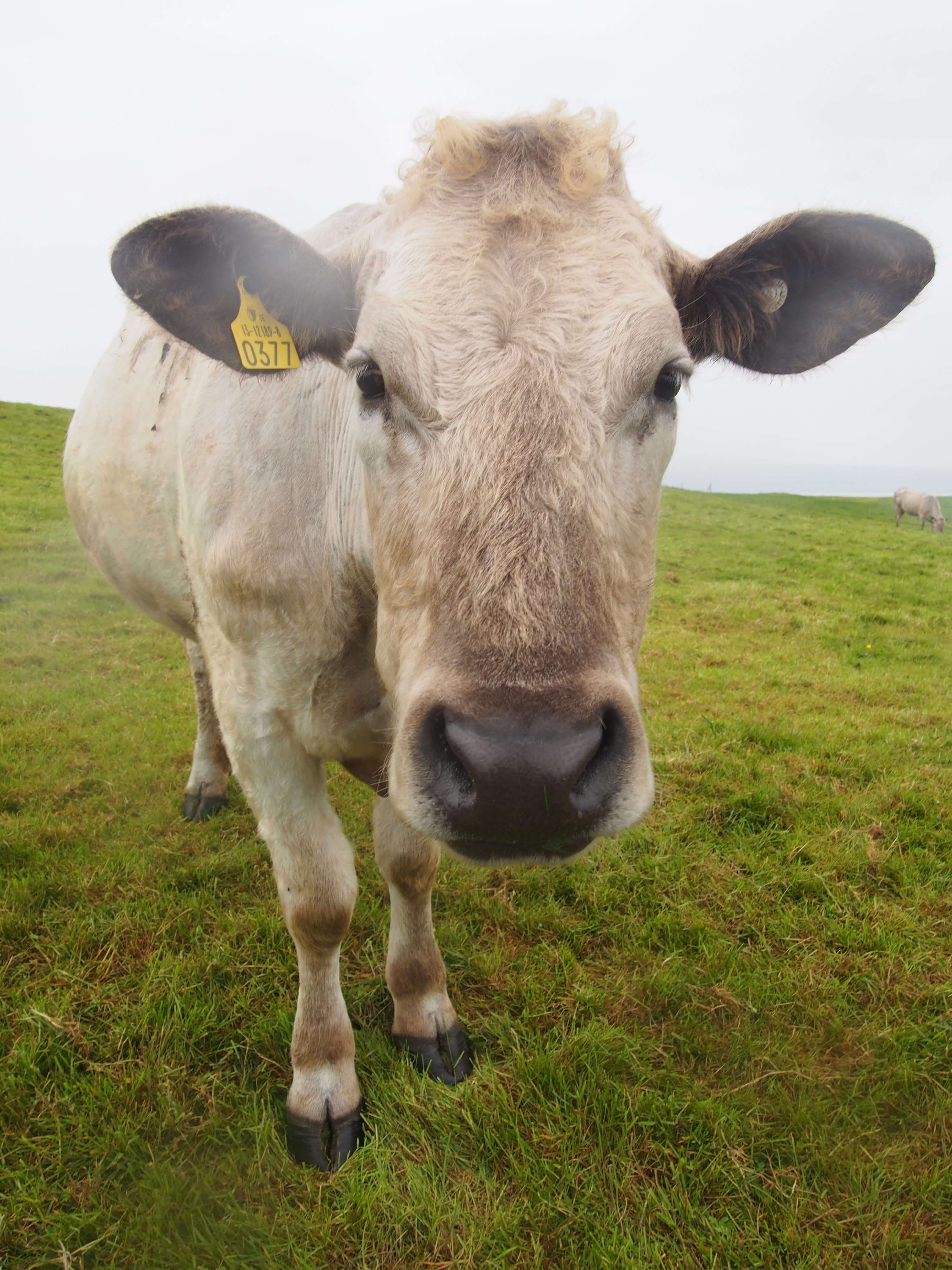 Once we had our fill of the Cliffs — the visitor's center was also worth a visit, by the way — we decided to follow our Rick Steves' guide and do some driving in the Burren.
The best description of the Burren comes from a Cromwellian Army officer in 1651, who described the region as having "not enough water to drown a man, wood enough to hang one, nor earth enough to bury them." It is a rather strange place characterized by exposed limestone that dominates the landscape with very little soil cover. It kind of looks like the place where you'd film a post-apocolyptic movie where humans have destroyed the environment.
The Burren (that name comes from an Irish word meaning "rocky place, btw) isn't like any other place I've seen, but pretty in its own way.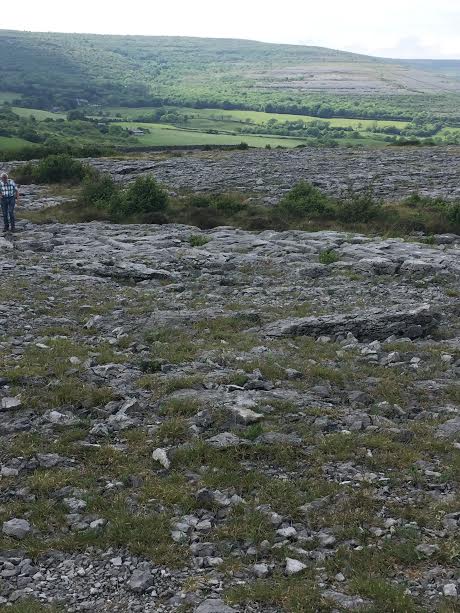 In the distance, you can see where the land abruptly goes back to "normal." 
We stopped at a few of the sights suggested in our Rick Steves guide, which outlined a driving tour of the Burren. One of these was the Caherconnell Ring Fort, an anciet and well-preserved ring fort dating back to around 10th century. There is also believed to be Bronze Age structure right next to the ring fort where student archeologists are working and learning.
We heard a lot about ring forts during our trip, perhaps unsurprisingly give that tens of thousands of places have been identified as former ring forts in Ireland alone. They were homes to a family and perhaps their dependents, status symbols, defensive structures and a way of keeping livestock safe and contained when needed.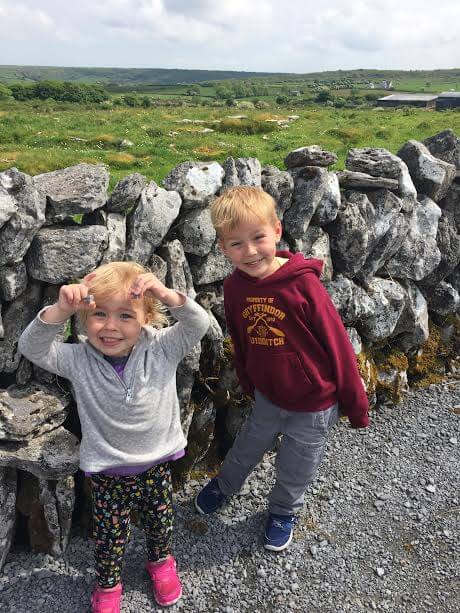 This sort of stacked-stone method was used to construct the walls of the ring forts, and apparently they required a lot of upkeep. 
I have to admit that we didn't find this to be the most interesting thing in the world, but it was nice for the kids to have the opportunity to run around since we'd either been in the car or keeping a tight grip on them all day long.
Our final stop of the day was the Aillwee Cave and Birds of Prey Center, both of which the kids loved. We got to watch a Birds of Prey show, and since we were one of only three families who were there, the kids got to volunteer to hold an owl (both of them) and a hawk (just Owen). They were completely pumped!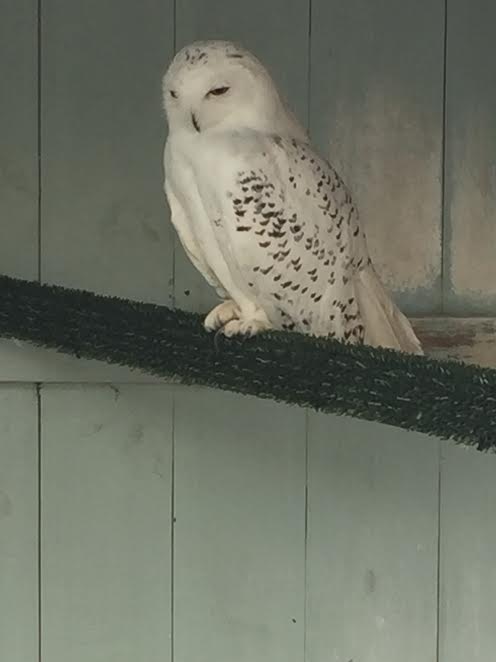 In addition to the show, you could also walk through an look at all the birds on display and listen to an audioguide (included in the price). We found Hedwig! 
Even though we are from southern Indiana, where there are show caves a-plenty, neither Chris or I had ever been in one. The Aillwee cave impressed us a lot as a result, as did the roughly one-hour tour that took us (what felt like, at least) deep into the earth with a guide who explained to us the history of Aillwee and the formation of the cave. It was fascinating! However, if you are at all claustrophobic this is probably not the place for you.
Based on this picture, you can probably guess why I don't have any decent pictures from inside the cave.
Our last stop of the day was a restaurant in Ennis, a town that was allegedly hosting some kind of music festival when we were in town (contributing factor for why we chose to stay near there). Unfortunately, none of the music — which proved to be at various local restaurants — was starting at the relatively early hour we decided to dine and we were too exhausted to hang around. Our meal was still great though.
Overall, we absolutely loved Ireland and wish we could have seen more before we had to drive back to Dublin and catch our flights on Saturday. We actually looked into seeing if we could delay our flight home so that we could spend a couple extra days and go to the Ring of Kerry, but Aer Lingus flies between Dublin and Catania just twice a week and the timing didn't really work out. I guess that means we'll just have to go back some day!