One of the best parts of having visitors is being inspired to revisist some of our favorite places! When my in-laws were here, we visited our two favorites — Siracusa and Taormina — and checked out places we hadn't seen.
Taormina 
Taormina is one of our favorite places! Despite that one time that we ended up going during a massive power outage. Since we missed going to the beach on our first trip in October and it wasn't really beach weather after that, we took the opportunity to pop down and check out the beach and Isola Bella.
The beach itself is pretty, but rocky. There were also a fairly startling number of jellyfish. This wasn't necessarily important to us that day since we weren't planning to swim, but it didn't make us eager to come back and jump in. I'll have to ask someone if the jellies are a regular feature or if we just showed up on a weird day for them.
We didn't go all the way to Isola Bella, a small island that is connected by a small sand path through the water. Not having planned to swim, we didn't really have the footwear to go across to the house on the island, which was once the home of Florence Trevelyan, an English-born conversationist and gardener. Another day, I suppose.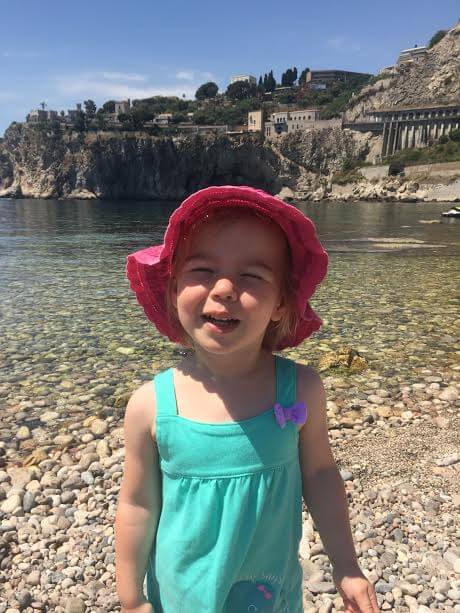 See the path in the background? 
To get to the beach, we parked in the cable-car parking lot. We also took the opportunity to ride the cable cars into the city, and we all thought that was pretty sweet.* I have been wanting to ride on the cable car for a while, but when my parents were in town in March it was still closed. It drops you off at a convenient spot right near the city center and you get a cool view along the way as well. Unfortunately I don't have any pictures of this because I was too busy making sure my daredevil daughter didnt try to force open the doors or something.
*And I especially liked the part where I didn't scrape the hell out of the front of my van again trying to go up the narrow parking garage ramp at our usual spot.
Siracusa 
I haven't written as much about Siracusa, a town about an hour south of us, but it is one of our favorite places to visit. We checked out the archeological park on our first visit there, but these days we most often go to Ortigia. Ortigia is a small island connected by two bridges to the rest of Siracusa, and it is the prettiest part of it. In Greek mythology, it is the birth place of at least one, possibly both, of the twins Apollo and Artemis.
With Gail and David in tow, we wandered through a farmer's market and then stopped by some of the traditional sites, including the Temple of Apollo, Archimede Fountain and, of course, the gorgeous Duomo di Siracusa (cathedral of Siracusa). I talked a bit about the history of some of these in this post, so I'm not going to recap all that just now but feel free to check out that post and refresh your memory.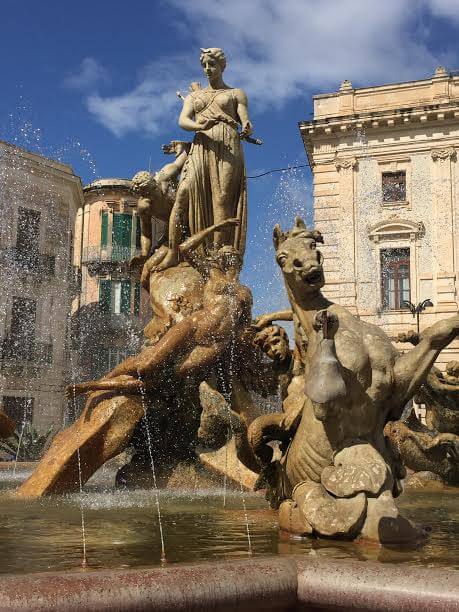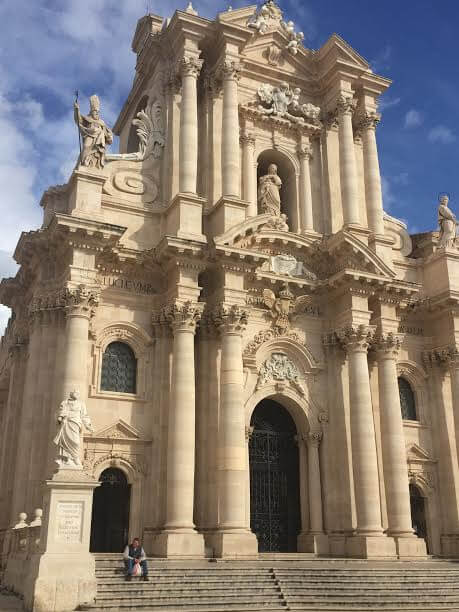 Ok, these two pics are technically from March. But they were already loaded and our internet here sucks so just trust me, they still look like this. 
We also took them to La Volpe e L'Uva (the Fox and the Grape), one of our favorite places, for a meal. I've said this before, but seriously — I really recommend this place. And not just because you can get pizza at midday (this is rare here; pizza is a dinner food because of the time it takes to fire up the ovens).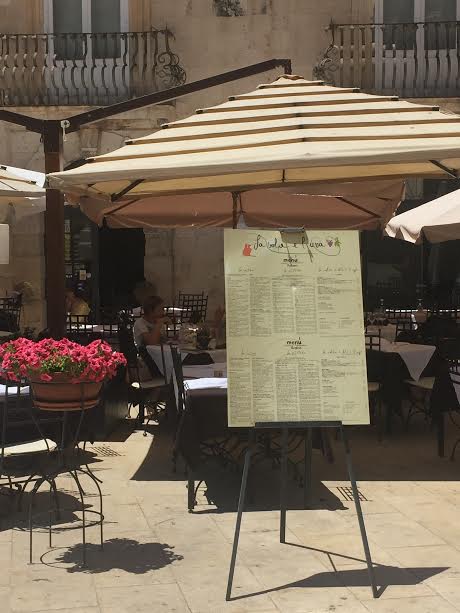 This visit's highlight, however, was a stop at Maniace Castello. This is somewhat embarrassing, given that Ortigia is not overly large, but I wasn't actually aware that there was a castle until Chris found it in a list of recommendations for things to do in Ortigia the evening before we left.
It is certainly not a fancy-pants castle in the way of Chambord or Chenonceau; I would describe it more as a fort? Given the huge number of times that Sicily has changed hands over the centuries, however, it makes a lot of sense that it would be more utilitarian in style. This particular castello dates back to the 1230s and was built by Frederick II, Holy Roman Empire. I wish there had been a tour because looking up the history after the fact shows that it is pretty interesting. However, for only 2 euros to get in it was still interesting to wander all over the property.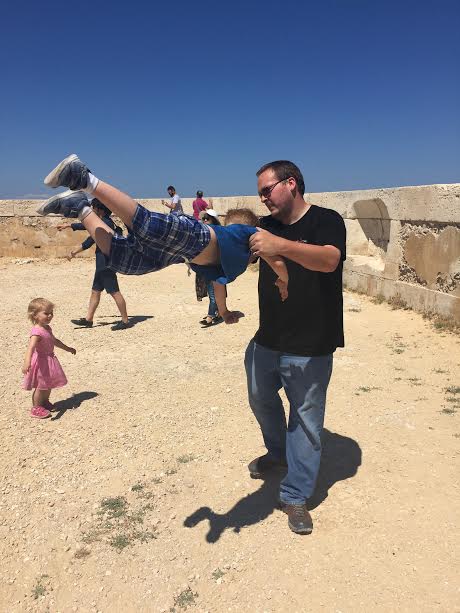 Mount Etna
Chris and I have hiked one of the trails on Mount Etna, and my sister Torie and I made an ill-fated driving trip toward the top when she was in town. However, when Gail and David were in town we drove all the way to Etna Sud (the highest point you can drive to by us, there is a hotel and shops and tour companies there). From there we made a very impromptu decision to climb up just a tiny bit onto the Silvestri Craters. I was woefully unprepared for this footwear-wise, not having planned to do any hiking, but it was totally worth it.
Panoramic picture to give you an idea of the area; on the right is the hotel.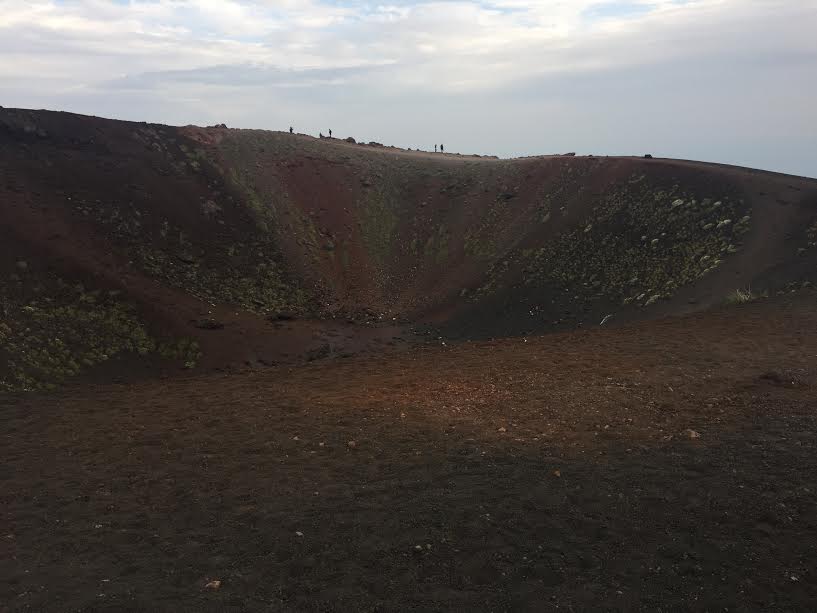 I didn't think to bring my big camera, and these pictures don't really express the size of this thing. I wore Fiona so she wouldn't plummet into the crater. 
Aci Trezza
Ok, this one isn't actually new — but I don't think I've talked about it on here before. Aci Trezza is a lovely little seaside town near us with which we've recently fallen in love. Chris and I have been here a few times for granita or a kid-free date, so we decided to take Gail and David for Gail's birthday.
See these rocks? In the Odyssey, the cyclops — who Odysseus and his men have just blinded during their escape — starts blindly hurling rocks at their retreating boat. These are those rocks (if you have a believing heart). 
We had dinner at Le Muse, a place we've eaten at twice now and loved both times.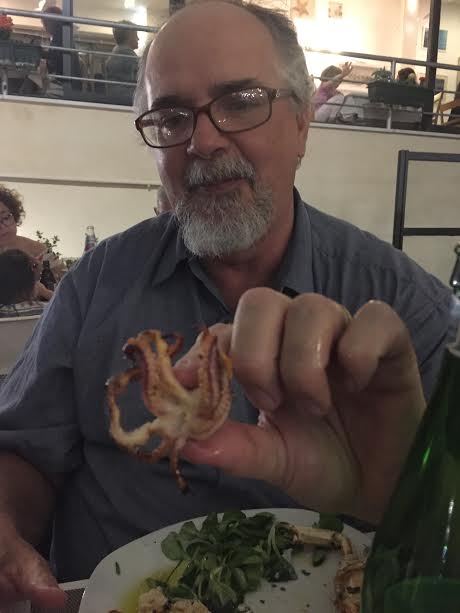 David was surprised by a tiny fried octopus! 
Overall, it was a great visit for us because we got out and saw more of our island, and I hope it was fun for Gail and David too. Our next round of visitors comes in September, so we'll have to start brainstorming what we can explore with them!