With about two-and-a-half months to go until Oktoberfest in Munich, Chris and I took our most important step yet in planning our trip yesterday …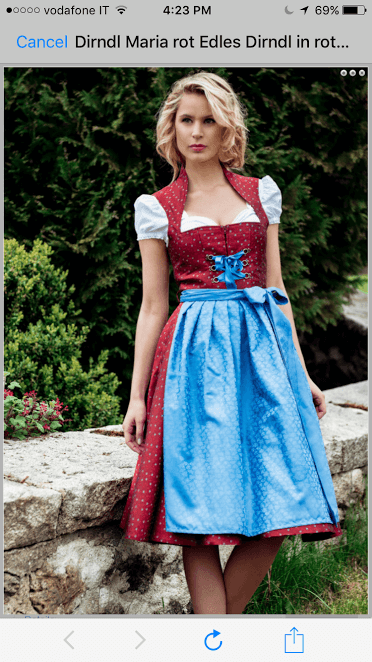 We ordered my dirndl and his lederhosen!
Ok, possibly I should have said *one* of the most important.
At any rate, with things coming together rapidly for this year's Oktoberfest it seems like a good time to look back at the most arduous part of planning the trip, getting table reservations.
I'm going to start off by telling you straight up that there is one big thing you need to make this happen, and it is this:
PERSERVERENCE 
But I'll come back to that in a second. To recap, we are going to Oktoberfest in Munich this year! We'll be meeting up with my parents, my sister, my brother-in-law, my aunt and uncle, some of our friends and some of my parents' friends. All told, the group is about 16 (not counting the children).
You probably already know something about Oktoberfest, but a little quick backstory: the first Oktoberfest was a celebration of the marriage of Crown Prince Ludwig in October 1810. The commoners were invited to come celebrate the royal couple, and the festivities included horse races and stuff. I guess it was so much fun they decided to continue doing it every year, minus a few years when it was canceled because of problems like cholera, Napoleon and World Wars I & II. Eventually they decided to move the festival to take place almost entirely in September (better weather!) though it always ends a few days into October. I guess so the name continues to make sense?! Anyway, these days more than 6 million people attend every year.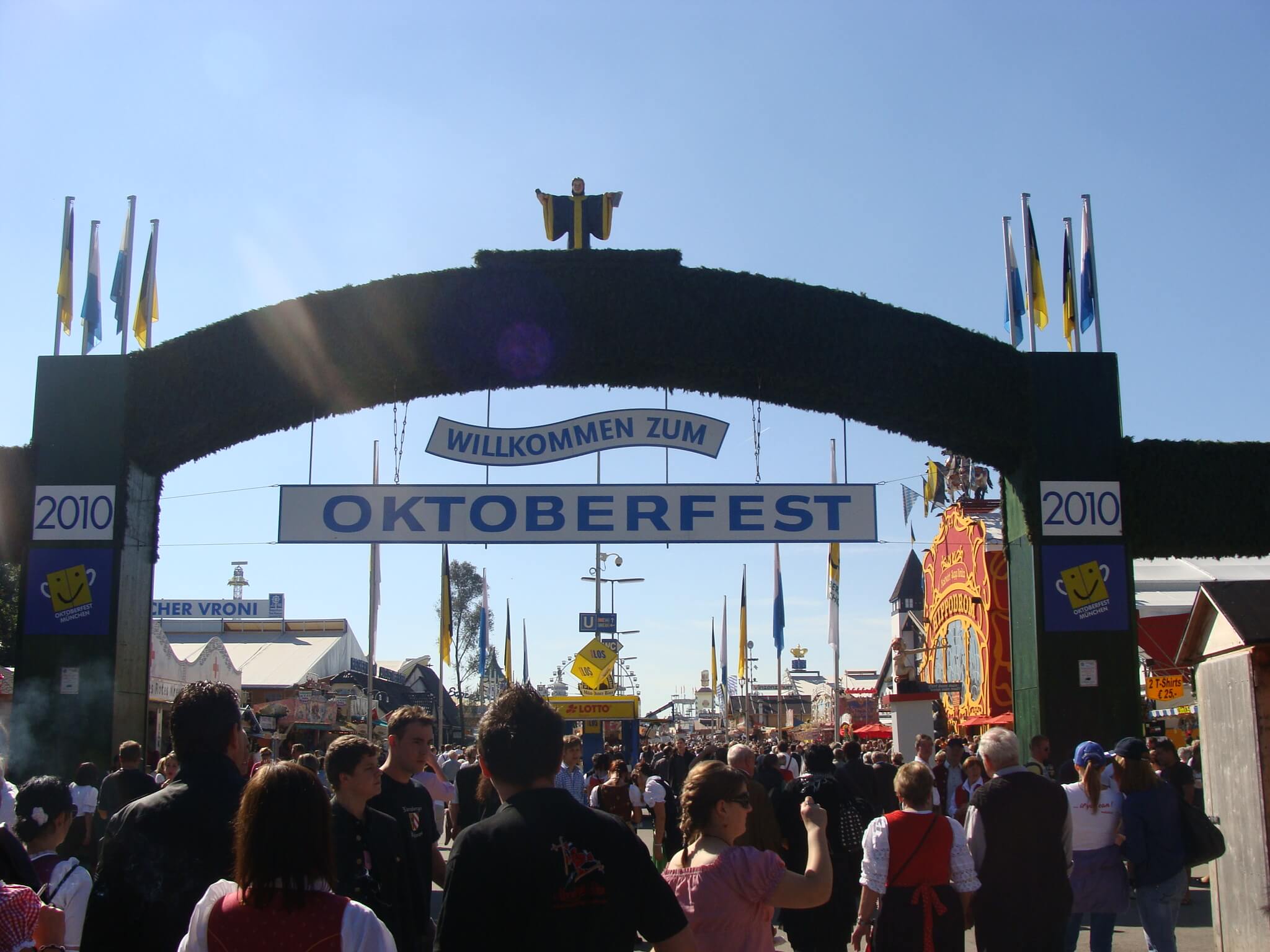 Pics are from our 2010 trip
So the Oktoberfest grounds include about a dozen large beer "tents" that hold thousands of people, plus another 20 or so small tents that hold a few hundred people. To get a liter of beer or food in the tents, you need to be sitting down at a table (usually a long wooden table with benches). In our experience, finding a spot to sit is pretty much a nonissue in the mornings and early afternoon during the week. However, by midafternoon it gets difficult and in the evenings? Even worse. Chris and I had a hard time finding places to sit for just the two of us in the late afternoon when we were there in 2010, so we knew trying to find a table for a party of 16 on the day of the event was going to be damn near impossible unless we were content to go only in the morning. Enter table reservations.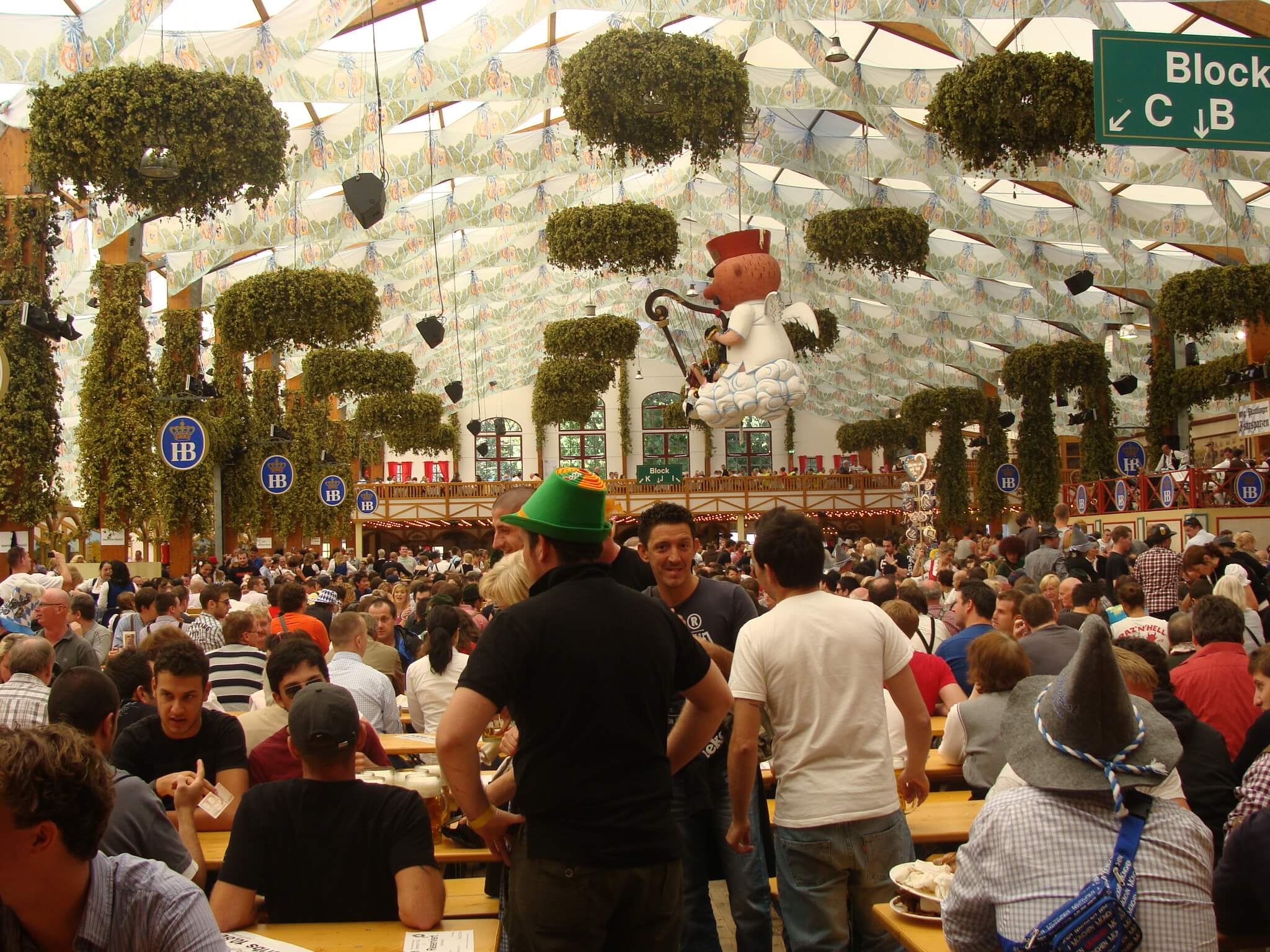 "Tents" but on an epic scale.
So you can reserve a spot in one of the tents ahead of time, but there are a couple of catches:
You have to book an entire table — the smallest I've seen is a table for six, while the largest are for 20. Making the reservation is technically free, but you have to pay up front for two beers and a meal at the tent for each seat — and we're talking about 40 to 65 euro per seat.
The process is infuriating.
For all you hear about German efficiency, Oktoberfest seems to be a bit of an exception. Each tent has different owners, and thus each has a different process for applying for a spot in the tents. Each has different dates on which they'll start accepting reservations as well.
So, if you are going to try to get table reservations at Oktoberfest and are hoping for afternoon or evening reservations, you need to START EARLY! 
I've literally been working on applying for table reservations since early January of this year, and ended up getting four reservations (two of which we kept). Part of the problem was that for a lot of tents I kind of got the run-around; at Ochsenbraterei, for example, I was told variously over the phone and email that I needed to make my request again in March, then May, then June. And then it was full after all. And sometimes I got no answer at all.
I used this link as my central hub for the Oktoberfest websites. From there, the only thing to do was to go to each tent's individual website and puzzle out how to apply. Some have an online reservation form, while others — I kid you not — require requests to be made in writing. (I did actually try this, but never did get a response.) One only offered evening reservations to people who were staying at a specific hotel. Most never seemed to have any evening availability at all and one was fully booked (returning customers get priority) before I made a single request.
The end result of my efforts was that I was able to get a table for 12 in the evening (5 p.m. to close) at one of the small tents one night, a table for 16 from 4 to 8 p.m. another day, plus two reservations that we've decided not to keep — both midafternoon during the week.
Planning to reserve a table yourself? A word to the wise. 
Start early. While most of my reservations didn't come from requests I made in January, it is wise to get started early enough to have an idea of when reservations will open. Set an alarm to remind yourself to apply THAT DAY.
Stay organized. I wish I'd done a better job with this, because it got frustrating. At a minimum, open a Word document and keep a running list of what you find out from each tent re: when they start accepting reservations, what contacts you've already made, and any updates you've received along the way. You'll thank yourself later.
Apply everywhere. I literally applied to every single large tent and many of the small tent (some more than once on accident — see above). So few of the requests I made actually panned out that I'm glad I made requests at all of them. You don't have to pay for the table until June or July, generally, so there's no harm in accepting what you are offered in principle while you wait to see what your options are. That's how we came to select two of the four reservations I was able to secure.
Be flexible. Originally I only wanted to apply for evening reservations at the tents, but pretty soon I realized just how difficult getting a table at night would be and I shifted gears. We ultimately decided that late afternoon would also be a good option for us and as a result we were a lot more successful. Not being too rigid will make it more likely that you get a reservation somewhere.
Don't buy from third parties. There are people selling Oktoberfest tables at inflated rates online, but going this route is a bad idea. As every website says explicitly, doing this is NOT ALLOWED and if you get busted then they won't necessarily honor your reservation. Which is bad news considering that the already expensive tables come at an inflated price when you are buying from a scalper. You don't want your trip hanging on you not getting caught for doing something wrong.
Learn German. Ok, just kidding here. But man, translating a million documents and trying to puzzle out the garbled answers from Google Translate got tricky!
Question: This seems like a lot of work. How do I know I even really need table reservations? 
Answer: It depends on what you are looking for and the size of your group. If it is just you and another person, you can probably find a spot to sit with enough perservence even in the afternoon/evening. If you are a patient person, you can wait in lines to get into the portion of the tents that is unreserved. If you are content to go in the morning and early afternoon (nothing wrong with that! that's mostly what we did in 2010), then I wouldn't bother with getting lunch reservations at all. Otherwise, I'd suggest trying to get reservations for at least one of the days you are planning to be there to avoid frustration. 
PROST!
I believe this was taken around 10 a.m. — you can see how many open seats there are! No comment about liters of beer at 10 a.m., please …