Summer heat has been intense over here (though we have had a little break since a storm on Sunday) so we've been spending a lot of time at the pool to keep from frying. As of last week, we have a new favorite spot!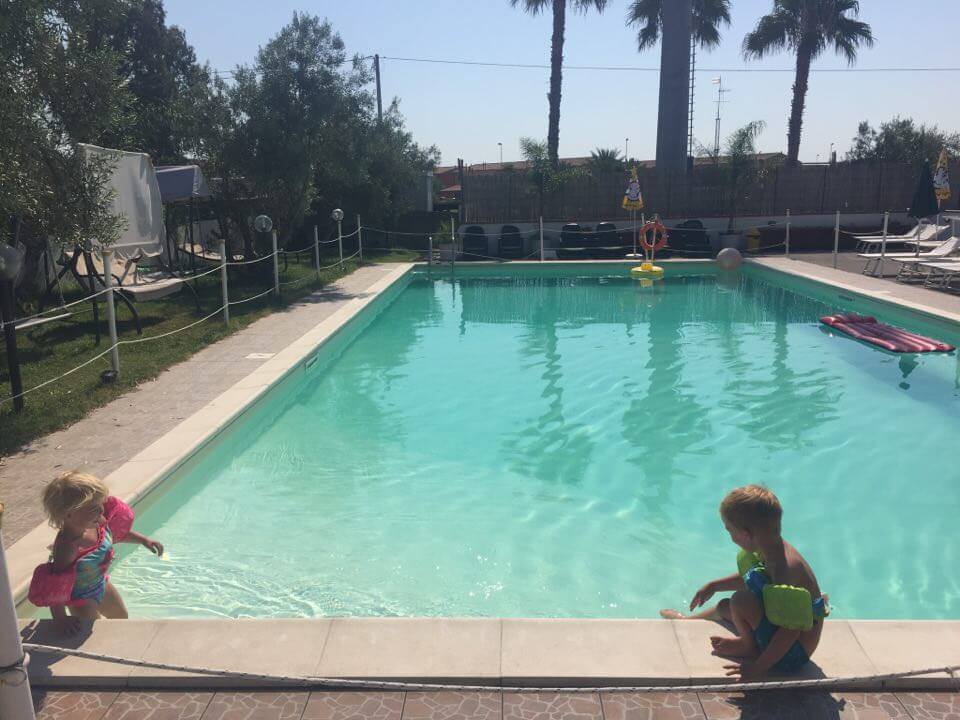 Alphio's Garden has been recommended to me a couple times, and last week we decided to finally give it a shot. For the local people — it is located just across the street from Maranai. Basically it is a restaurant that has a pool and nice seating area; people can use the pool for free, but you are expected to buy food or drinks. Luckily the food is fairly reasonably priced. They have a big menu with appetizers, pasta, steaks, fish, etc, but we grabbed a couple hot dogs and fries for the kids at 3 euro each — not bad.
I really like that it opens at 10 a.m., as the base pool doesn't open for rec swim until noon during the week. It also has a shallow entry point for the kids, as well as a deep end for jumping. So far, it has also been pretty quiet both times we were there — a handful of kids and moms about the same ages as Owen and Fiona on Thursday, and completely empty today when we arrived right at opening!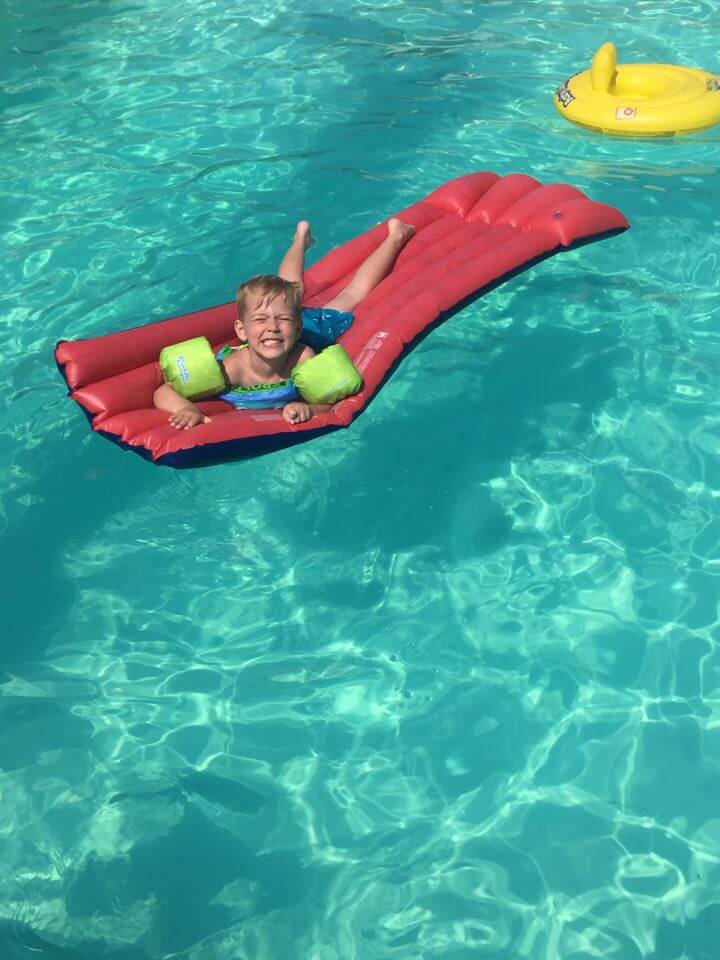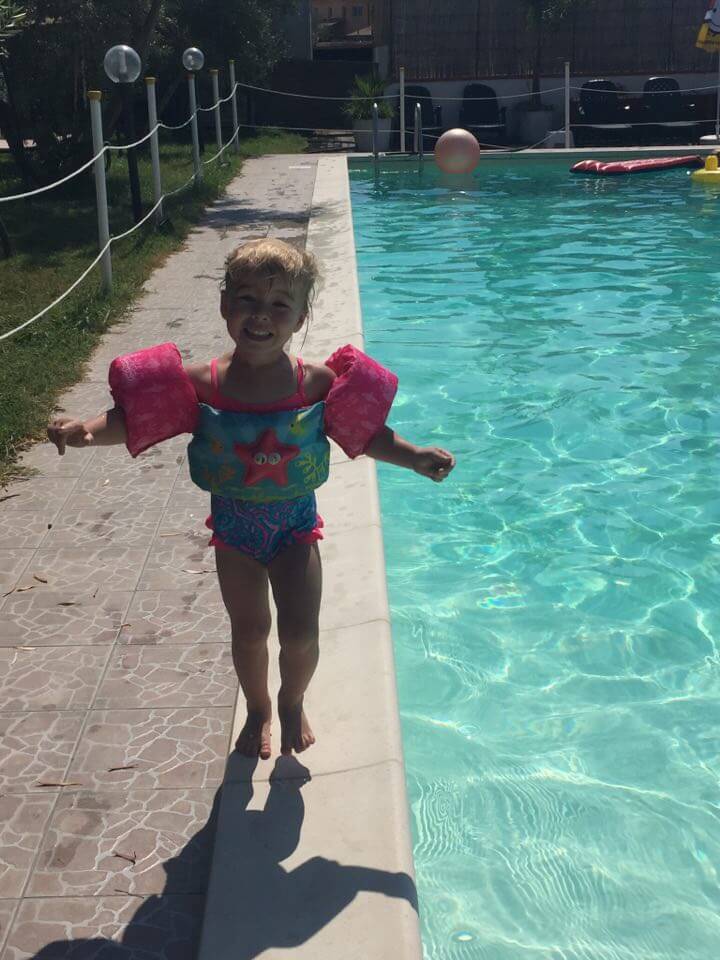 Going to the pool still means a good half hour drive for us, but it has some significant advantages over our baby pool at home … like that we don't have to pump it up. All we had was a bike pump, and it was so time consuming that Chris had to get creative.
Yes, that is a paper towel roll connected to a desk fan. This actually worked reasonably well, at least to fill it partially. We had to use the bike pump again after to get it to the right firmness — still time consuming — but this saved us a lot of work. 
Not pictured here: having to fill the pool with buckets from the tub and with a hose I spent more than a half an hour holding to keep it connected to the kitchen sink.
Finally, in other exciting news — we got fiber internet! (Though Chris informs me it isn't "real fiber" but it is what passes for it here). As of yesterday's test, it was 606 times faster than the internet it replaced. I'M SO RELIEVED. I realize I sound like a diva, but this has actually been a huge issue for us. Quite apart from the annoyance of being unable to use more than a device or two on wifi depending on the time of day — it was seriously stressing me out because of my freelance work. Making phone calls is a major part of what I do, which requires wifi since I use a phone app called MJConnect* to call the U.S. In the past I could only make calls if I was literally sitting next to the router and if no other device in the house was using the wifi. Even then, I've had a frustrating number of interviews end because the internet abruptly quit or because it was so slow that neither of us could understand each other. It made me dread every interview since I'd be worried that it was going to fall apart.
I'm under no illusions that our internet will be perfect now (this is still Sicily and this is stil technology), but yesterday I did an interview in one room while the kids watched Netflix and Chris played on his phone in another. Celebration time!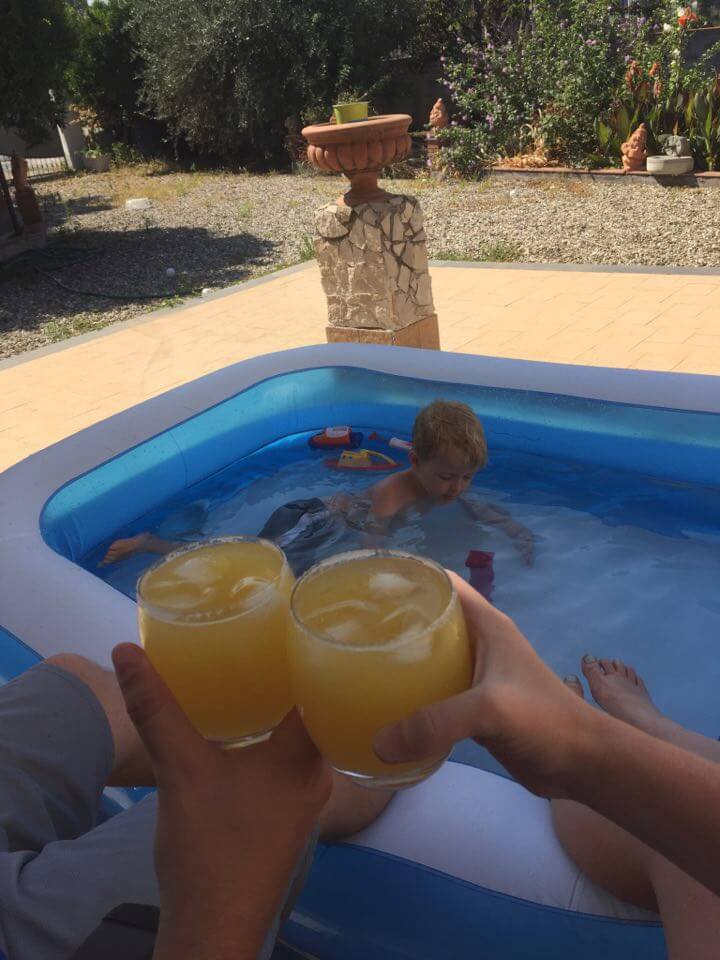 *I do recommend MJConnect, even if it does irritate me because it likes to drop calls at either the 15- or 29-minute mark about half the time. But it is only $10/year and you get a U.S. phone number to use and unlimited calls to the states as well. When the internet is working well, the call quality is quite good.