It's been scorching hot this summer in Sicily, but we've been trying to lean into island living (ok, and beat the heat!) by hitting the beach as often as possible. As I've mentioned before, we've mostly been going to Fontane Bianche. This past week, however, we tried to branch out a bit more.
Cassibile Beach 
Third time was a charm for getting to this beach at last on Saturday, after our first two plans were scuppered by thunderstorms and sickness. It is actually very close to Fontane Bianche — they are the same exit off the highway — but while Fontane Bianche has had a lot of seaweed in the areas close to shore lately, Cassibile was crystal clear! I seriously can't get enough of swimming in that blue blue blue water. Also like Fontane Bianche, there is a long stretch where the water is very shallow, which makes it a great place to play safely with the kids. There are also some cliffs you can climb to jump off of, but I ended up chickening out because I didn't know exactly where I should be jumping. I'll go with someone who has been next time!
We could park in a lot practically right next to the beach for 15 euro; not cheap, but it was worth it for not having to haul our stuff far. I will admit that we missed the convenience of being on a lido (beach with chairs and umbrellas for rent and usually services like a restaurant and changing rooms and bathrooms). We'd packed a cooler for lunch, but didn't give enough consideration to how tricky it would be to assemble and eat sandwiches on our towels with two kids who seemed to have a mission to rub sand on every square inch of them. It was otherwise perfect though, so our plan is to buy a couple of chairs and an umbrella of our own to bring next time! I highly recommend this beach.
We had so much fun that day (and were so sandy) that I forgot to take a picture. Sorry!
Bonday Beach Lido at Giardini Naxos 
I've been meaning to check out the beaches at Giardini Naxos, a town located just south of Taormina, for a while because our landlord has a house there and has spoke highly of it. It is also only 35 minutes north of us (compared to about an hour to the south of us for Cassibile/Fontane Bianche) so I was hopeful that it might be a good weekday destination when I don't want to drive far.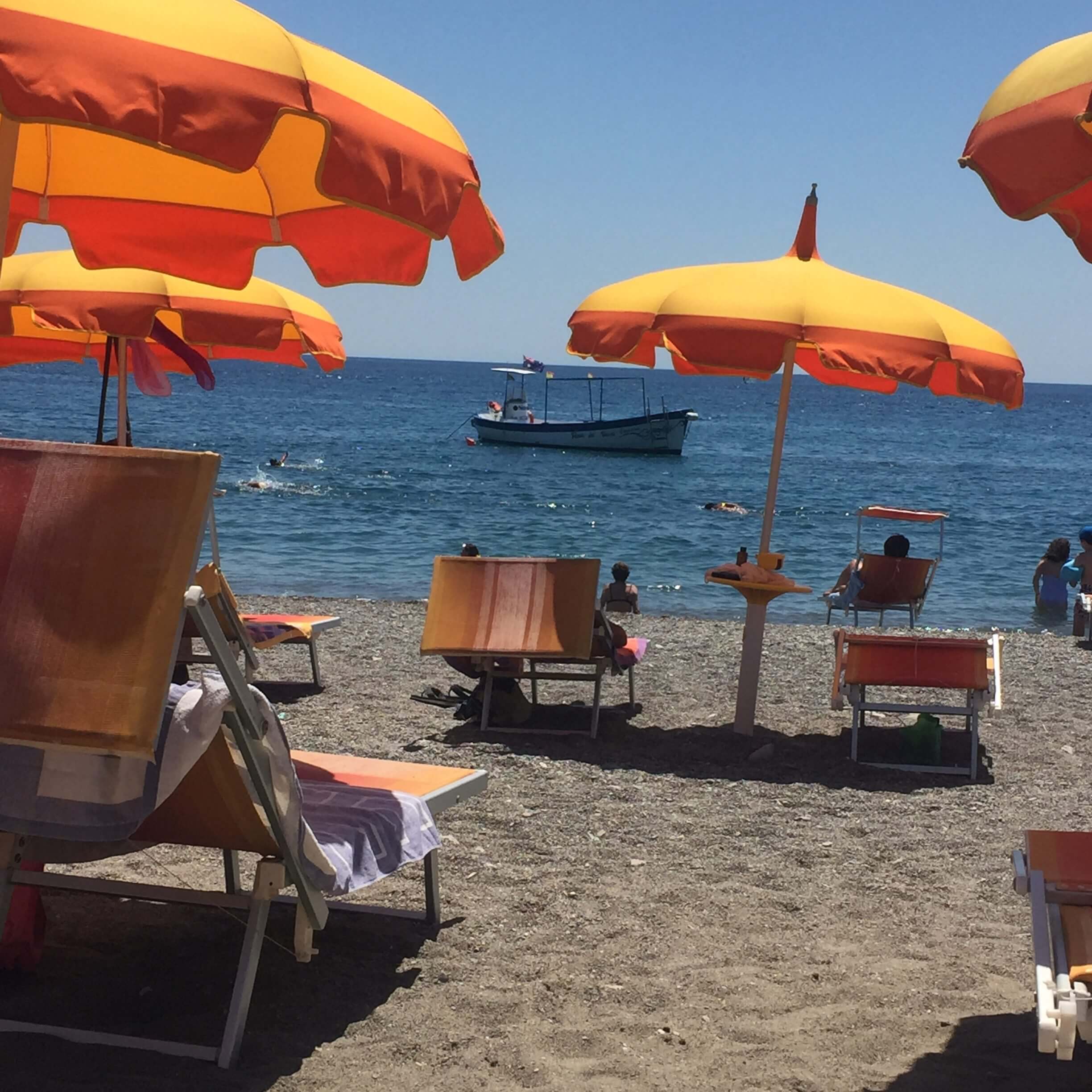 Unfortunately, we didn't love it. It is much more rocky than sandy, and the "sand" was mostly gravel that was painful to walk on. It as a bit like a once-gravel parking lot that hasn't been redone in a long time– some sand from where the pebbles have been crushed but also small and mediam-sized rocks that could be quite sharp.
It was a hot day so the gravel was also scorching hot — I legit think I burned my feet when I tried to walk on it without sandals at first.
That could have been remedied by wearing water shoes, but the water — while clear and beautiful — dropped off fairly abruptly and was quite deep already only a few yards into it. There also seemed to be somewhat stronger currents, so I had to keep a tight rein on the kids in their floaties.
My kids did LOVE hunting through the rocks to find seaglass, and at one point Owen actually said "this is BETTER than a sandy beach!" because of it. I don't want to make it sound like a terrible trip, we met up with some friends and had a very nice time and if we we were better prepared with water shoes it would have been less of an issue. We also thought the town was pretty cute and we had a nice lunch after we left the beach. On the whole, however, it just wasn't as little kid-friend as Cassibile or Fontane Bianche.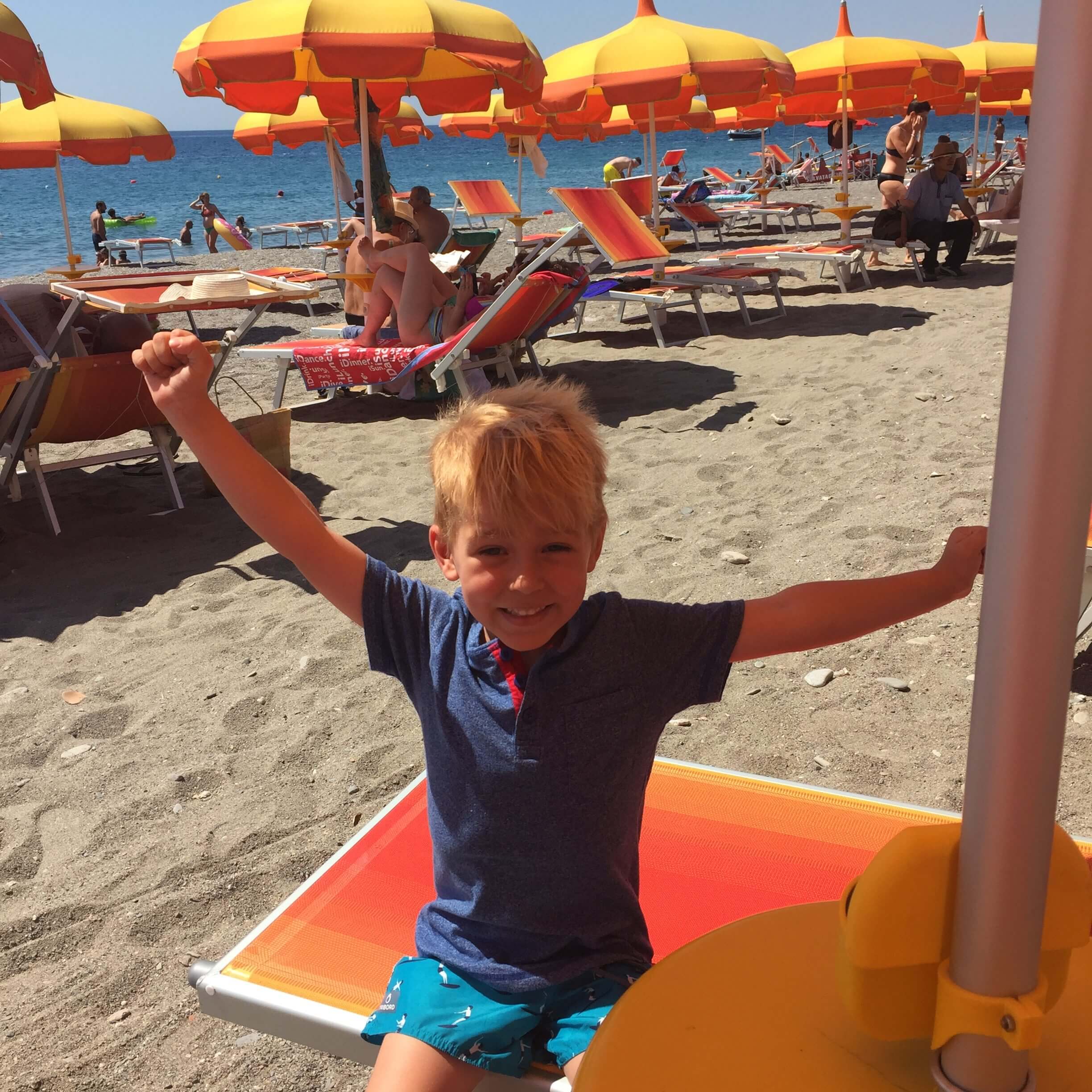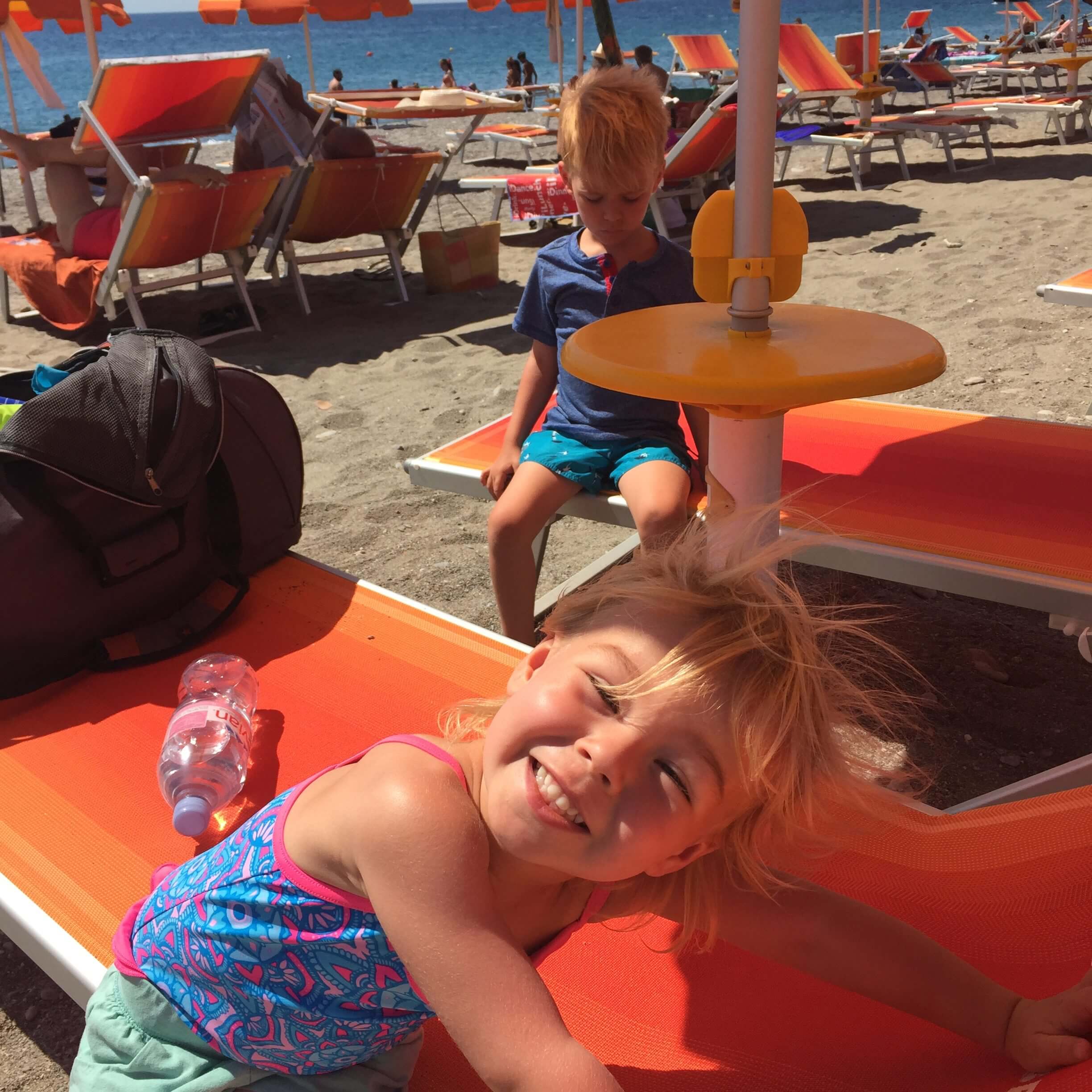 They still had fun! Rental for these chairs and the umbrella was 15 euro, by the way. 
A note about parking: because my GPS was on the fritz, I ended up on the opposite side of town from where I was aiming. That side, which has a lot of lidos, had me freaking out because there was virtually no parking to be found. Once I got myself in the place I was supposed to go — further south toward Recanati — the parking became basically easy. If you want to try Bonday Beach Lido (located near the Hilton) I'd suggest parking on Viale Jannuzzo. There was plenty of street parking and you could use a credit card to pay at the machine, 1 euro per hour. From there, it was a fairly quick walk to Bonday.
There are still plenty more beaches I want to try, such as the lidos in Catania, but thus far Fontane Bianche and Cassibile have been our favorites of the ones within driving distance. (We loved Cefalu too, but it is too far to drive for just a day). We have some visitors coming next month and we can't wait to bring them there!