Well, this post is about a week overdue — it's been a crazy week trying to finish a bunch of assignments and get ready for Fiona's birthday party — so just pretend you are reading this last Sunday, k?
Anyway, on Friday (Aug. 18) the kids and I went to the Feste Medievali (medieval festival) in Motta Sant'Anastasia! There are tons of festivals around Sicily during the summer, honestly you could go to one just about any weekend. However, we haven't been to many at all because they tend to start really late, at least by our standards. I'd heard a lot of great things about this one though, so I decided I'd take them despite it not even starting until after bedtime. Chris wasn't interested, so he stayed home.
So Motta is the town near base where we lived the first six weeks of being in Sicily. First off, Motta is cuter than I remember! We didn't really walk around much because Fiona was younger and I didn't have the carrier yet, plus no sidewalks. We also never really explored the area near the Castello di Motta, which turned out to be full of cute little alleys and great views that Owen kept insisting we stop to look at.
Can you blame him?
We had plenty of time to wander around because while the fest didn't start until 8:30 p.m., we'd heard that we needed to get there by 7 to be able to find a place to park. That was definitely decent advice because we found a good place to park, but I think next year if we go we'll probably go later and just park further away because an hour and a half was a long time to kill. Alternatively, we could have waited to eat dinner and had a meal in Motta while we were waiting.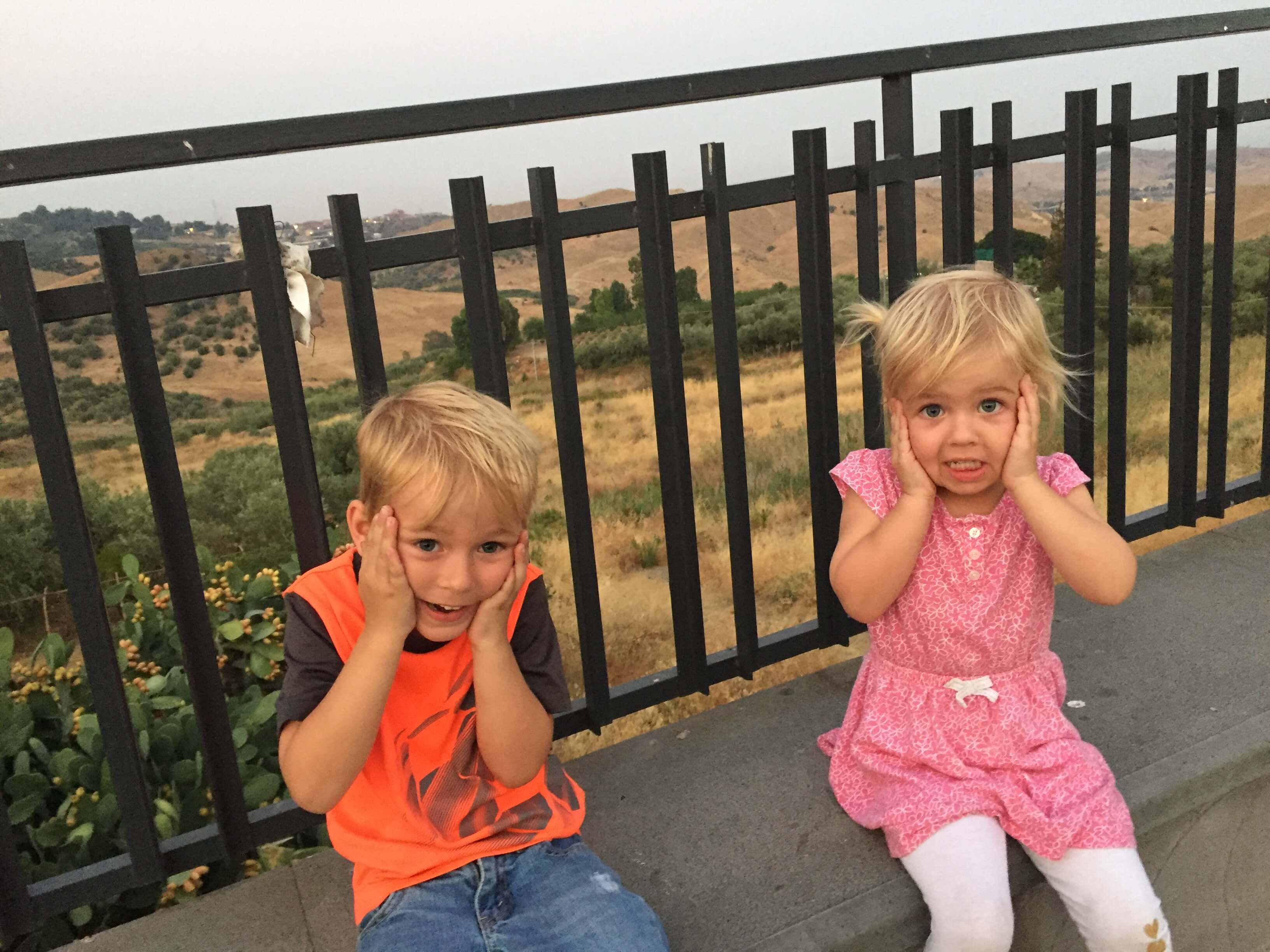 These look like scared faces, but apparently they are "cute faces."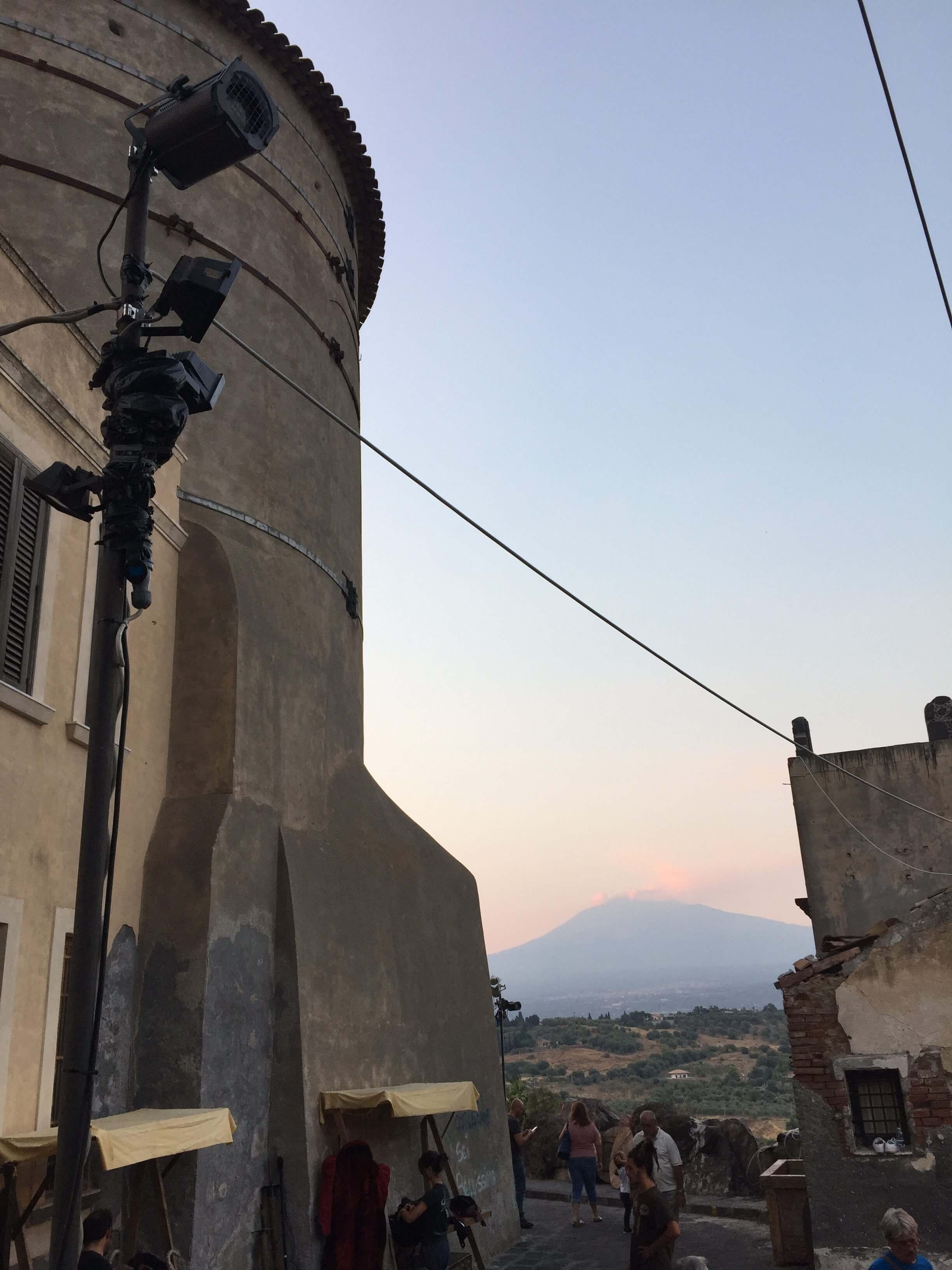 Volcano in the background.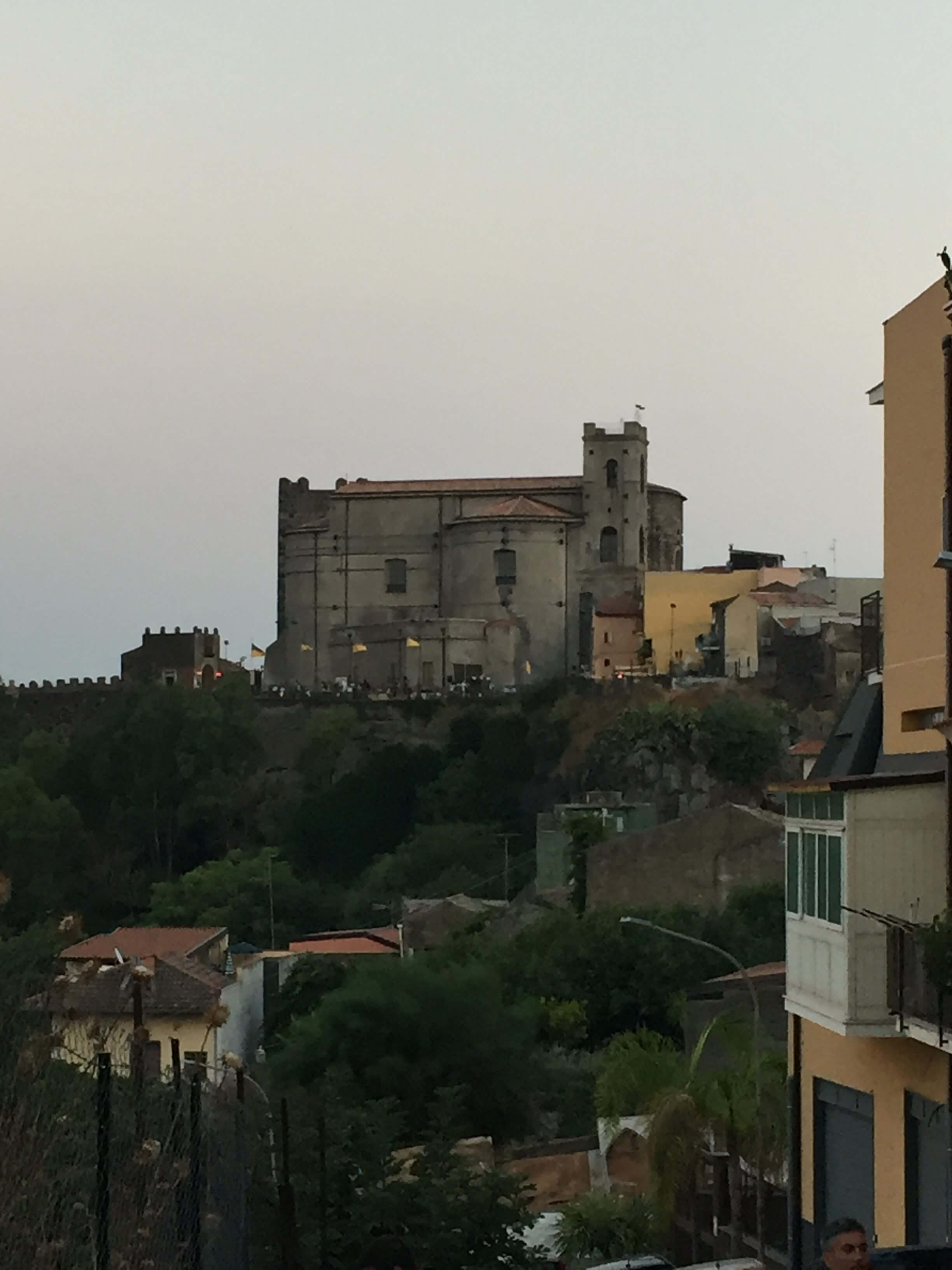 Castello di Motta Sant'Anastasia 
The festival is a pretty big deal in Motta — it runs more than a week and overlaps with Ferragosta, an Italian holiday that falls on Aug. 15 and also marks the Feast of the Assumption. The fest was much larger than I realized, stretching out a long ways between the castle and down the street for probably a kilometer at least?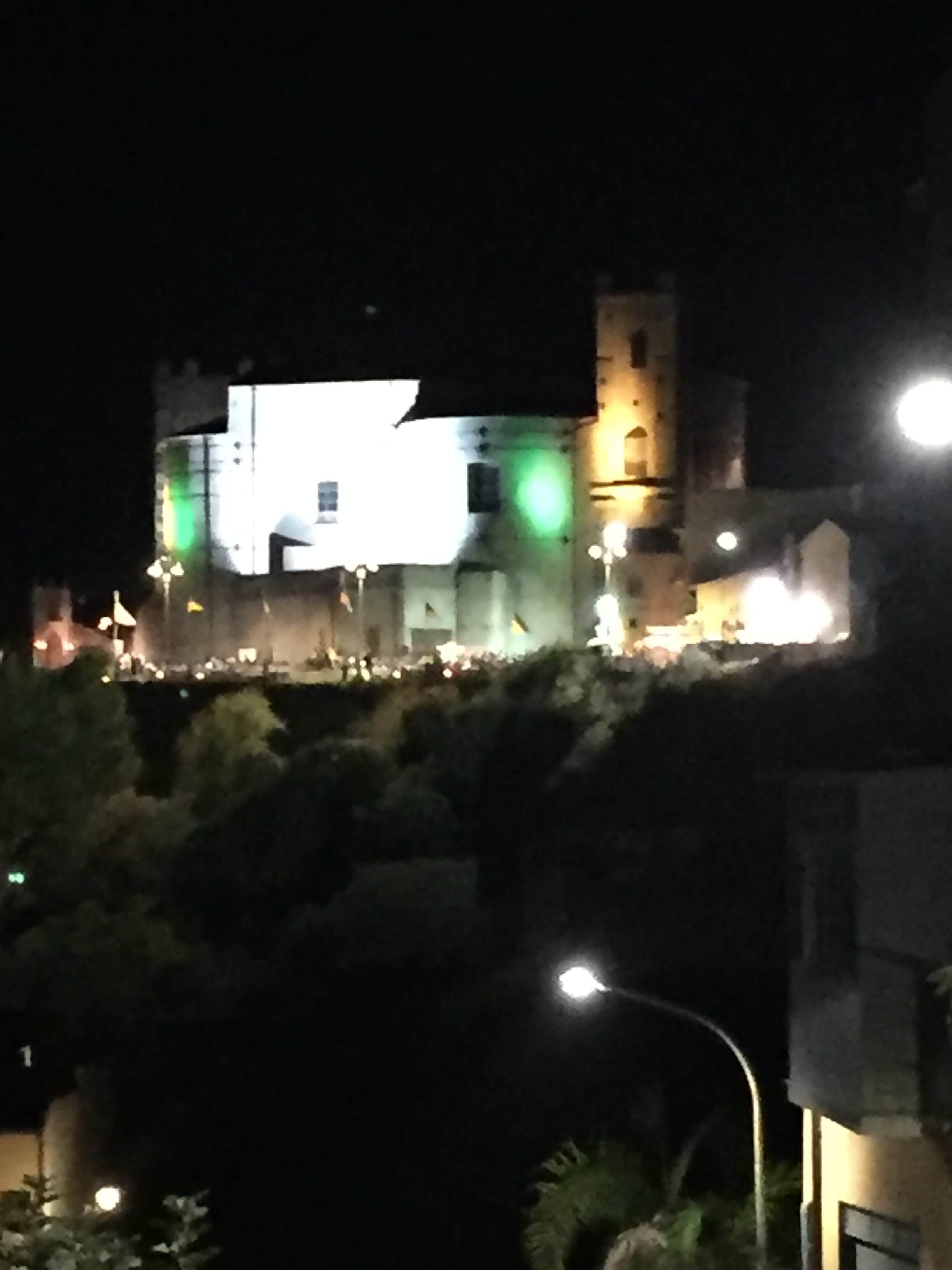 Castello at night 
Once the festival (finally, ha) got started, the kids got some food and I got some wine. This giant pork sandwich and a glass of wine for 5 euro!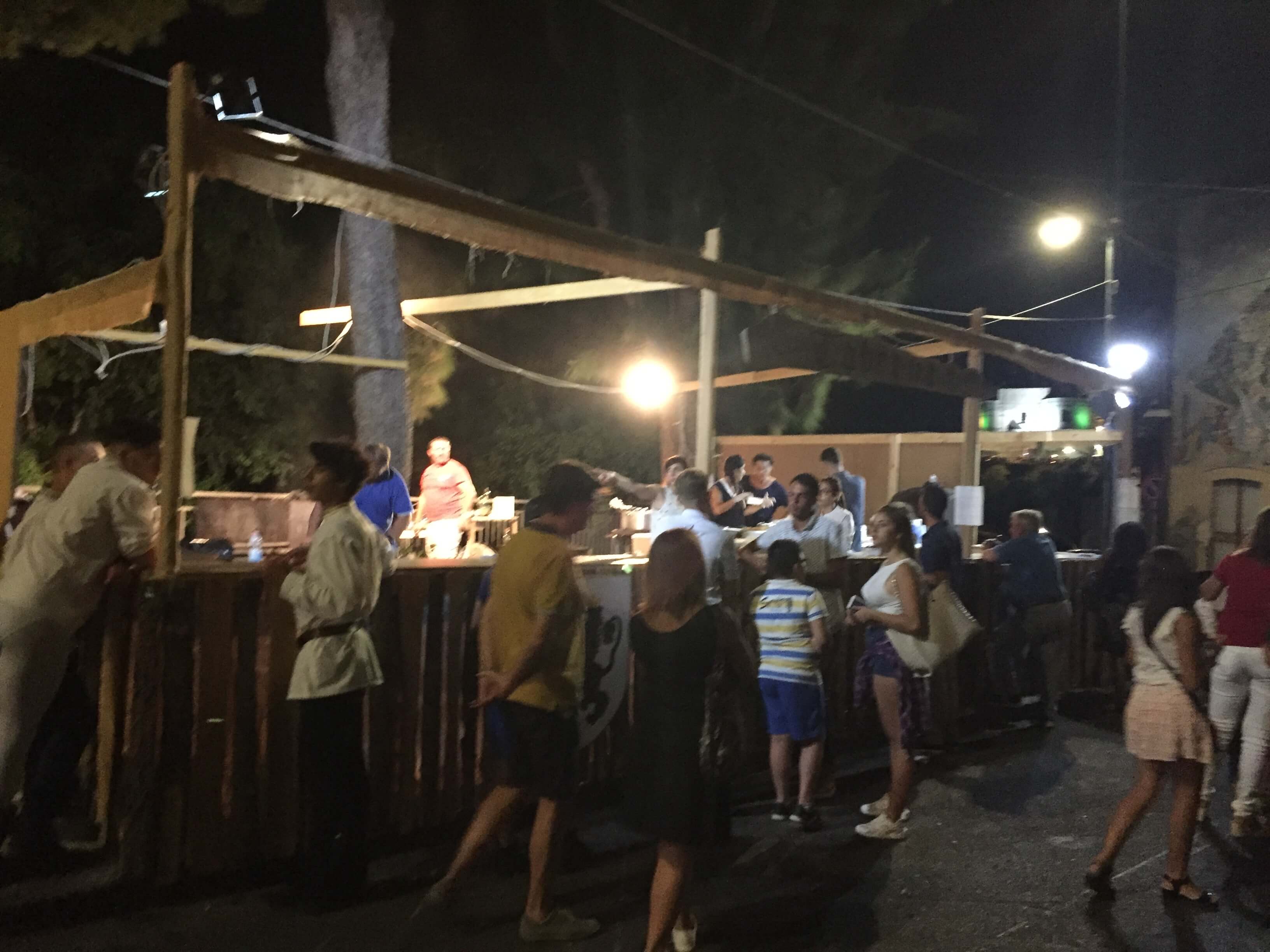 One of the booths selling food. Apparently there was a really good soup here too, which seems like a weird choice because a) August and b) festival. But whatever! There were some picnic tables by the food stalls, though they filled quickly as time went on.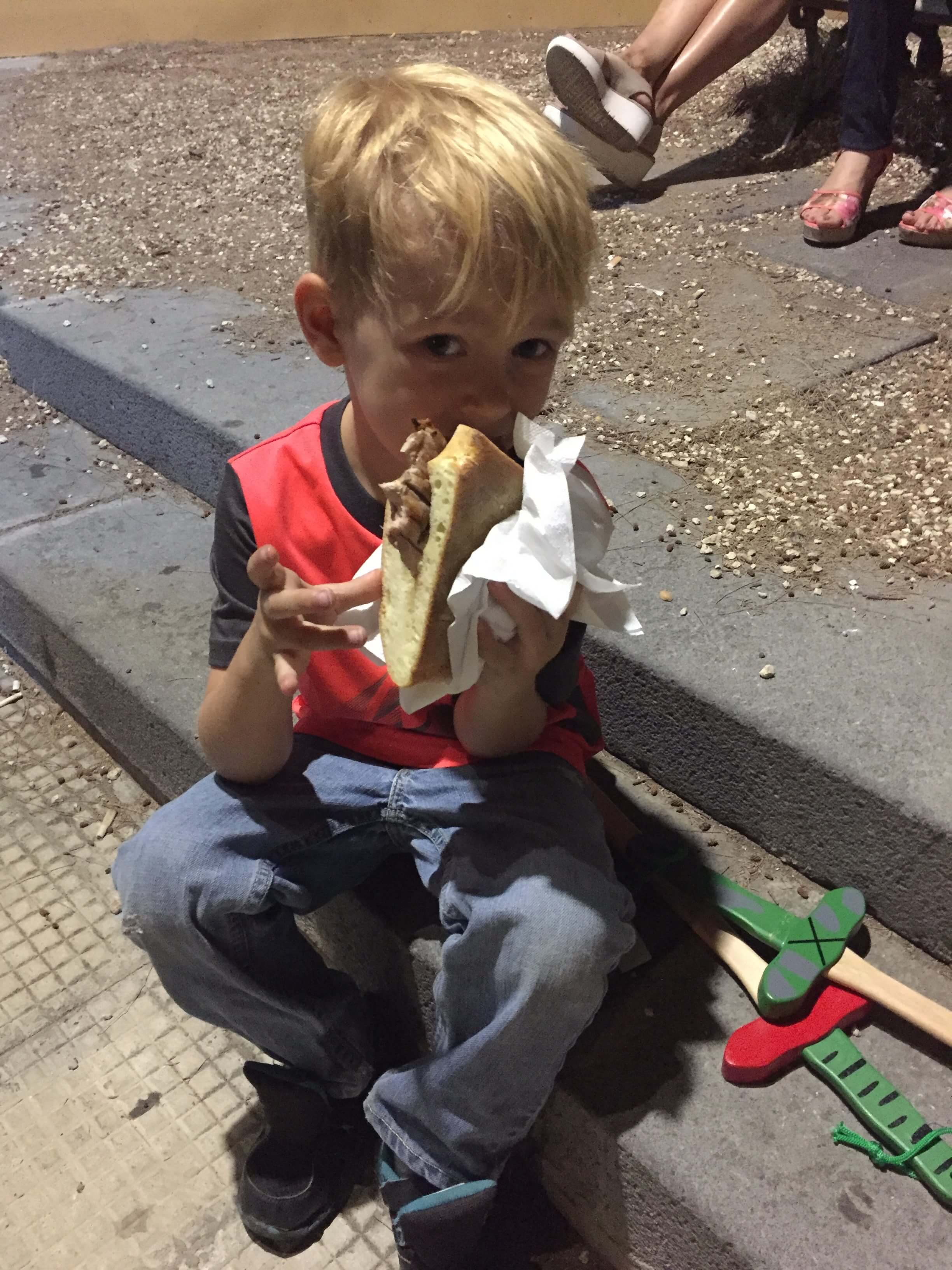 He was a big fan.
Early on in the fest I somehow lost my damn mind and impulsively bought the kids WOODEN SWORDS. I know, I know. I have literally no idea why I would have done that, and it wasn't 10 seconds after I handed them to them that I couldn't even remember why I had decided to do it.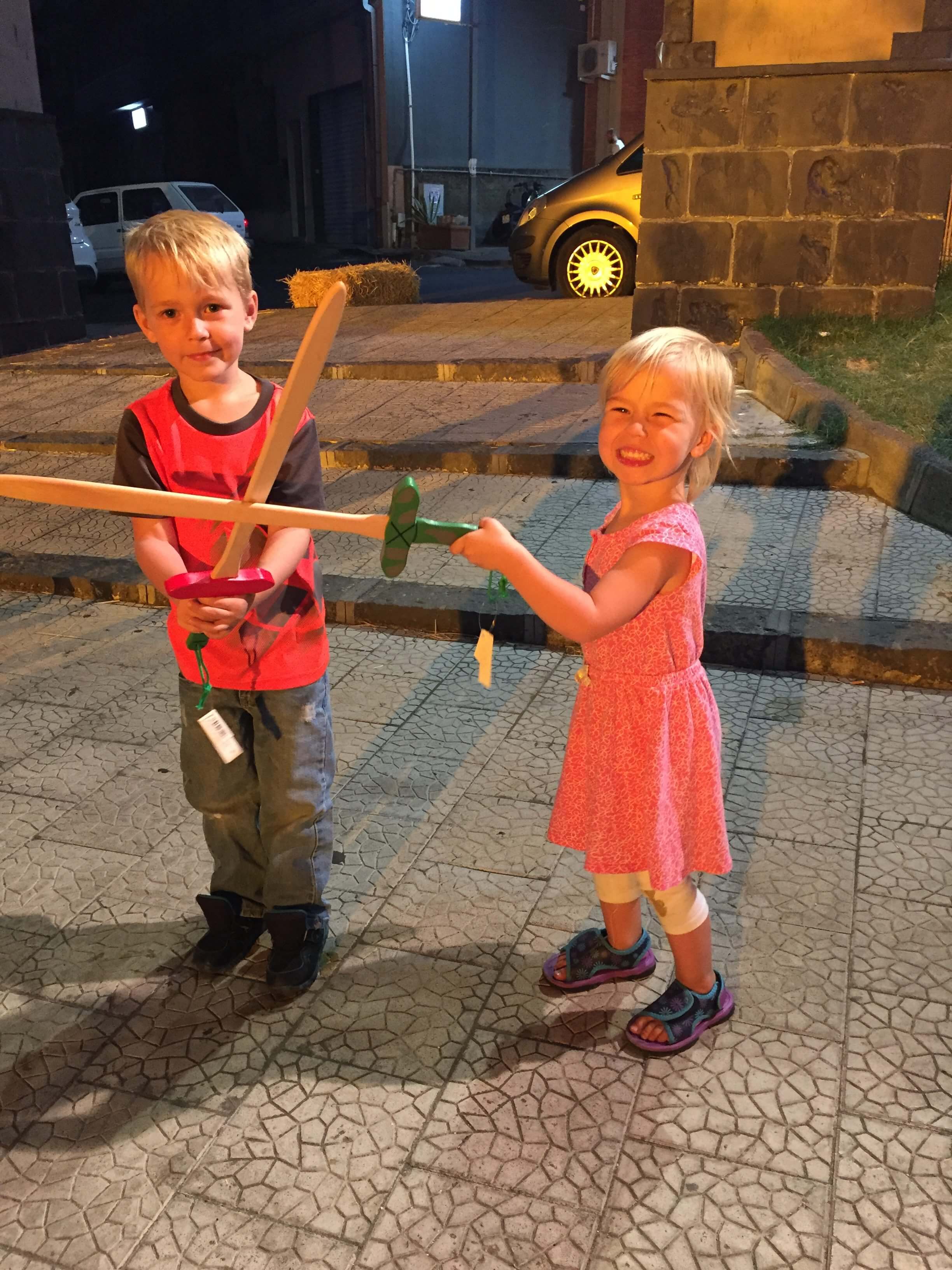 Another fun bonus was that about 20 minutes in I ended up carrying Fiona's sword for her because she was "tired." They were super thrilled at first though!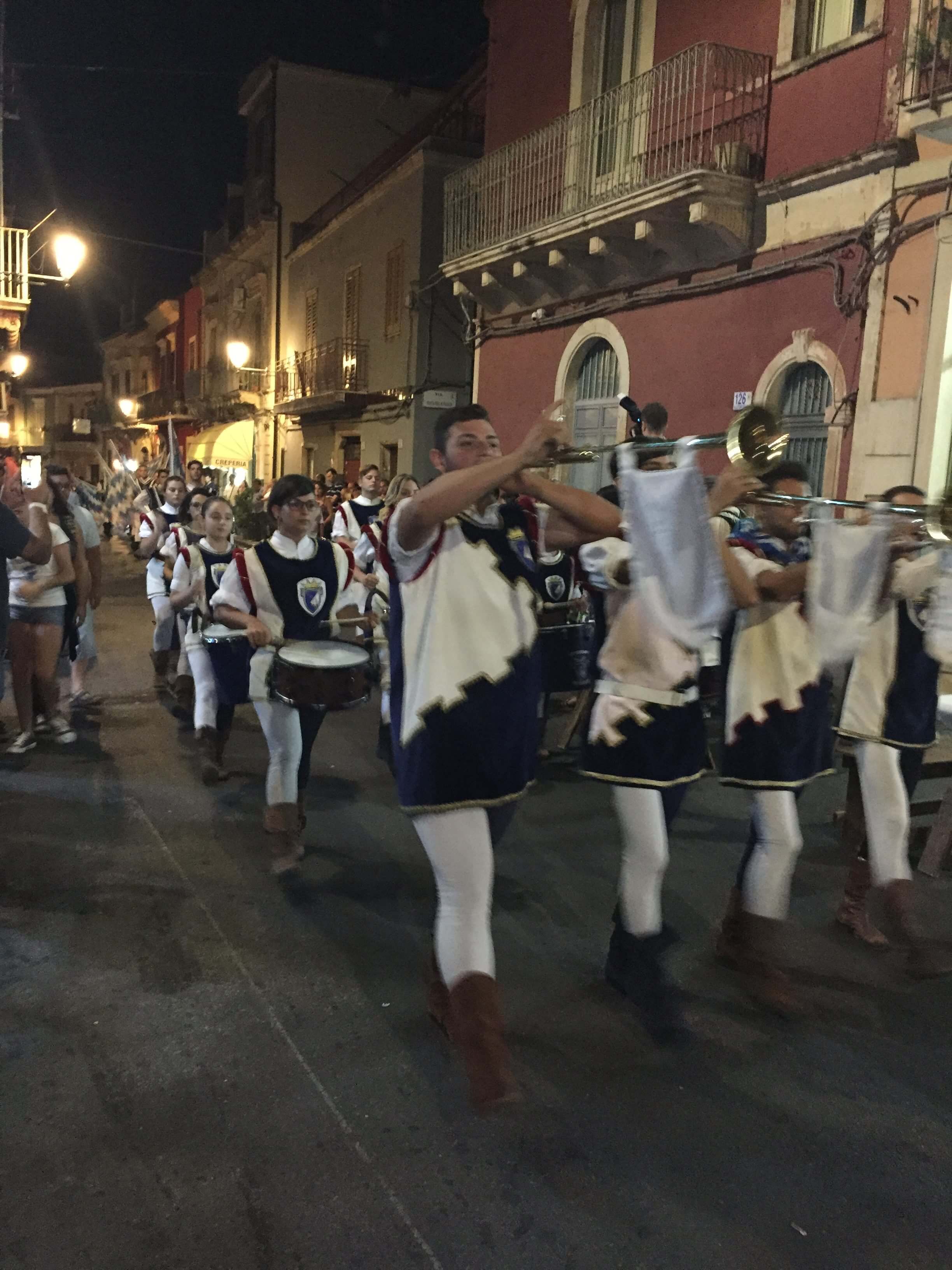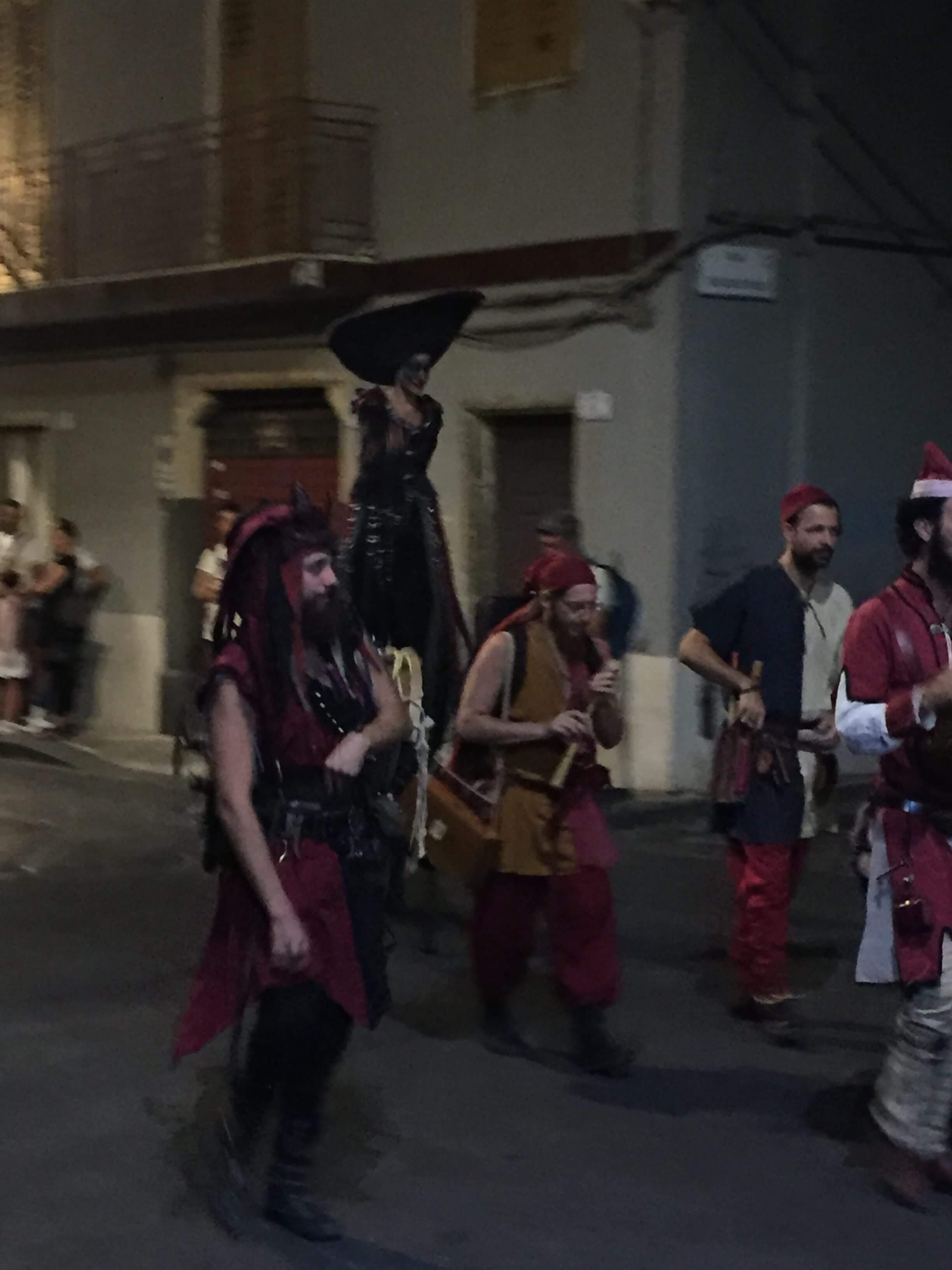 The feste included people and musicians parading around, though I think it is possible that we might have seen people practicing rather than the actual parade since the groups were fairly disjointed. That's what we thought also at Carnivale in Acireale though, so possibly it is just Sicily!
We parked ourselves for a while by the castello to watch various performances, including an acrobat and these dudes throwing flags.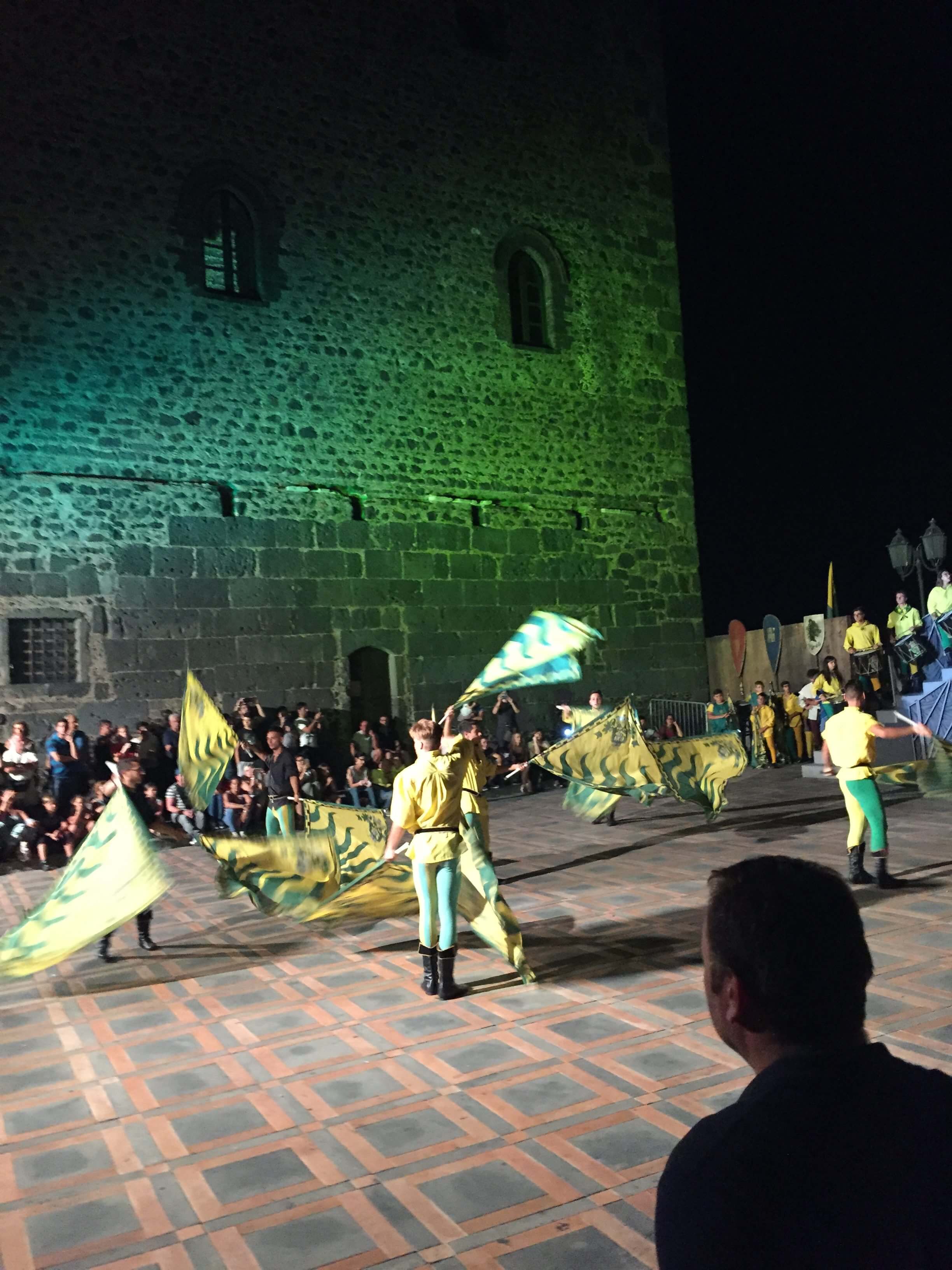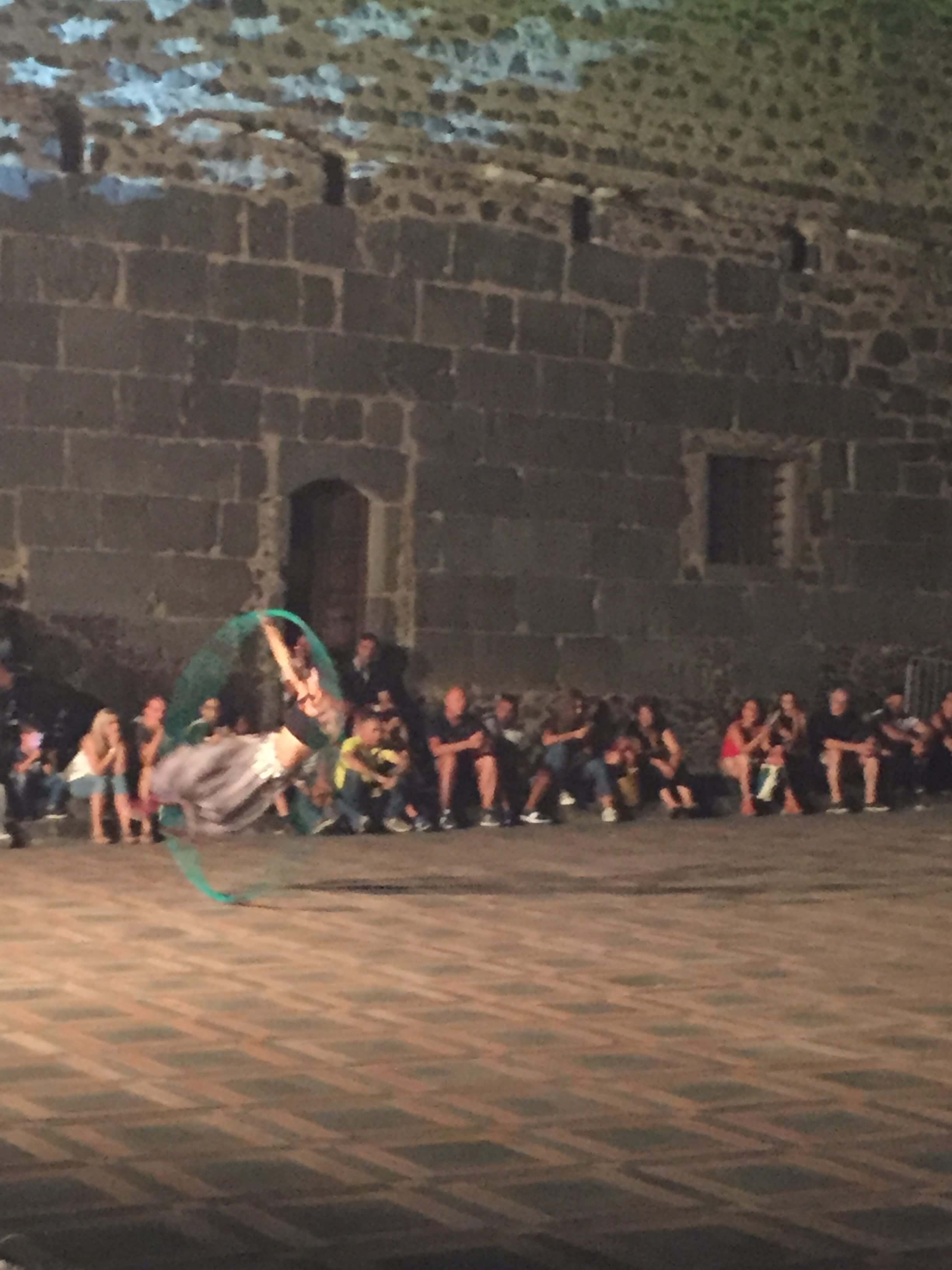 Our intent was to hang out longer in our spot by the castle because we really wanted to see fire jugglers and figured they'd show up there, but unfortunately the kids started complaining that it was "too loud" with the drumming. I was a little bummed, but what can you do? Have gelato, that's what.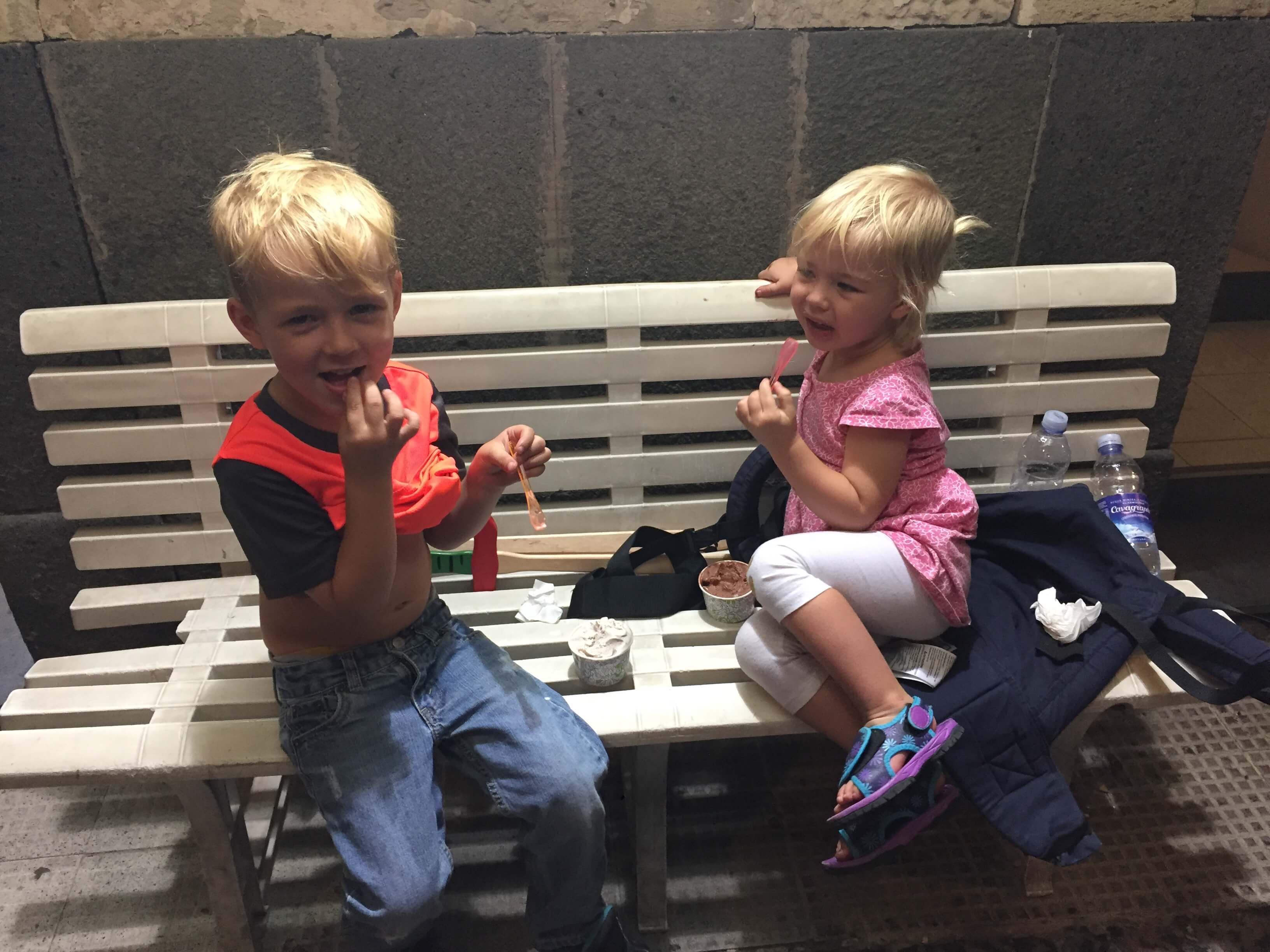 Honestly the festival was really just getting started by the time we left a little before 10. I saw people arriving with their babies and young children when mine were exhausted and ready to go home, but from what we've seen everyone seems to stay up late here, even the kiddos! Next year when the kids are older (and we haven't already spent an hour and a half wandering Motta before it even starts) we'll maybe stay longer.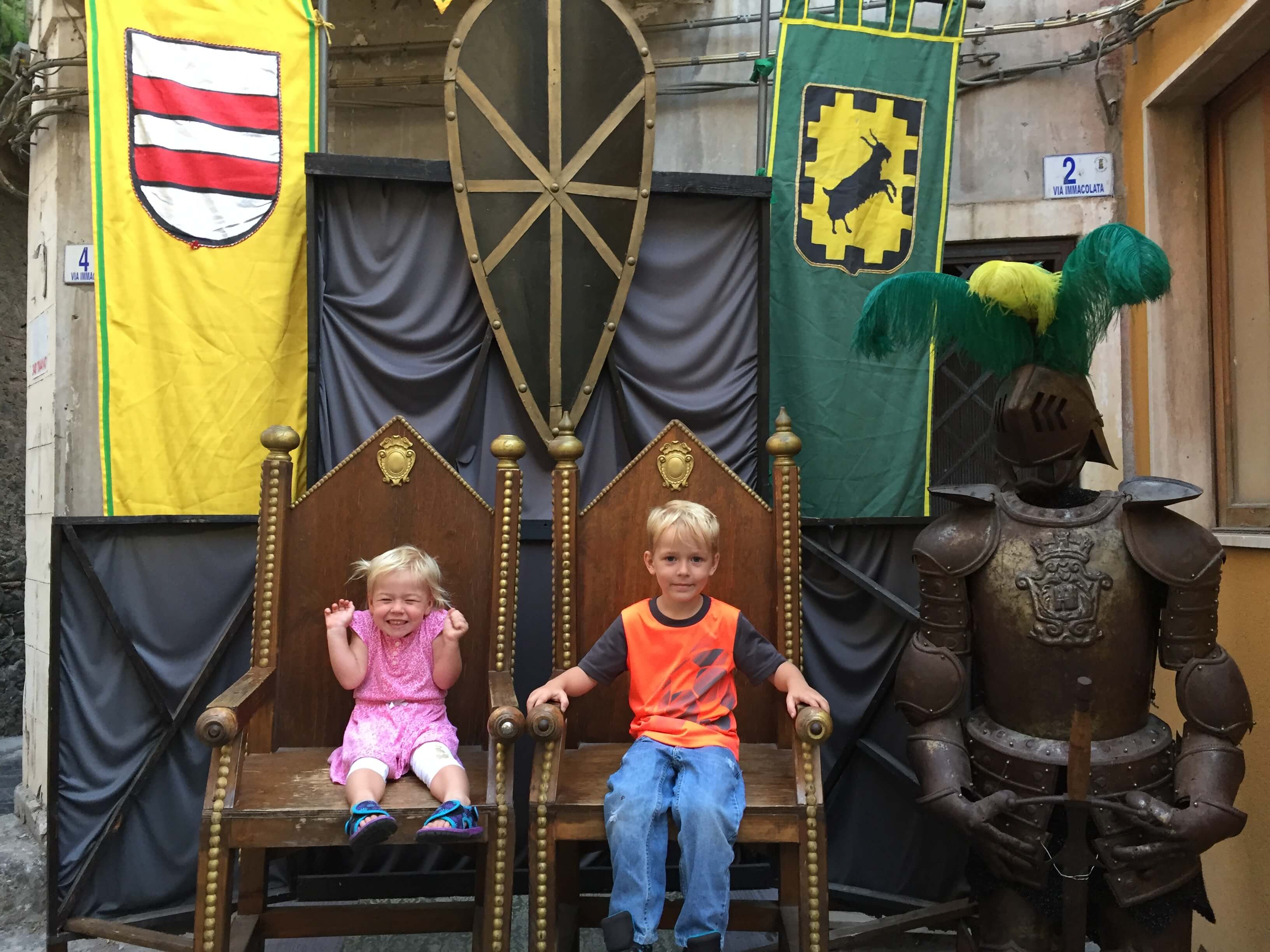 Worth it just for Fiona's face in this picture!