Agrigento is one of Sicily's biggest tourist attractions, and this weekend we finally made it out to visit! We really enjoyed our visit (less than 2.5 hours from our house, so an easy trip) though straight off the bat, I have two recommendations:
1. Don't go in summer
2. Definitely go some other time
To be fair, friends did try to warn me about the heat. (Repeatedly). But, eh, this was the weekend I wanted to go somewhere so …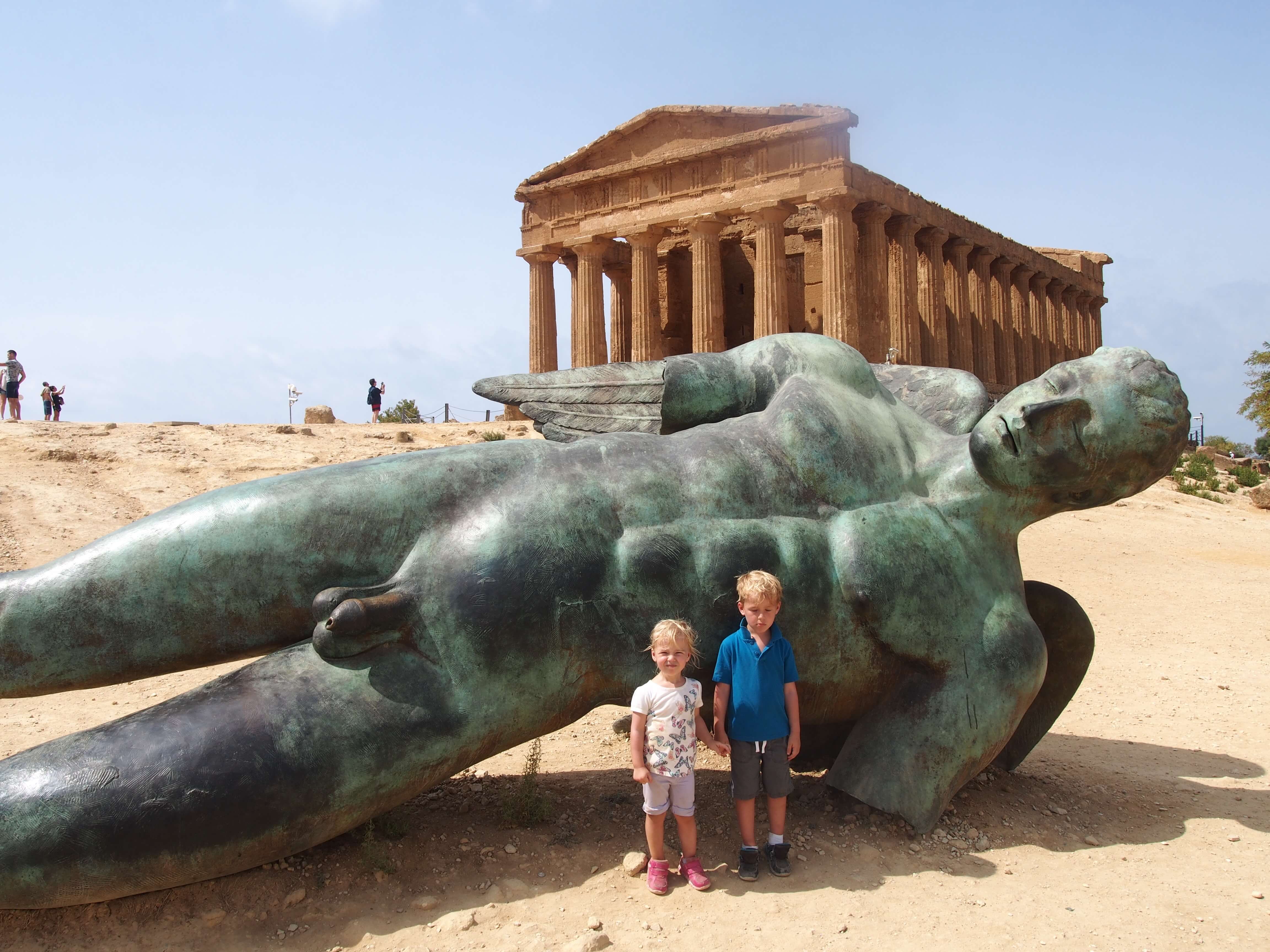 So Agrigento has been occupied for thousands of years, and hundreds of thousands of people were living in then-Greek city — called Akragas at that time — as early as 580 BC. We traveled there specifically to see the Valley of the Temples, which has the remains of seven Greek temples, including one of the best preserved in the world. Also noteworthy: it is located on a ridge, not a valley.
If you are planning to visit, there is a convenient parking lot right near the Temple of Juno on the east side. We paid 30 euro to enter, which included the temples and the Garden of Kolymbethra (which we didn't end up going to be because again — HOT). First stop was the Temple of Juno.
This is called the Temple of Juno, but apparently it probably wasn't actually sacred to Juno/Hera. 
From there, parts of the old defensive walls lined the ridge between the various temples. Pretty views! It seemed like it would be pretty well protected from invaders, but apparently not THAT well protected because Akragas was sacked by the Carthiginians in 406 BC. Some of the stone in the Temple of Juno is now reddish, and this is supposedly because it was burned at this time.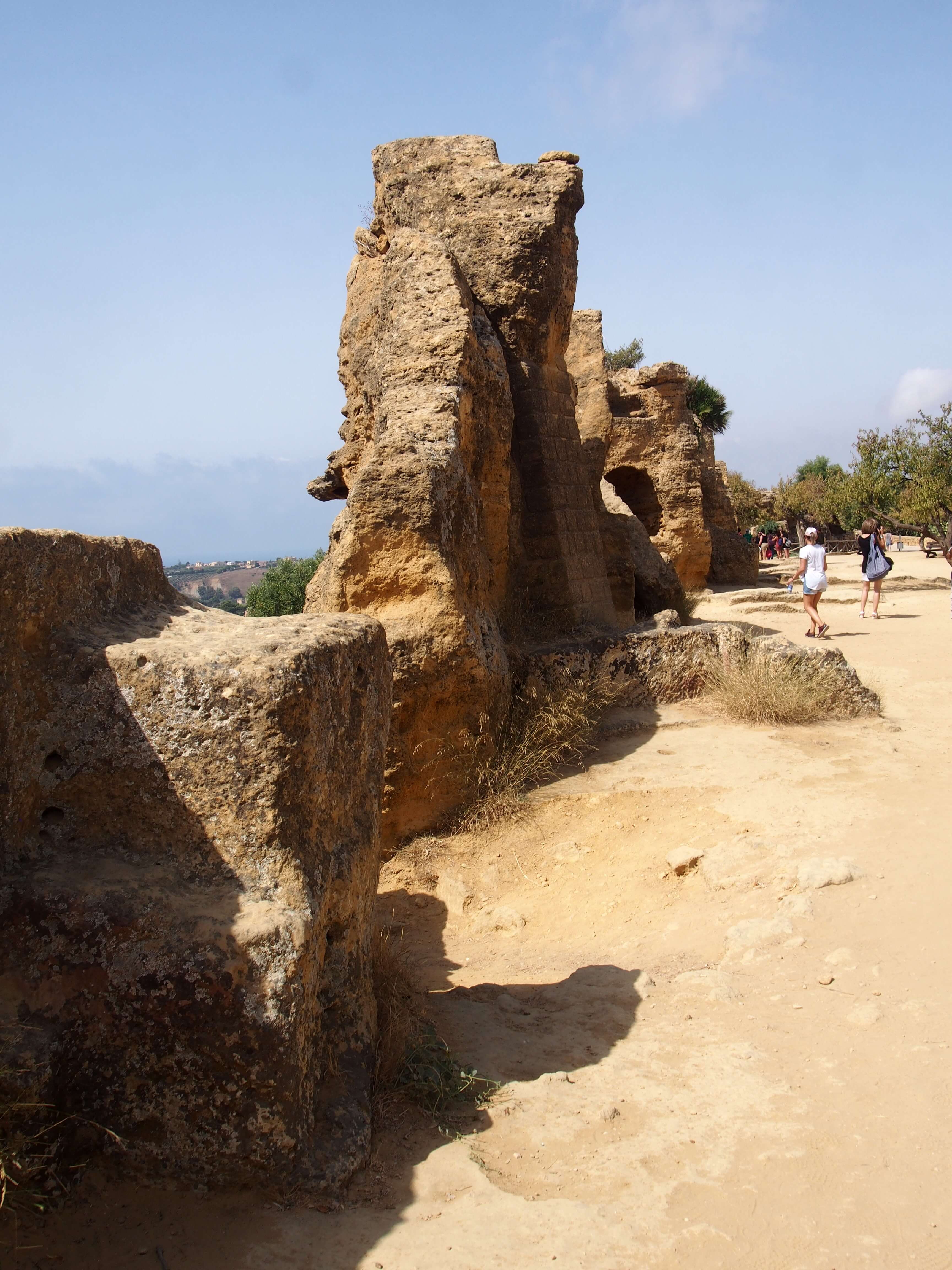 It was a bit of a walk to the second temple; probably not actually that far (my phone put us at 3.5 miles for the entire visit) but because of the heat it seemed a farther. Fiona refused to ride in the carrier so our party was a bit slower moving to accommodate her as well. There WAS a small shuttle van you could ride for 3 euro each, but we figured we were fine on the way there and then it turned out to only go one way — at least, as far as we could tell. 
Although I've mentioned before that we prefer to use a carrier rather than a stroller, this is actually a place where you could probably get away with a stroller without too much trouble. The steps would be annoying at the Temple of Juno, but most other places was pretty much fine.
The next temple was the show-stopper, one of the best preserved Doric temples in the world. The Temple of Concordia (again, that name comes from a Latin inscription and is probabaly not accurate) was amazingly well preserved, quite different from others we've seen in Sicily. It likely owes its survival to being consecrated as a Christian church at some point; perhaps those early Christians figured tearing it down would be a waste of a perfectly lovely building?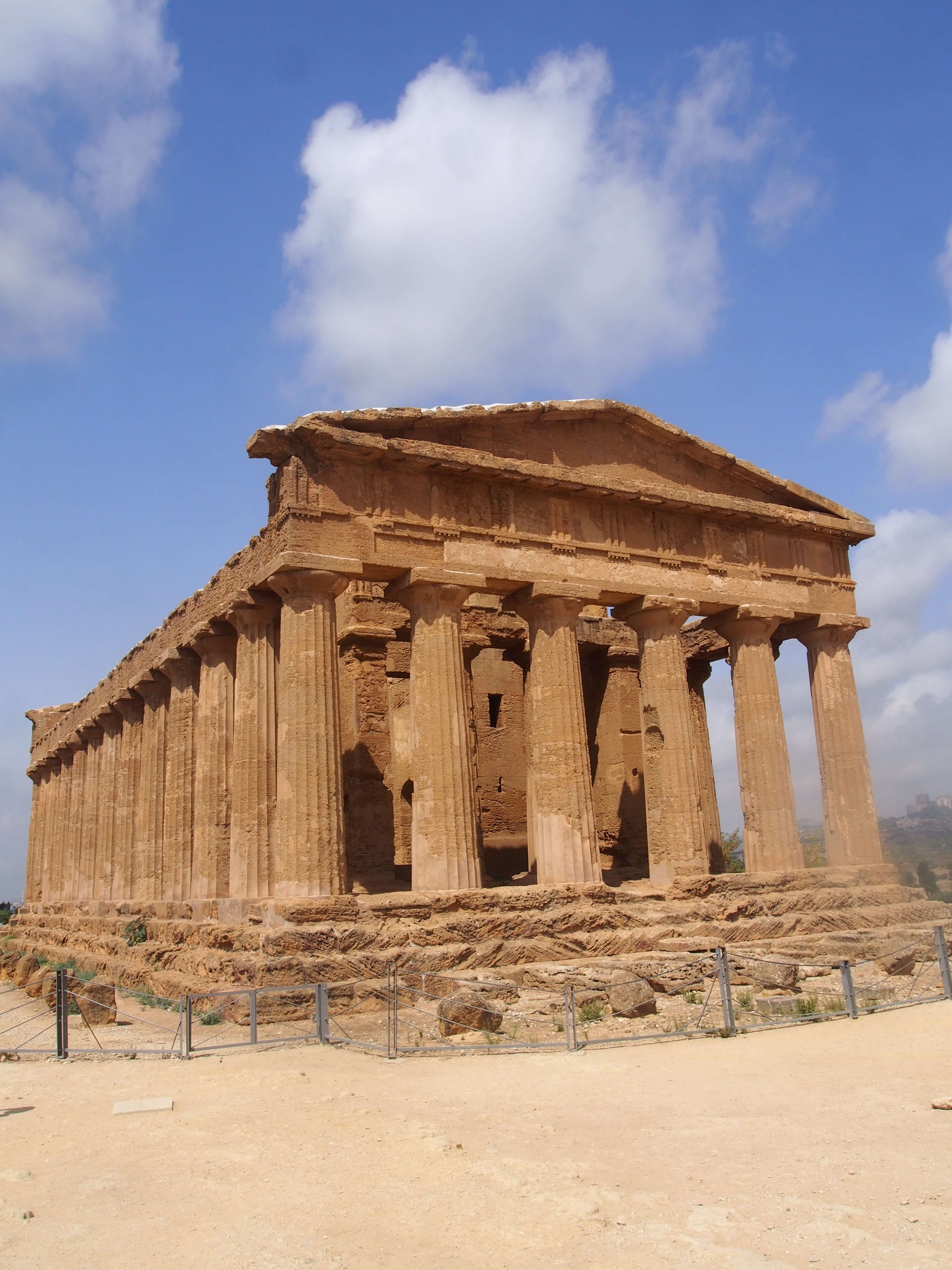 There aren't a ton of places to grab food in the Valley of the Temples (I'd suggest bringing your own drinks and snacks), but there is a small cafe near this temple. We got gelato there on the way back, and drinks since we'd powered through the many bottles of water and gatorade we'd hauled in.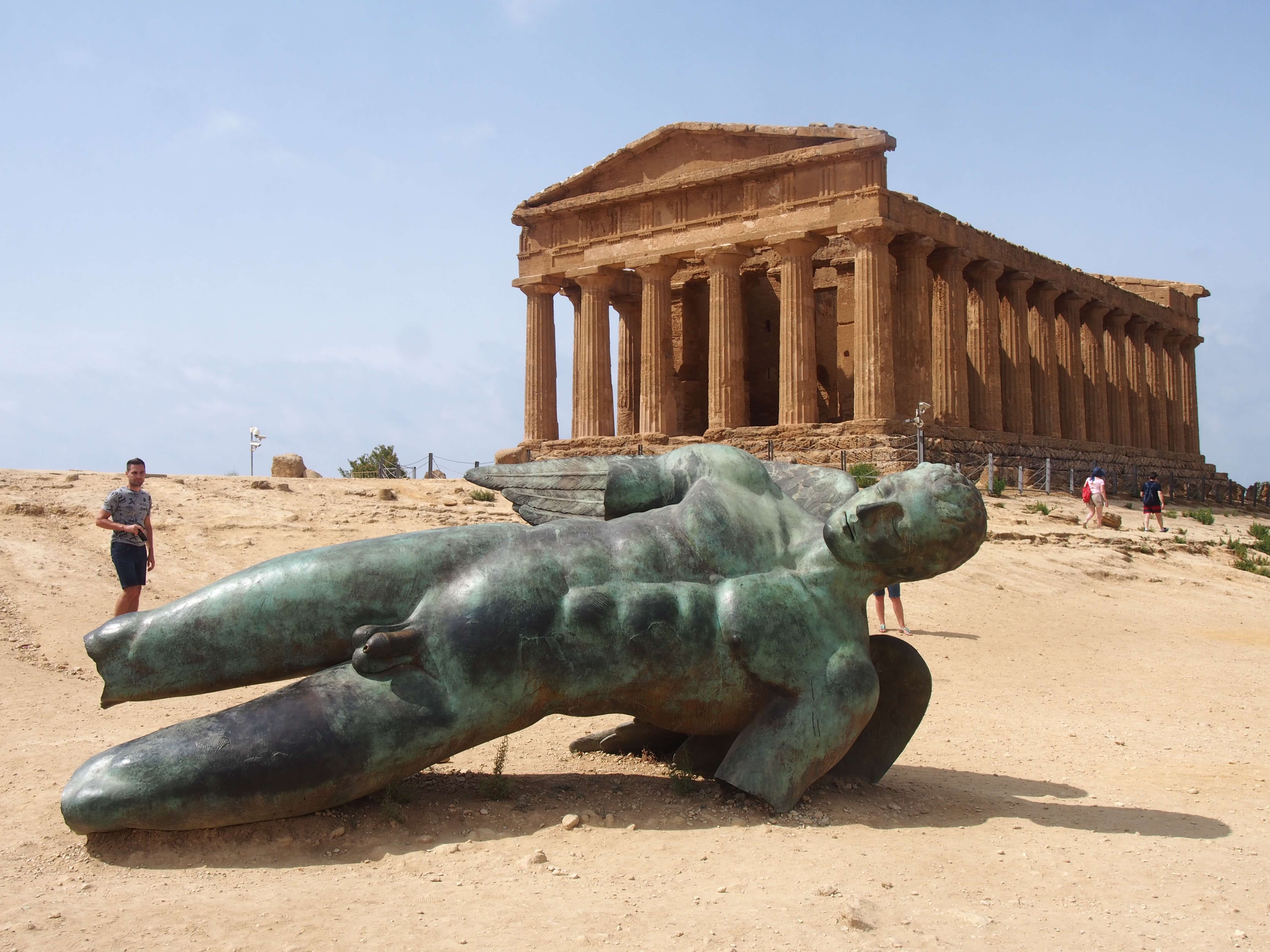 At first glance, I thought these were just modern reproductions. Turns out they are Roman and date back to about the 5th century AD.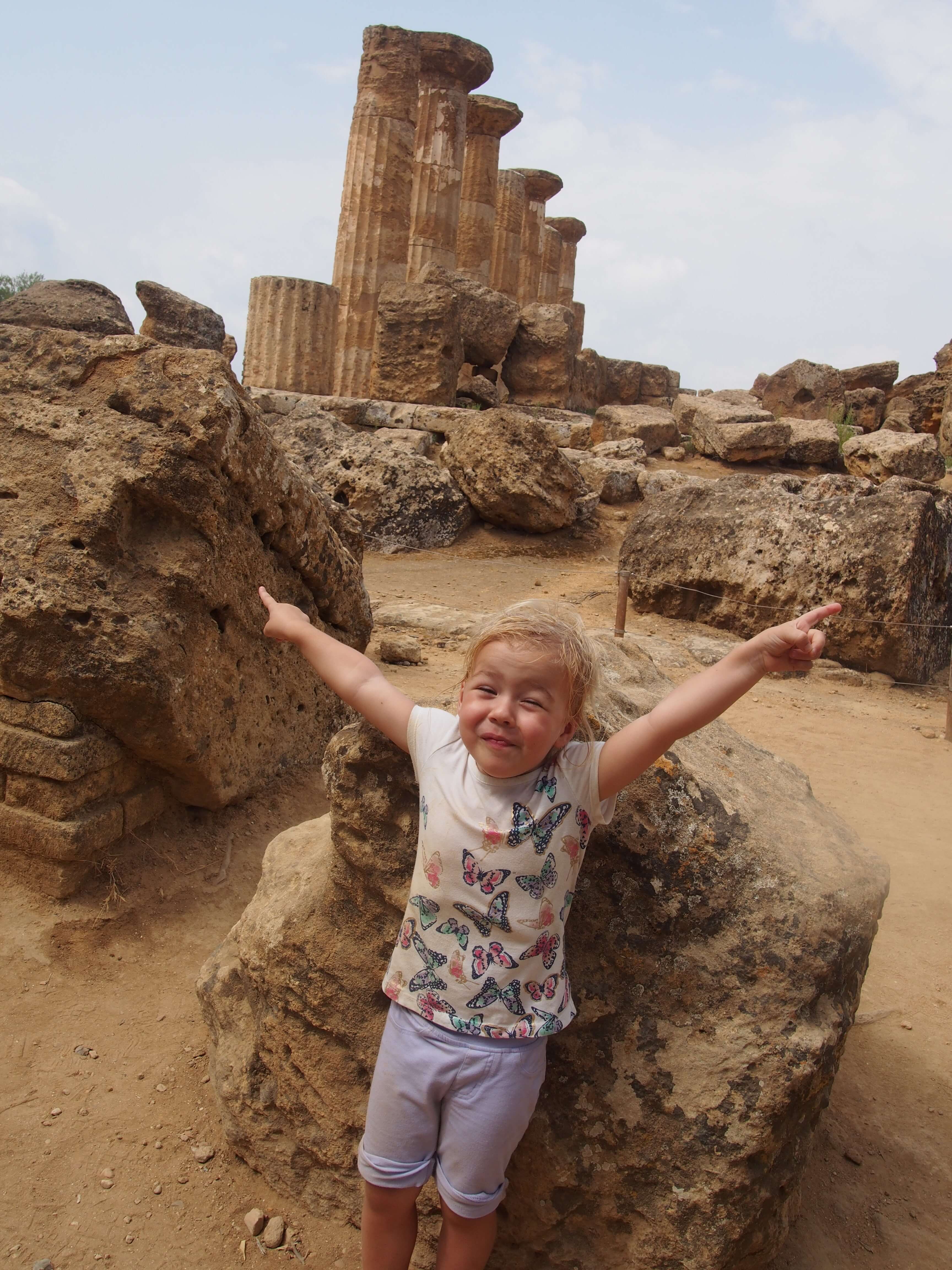 Temple "of Heracles" — again, probably not really. But a temple anyway! Obviously in rather less impressive shape than Concordia. 
There were quite a lot of other spots — including the ruins of the massive Temple of Zeus and an area used as burial site for early Christians — but I won't bore you with every detail. Suffice it to say that we were very impressed, but also very hot and after more than two hours of walking we were ready to hit the road. If it has been less hot, we probably would have stayed longer and possibly even considered a tour. The signage was good and in English, but having a tour guide to ask questions could have been nice.
By the time we escaped left, it was late enough that we could check into our rooms at the B&B Villa Carlotta Resort, only about 10 minutes away from the Valle dei Templi. I found this place on hotels.com and selected it because it had good reviews, free breakfast and wifi and a pool, all for 111 euro. We were not disappointed! The room we booked was the "family room," which had one bedroom room in the middle with an enormous bathroom on one side and a secondary bedroom for the kids on the other. It worked out perfectly for our family because the kids could go to sleep while Chris and I stayed up, but without the added cost of actually getting two rooms. The breakfast the next day was excellent as well, and we ended up sitting on the patio outside for more than an hour Sunday, enjoying the day and chatting with another couple.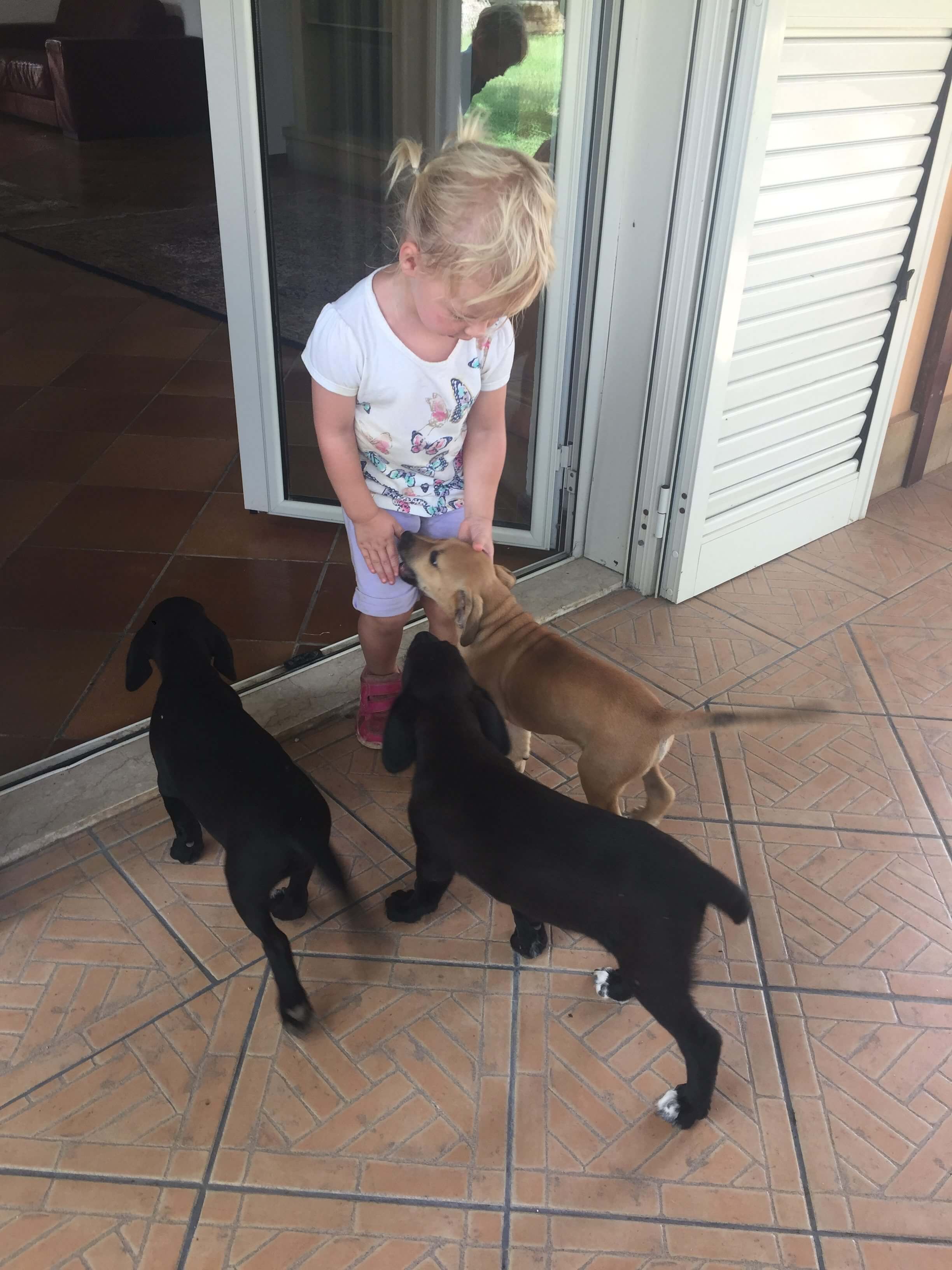 The most important feature though? PUPPIES! There were puppies! All four of us were pretty pumped to play with them. 
Table before my kids got hardboiled egg yolks and shells all over it.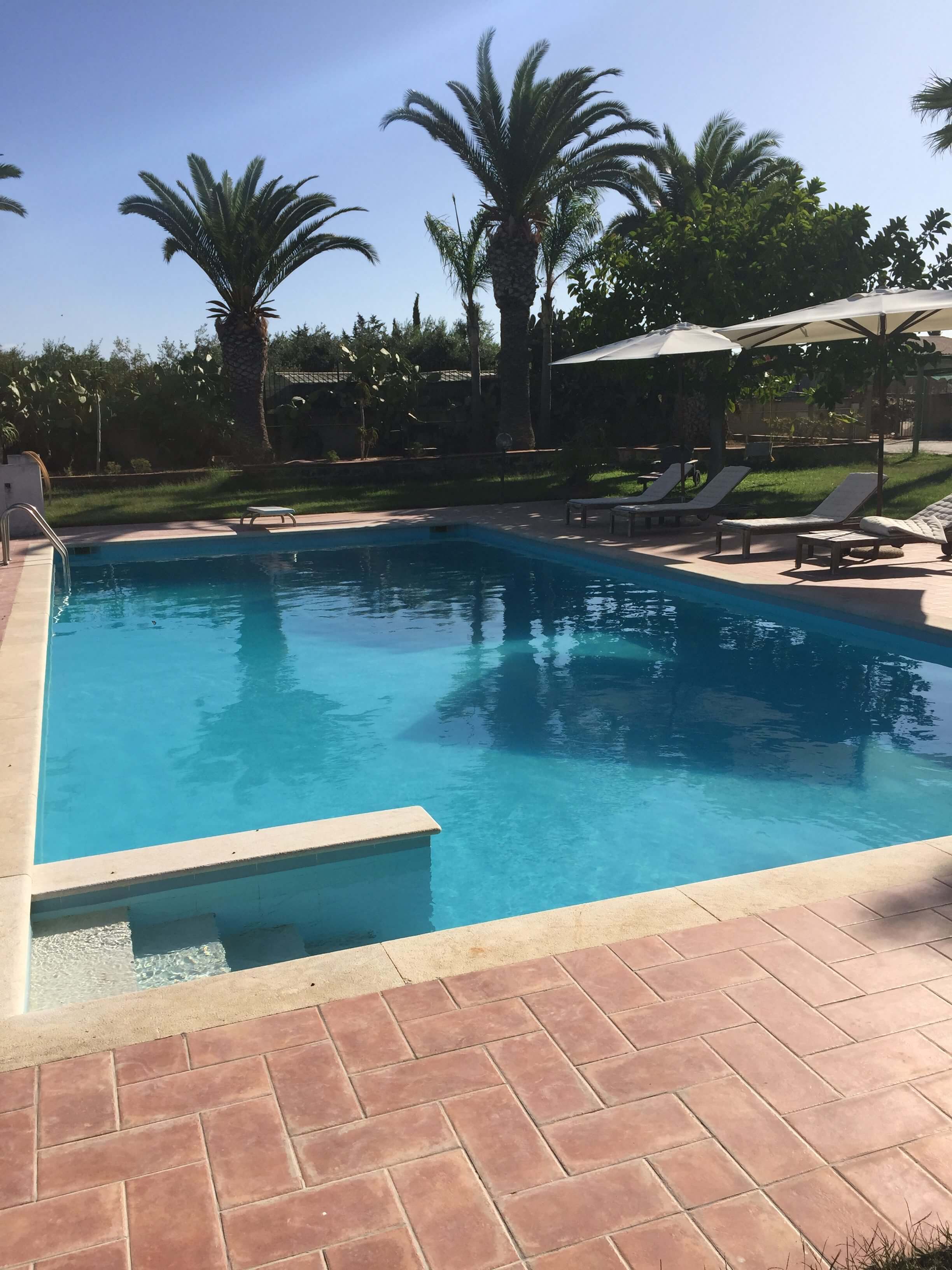 The diving board was also a crowd pleaser! And oh man, it felt amazing to jump in there after sweating all morning at the temples.
On Sunday, our intent was to visit the Turkish Steps (Scala dei Turchi) and then find a good beach spot nearby and swim for a while. However, the water was rough and there were red flags out in the morning, so swimming was a no-go. It might not have been the best spot anyway, as it seemed like there was a lot of seaweed near the shore. The water looked gorgeous from a distance though.
The Steps  were worth a visit even without getting to swim. Just beautiful! The cliff is made of a white rock called marl, and it does look somewhat like a staircase and can be climbed. The name comes from the fact that the town, Realmonte, was a port. According to legend, the "Turks" (Saracen pirates/Moors) could park their boats here, climb the "steps" and raid the village. How true this is, I couldn't tell you.
We climbed on it a bit, though it was a bit slippery so we didn't go up too far.
All in all, it was a great weekend! And for my Sicily friends, I'd highly recommend checking it out sometime soon because it is an easy drive and worth a weekend trip! … in the autumn.