We're back! We just had a wonderful three days in Munich, where we met up with a bunch of friends and family members for the annual Oktoberfest. It was everything I hoped it would be (if a little colder than I imagined) over the last10 months or so of planning this trip.
I've written once before about what went into getting reservations for the tents, but as those times were when we went sans kiddos I'll save that for another post. Instead, I want to talk about taking these little cuties with us to the festival!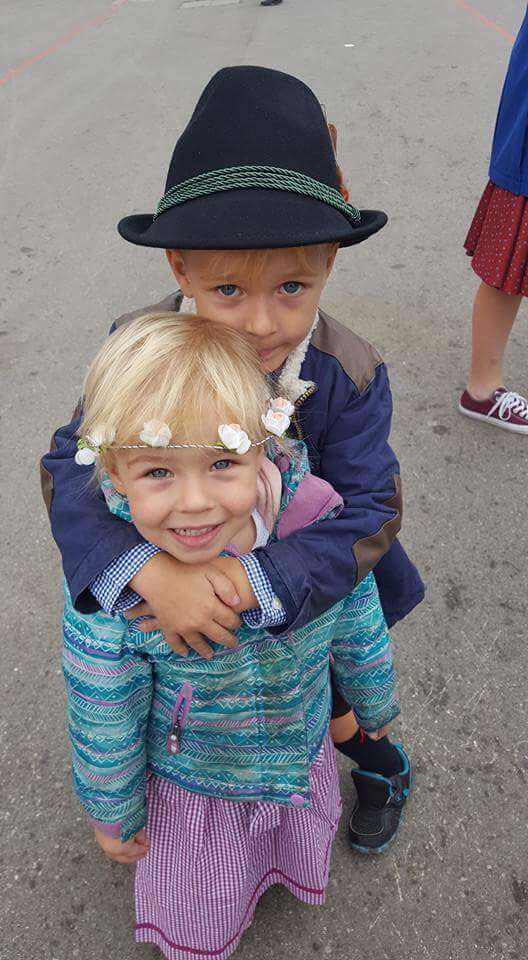 Photo credit: Linda Hawrysz, aka my "Miss Linnie" aka my aunt. (Chris, that last one was for you!) 
Now, you could be forgiven if it seems like Oktoberfest — probably one of the best-known beer fests in the world — isn't the best place for kids. But you (and I, before I did the research) would be wrong! Oktoberfest is a big family event for locals and a large chunk of it is set up especially for children. We even spotted what looked like school groups there, on what I'm guessing were school field trips.
So most people know about the beer tents at Oktoberfest — there are 12 large ones that seat as many as 6,000 people, plus several smaller ones as well. What I didn't remember from our last trip in 2010, however, was that the majority of the grounds were covered with games and rides for everyone from the littlest kids to adults (just ask my sister and our friend Marisue, who rode the roller coaster Tuesday after 4 hours in a beer tent!). And of course, all kinds of food stalls selling all manner of things — most of which are delicious and terrible for you.
We decided to take the kids to the fest on Tuesday, which was a "family day" where prices were allegedly discounted. They probably were, but by the end we felt we'd spent so much money it was hard to tell. Oh well! Accompanying us were my brother-in-law, Brett, my sister, Torie, and my aunt and uncle, Miss Linnie and Keith. One of my brothers, Mike, made a last minute decision to come to Munich (from Shaghai!) and he also spent some time with us.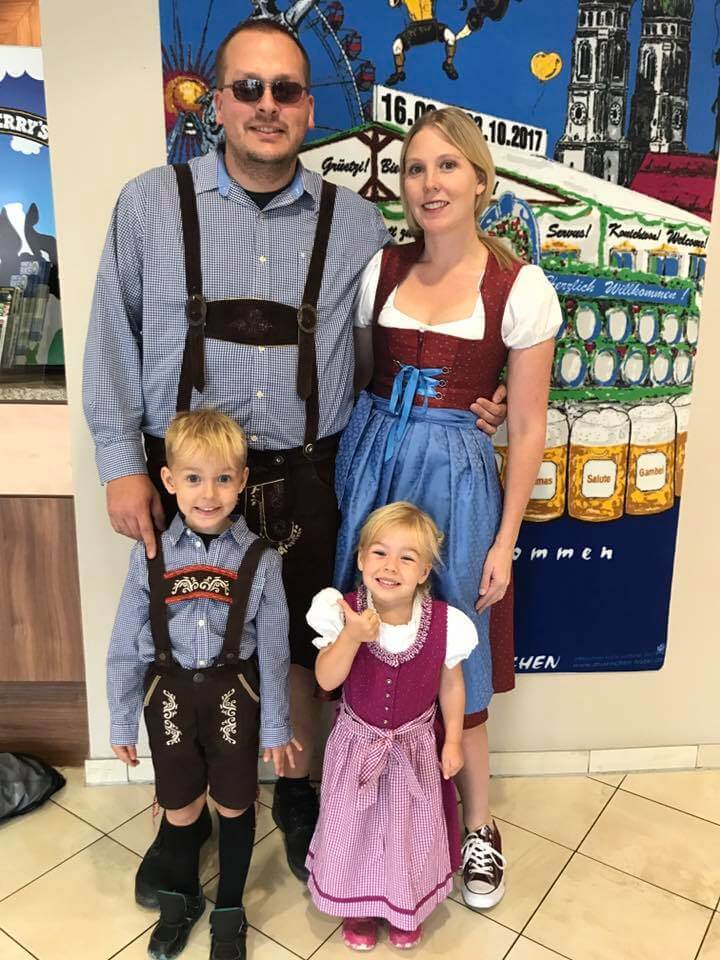 We had decided months ago to dress up for the occassion, and I'd ordered our outfits mostly from German companies (Owen's was the exception — Etsy). The only thing we hadn't really thought about was what to do if the weather was colder than expected, as indeed it was. We ended up popping a pair of Chris' socks on Owen to serve as legwarmers of sorts, as it ended up being only in the upper 50s. This photo was taken in the hotel.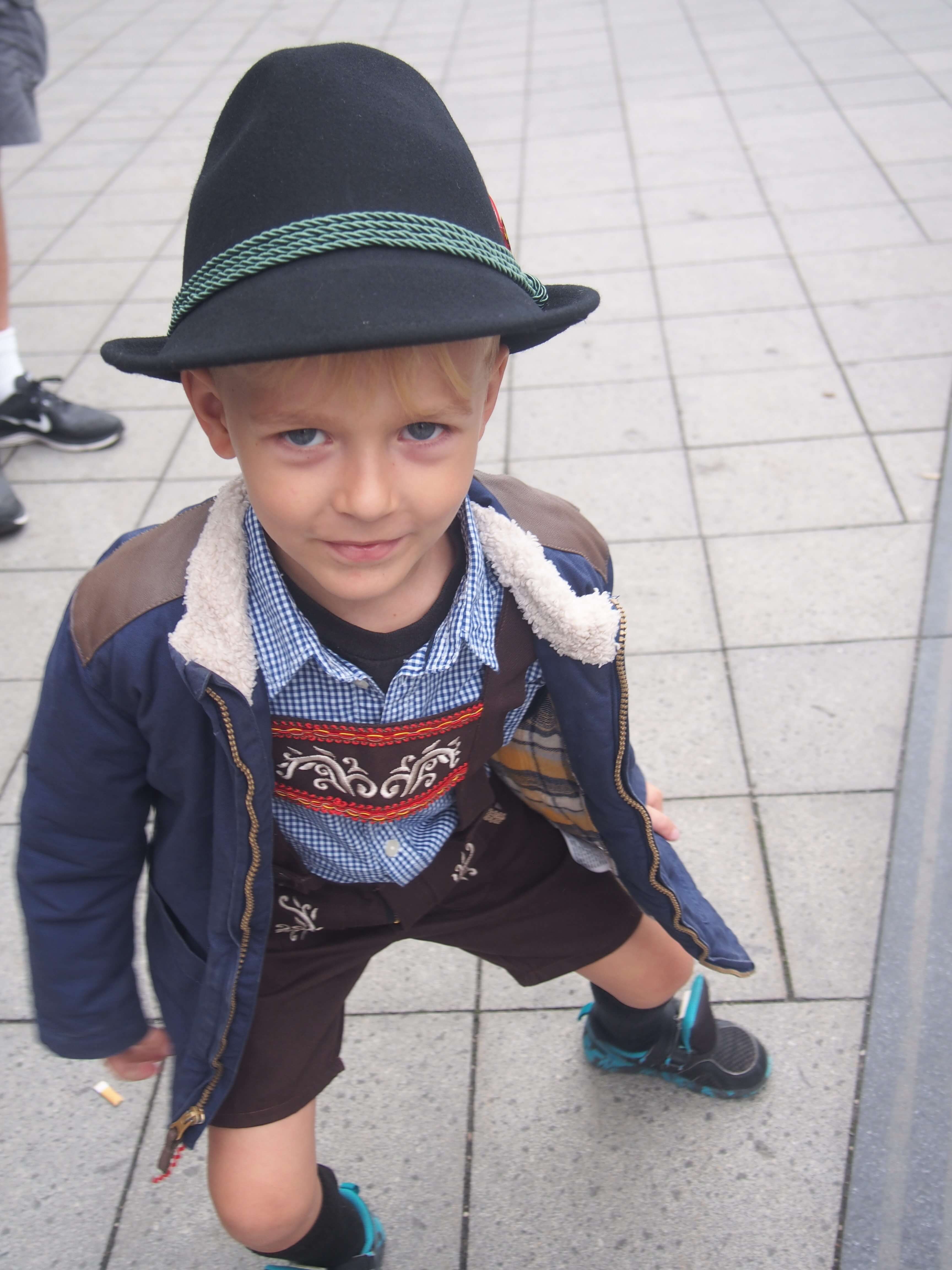 Both kids acquired their headgear from a pop-up shop we passed on the way to the festival.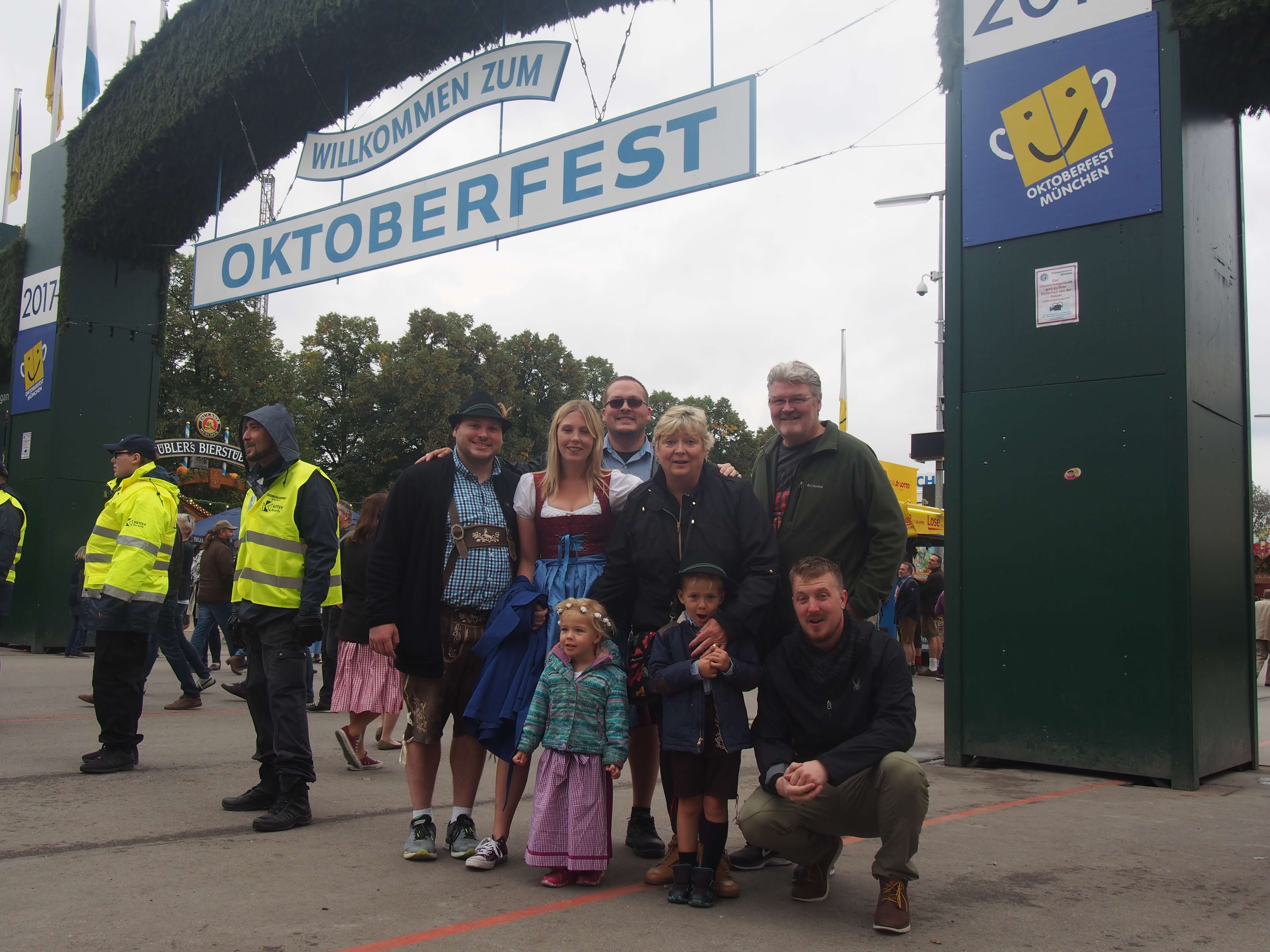 The group, minus my sister who was checking her oversized purse. No rucksacks or large purses allowed in the fest for security reasons. My parents and the family friends (Steve and Julie, Ralph and Marisue) were on a walking tour of Munich that morning. 
So our kids haven't ever really been to a festival-type place or theme park at an age when they could really go on rides or play games. We had so much fun … with a few isolated incidents.
First thing Owen spotted was a target shooting game, which to my very great surprise he was old enough to play. My brother Mike, a former Marine, was his tutor in the beginning.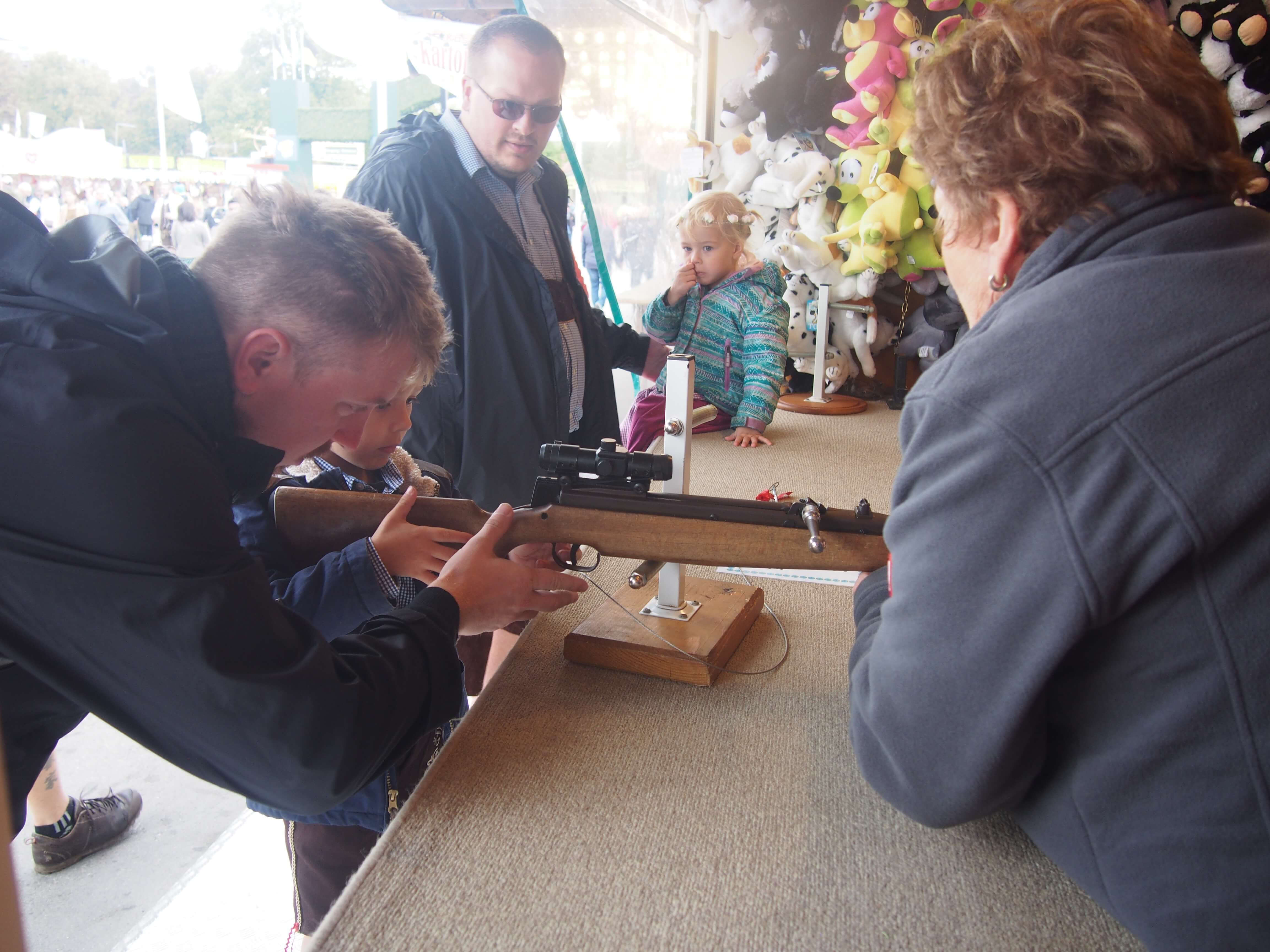 But he ended up being startlingly good at it. Hit 9 targets out of 12! This would be remembered as his absolute favorite thing this trip.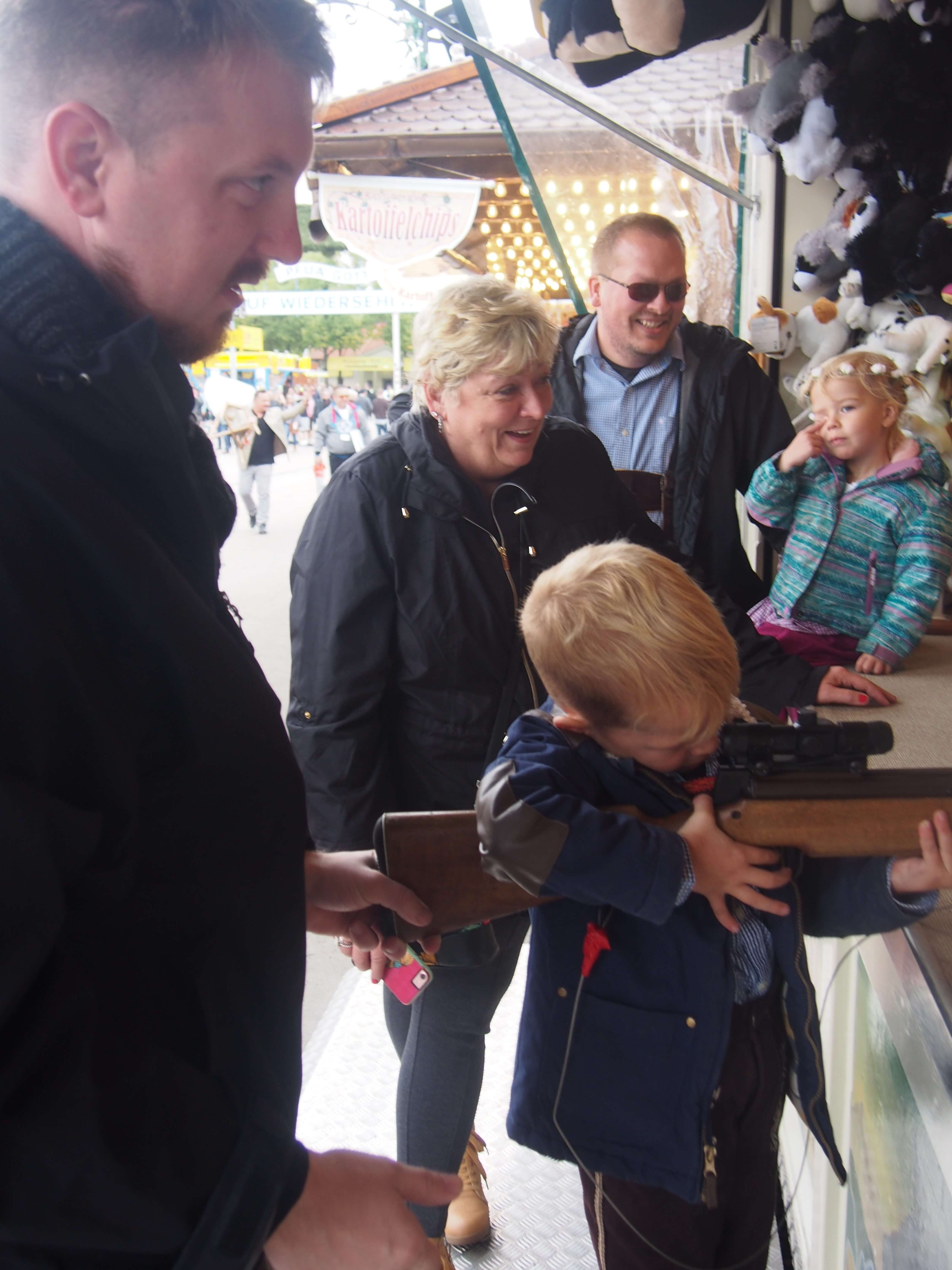 Fiona also got to play a couple of games, though admittedly she wasn't so much old enough for them. But of course she wants to do everything Owen does.
We did have one miscalculation on our part: my sister asked Owen if he wanted to go into the haunted house ride with her. We should have just said no because we know he historically hasn't liked scary things, but he was so insistent that he wanted to go that we said OK. He sobbed through the whole thing, which even my sister said was pretty freaky. Whoops.
We rebounded with a bunch of rides though!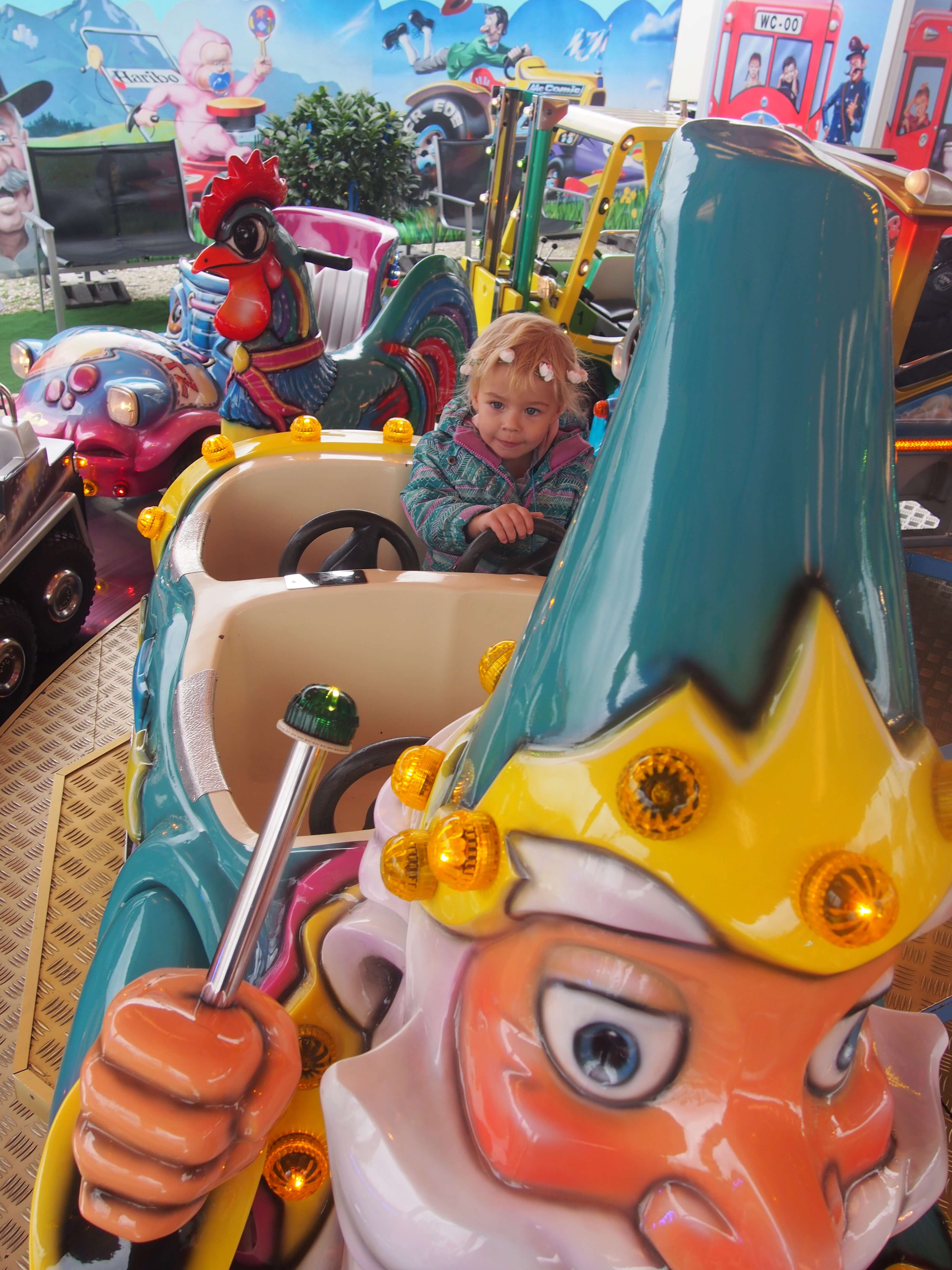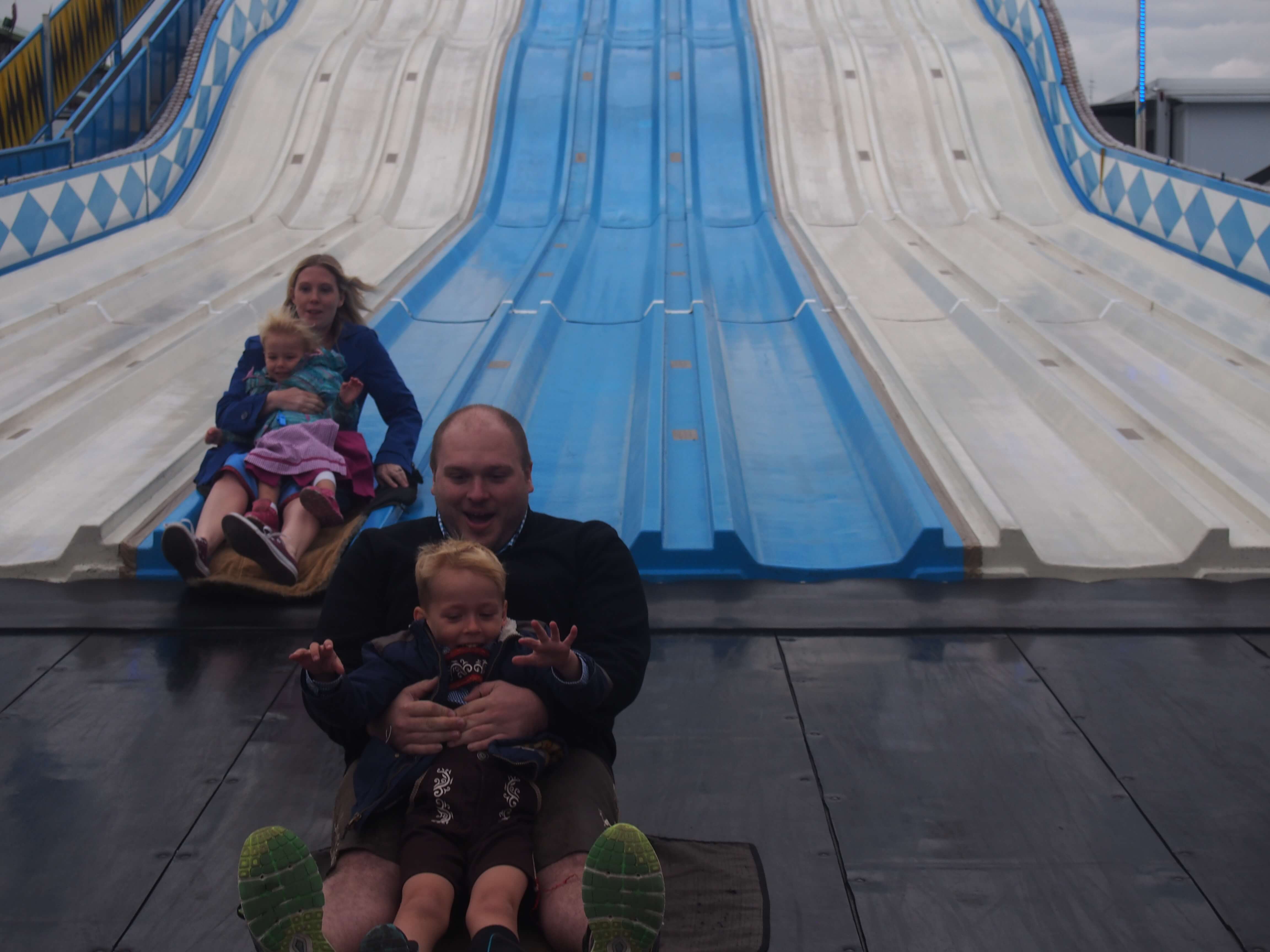 The ferris wheel was awesome, the fanciest one I've ever been on and the six adults and two kids all fit on there easily. We had a great view of the entire fest from up there. Fiona did seem to get a little nervous about the height, but while I'm personally not usually the biggest fan of heights I wasn't all that nervous with this one because each carriage was closed in. It was sort of like a little log cabin on a wheel, with open windows on the side.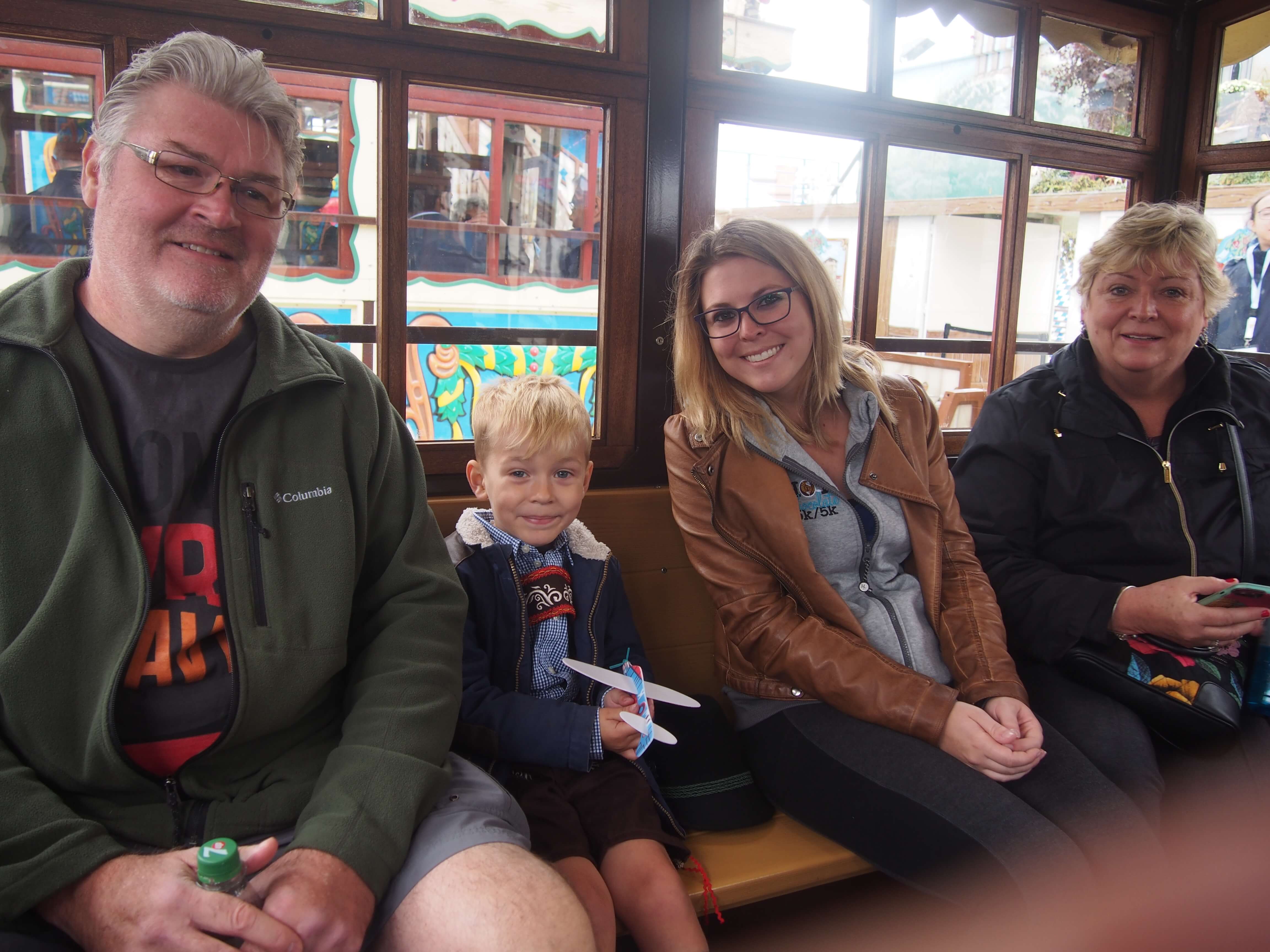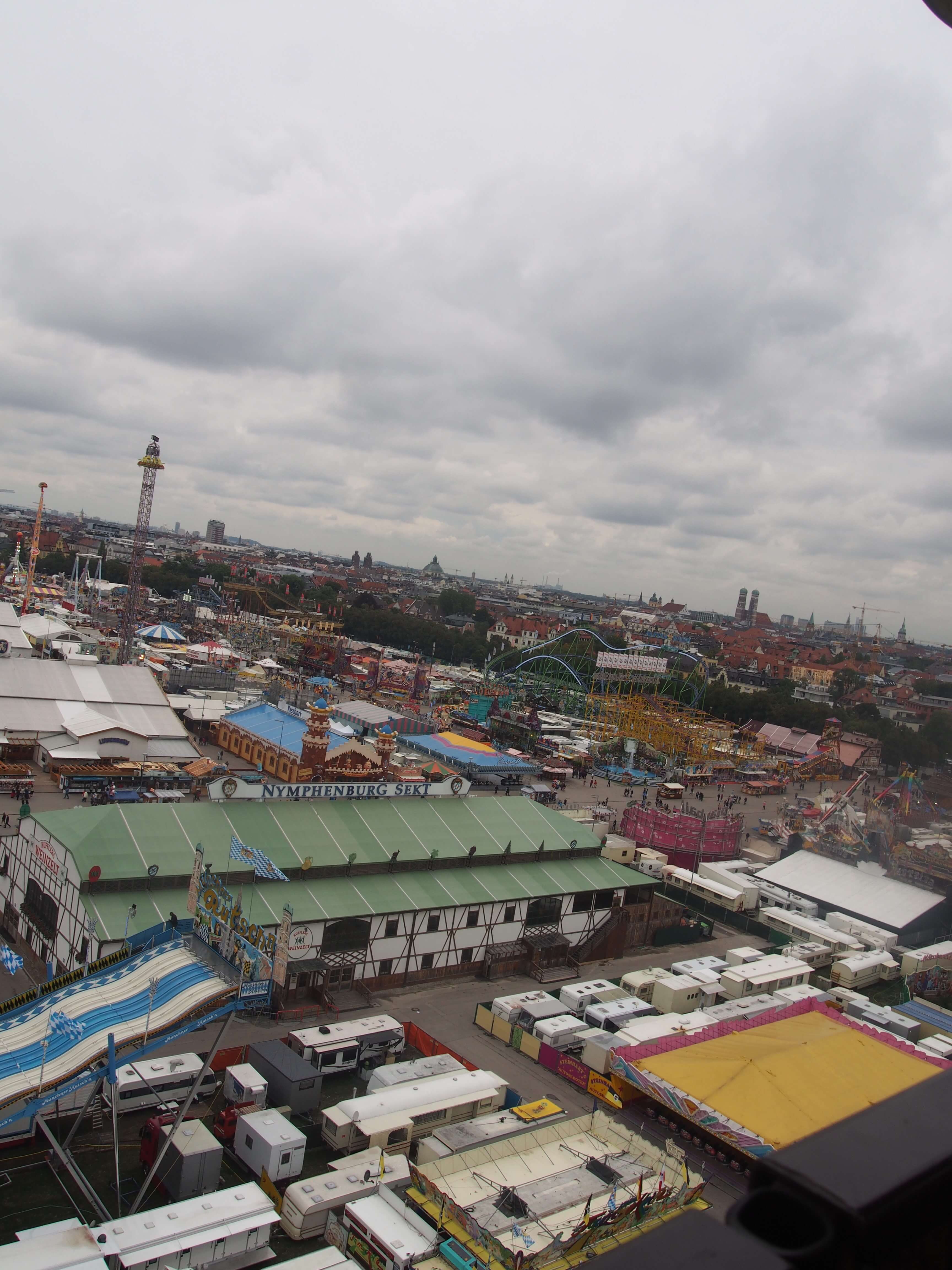 The others also had a ride in some bumper cars, though Fiona had to be lifted out halfway through (it was only us in there so no problem).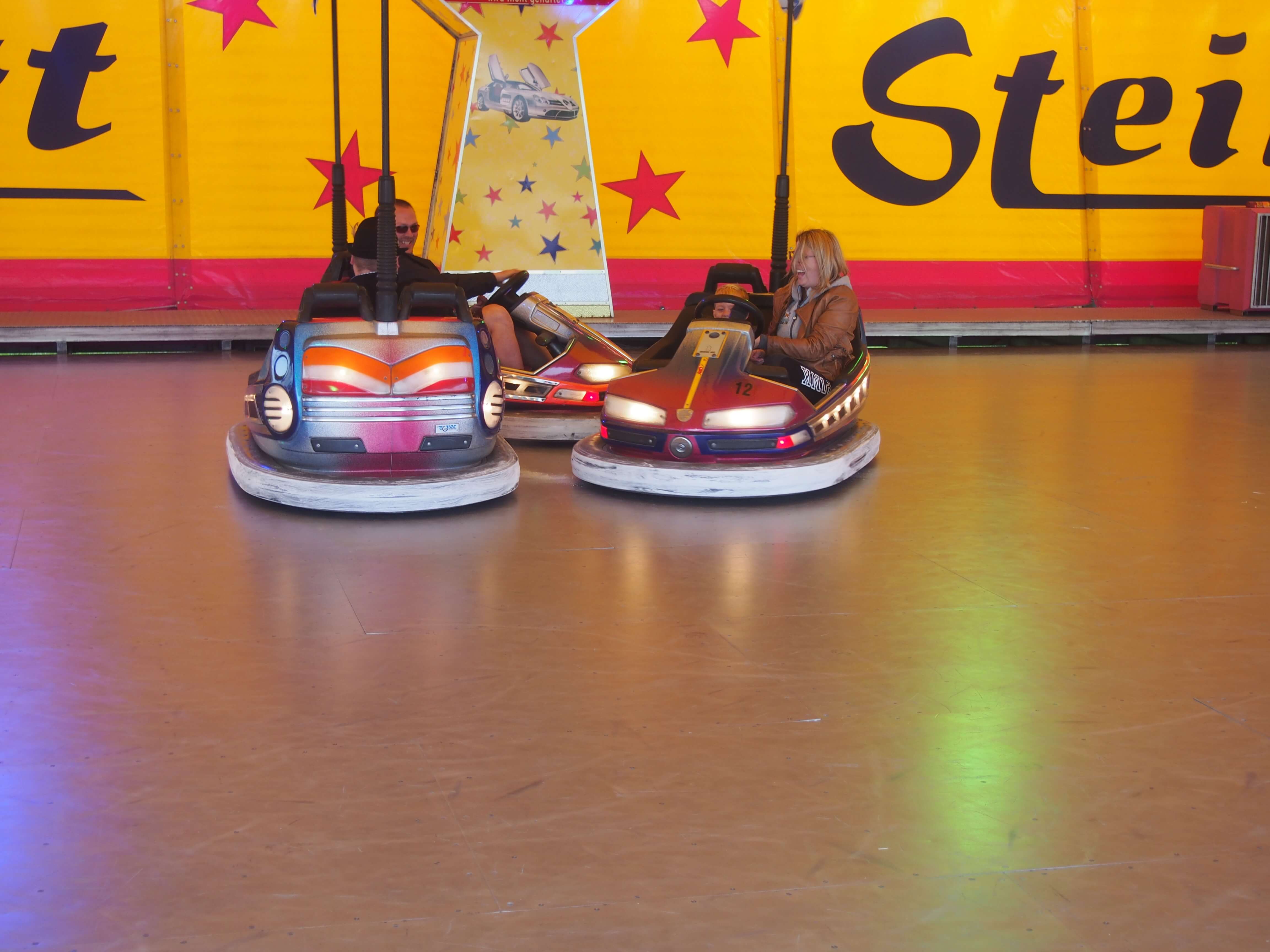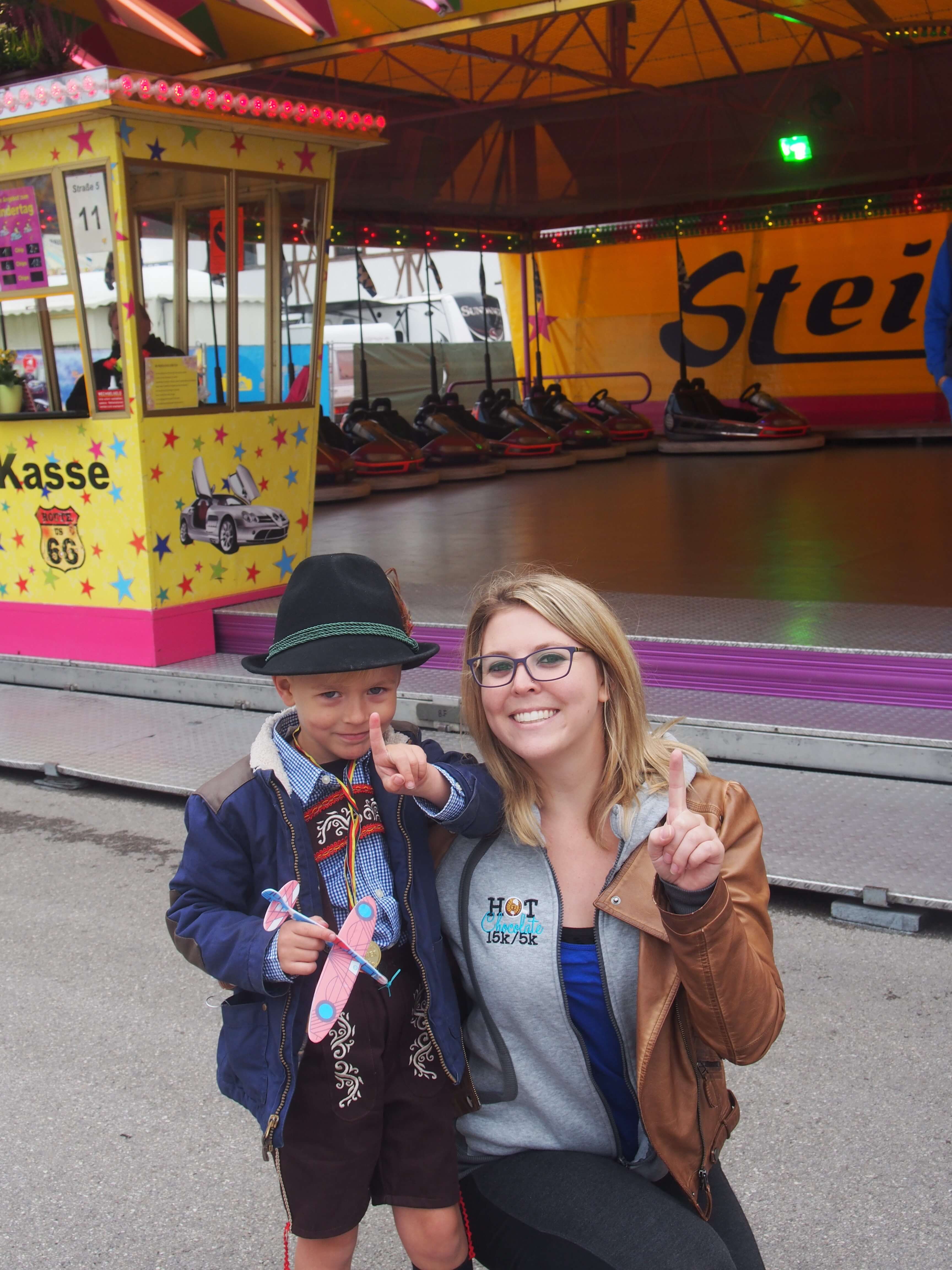 For older kids and adults, there were rides that were considerably larger as well. And some water rides, which we skipped for obvious reasons. Brrrrr.
The temperature seemed to drop quite a bit in the time we were there, so after a few hours (and some of the best chocolate-covered strawberries we've ever had, later determined to be Fiona's favorite part of the entire trip) we decided to head over to one of the beer tents for some lunch. Kids are absolutely allowed in the beer tents, which are honestly pretty low-key during the day. After 8 p.m., children younger than 6 must leave. We went to the Lowenbrau tent and had duck, kasespatzle (cheesy noodles with fried onions on top) and fries for the kids. It was all yum.
Unfortunately, it was here that we learned that Fiona was way more tired than we'd realized. She climbed under the table to, I had assumed, look around. Instead, she just laid down her head and fell asleep pretty much instantly. Whoops. She wasn't in a good position, so I had to drag her out and she didn't take it well. It was just as well we needed to get back to our hotel to meet the babysitter (more on that later) because she was pissed.
I swear I'm not actually as heartless as this pictures makes me look. But she gets a little bit funny when she's mad because you can offer her literally anything and she'll just scream no. If I had to take a guess, I'm betting that at the moment Brett snapped this I had just offered her a unicorn and was told "unicorns are the WORST." I ended up taking her outside to get a sparkling apple juice, which cooled her fury. 
SO — despite the rocky ending and chilly weather, we had an excellent time and the kids were very excited. I wouldn't hesitate to take them there again if the opportunity came up, especially since the older they get the more they'll be able to do.
If you are going: 
I'd suggest going early, and going on a weekday. The fest opens at 10 and we arrived a little after 11. It was very quiet, which meant we didn't wait for any of the rides or games and easily found a table in the beer tent at lunch.
Remember that you can't bring a large purse or backpack for security reasons. According to my friend Andrea, you do get a bigger bag if you also have a stroller; however, keep in mind that strollers aren't allowed on Saturday or after 6 p.m. because of the crowds.
Try for one of the family days to reduce the cost of the games and rides.
Have fun!