For whatever reason with my family, we always seem to have various mishaps while traveling. Get a group of us together and invariably we'll end up with a slew of "remember that time in Pisa …" or "remember that time with the crowded train …" as a springboard into a story of misadventure from our family lore.
Even still, Tuesday was one for the ages.
Where I thought we'd be at 2 p.m. on Tuesday: at my house, eating some lunch and watching Moana while doing laundry.
Where we actually were at 2 p.m. on Tuesday: the home of a stranger, lamenting my lack of Italian skills, but eating at a feast that included pasta, vegetables the stranger (Pino!) and my dad picked from the garden ten minutes before, and rabbit he'd shot on his farm.
Again: I am overwhelmed by the kindness of strangers! The world seems like a pretty jacked up place lately, but it is a relief to know there are still good people out there.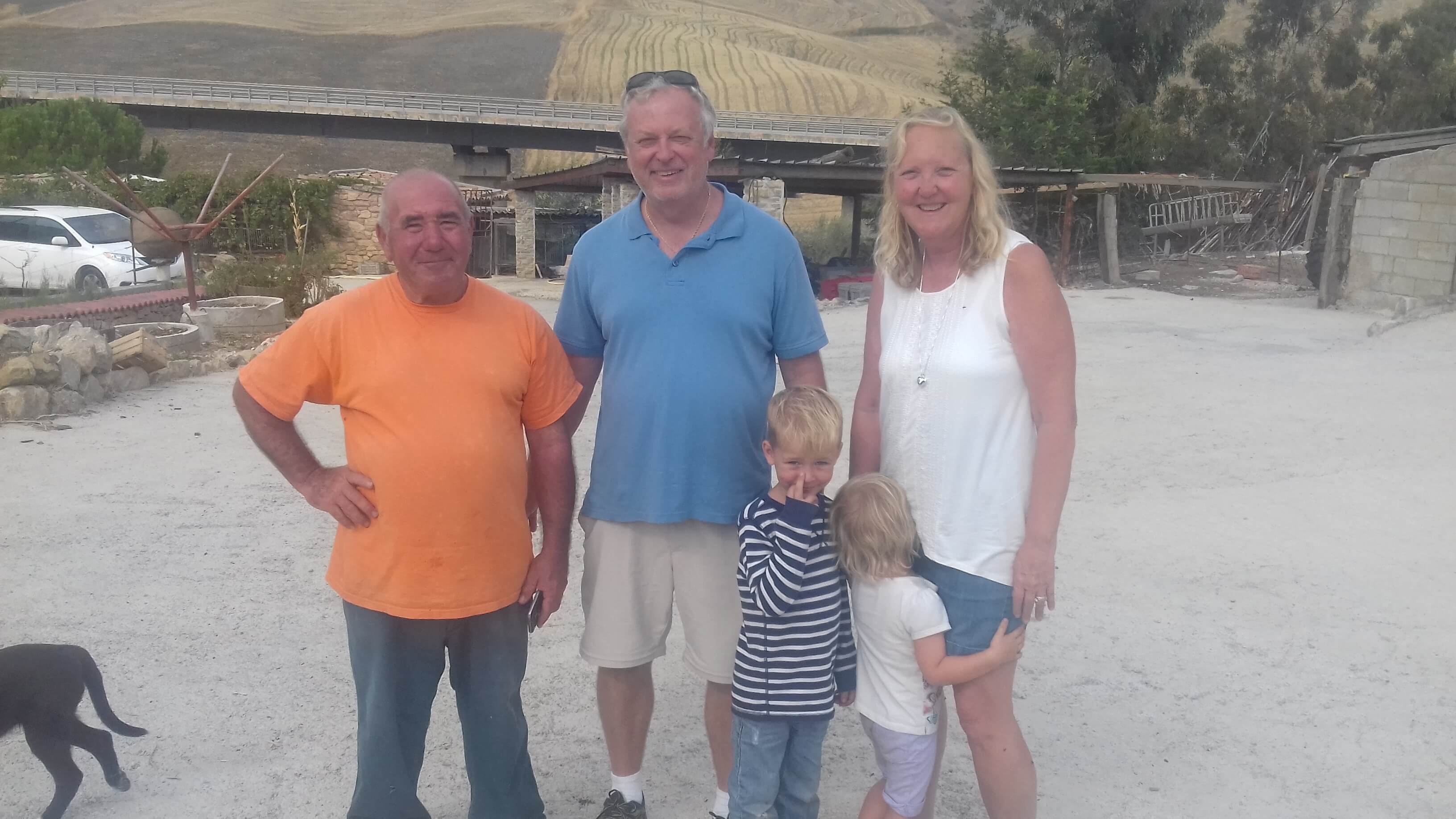 So, let's back up.
My parents came to town Sunday after finishing their month-long traveling adventure in Ireland, Scotland, Wales, France, Germany and Italy. My brother-in-law Brett, who met us in Germany for Oktoberfest, has also been visiting us in Sicily since we got back. We had decided to take the crowd to Cefalu for some beach time Sunday and Monday (it was great, by the way!), then Tuesday morning Chris and Brett left early to catch a plane for Rome, where they are spending a couple days before Brett's flight home. That left me, my parents and the kids to drive the van home Tuesday later in the day after we explored some more and packed up.
As we were heading out of town, we passed a gas station. I looked at my dash, noticed I needed gas fairly soon and decided I'd better stop at the next one we spotted. We were going on a major highway, so no problem, right?*
Wrong. So wrong.
On the way to Cefalu, we'd stopped at Taormina for a while and thus took a longer route along the (highly populated) coast. On the way back we planned to take the quicker route down the middle of the island and over.
So, we were on the lookout from the beginning for a gas station but it didn't immediately become a huge issue until we'd gone miles and miles and miles without seeing one. Getting nervous, we decided we needed to get off at one of the exits on the theory that surely, surely there will be a gas station somewhere. Nope, waste of gas trying one area and realizing there was nothing there. Next, decided to get back on the highway and keep driving but things were getting critical. Finally, Google informed me there was a middle-of-nowhere gas station only about five kilometers away. Sold.
Except that GPS just led us to a farm. And then informed us we could walk the rest of the way. Our car hadn't actually spluttered to a stop, but the range had been on 0 for quite some time and we knew we didn't have much left, so we decided to ask whoever lived there where this mythical gas station was.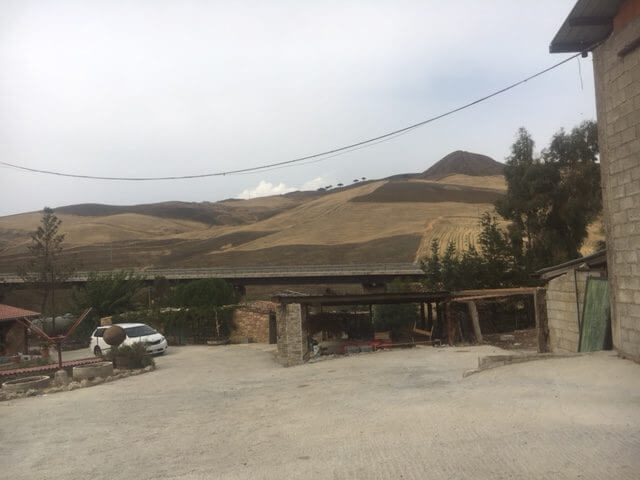 So, my Italian continues to be very poor. The farmer, Pino, spoke Italian and Dutch only. We had Google Translate but it honestly isn't as helpful as it could be a lot of the time (a post on that to follow) and we were struggling with communication. Finally I remembered my fabulous and fluent friend Brooke, who I was able to call on messenger. To my immense relief, she was available and talked to Pino for us – who informed us that the "gas station" we were looking for only had fuel for scooters and that the nearest real gas station was about 15 kilometers away. Uphill. His opinion? There was no chance we'd make it. Since we hadn't the slightest idea where it even was, we tended to agree.
So, this is where Pino is especially amazing. First he was trying to convince us he could mix some of his diesel with oil and put it in the car, since he didn't have benzina (we declined). Our next plan was to call our roadside assistance through insurance, but Pino said it would take hours to get to the middle of nowhere and that they would charge a fortune and insist on towing us. He insisted that his son would be there in an hour and a half and either bring us some benzina or drive us to get it. With few other options – and a fear that if we tried to drive back to the highway we'd actually run out of gas somewhere less friendly – we decided to wait.
And then he offered to make us spaghetti. I was in a state of complete nervous panic at this point, but the kids hadn't eaten and well … it was almost 2 p.m.
So, we explored a little bit while Pino (with help from my dad to go pick some vegetables straight from the garden!) got to work. He either rebuffed my offers to help or didn't understand my offer because "aiutare" is a hard word for me to pronounce.
In the meantime, we mostly explored the farm (he had chickens, sheep, pigs and a gorgeous bay horse named Farfellina) and played with his rambunctious puppies, while I fought anxiety-induced nausea and apologized profusely to my parents for getting us into this situation. Owen and I also rehearsed what he would say to very politely refuse the spaghetti because – as most of you know – he doesn't eat pasta and we were worried about offending Pino.
Turns out, we didn't need to worry because we were served an epic meal and even my picky Owen found something to eat!
First course: pasta with marinara sauce, plus chunks of cheese; Fiona devoured the first and Owen ate cheese.
Second course: bread, roasted bell peppers straight from the garden, a tomato/oil salad straight from the garden, and a platter of meat that we didn't immediately recognize. Eventually, Pino pointed and said "coniglio" (hey! A word I recognize!) and mimicked shooting. My dad later told us he was pretty sure he was telling us to look out for pellets in the meat because he's used a shotgun?
Anyway, to my very great surprise it was after we clarified what we were eating that Owen piped up that he wanted some rabbit. We pulled some off the bone for him and – shockingly — he devoured it and said it was great (Pino seemed tickled!). Fiona ate it too. I was actually the only one who didn't, not because I was opposed but because I was still fighting some really bad nausea (lame!). Our only contribution was a couple bottles of wine that we'd had in the car, and he ended up serving his own wine anyway. Ooops!
Anyway, we used my extremely limited Italian, Google translate and sign language to do our best to carry on conversation with Pino and learned he had two sons, had lived on this farm since childhood, enjoys painting, and loves to cook for his friends. He ribbed me a bit for having been in Sicily for almost a year and not having learned more Italian, which ok, fair point. Later we learned that one of his side businesses is roasting pigs for parties; if anyone I know in Sicily ever needs a hog let me know and I'll give you his contact information!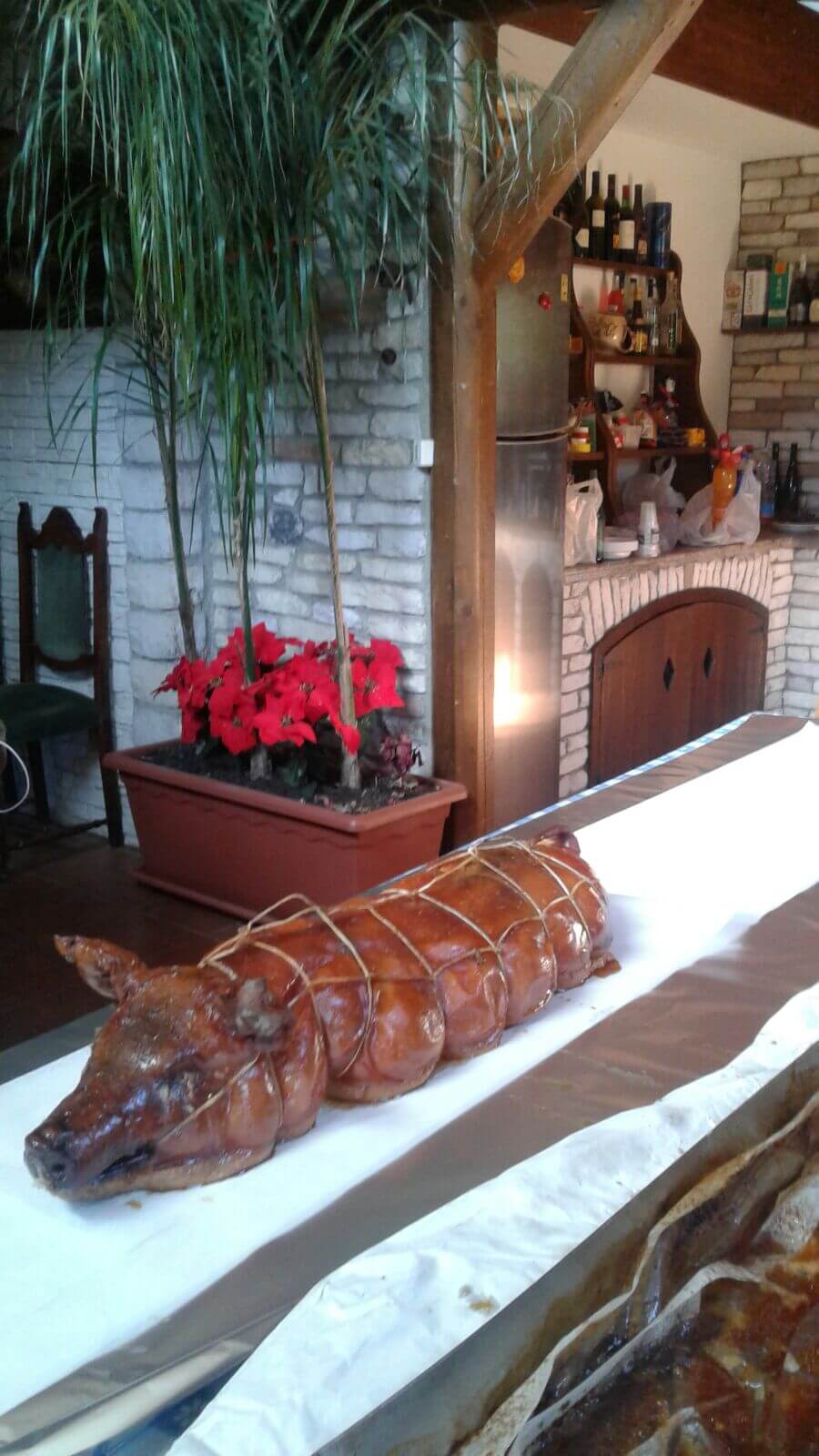 Photo courtesy of Pino
So, about three hours passed. Eventually, one of Pino's sons, Roberto, arrived with a couple liters of benzina to funnel into our tank and (after a bunch of back-and-forth with Brooke on the line to negotiate what happened next) the son agreed to drive back into town so that we could follow him to the service station.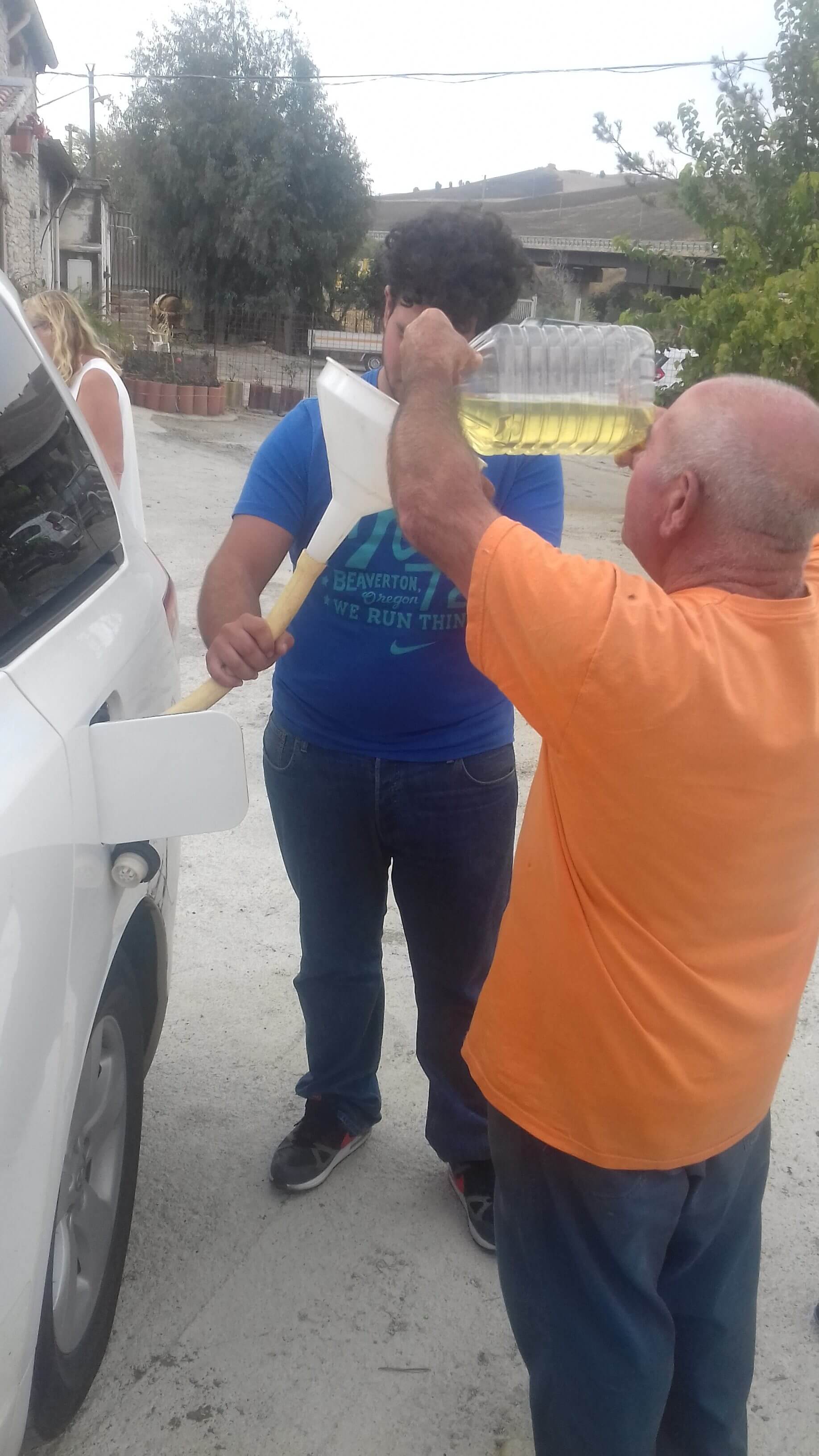 And thank goodness, because I don't think we could have ever actually found our way there ourselves. Roberto drove on the craziest back roads and through puddles and what seemed like craters before we actually made it to the town, which highlighted pretty well how in the middle of freaking nowhere we had ended up. Added to the fact that my tank is so enormous that the couple liters we'd put in actually didn't move the range from "0" and it was a somewhat nerve-wracking drive!
We caused a bit of a scene at the gas station as Roberto and Maria (unclear on relationship there — she came along for the ride and was very sweet!) told the story to a couple of attendants who ended up laughing pretty hard as Roberto (I believe) explained exactly how deep in the country we'd ended up. And then they couldn't believe how much gas the van would take, and kept asking me if I was sure I wanted to fill it up entirely. HELL YEAH I DO!
In total, the day's finances worked out like this:
Gas purchased on the economy: 116 euro
Lunch/rescue square: 20 euro and two cheap bottles of wine. (We tried to convince them to take more but they wouldn't hear of it.)
Lesson learned and a story to tell: priceless.
Us and Pino and Maria 
*Chris, later: "Didn't you notice the sign that said it was the last gas station for 67 kilometers?" NOPE. Sure as hell did not.