Dancing on benches. Roasted meats and sausages. Liter after liter of beer.
Yeah, we had a great time at Oktoberfest! (Without the kids this time).  
I mean, how could we NOT? 
So, this trip was the culmination of years of discussion — we've been talking with my parents since we returned from our first trip in 2010 — and at least 11 months of planning. I've talked before about the infuriating process of trying to get table reservations anywhere for our group, so I won't rehash that much here except to note that we ultimately went with two: Sunday evening in the Heinz Wurst und Huehnerbraterei and Tuesday afternoon/evening at Kufflers Weinzelt. We'd had the option for a third at Schottenhamel (large tent) for Monday, but we opted against it.
First, our cast of characters from Sunday:
The "Chicago Crowd"
Tom and Kathy, my parents: Oktoberfest was actually toward the tail end of a more than one-month long trip my parents had been on to celebrate my dad kind-of retiring. They'd been in Ireland, Wales, England, Scotland and France before getting to Munich. They are the ultimate party-parents — we went on a trip with them to Spain in 2011 and they basically tried to kill us with the bar hopping. And we were only in our mid-20s then!
Me, my mom and my Miss Linnie (see below). 
Steve and Julie, family friends: Another super-fun set who have been friends with my parents forever. Julie actually came to my bachelorette party back in the day to help make sure no one got lost or kidnapped. They joined my parents' itinerary starting in Scotland.
Ralph and Marisue, family friends: My parents' friends from college! Naturally, also super fun and adventurous — Marisue and my sister even rode the huge five-loop roller coaster at Oktoberfest after a bunch of beers. They joined my parents in Paris.
"Miss Linnie" and Keith, my aunt and uncle: I could not tell you why she is "Miss Linnie" instead of Aunt Linnie, but she just is! This ended up being fairly confusing for my husband early in our relationship because he didn't realize she was my dad's sister, haha. Miss Linnie is my godmother and Fiona's too! Some of my very favorite people. This was their first time to Europe and they met up in Munich before going with the rest of the Chicago crowd (except my sister) to Tuscany.
Torie, my sister: My younger sister is 26 and awesome. Easily my favorite sister of all! She joined the group in Paris.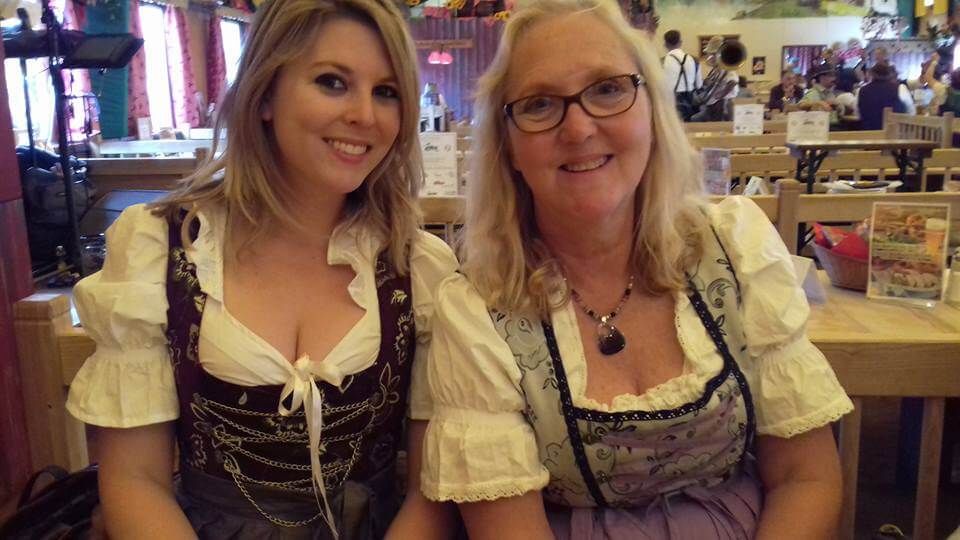 My mom and sister. Pretty ladies! 
Everyone also ended up staying at the same hotel as us, the Citadines Arnulfpark Munchen, which made going to the fest as a group easy. (Except for that time we accidentally left Steve and Julie behind).
Sunday we had reservations at the Heinz Wurst und Huehnerbraterei, one of the small tents at Oktoberfest. As a recap, there are 12 major tents that hold something like 4,000 to 6,000 people at the fest, then several of these smaller ones. The Heinz holds, I believe, less than 500 people.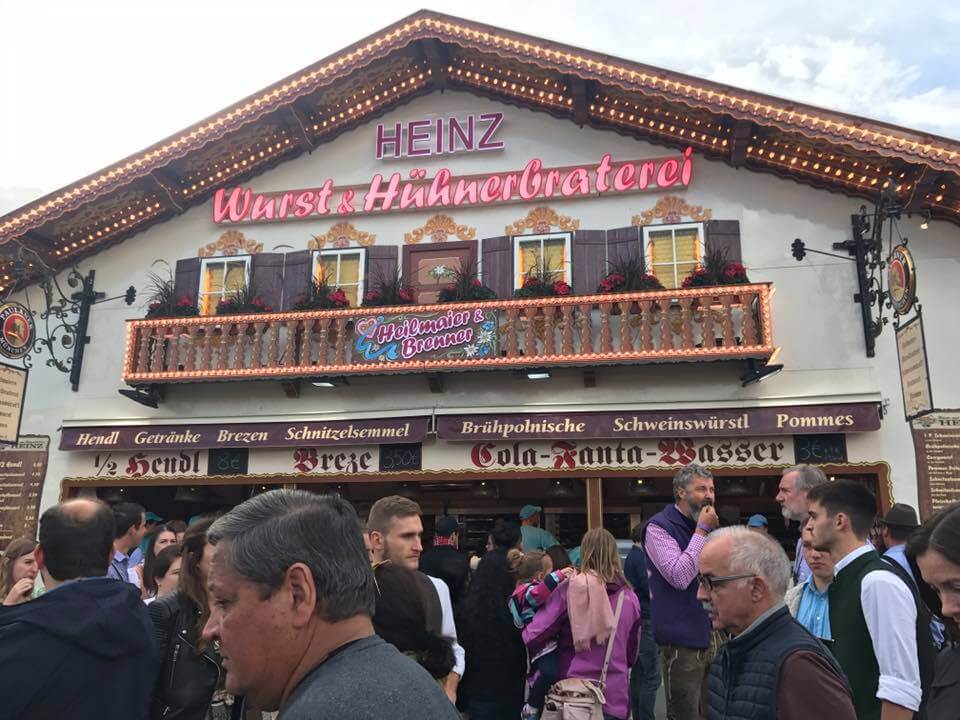 Above, outside of the Heinz. Below, a look at the tent on the inside — this was right we arrived when things were still quiet. It definitely got busy and fun! Both photos courtesy on my Miss Linnie because I only brought a camera phone. 
When I was searching out table reservations, I had been really trying to get us an evening reservation at one of the big tents. Unfortunately, despite starting the process in literally January,  the only place I had any luck getting a night reservation was here. I was a little concerned that it wouldn't really have the ambiance of the biger tents, but I really didn't need to be worried. We had a great time and I don't remember feeling like I was missing anything (though that could be the three liters of beer talking).
One reason? WELL. When I made these reservations, I was under the impression that the 59 euro per seat we were pre-paying was specifically for two liters of beer each and a meal. Once we arrived there was some considerable confusion because our waiter (who didn't have much English) seemed to be telling us we could have whatever we wanted. Not wanting to get charged a million euro at end, we repeatedly double-checked this. Sure enough, what we had paid for was indeed all you can drink and all you can eat. From 5 p.m. to 11:30 p.m. So if the night seems a little hazy … well, that's why. But, I do know that we drank, we ate, we talked to people, we danced — on benches and on the ground — and we laughed a lot. And harassed the band to play 'Don't Stop Believing," which they didn't seem to know. Only downer there.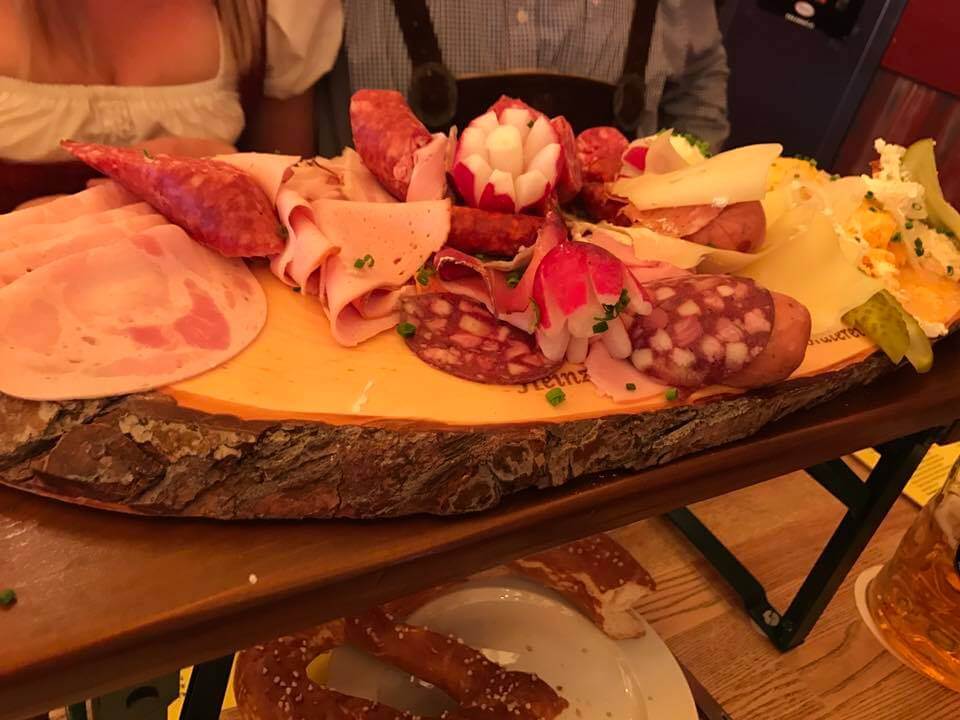 First course. Later, I had weiner schnitzl and at some point there was a dessert tray …? 
Suffice it to say that none of us — with the exception of my sister and my husband, because the world is deeply unfair — were in great shape the next day. Most of us weren't even in shape to leave the hotel until at least noon that day, though my aunt and uncle somehow managed to drag themselves out of bed and go to Salzburg on a tour. They are some serious troopers.
So, Sunday night was our small-tent experience but on Tuesday we had table reservations at the Kufflers Weinzelt, one of the 12 big tents. Again, the "wine tent" — don't worry, they did serve beer! — wouldn't have been my first choice, but I selected it because a) they at least had avilability in the early evening from 4 to 8 p.m., and b) they were offering enormous tables. This was important because during the planning phase we had gotten more and more people to commit to coming, and by then our group had swollen to 16 — plus my brother, who stopped by as well.
Our additional characters:
Brett, my brother-in-law — Brett decided to join us on this trip last spring, which was super exciting for us all! He arrived that Monday, then came back to Sicily with us as well after.
Mike and Andrea, our friends — We've known Mike and Andrea's family since we were all living in Bloomington, as Chris and Mike used to work at the same place. They moved to Naples about a year before we moved to Sigonella. We spent time together this past Thanksgiving, when we talked them into coming to Oktoberfest. They drove from Naples!
Annie and Doug, our friends — Our friends from Sicily! We'd just met this spring, but when they announced they were also planning to be at the Oktoberfest at the same time as us we knew we had to meet up. It worked out perfectly!
Us and Annie and Doug, photo courtesy of Annie! 
Mike, my brother — My brother recently moved to China with his girlfriend, but made a snap decision to come to Oktoberfest about a week beforehand since he also had friends who were going to be here. He spent some time with us Tuesday during the day, then popped by in the evening Tuesday before he had to head to the airport. Also his fest accommodation experience is probably worth a guest post all its own! What say you, Mike?
Some hilarity ensued again when we found out — once again — that the vouchers we had prepurchased (65 euro per seat) weren't specifically for a certain meal and two drinks, but basically acted as cash to settle the bill at the end after we ordered whatever we wanted. We ended up ordering appetizers for both tables, all the beer and wine we wanted and dinner for everyone, and the bill magically worked out to be almost exactly equal to the 1,040 in vouchers we had, with some left over for the tip. And, once agan, the meal was excellent; most of us got either chicken or duck and they were both delicious. German food hasn't usually been my favorite, but we didn't have a bad meal the whole time we were there!
Our "table for 16" turned out to be a smidge cramped, as they basically gave us two booths across from each other that would fit eight people each. It didn't turn out to be a big issue though, as we basically only sat during dinner and then we were all up talking and dancing.
Photos courtesy of Annie. Again, didn't bring my big camera because I didn't want to lose it.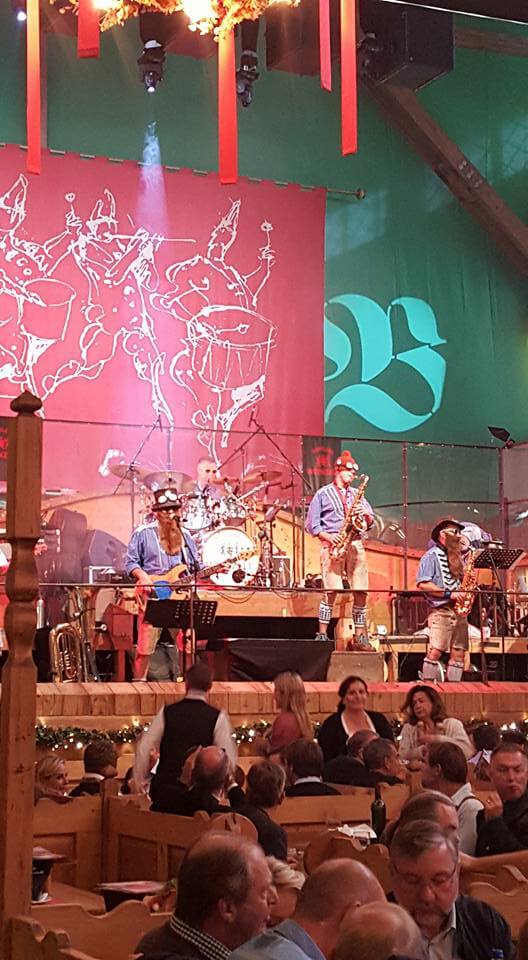 There was a fun band, and they even played Don't Stop Believing! WOOO!
We had some good laughs when one of the crowd produced this stuff after seeing some Germans in action using it. It is some kind of mint powder that you snort, and the goal is to wake you up. A bunch of the girls walking around selling magnets and cookies were also selling vials of this, so obviously a bunch of us had to try it (while the rest looked on disapprovingly).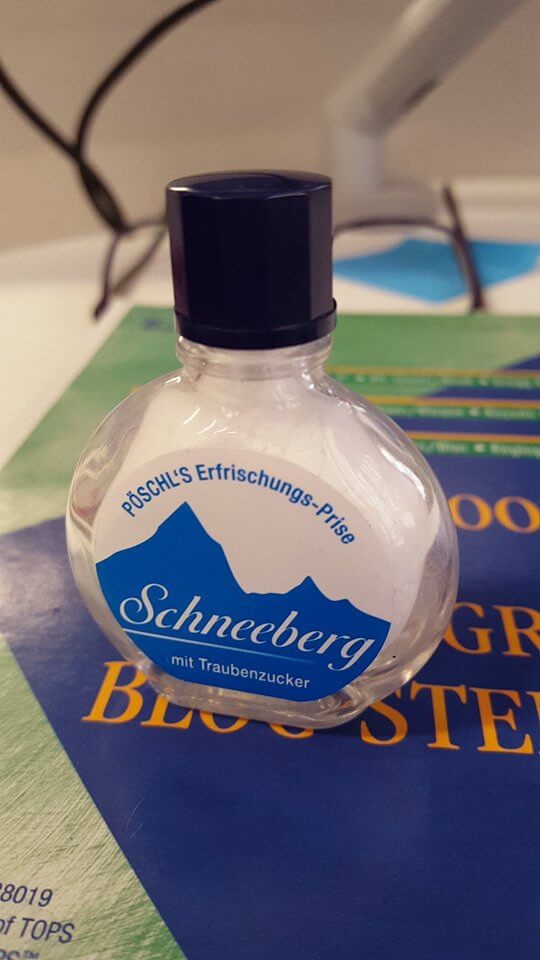 It did wake me up, but only because it was like snorting toothpaste and stung like hell. Still, I'd say it was worth the laugh. Some of us, ahem, got more carried away than others. You guys know who you are!
Anyway, we hit 8 p.m. and the end of our reservation before we even knew it. I would have liked to stay longer, but honestly four hours was probably about the perfect amount of time since we were all pretty well recovered by the next day. That was extra important for the Chicago crowd, who had an early flight to Florence scheduled for Wednesday.
Overall, I was thrilled with our two Oktoberfest tent experiences. Booking was a pain in the ass, but with a big group I would absolutely say it was worth the effort! We're already talking about going back one of these day — after all, we've already got the clothes!
Photo courtesy of my brother-in-law, Brett