From my first few posts on our trip to Munich (here and here and here), it might look like we mostly just drank beer at the festival. But! If you are planning a trip to Munich with kids, rest assured that there is plenty to do outside the Oktoberfest.
And, OK, a lot more places to drink beer. What can I say? It is Germany.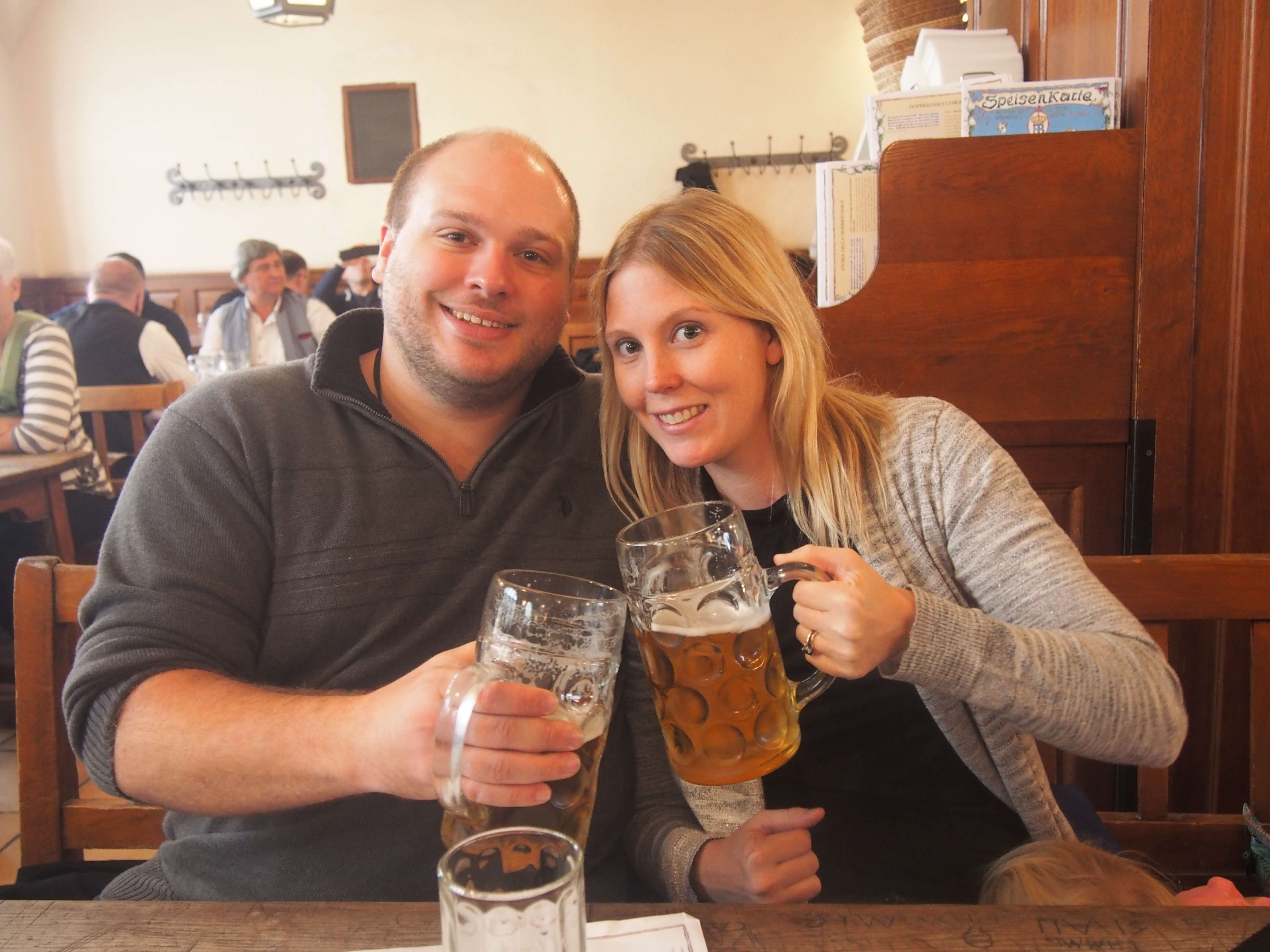 We arrived in Munich Sunday afternoon and left Wednesday afternoon, so between Oktoberfest visits and hangovers we still had time to explore a bit more of the city. If you are going to the city with kids (or even without) consider hitting these spots!
Englischer Garten 
Anytime we travel with the kids, we always seek out a park to explore for some travel down-time. (See Luxembourg Gardens in Paris and Phoenix Park in Dublin). The Englischer Garten was fun, though I wish we'd had time to explore more than the tiny corner of it that we did!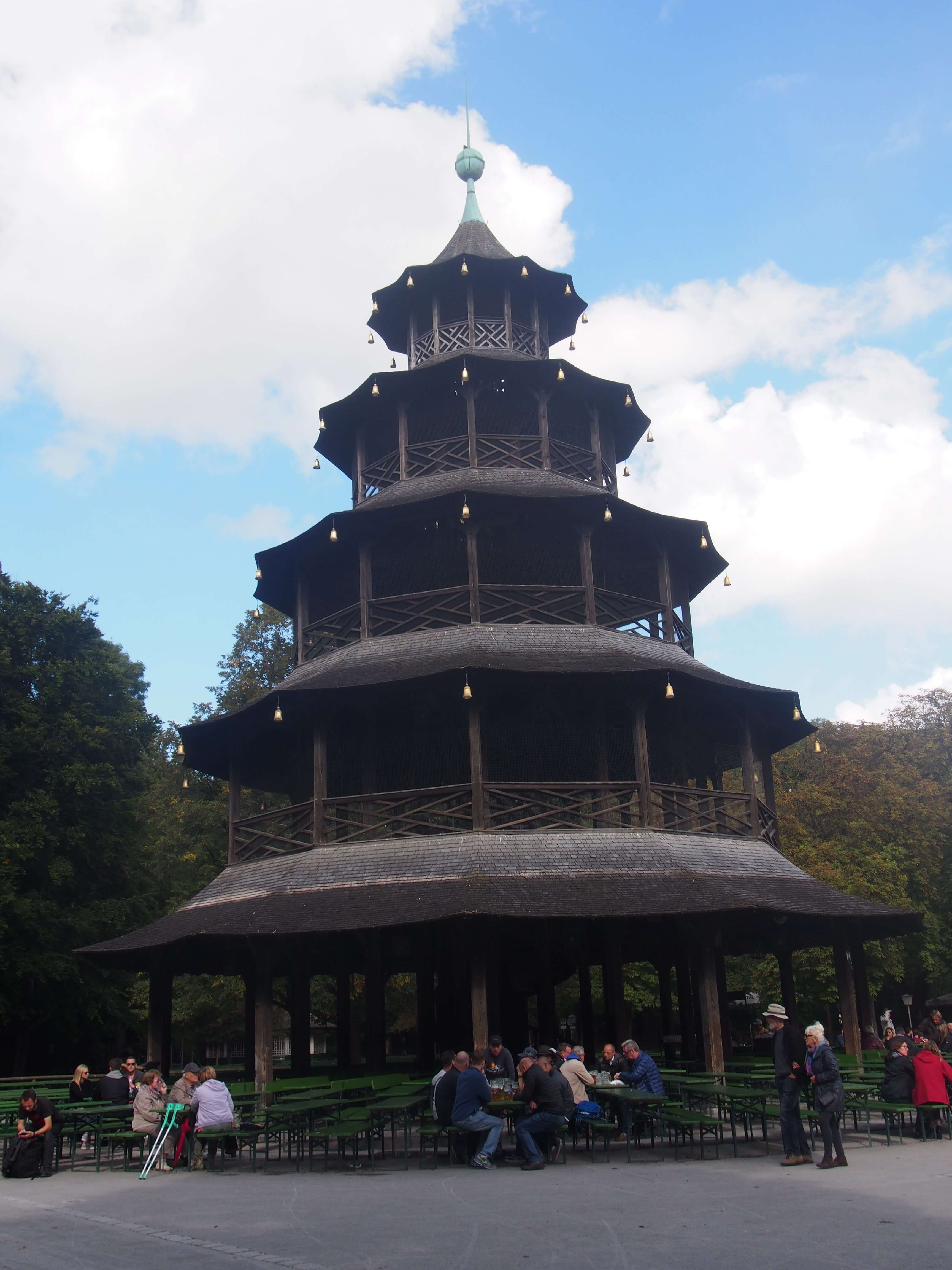 The Chinesischer Turm (Chinese Tower). It was originally built in the 1700s, then rebuilt in the 1950s after its destruction during World War II.
So the Englischer Garten is one of the biggest urban parks in the world; it is almost 1.5 square miles. Incidentally we realized its scope as we were trying to figure out where to meet our friends Mike and Andrea — turns out you can't just say "meet us at the park" when it is so huge!
The park has a ton to offer in its vast space, including two beer gardens, restaurants, huge green spaces, walking/biking trails, Greek temple, Japanese teahouse and even a stream where people surf! (Wish we'd seen that!). There is also apparently a place where people regularly sunbathe in the buff (don't wish we'd seen that!). Go figure.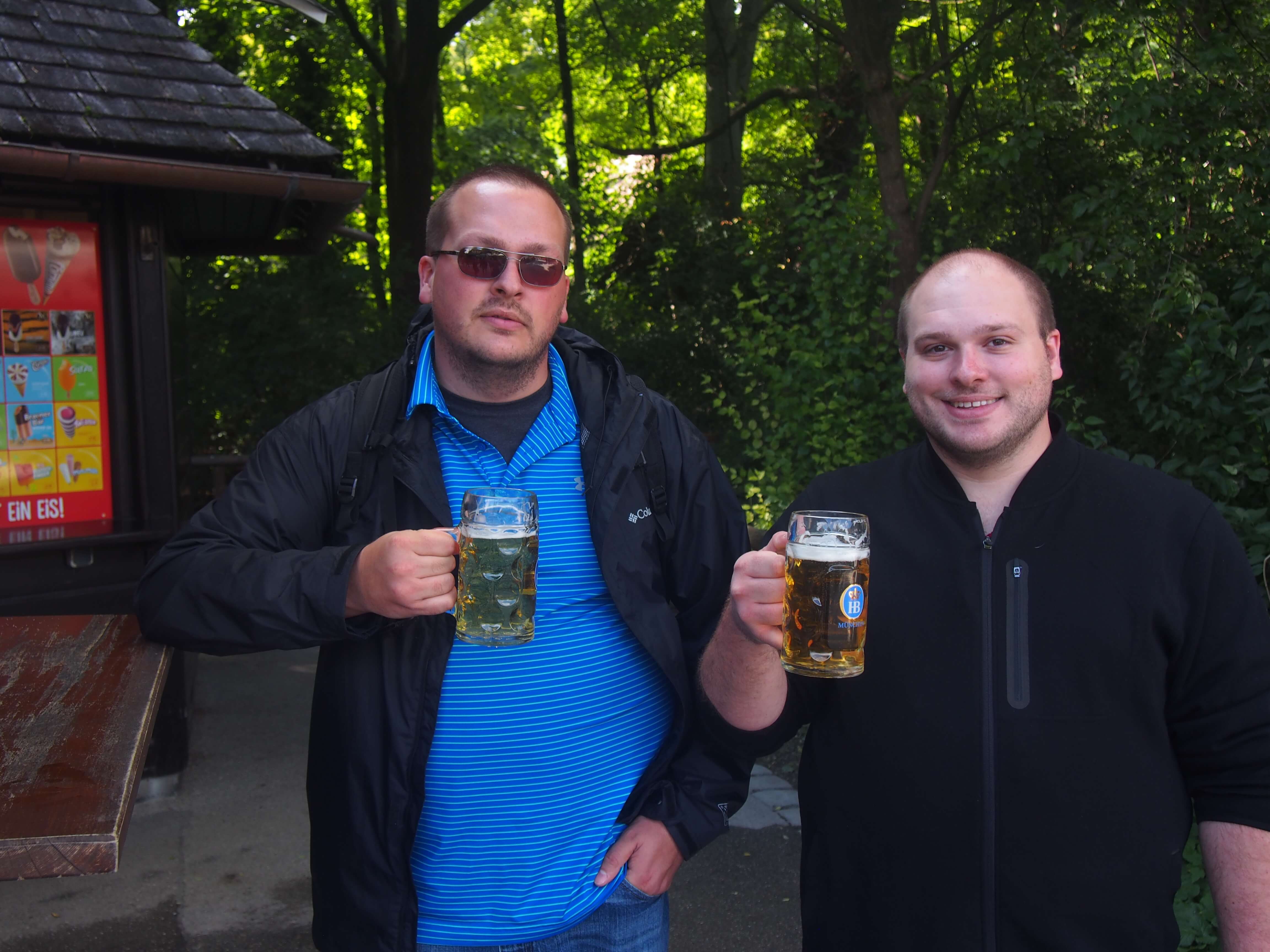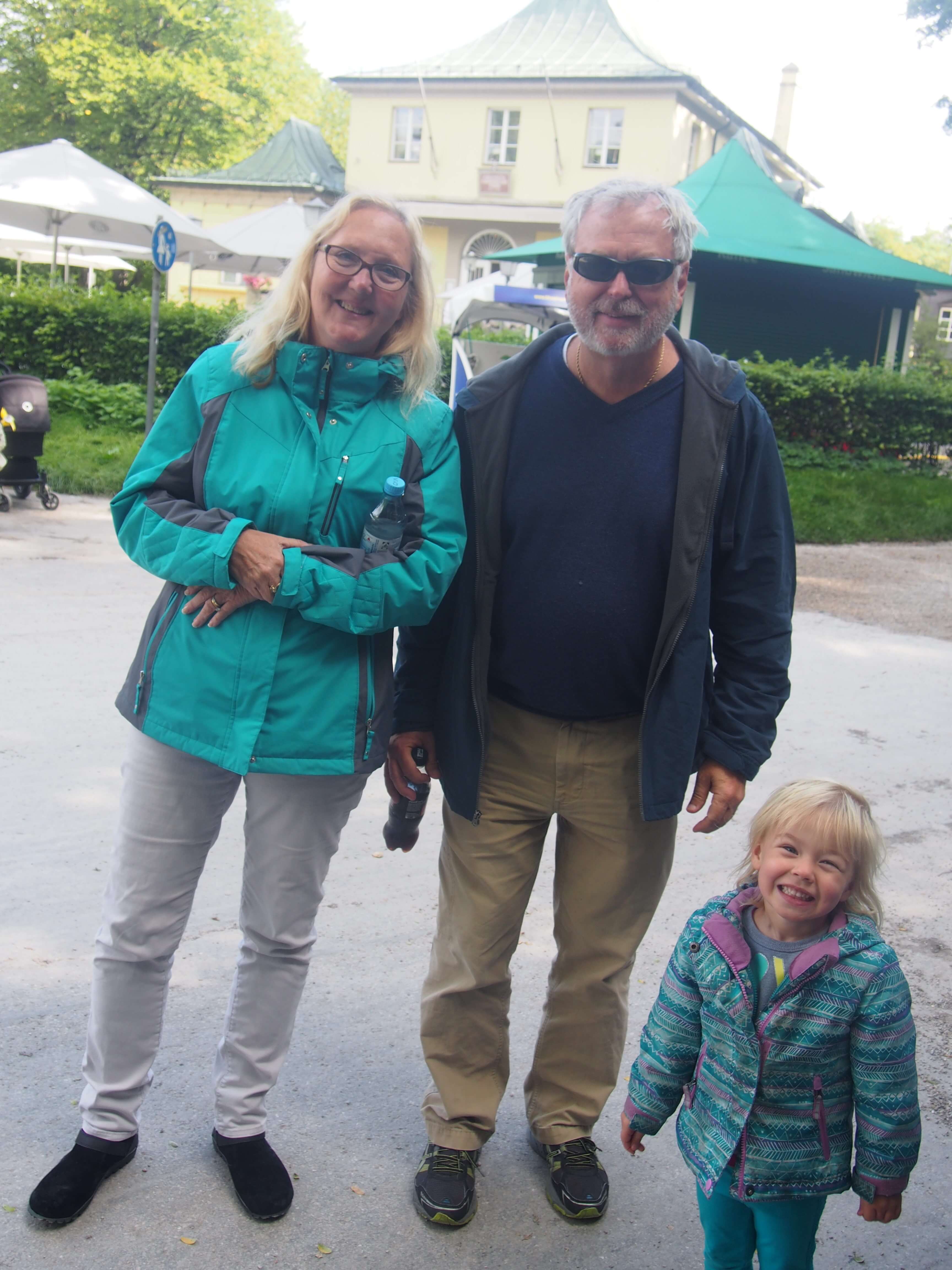 My parents and Fi.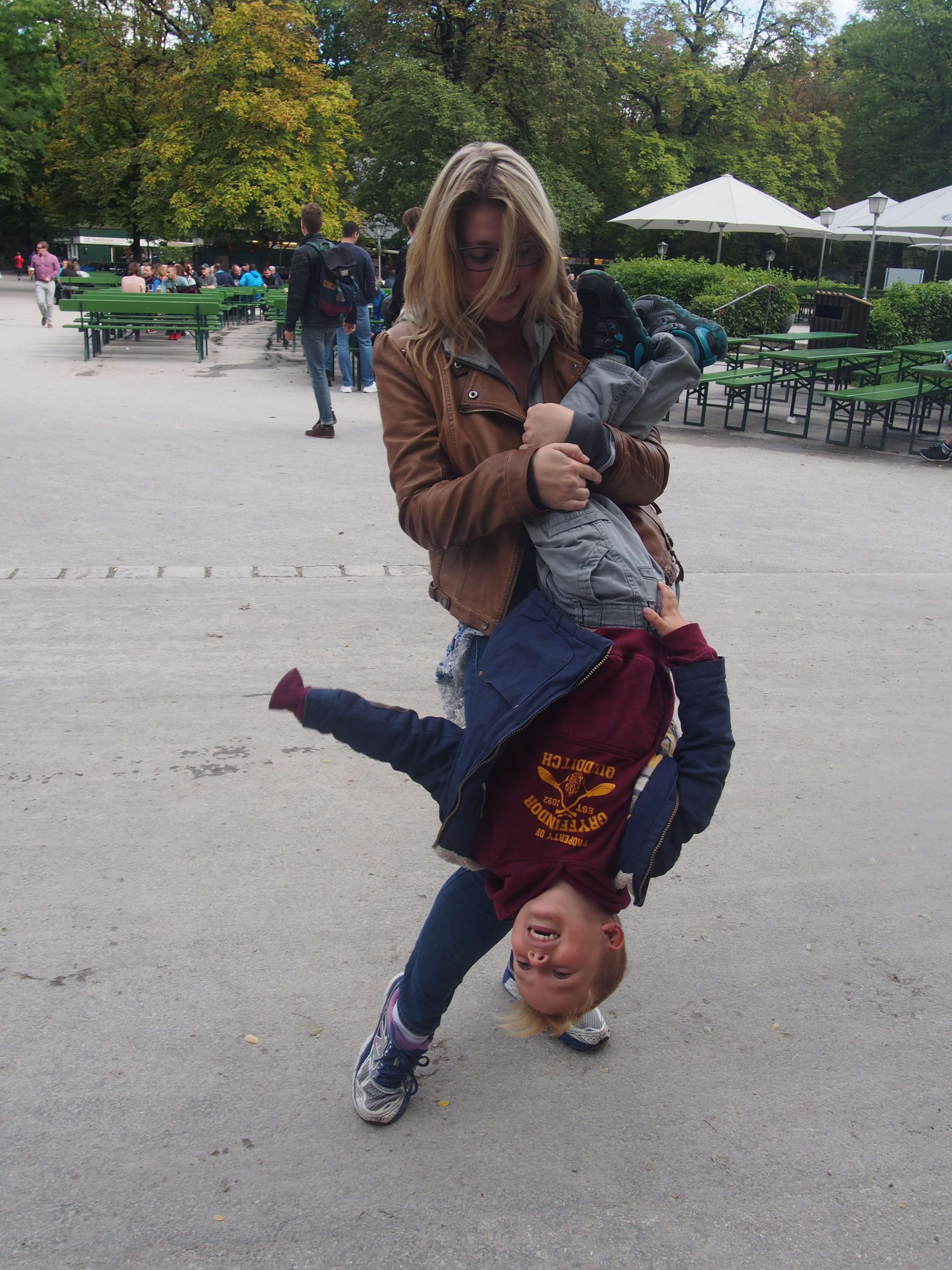 Owen and my sis horsing around.
We meant to walk around the park and explore, but instead we (us, my parents, my sister and my brother-in-law) met our friends at the beer garden near the Chinesischer Turm. This particular beer garden is the second-largest in Munich, but we chose this spot mostly because it had park for the kids to play on.
Like most parks we come across in Europe, it seemed weirdly dangerous compared to the plastic parks we see in the United States. But we're getting used to it, ha!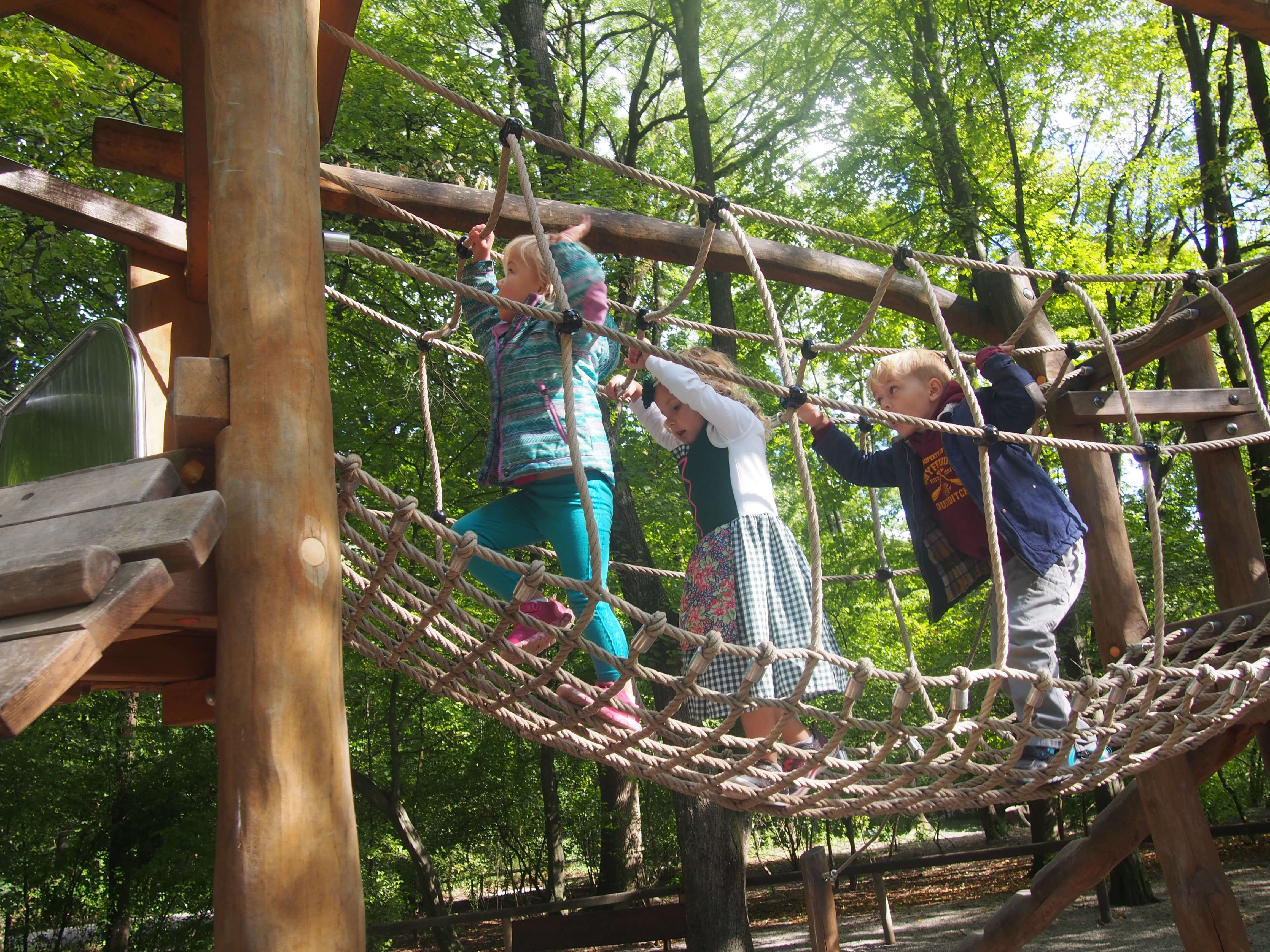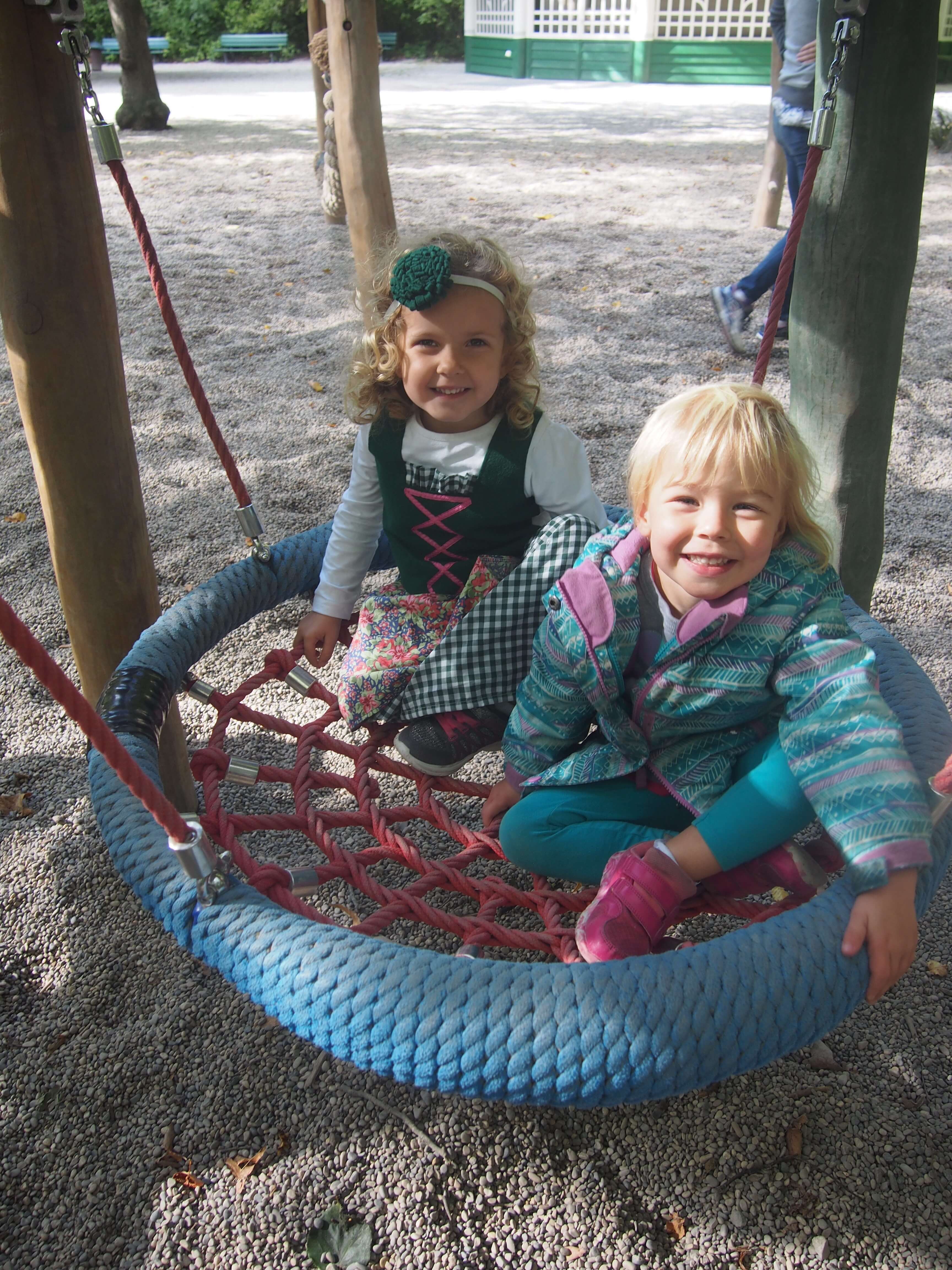 While the kids played (only plummeting to their doom once each!), the adults stuffed our faces. The food was tasty and relatively inexpensive, which was a nice surprise.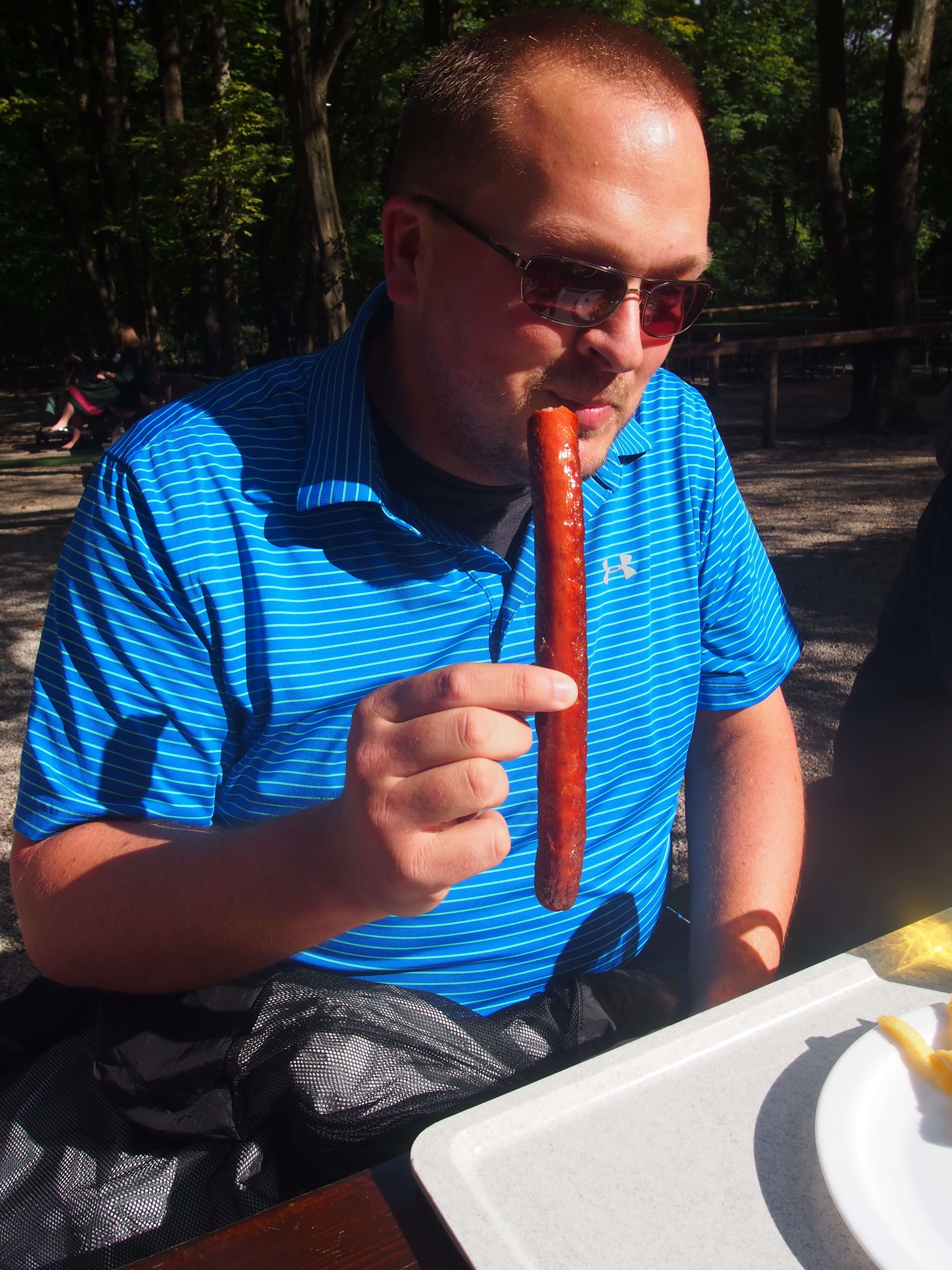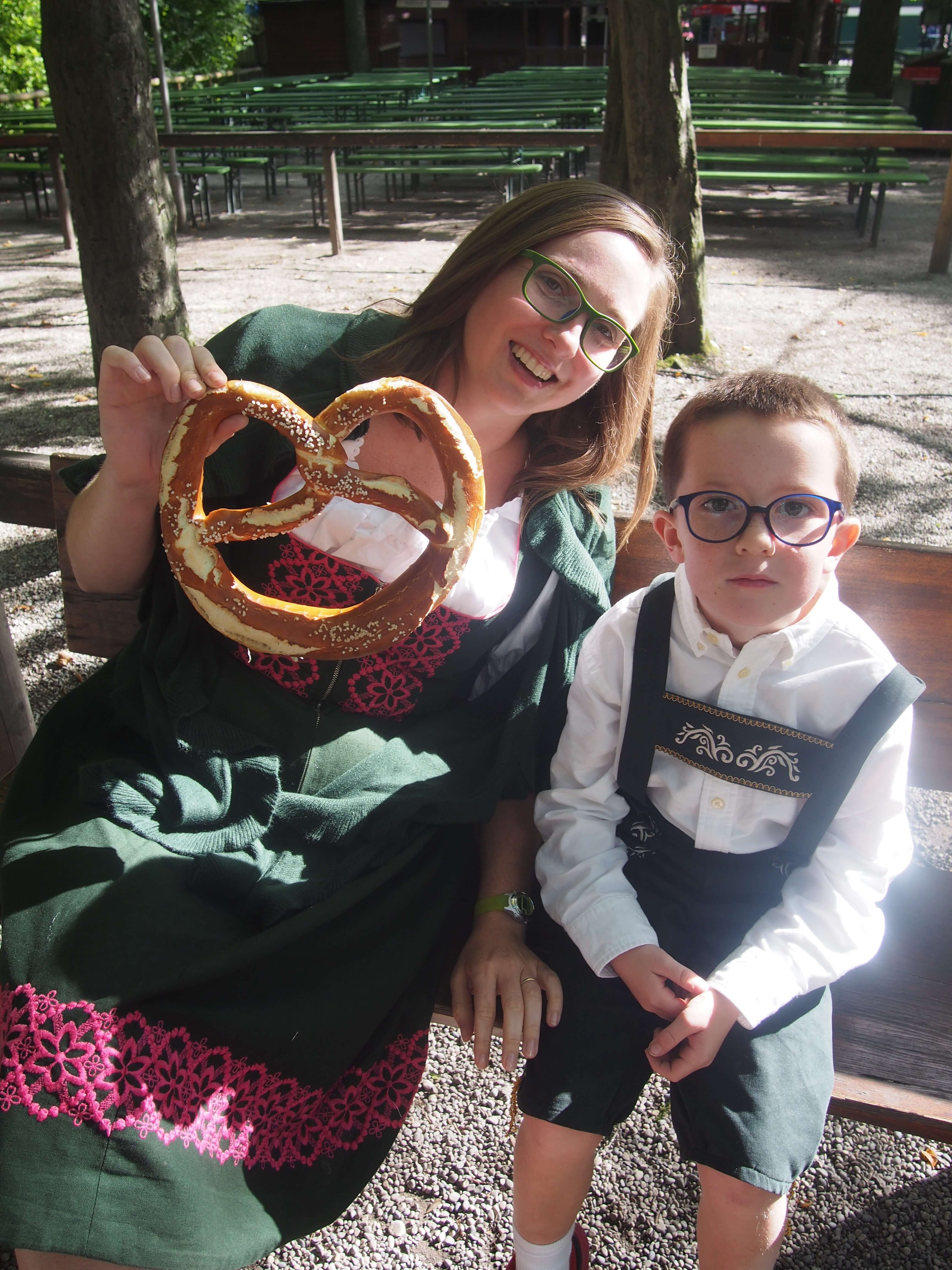 Andrea and one of her boys, Philip.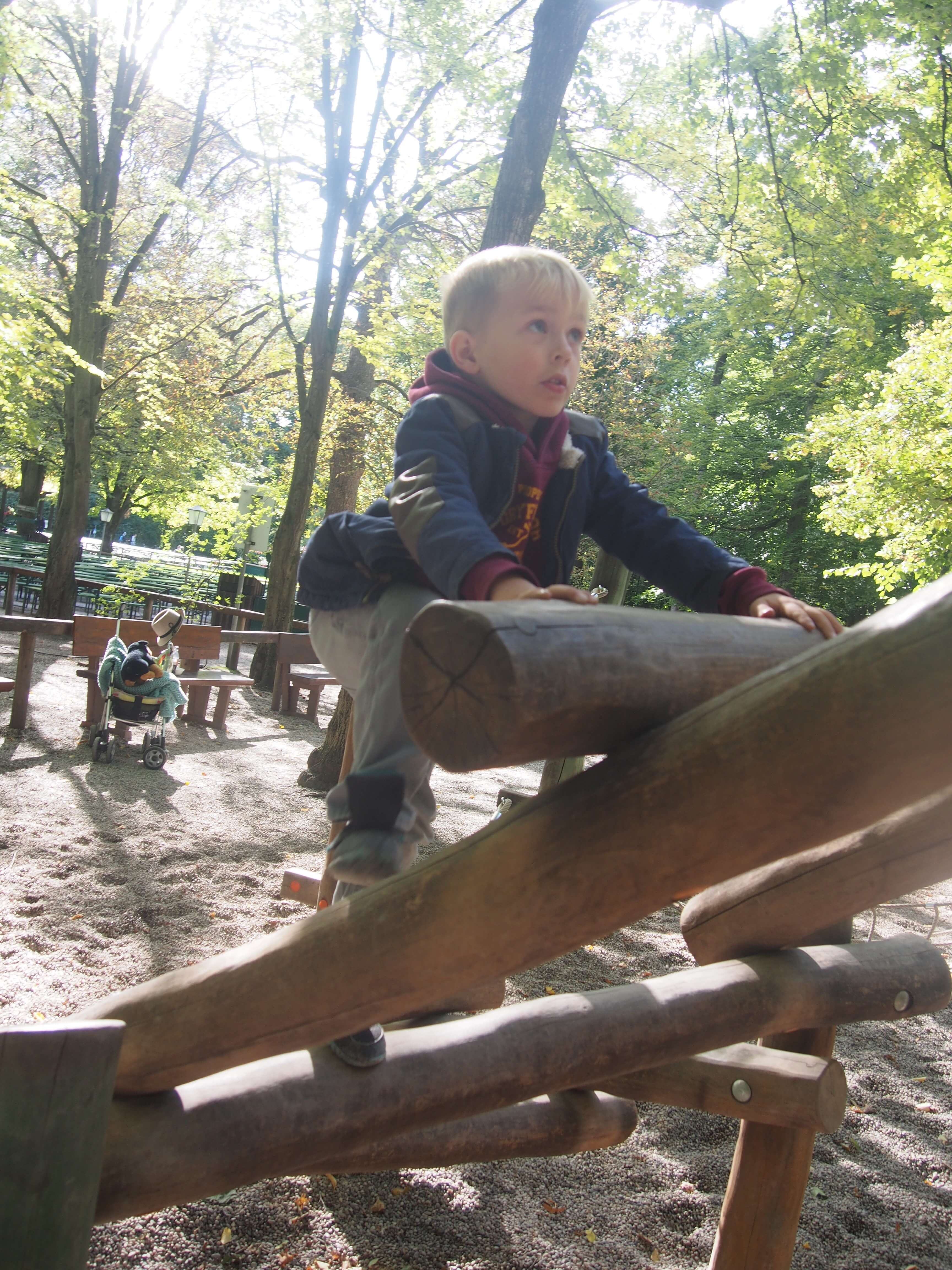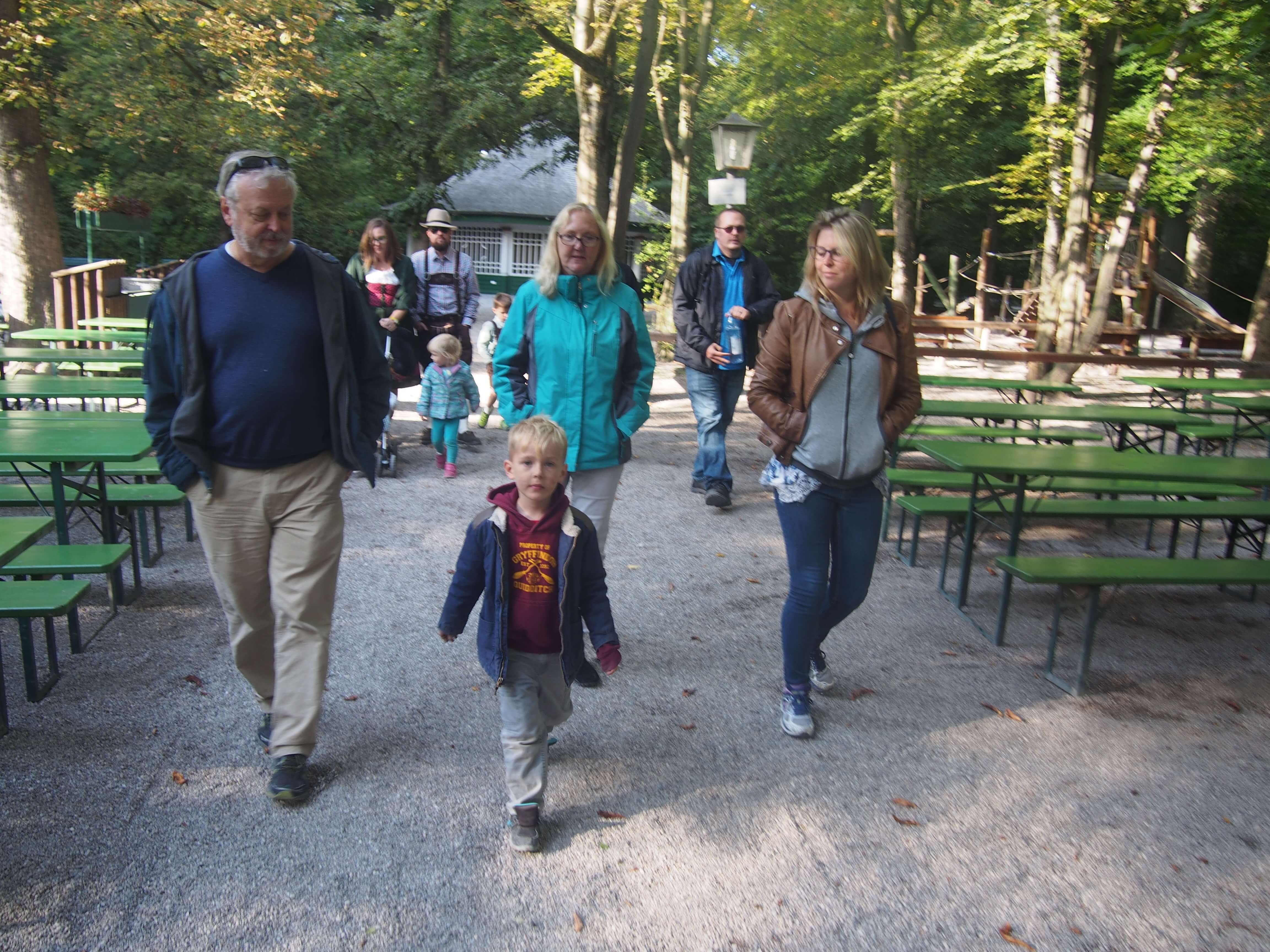 We basically ran out of time to explore the park more because we had dinner reservations, but I'd highly recommend a visit there if you are headed to Munich. I'd recommend leaving a good chunk of time for it since it is so big, plus getting there took us about half an hour on the tram and bus from our hotel in Arnulfpark. Worth it!
Deutsches Museum
Wednesday morning dawned cold and rainy, a perfect day for a visit to a museum. We decided to go to the Deutsches Museum specifically because it had a children's section (Kinderreich) that I thought the kids might enjoy. Although this is section proved  smaller than I expected, the kids really enjoyed this place.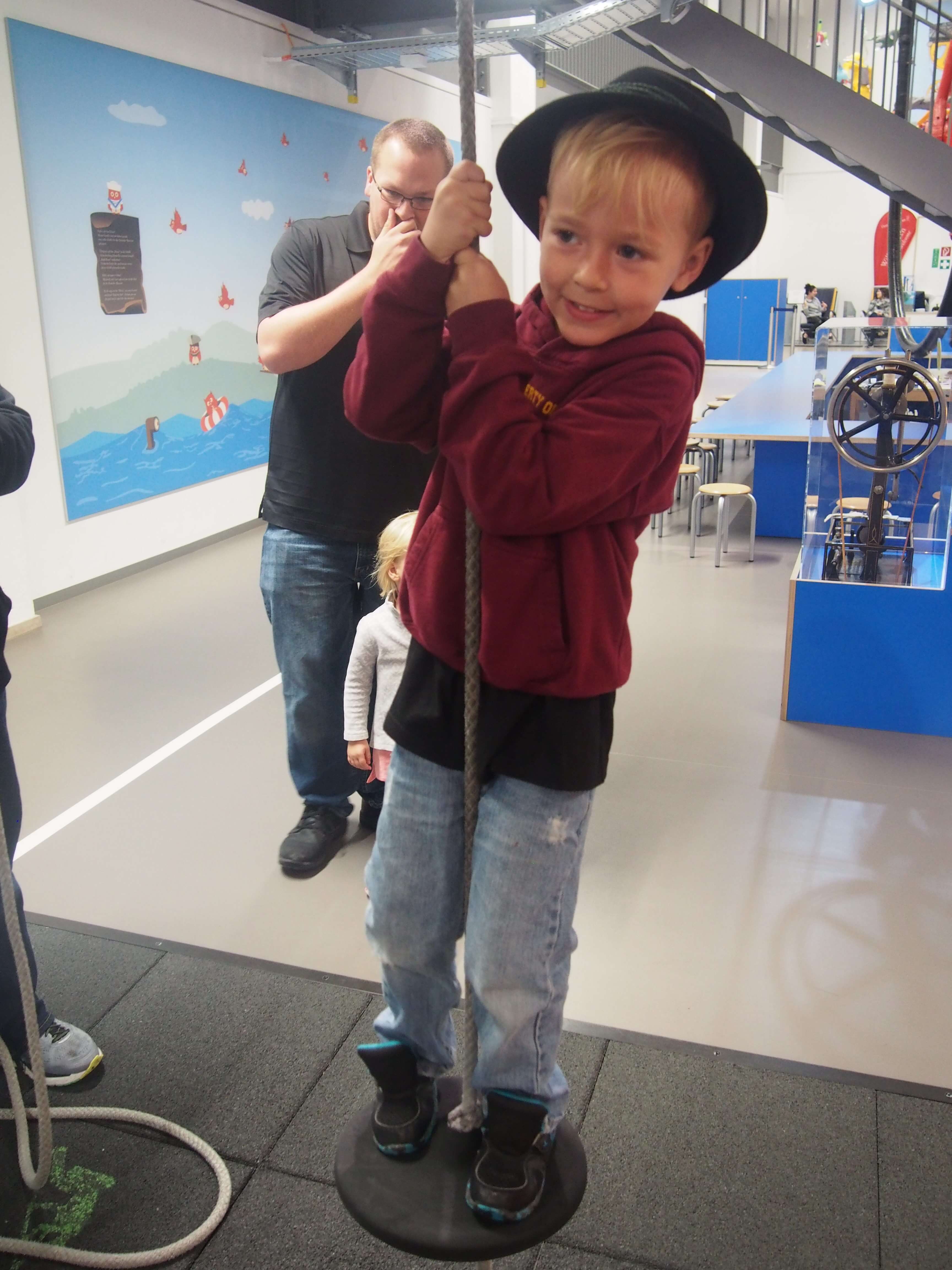 Learning about pulleys.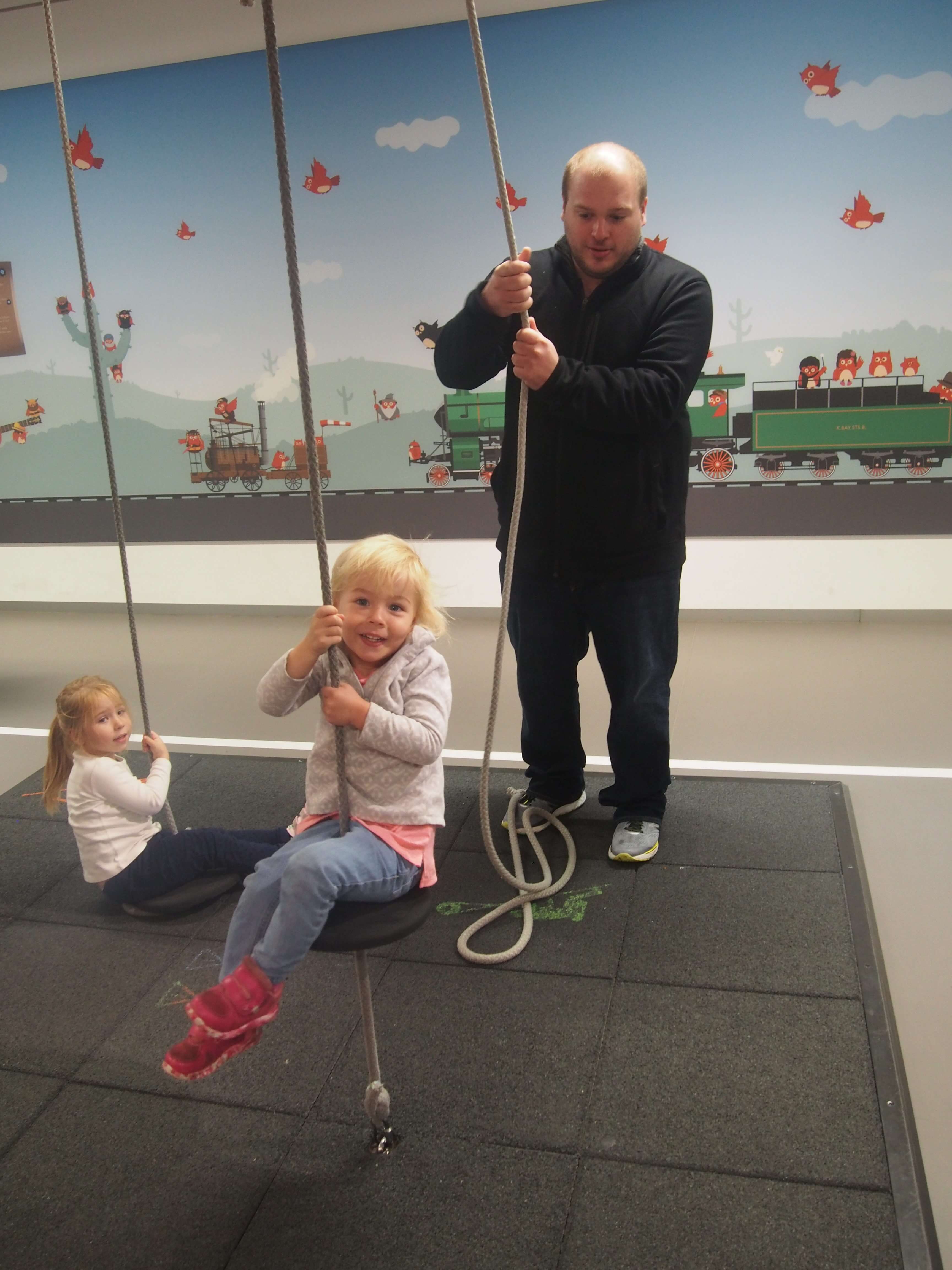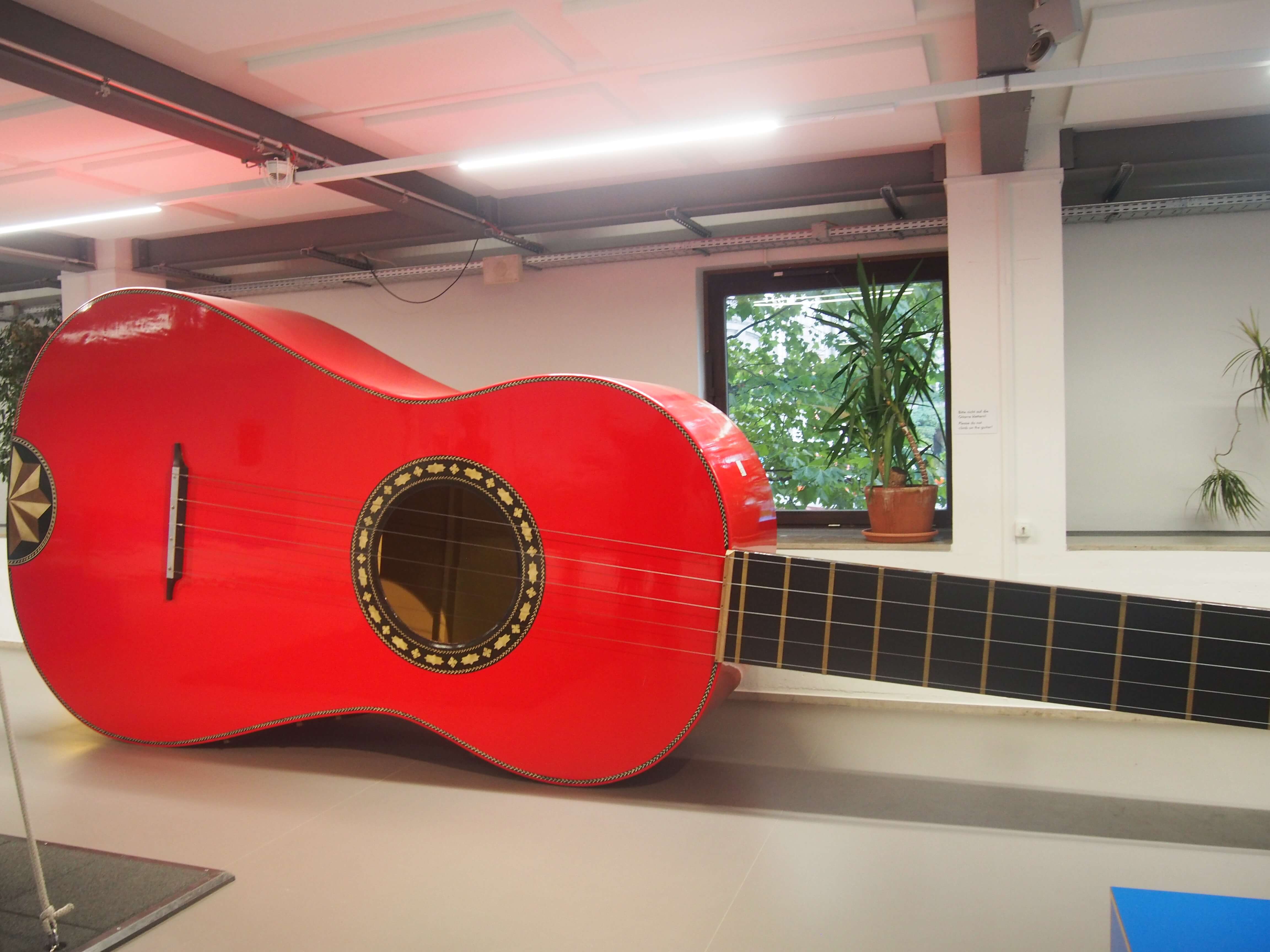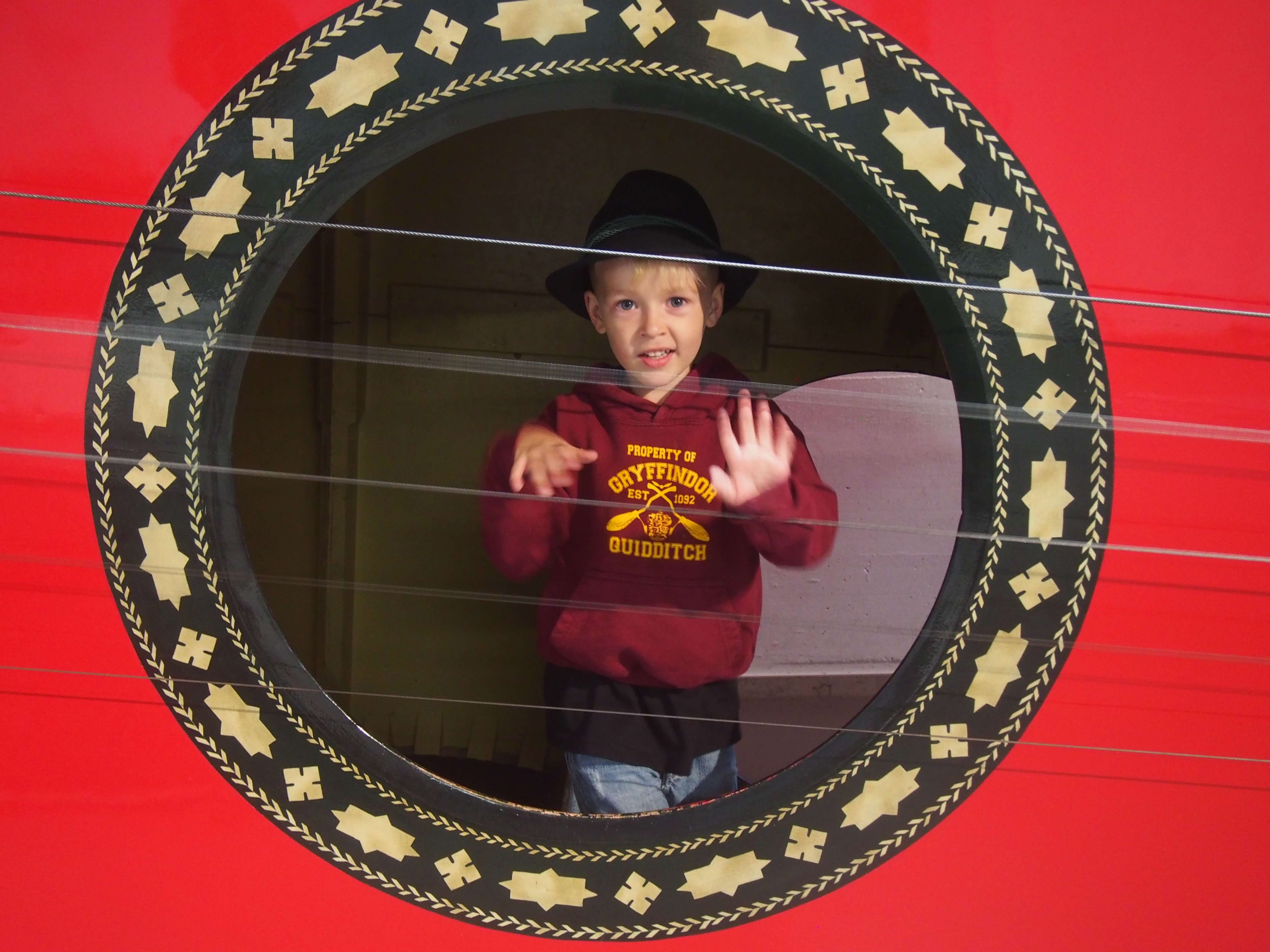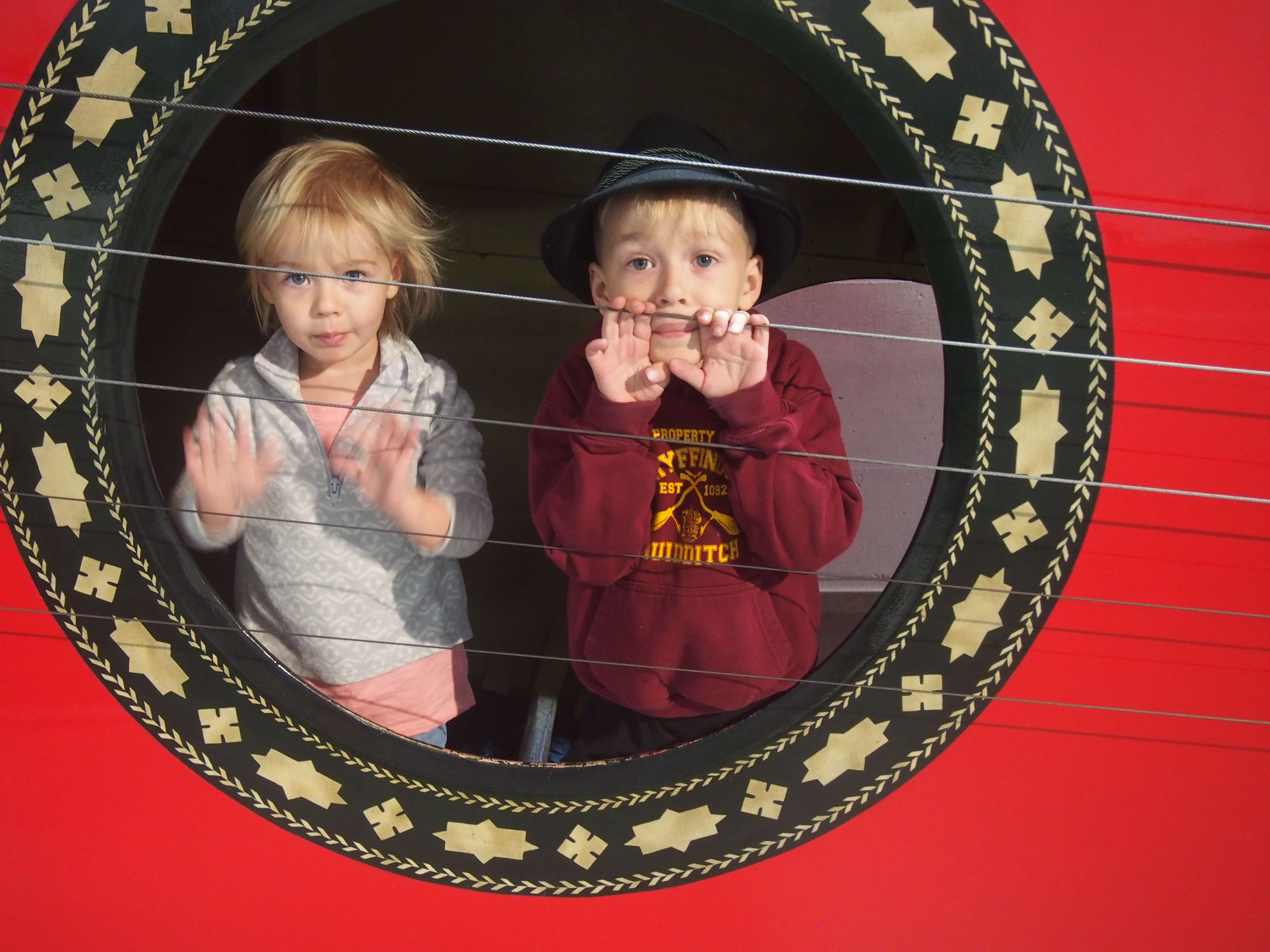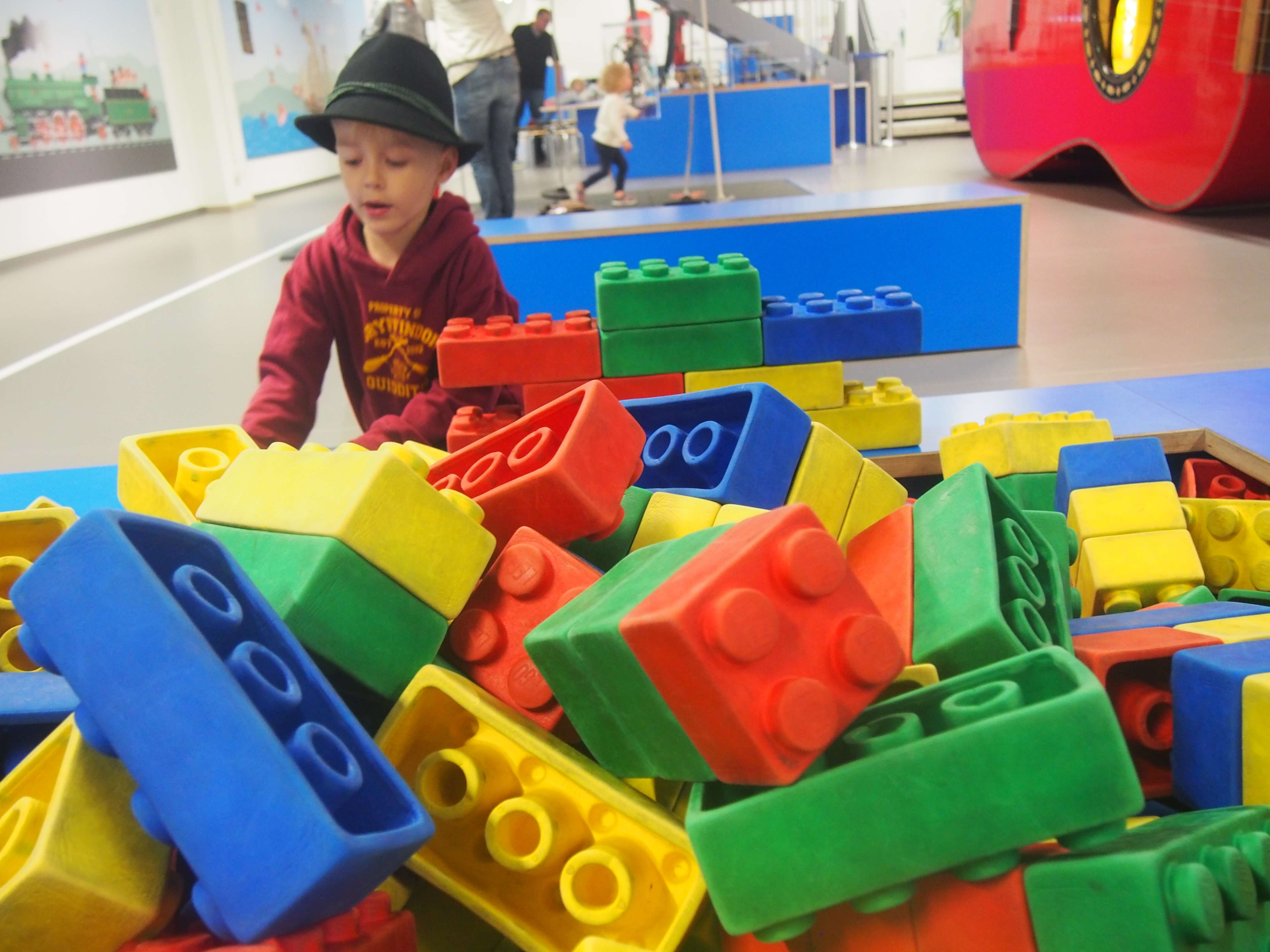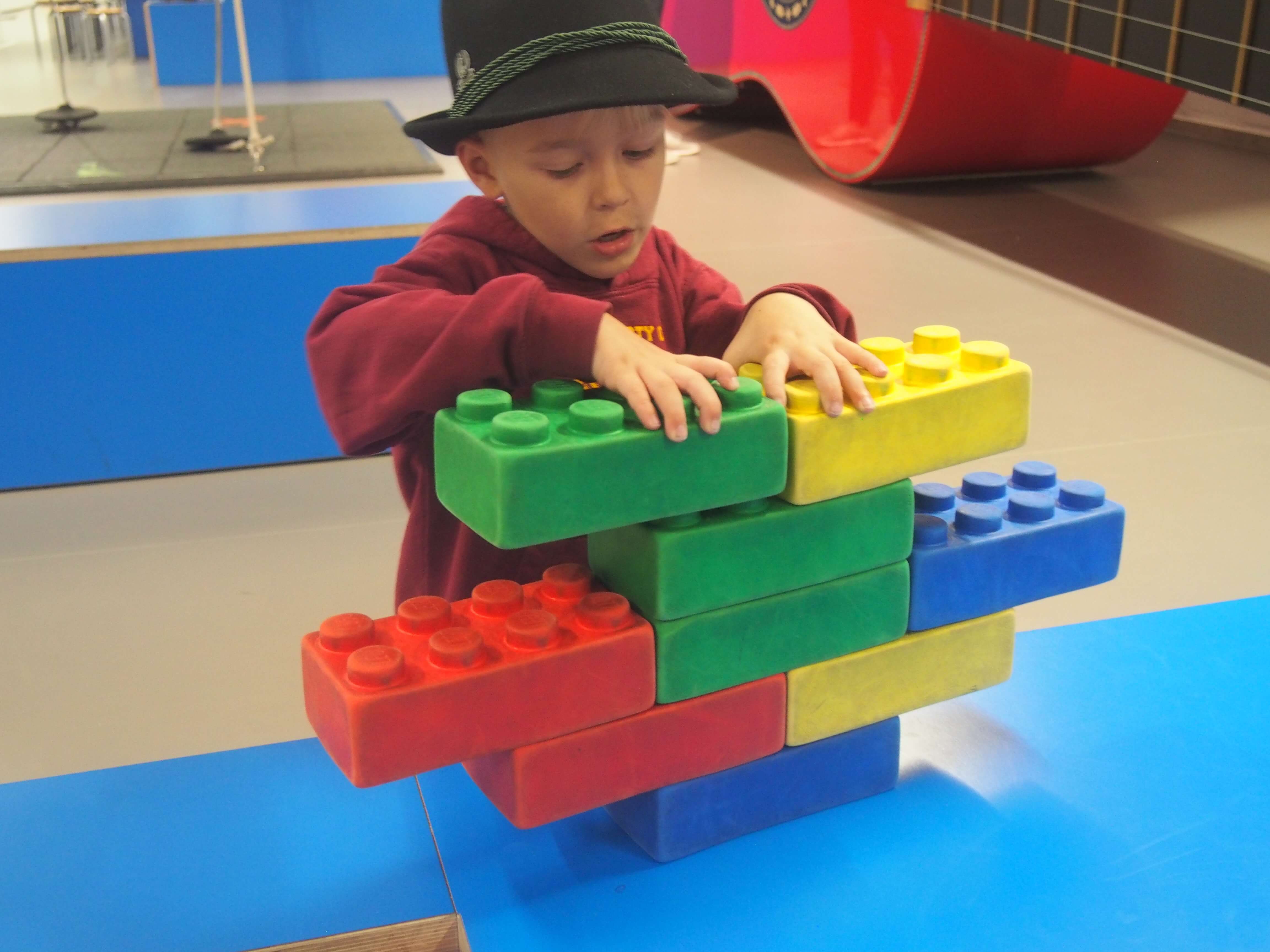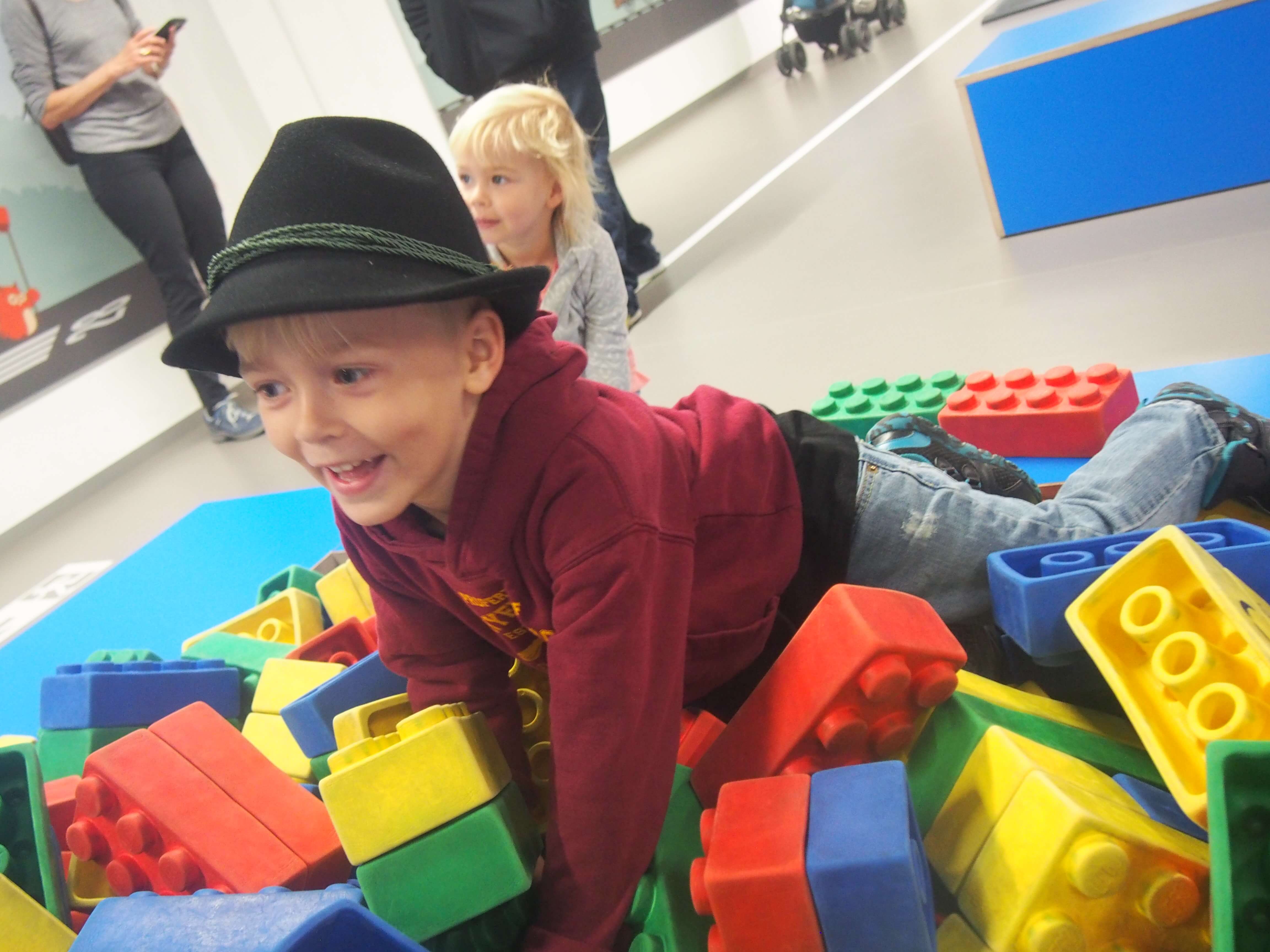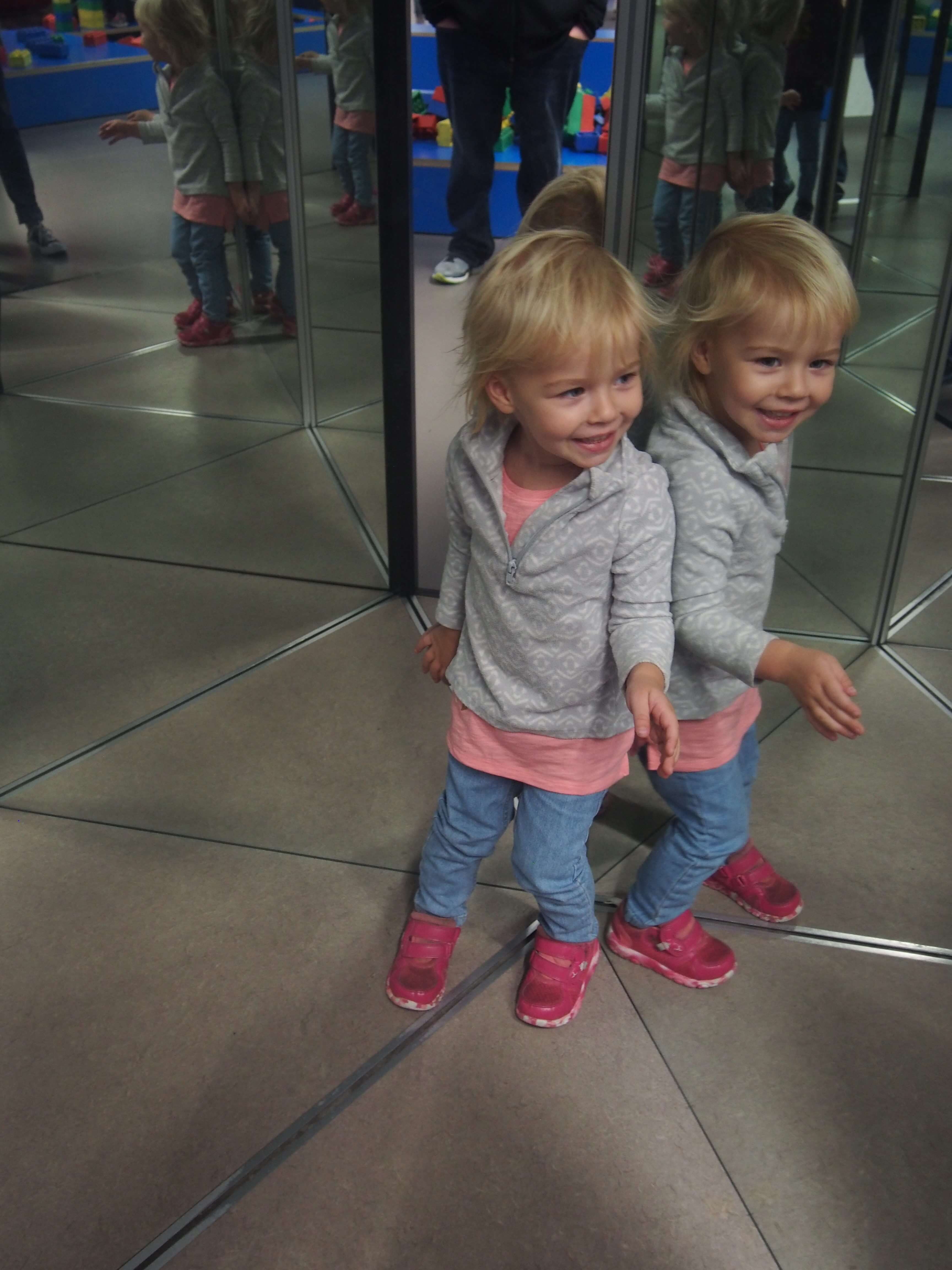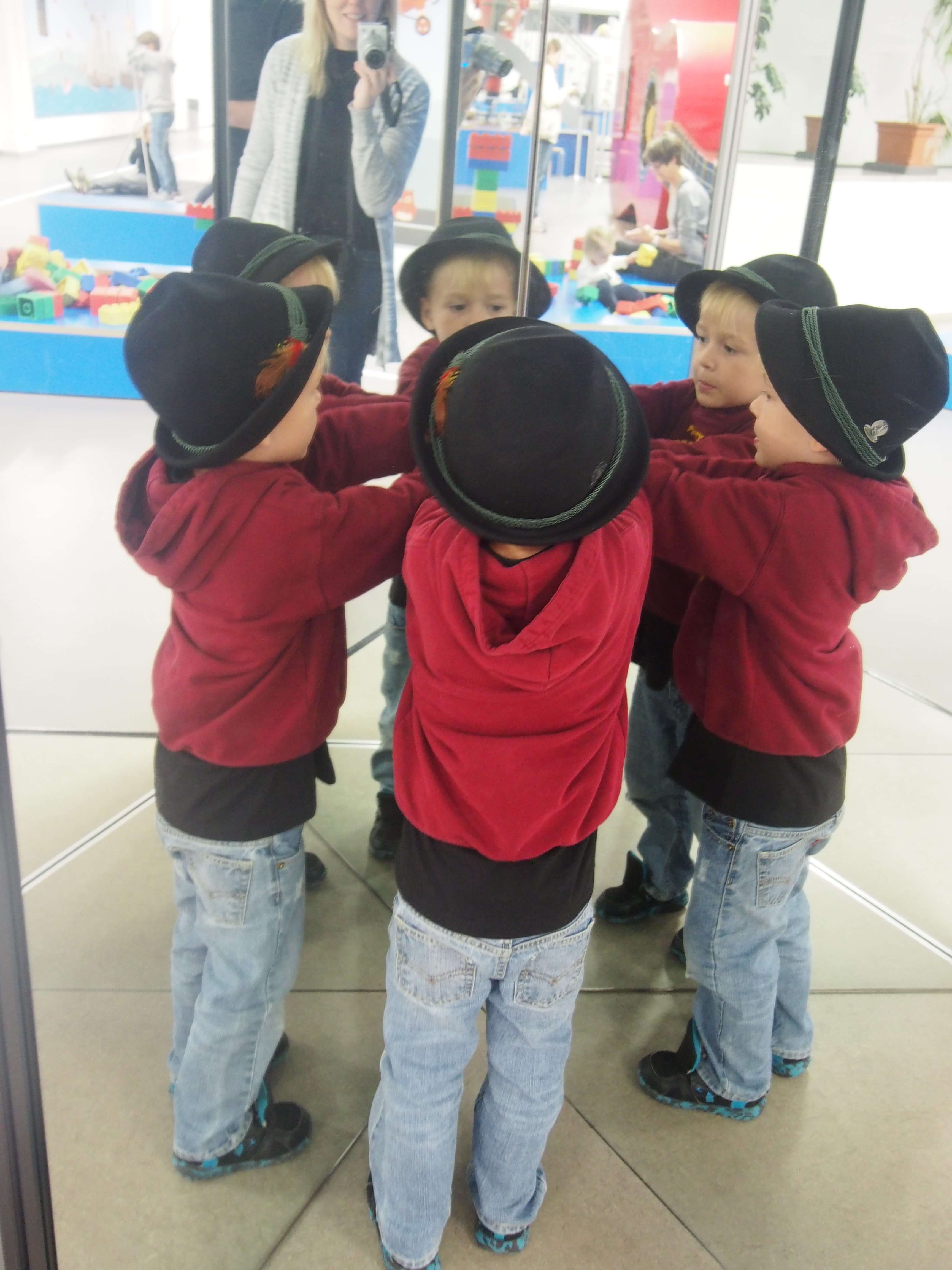 It certainly wasn't The Children's Musuem of Indianapolis, or even WonderLab in Bloomington, Indiana, but we spent at least 45 minutes here so I'd say it is safe to say the kids enjoyed themselves.
From there we moved on to the rest of the museum, which was had quite a few exhibits that seemed interesting to us, including historic aviation, marine navigation, oceanography and astronomy. A decent portion of the signage at exhibits was available in English, which was helpful. I will say the building itself seemed a bit dark and austere to me, but perhaps it just wasn't my style. Overall, it was interesting though.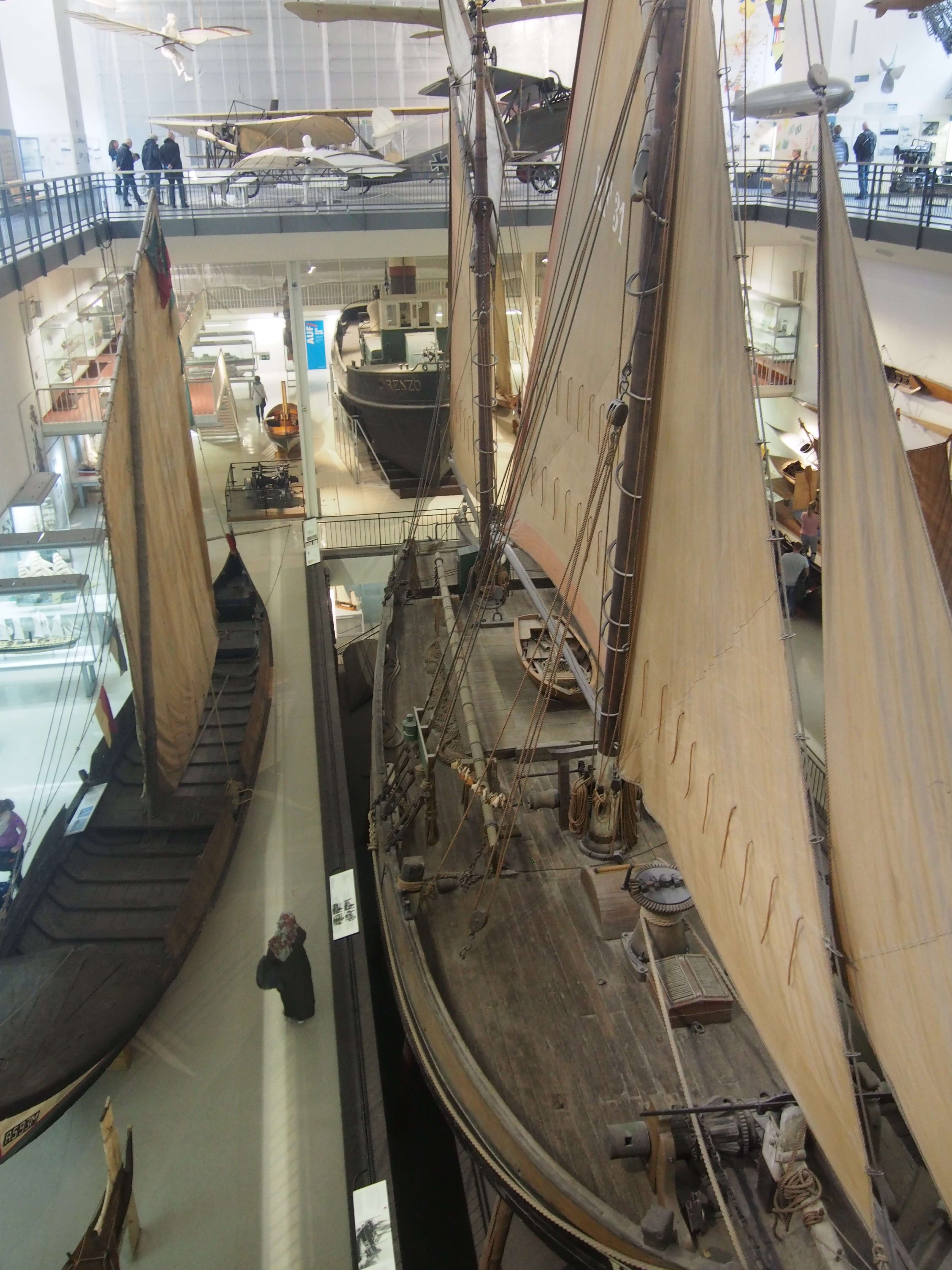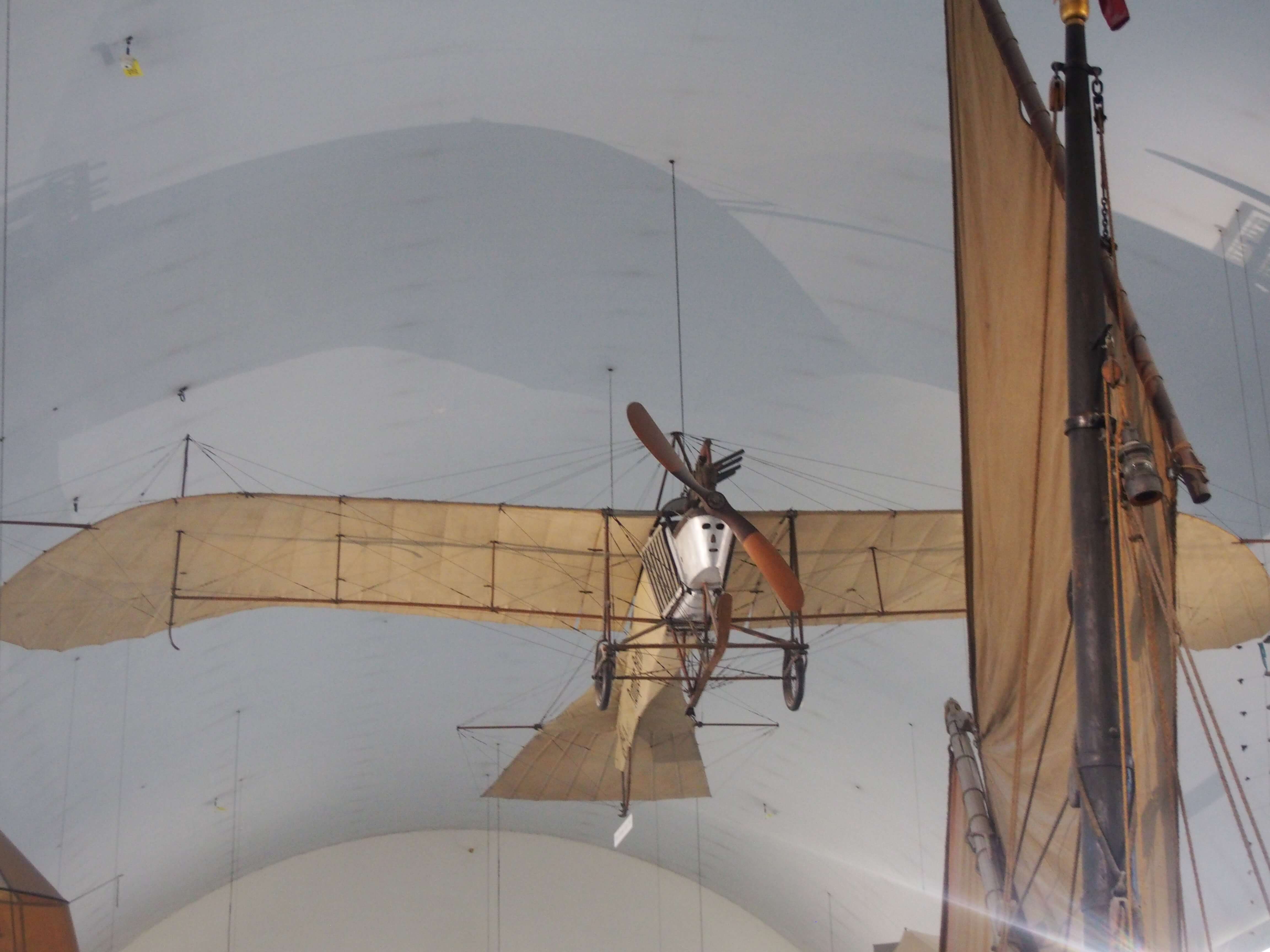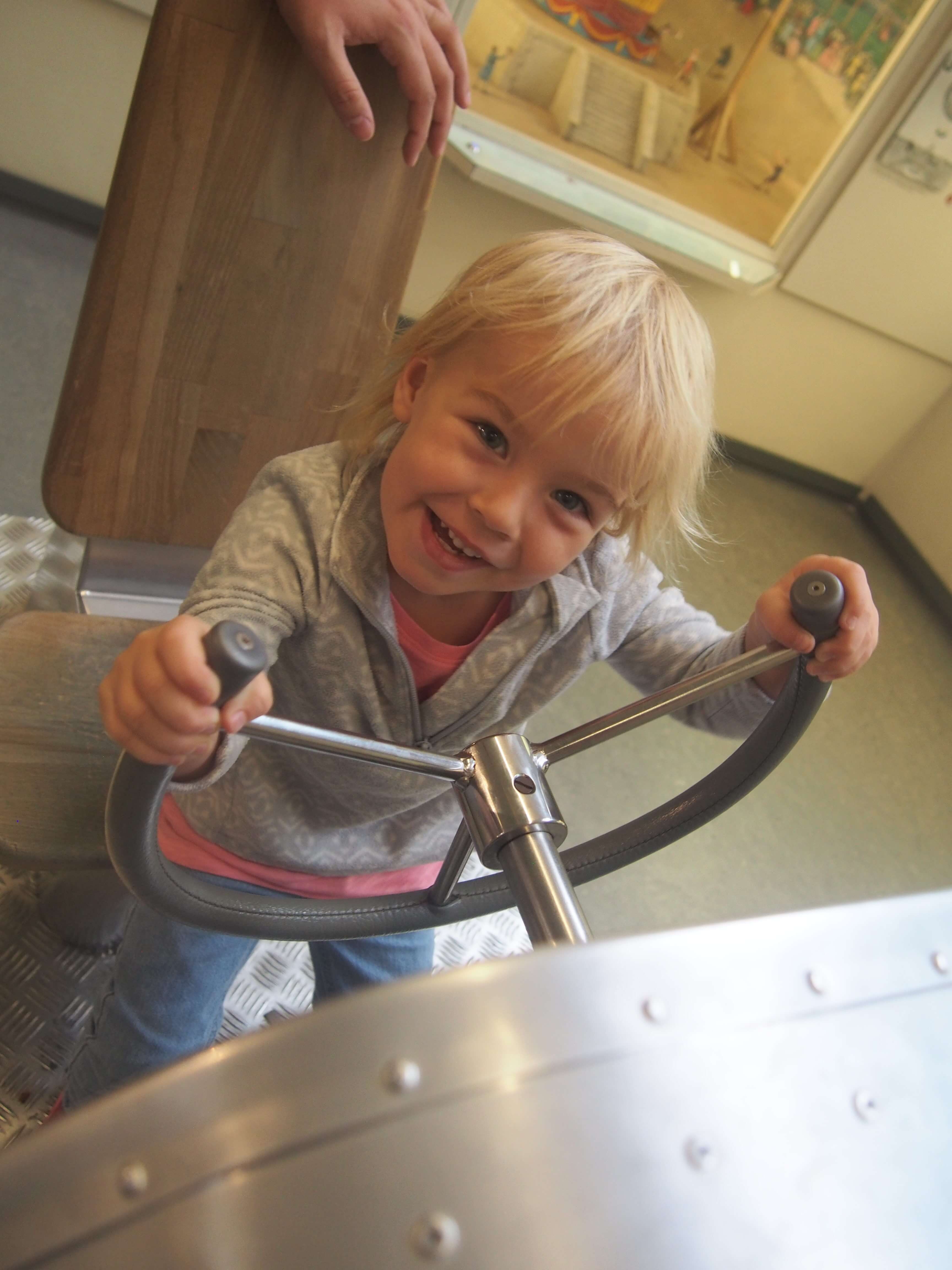 Flying a plane!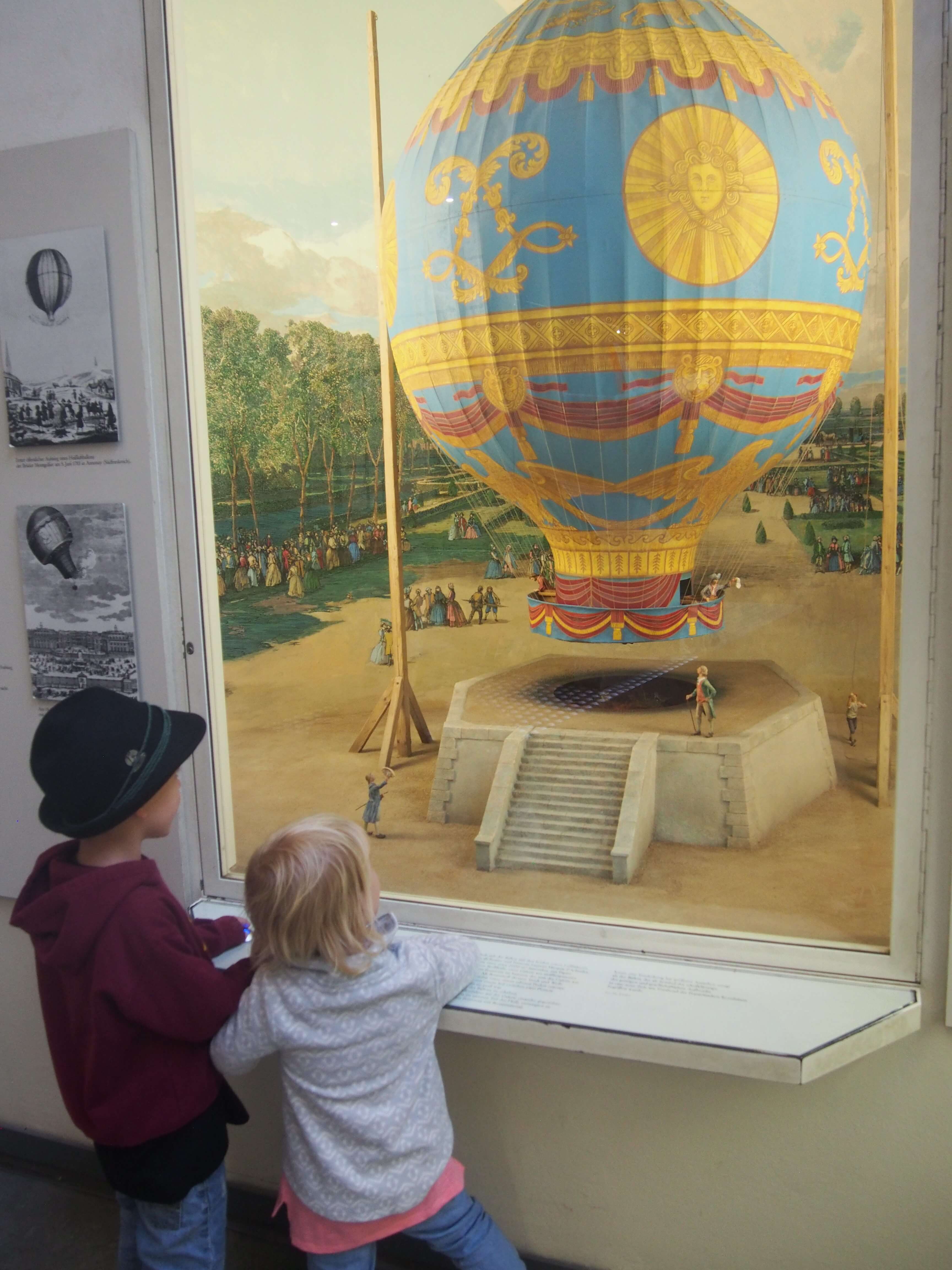 We all live in a …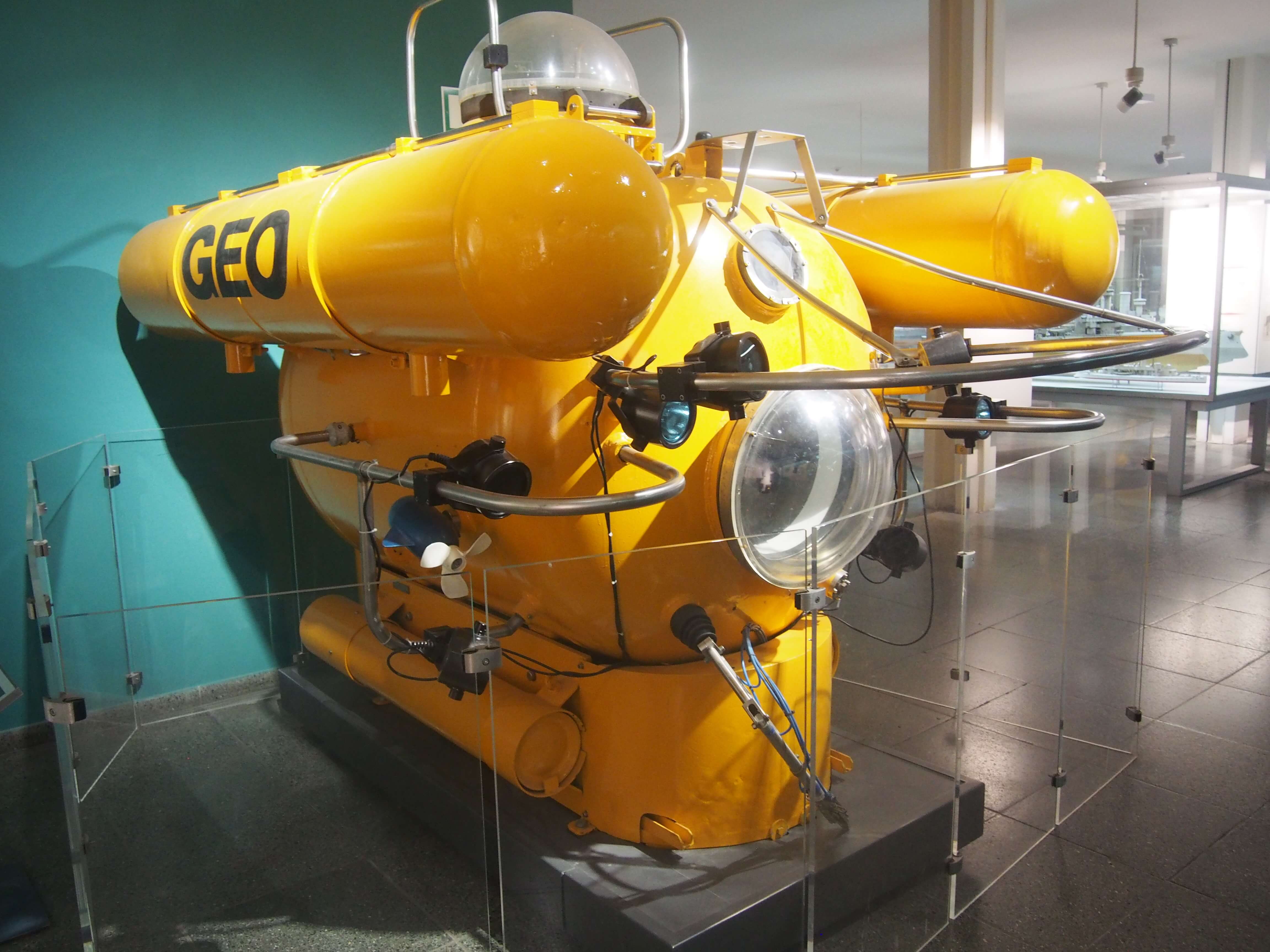 We were a little bummed that we couldn't get into the astronomy area because we just missed the beginning of a show, but overall it was a good experience. Our little museum buff Owen was furious when we decided to head for the Hofbrauhaus for some lunch becuase he wanted to see everything. It certainly wouldn't rank among my favorite museums in the world, but it was a great option for a rainy day in Munich and priced pretty reasonably: 11 euro for adults, free for kids younger than 6. There is also a "family ticket" available, which would be a good deal for those with older kids — 23 euro total for two adults and their minor children.
Marienplatz 
This square is the most iconic in Munich, and we headed here Wednesday after the musuem. From the center of the square you can see the New Town Hall (the one that looks old), the Old Town Hall (the one that looks newer) and The Column of St. Mary. We didn't go inside anywhere — being short on time — but it a pretty view.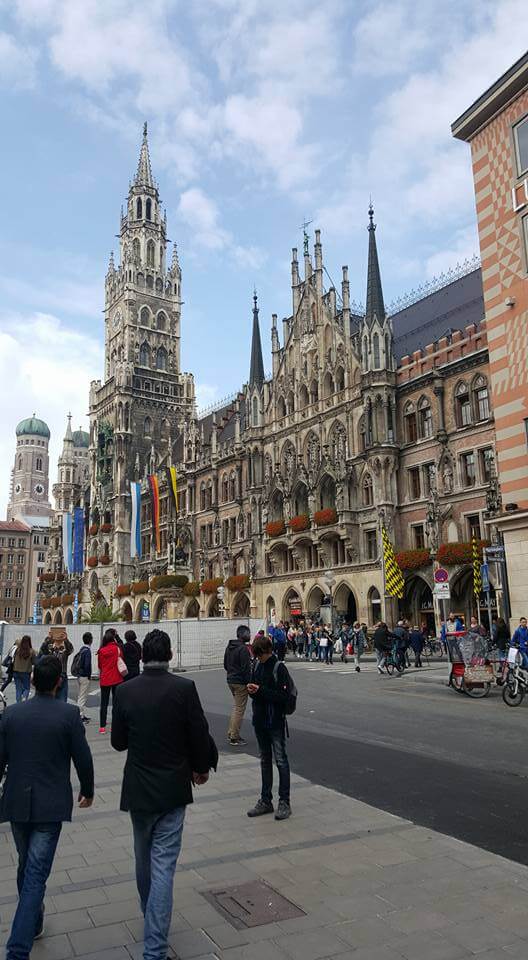 Walking into the square, which was helpfully only about five minutes from the Hofbrauhaus. 
The Neues Rathaus (New Town Hall) was completed in the late 1800s and its primary function is to house the city government, though there is also a restaurant in the basement of the the building.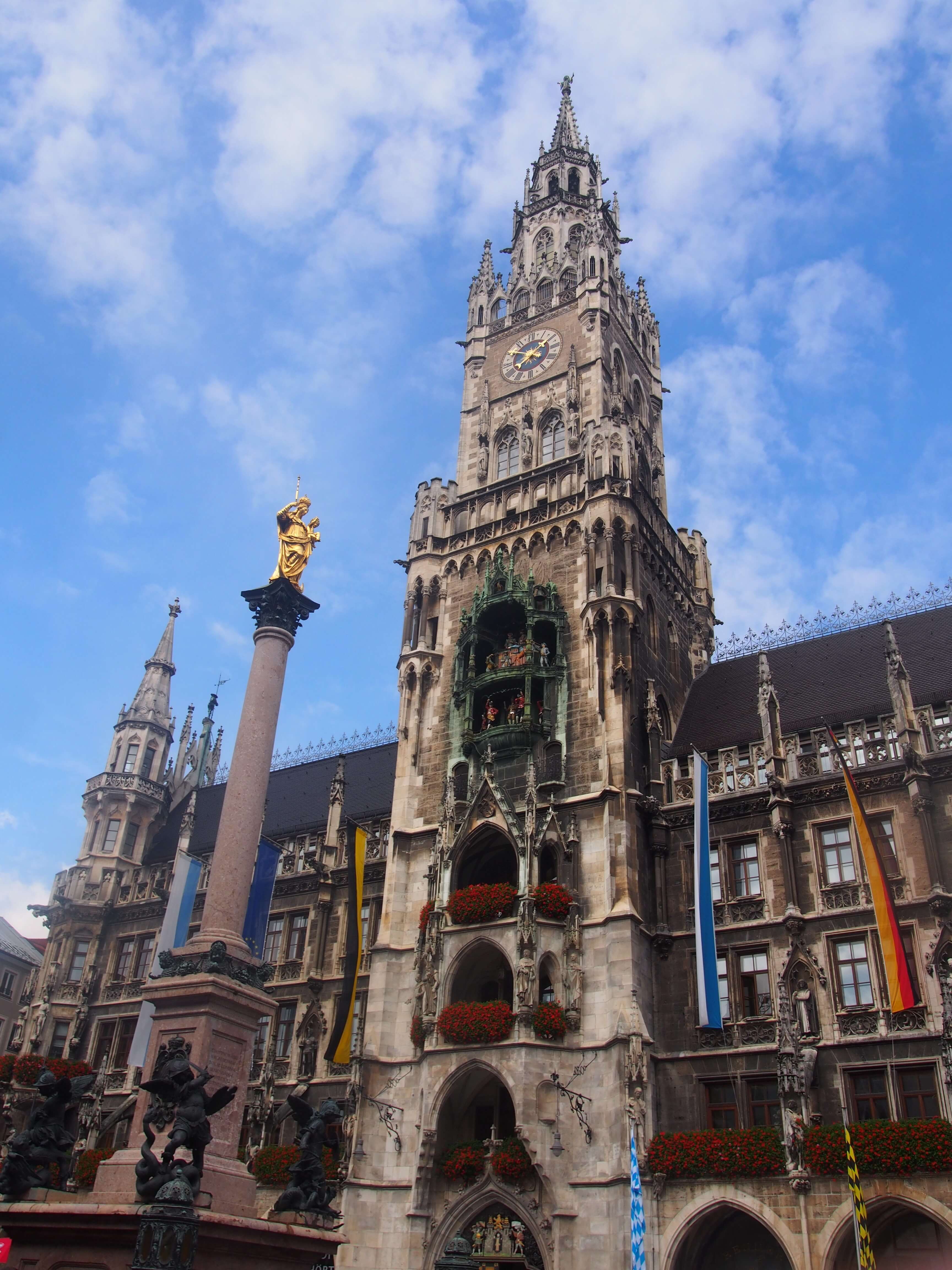 That green part in the middle of the facade? That's the famous glockenspiel! At 11 a.m., noon and 5 p.m. it chimes and begins a 12-minute "dance" that reenacts two stories from 16th century Bavaria. Sadly we didn't get to see the performance this time around, but I'm told it is cute! At the end, the golden rooster at the top chirps three times.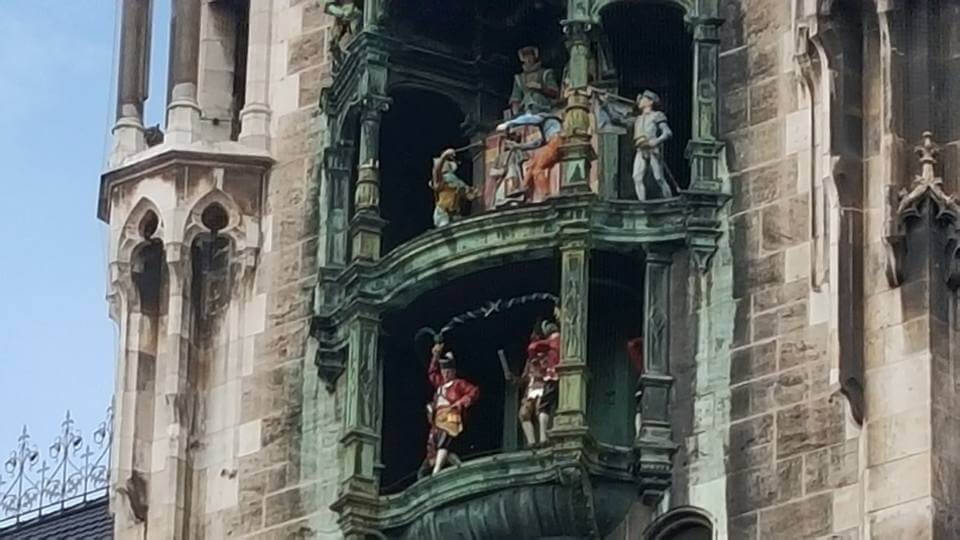 The Mariensäule (Marian Column) is what gives the Marienplatz its name. It was built in 1638 to celebrate the end of the Thirty Years' War, one of the deadliest religious wars in European history. It is topped by a golden statue of the Virgin Mary, venerated as the protector of Bavarian, and at the corner of each of the sides is a cherub fighting a mythical creature. It is supposed to symbolize the city overcoming obstacles.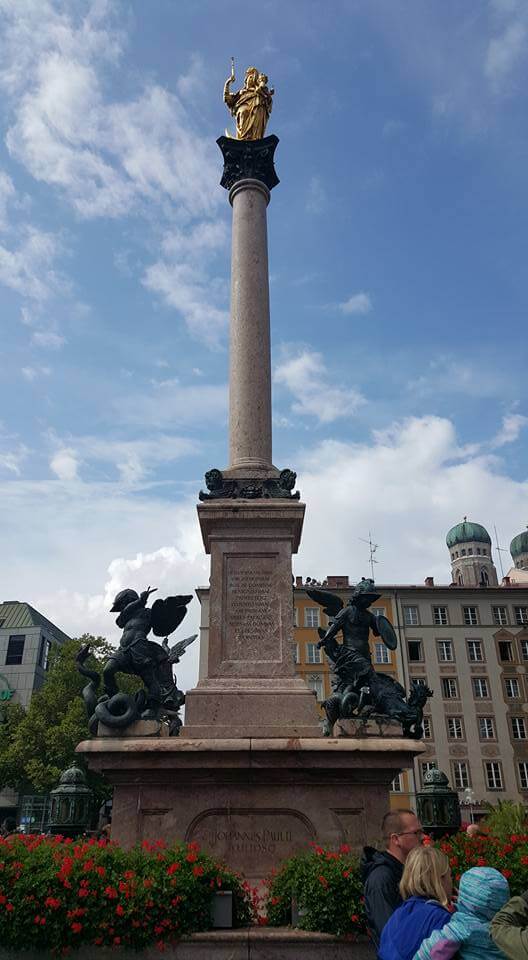 Photo courtesy of my brother-in-law, Brett. 
The Altes Rathaus (Old Town Hall) looks newer to me than the New Town Hall, but it actually dates back to the late 1300s.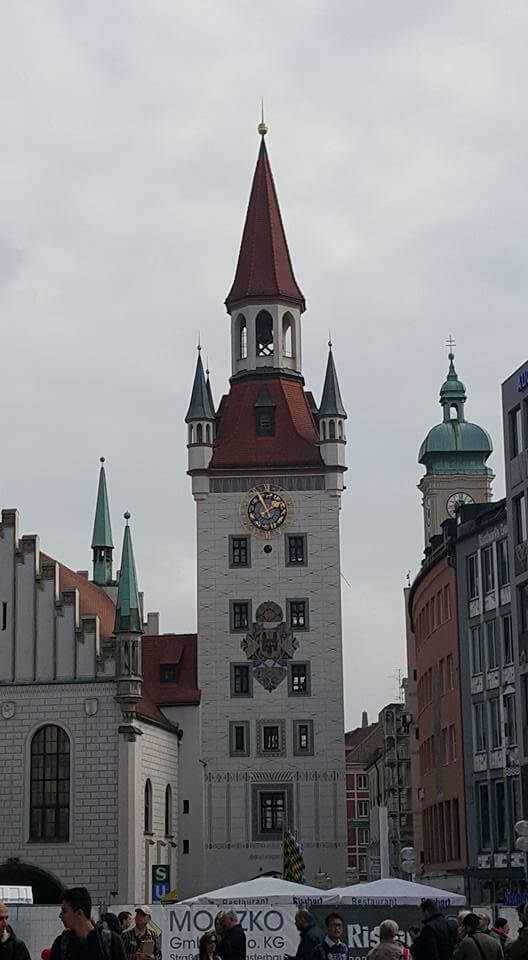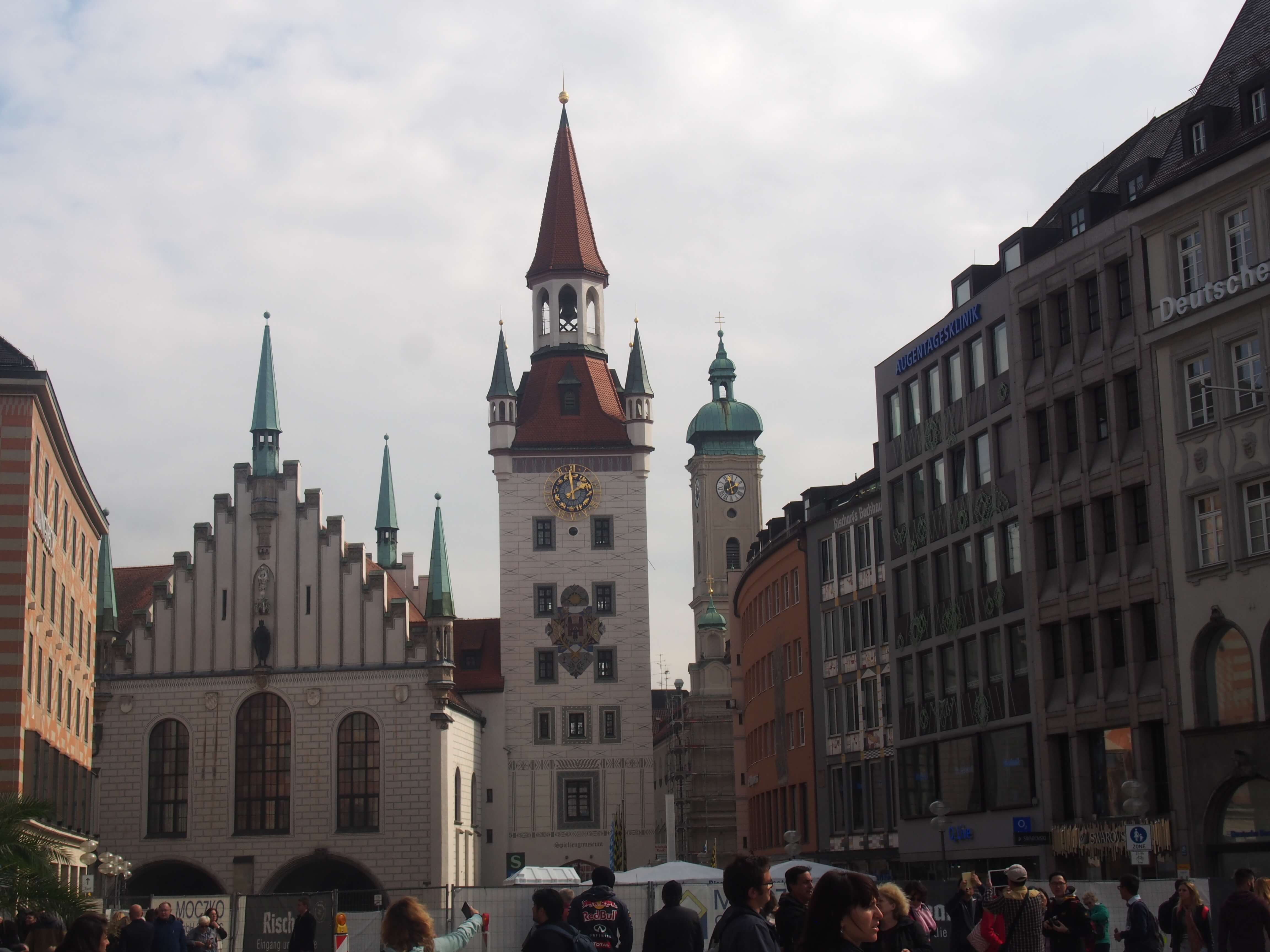 If you are going to Munich — 
Between our tent reservations and spending time with family and friends, we didn't have time available to leave the city this time around. However, I wanted to mention that Munich is an excellent jumping-off point for a lot of great day trips as well. My aunt and uncle, for example, took a quick trip to Salzburg, Austria — that city is one of my favorites and only about an hour and a half by car. Several of our friends were staying at a resort in Garmish, a charming mountain town only about an hour away. But if you are traveling with kids, our vote goes to a day trip to Fussen to see Neuschwanstein Castle. Chris and I went in 2010 when we were on our honeymoon with a tour group and it was just gorgeous!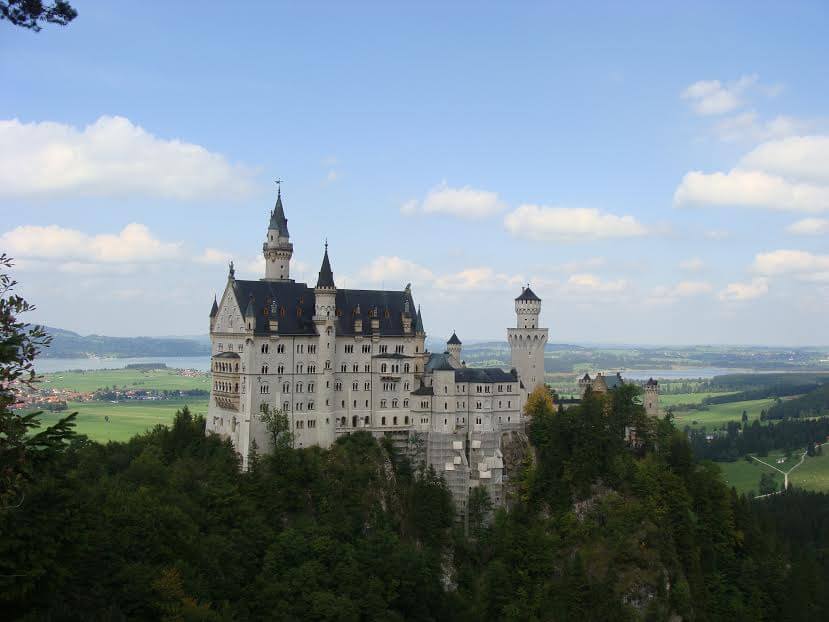 From our trip in 2010. It doesn't even look real! 
Happy traveling!
Enjoy this post? Remember, sharing is caring!