Hi guys! It's been two weeks since we returned from Munich, so I want to wrap up this recap with some final housekeeping-type stuff with some of the practical details of our trip! If you are planning to go, I hope this can help.
And if I — ahem — had forgetten to mention it, I do strongly urge you to go!
Where we stayed: Citadines Arnulfpark Munchen
I've talked before about our stance on hotels vs. apartment rentals when it comes to travel. By and large, the decision between the two rests on how long we are going to be somewhere, prices and convenience. More recently we are seeing more "apart-hotels," which have a nice way of splitting the difference: separate sleeping space for the kids, but some of the conveniences of a hotel. For shorter stays like Munich or Cefalu, we are really liking this model!
We stayed at the Citadines Arnulfpark Munich, which we selected back in December 2016. I found it as I was searching the Chase portal because the already-exorbitant prices of hotels and apartments for Oktoberfest season made me want to burn points instead of cash (I've since somewhat repented because I don't think we got the best rate). This hotel won out because it was apartment-style and had room for the kids (occupancy limits in Europe can be strict), was quite close to the festival grounds, and was advertised as having childcare.
We ended up being quite pleased with the place and would definitely recommend it to other families. The room itself ("deluxe apartment") was quite large and included a small kitchen with a microwave, stove and most importantly, a fridge. It also had security measures that, while a smidge annoying at times, made us feel pretty safe — the elevator was set up so that you had to use your room card to activate it, and could only go to the floor that had your room. Breakfast there was too pricy for us to be interested (though looked tasty), but there was a bakery about a block away where we got a bunch of excellent pastries or sandwiches each morning. Also, I cringe a little bit to write this but I'd also like to note that there is a Subway about two blocks away: this is noteworthy because we left the kids with a babysitter for two evenings and having a Subway nearby meant we could buy sandwiches and stick them in the fridge for the kids' dinner. It isn't in a particularly inspiring area, mostly other hotels and businesses around, but right outside the hotel was a tram stop that easily connected us with the rest of the city. The Thereseinweise, where Oktoberfest is held, was only two tram stops and a short walk from us.  Which leads us into my next point …
Public transportation: Trains, trams and buses, oh my! 
Story time, kids. Chris and I were in Munich in 2010 as the second stop on our honeymoon, after Paris. We arrived at the airport and for whatever reason we were extremely tired and could not seem to figure out where the bus or train was to the city. We got pissed and decided to just jump in a cab.
Price tag: 80 euro. Whooops.
Looking back, that decision seems even crazier because Munich turns out to have excellent transit all arond the city and to the airport. You can follow the signs in the airport to catch the S-Bahn train into the city, and either the S1 or the S8 will get you there in less than an hour. If you are staying at Citadines or nearby, you'll want to get off at Donnersbergerbrucke; it is a short walk from there.
When Chris went to pick up Brett at the airport on Monday, we bought a group all-day ticket for the entire S-bahn network (valid for up to five adults; two children between 6 and 14 years old count as one adult) to use to get them to and from the airport and anywhere else, which ended up costing just under 24 euro. Individual day tickets for the entire zone cost 12.80 euro, so if you are at least two people you might as well get the group ticket if you need the entire network (including airport). Otherwise, you can check to see which zones you'll be staying in for cheaper tickets.
If you are going: I recommend the train, but there is also a bus that will take you into the city from the airport. I also priced out hiring a car (with car seats) to take us to the aiport on Wednesday since it would be three adults and two kids; it came back at more than 100 euros. That's a NOPE.
Within the city, transportation is quite easy because of the large number of options. In three days, we took trains, trams and buses to get around and found all of them easy to use, though if you are going on the tram or bus make sure you have coins to pay. (You can use a credit card to buy S-bahn tickets from a machine). I will say that having access to a smartphone helped. Since our data works all over Europe, we simply entered our destination into Google maps and clicked the public transit option. It would tell us exactly what train, train or bus would most easily get us where we wanted to, which saved us the trouble of puzzling over a map. If you can't use your phone while there, I'd suggest looking it up beforehand on the hotel wifi beforehand and taking a screenshot.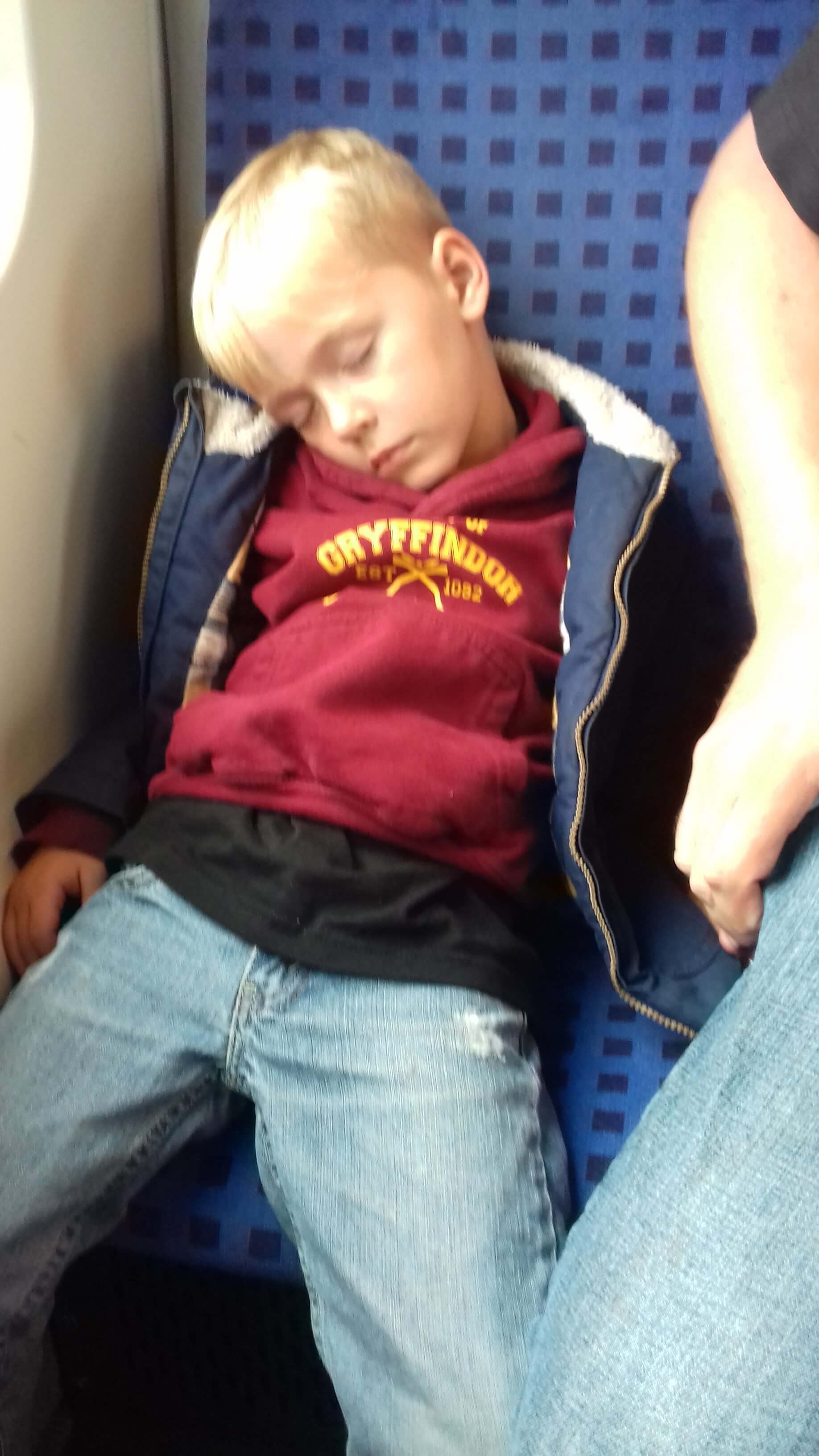 Someone was worn out on the way back to the airport Wednesday! 
Food: Where we ate all the things 
I've never been a particularly big fan of German food, but this trip might have changed my mind. We had some absolutely excellent meals! The two best were:
Augustiner Keller. Count this as another point in favor of the Citadines Arnulfpark: it was only a 10-minute walk from this excellent beer garden! It is one of the largest in Munich, although I'm getting conflicting info on where exactly it ranks. We actually went twice, once for beers and appetizers on Sunday to tide us over before the fest and on Monday with Mike and Andrea's crew and my parents and our siblings, 15 altogether. They take reservations online, which was very helpful with our big group!
Anyway, the beer was excellent and every single one of us loved our meal. I highly recommend the Pfefferschnitzel, a pork cutlet with an excellent pepper sauce, while my brother-in-law was obsessed with his weinerschnitzel with a berry sauce, and my sister loved the allgäuer käsespätzl, a cheese spatzl with fried onions. Dessert was good too!
Dessert was also the only picture I took that didn't come out blurry as hell. 
Hofbrauhaus 
This one is probably the most tourist-y of the restaurants we could have gone to, but we didn't care. We had an excellent night in the beer garden with some randoms in 2010 so we were nostalgic, plus Brett was eager to go there himself. We found a spot at the end of one of the long tables, and plopped down with another group. Once again, all of us loved our meal.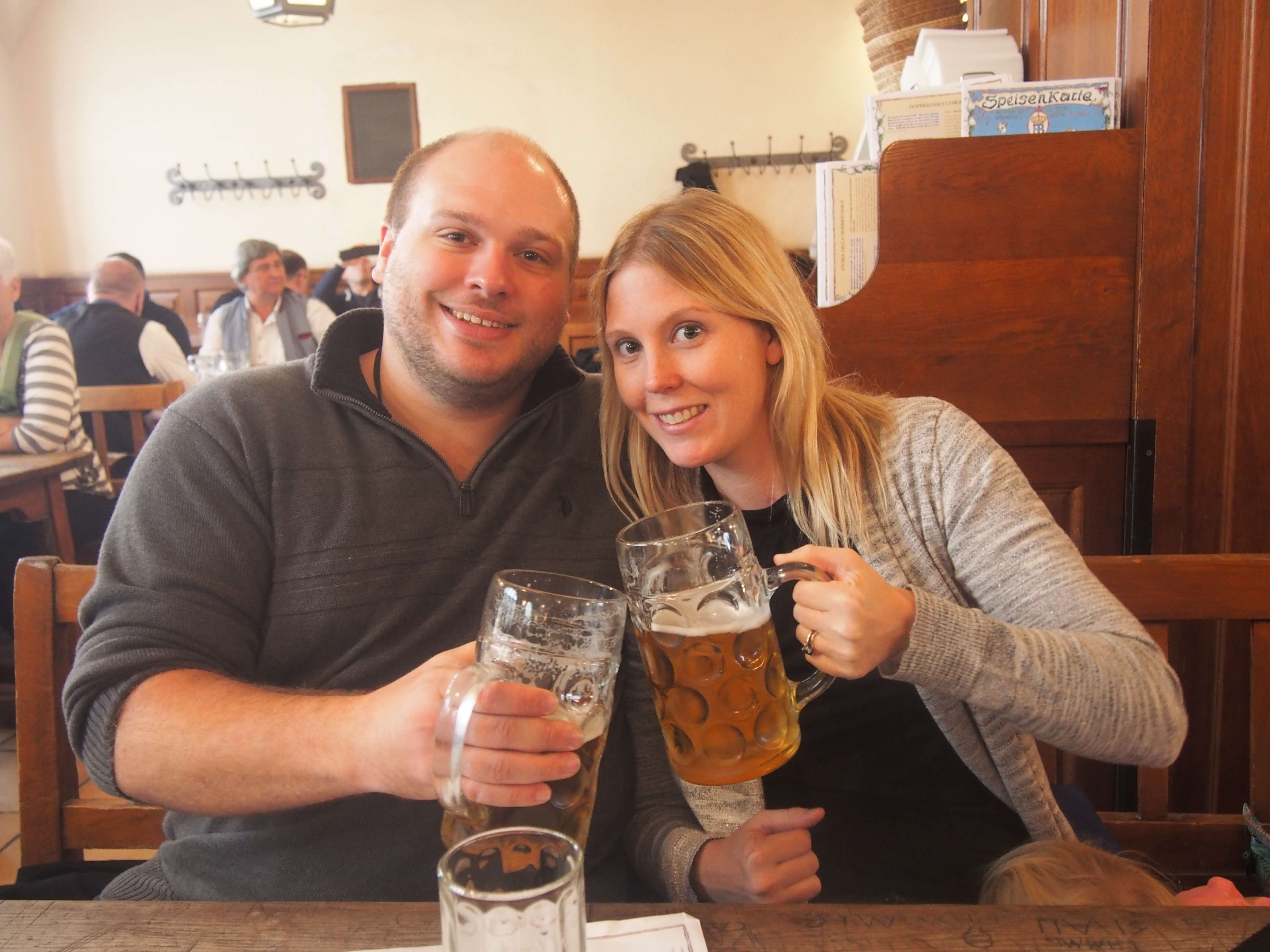 All of us except Fiona, who never ate a bite of hers. As soon as we arrived, she chugged some apple juice and lay down on the bench for a nice hour-long nap. I'm prepared to bet this was not the first nor will it be the last time someone falls asleep on the bench after drinks at Hofbrau.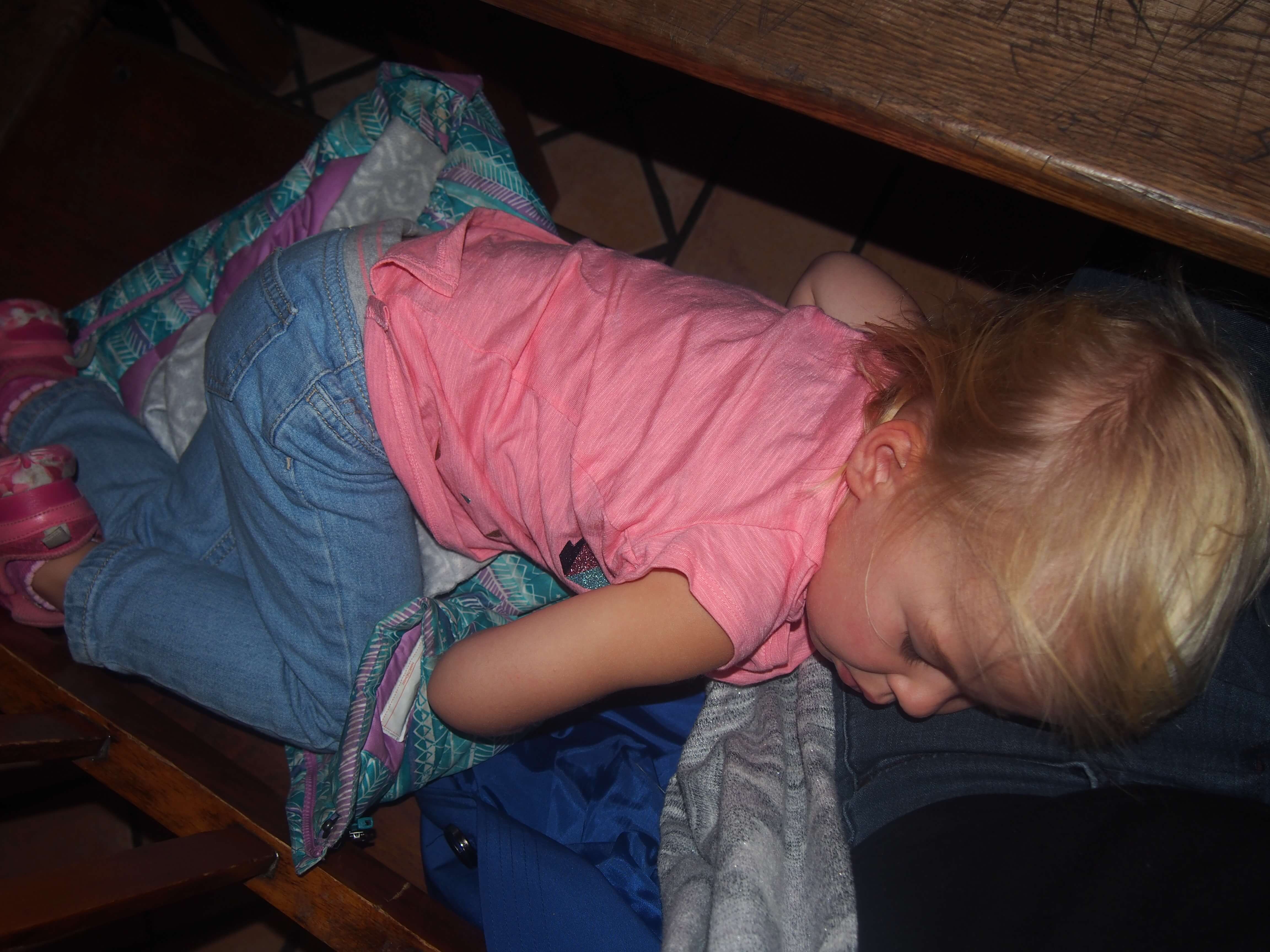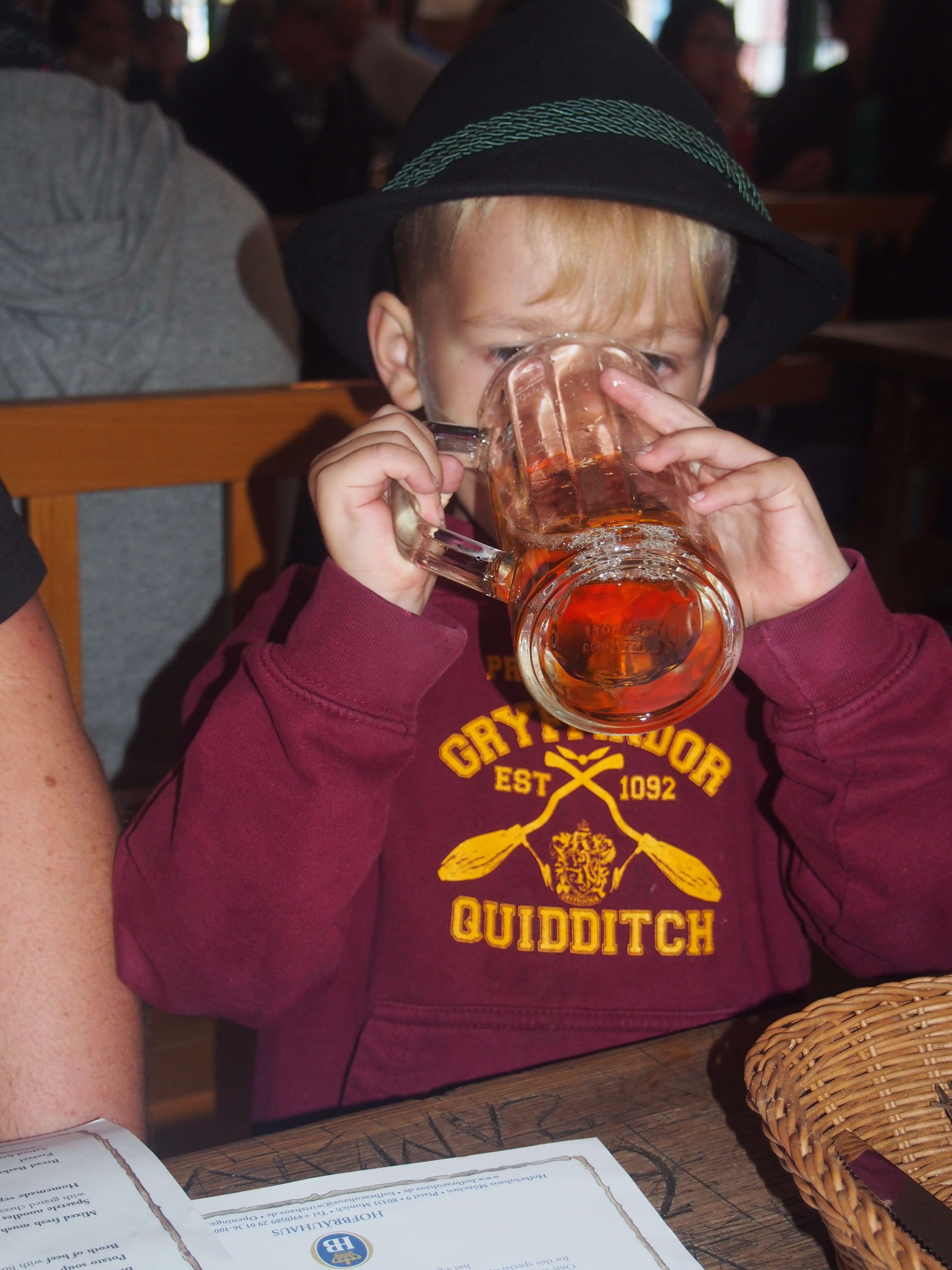 Owen enjoyed his though.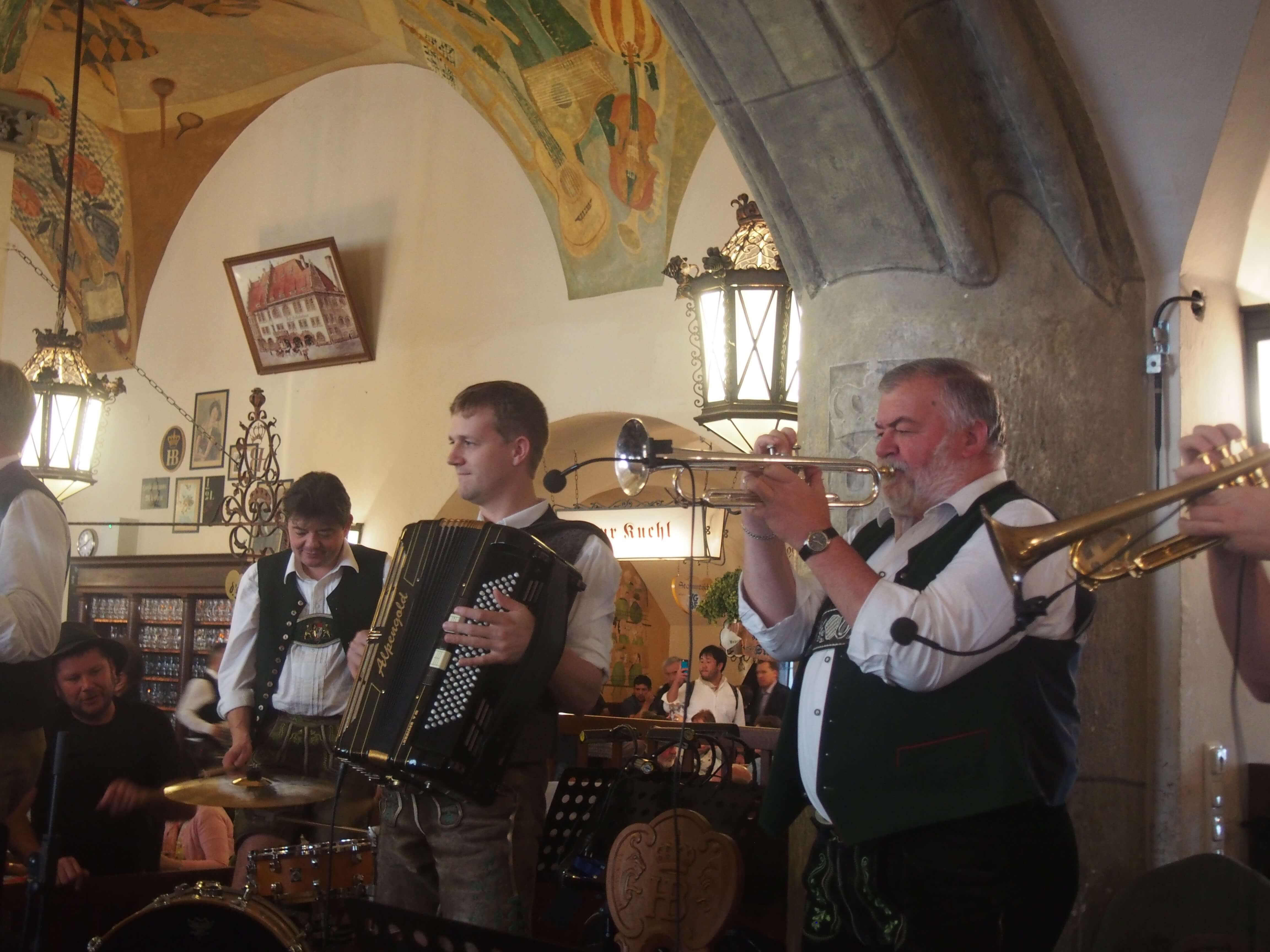 Hofbrau is right next to Marienplatz, so it was a nice stopoff for us after the Duesches Museum and before visiting there.
Oktoberfest tents
We spent a lot of time eating at the Oktoberfest grounds as well, and basically everything we had was excellent! Some favorites were duck and cheesy spatzl at the Lowenbrau tent, roasted chicken at Kuffler Weinzelt and these amazing chocolate-covered strawberries from a random food stand. Easily the best ones I've ever had.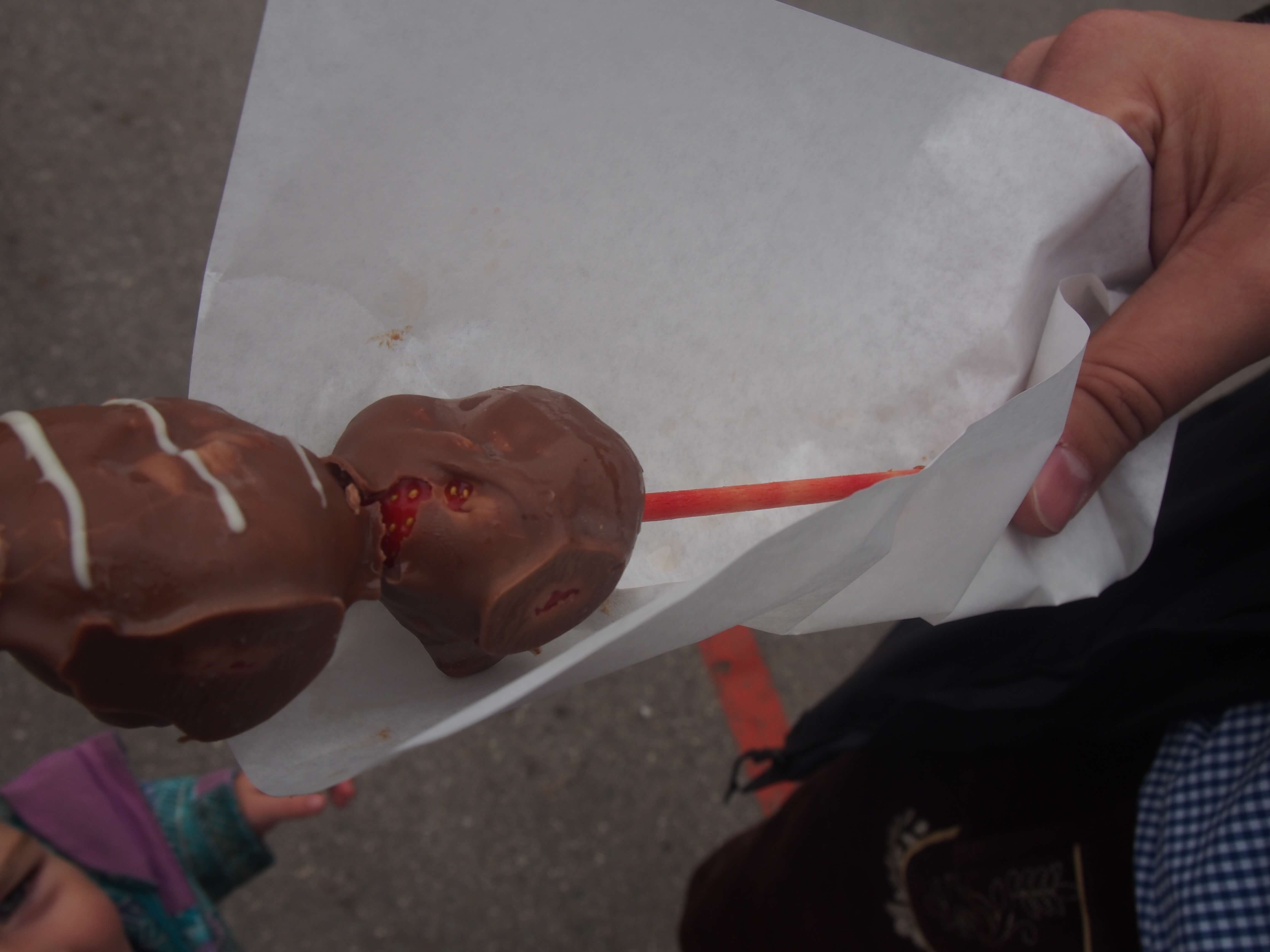 We'd already gobbled up half of them before I managed to get a picture.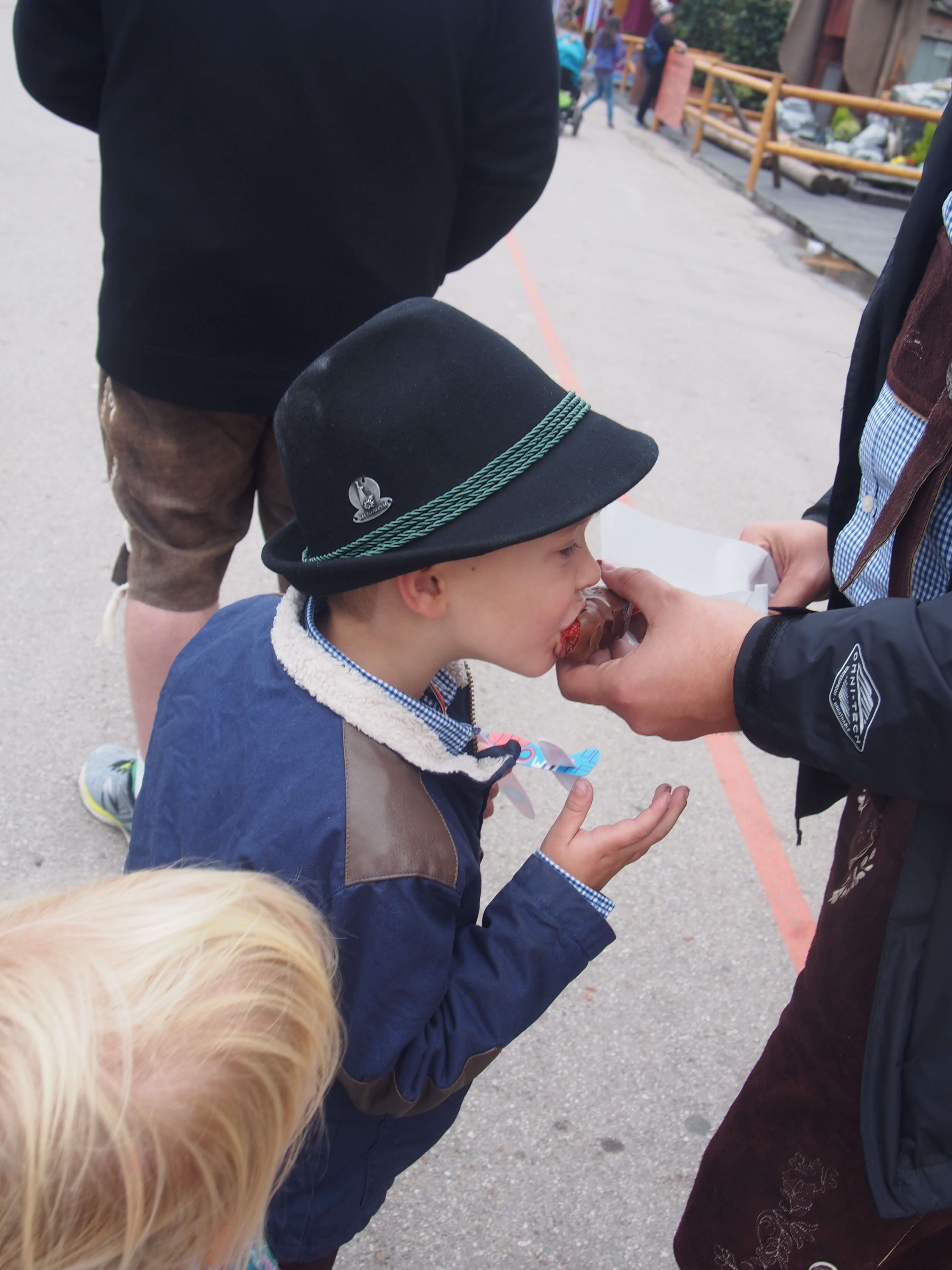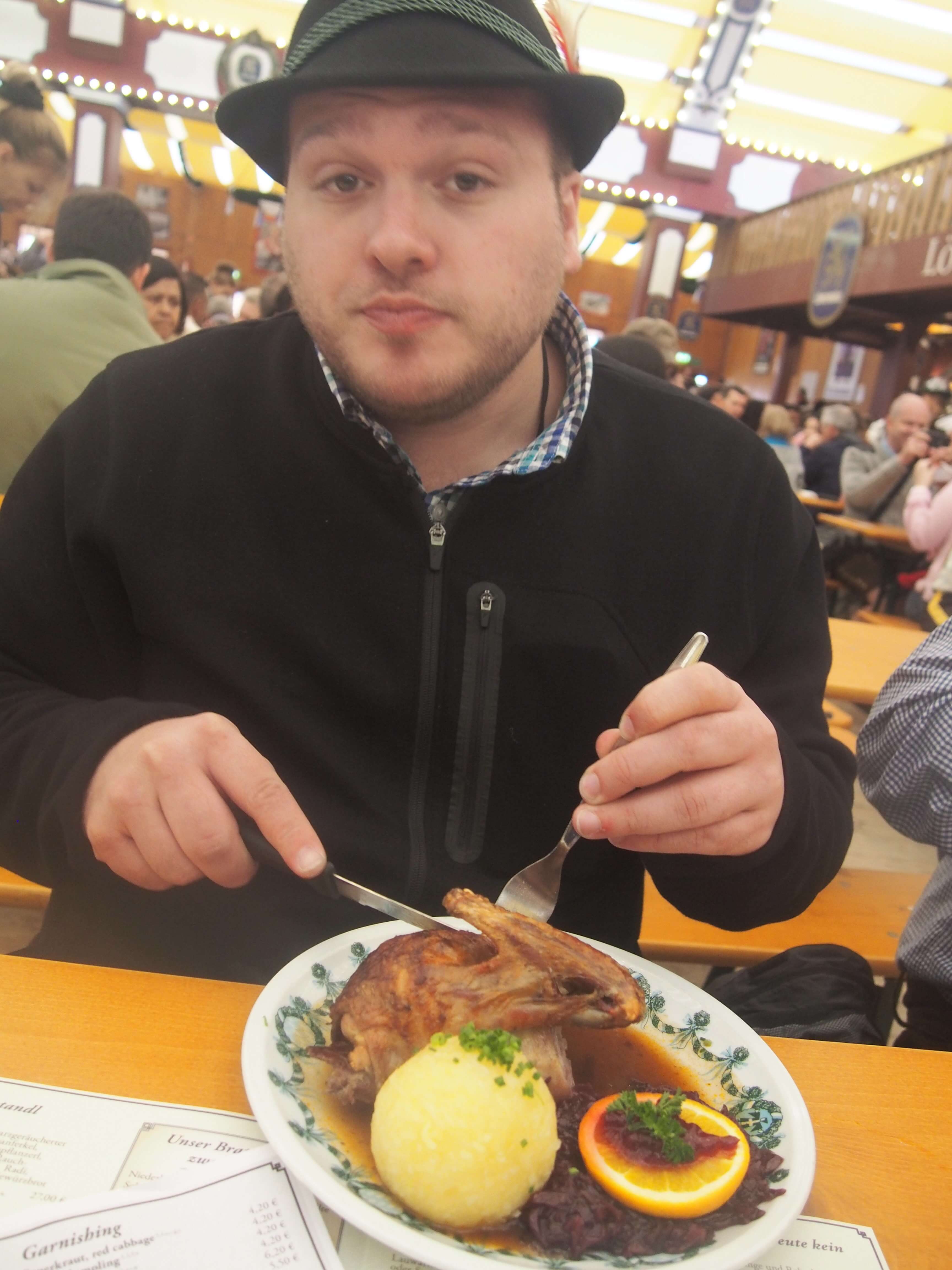 Pretty sure this is the face of a guy who just wants me to stop taking pictures and let him eat. 
What we wore: dirndl and lederhosen 
If you decide to go to Oktoberfest, I definitely encourage you to dress up! We didn't in 2010 and while I can't say we felt out of place then — plenty of people don't dress up — I would say we certainly felt a lot more festive this time around! It is just fun. I ordered my dirndl and Chris' lederhosen from dirndl.com and was very pleased with the quality of our items. Fiona's dress came from Oktoberfest.de, while Owen's lederhosen came from Etsy and we just grabbed a checkered shirt from H&M. We didn't expect it to be so cold while we were there and didn't have a plan for Owen's legs, so we put a pair of Chris' socks on him and pulled them up to his knees to keep his legs warm. We picked up their head gear on the way to the fest — plenty of shops were selling all kinds of apparel near the festival groups.
A cautionary note: if you are ordering online, be careful with the sizing. My sister and I both ordered dresses based on a conversion chart we saw of US to German sizing, and both of us found our dresses pretty tight.