So packing light is something I've been wanting to address for a while now. We're big proponents of limiting the amount of stuff you take on a trip as much as possible. Not only can this save you money — checking a bag or bags can get expensive quickly — but it also saves you the considerable trouble of dragging it around, especially on public transit. This is even more true when you are traveling with a kid or two or six; you need those hands available to keep the kids from jumping onto train tracks, in front of a bus, or off a cliff (ok, that last one might only be applicable in certain situations.)
For heaven's sake, don't bring this much crap anywhere, ever. I'm cringing just looking at it. In our defense though, this is the stuff we brought when we were moving to Sicily and didn't know when all our household goods or express shipment would actually show up.
The reason I haven't written about this already, however, is because it is still a work in progress for us and something we are trying to improve on. I'd say we do a fairly decent job of packing light; for our 8-day trip in France we brought one big suitcase and one carry-on suitcase for the four of us. For our most recent trip to Munich, we brought one carry-on suitcase and a garment bag (mostly for our costumes!). So, not bad — especially considering we needed some bulkier clothing because of the weather for both those trips — but there is definitely room for improvement.
Therefore, I am now passing on the advice-on-packing responsibility to my mom, Kathy, the official packing goddess. As a reminder, she and my dad took me and my siblings backpacking in Europe for three weeks when we were 13, 11, 9 and 7 years old and each of us got only a backpack (that had to be light enough for us to wear ourselves). Most recently she and my dad have outdone themselves on their most recent trip of almost five weeks, which included stops in Ireland, Wales, England, Scotland, France, Germany (Oktoberfest!) and Italy (ending in Sicily with us). For this trip, my mom brought only "a lightweight 19-inch wheeled backpack and a daypack in lieu of a purse." The daypack, she notes, was actually a kid-sized backpack.
My parents at St. Andrew's golf course in Scotland in September. Photo swiped from their Facebook because I doubt they'll sue me. 
So without further ado — here's some words of wisdom from my mom on traveling light.
So, packing doesn't need to be a big deal if you are willing to do some laundry here and there. There is always a place to do it in any city I've ever been to in Europe. The reason for not bringing your whole wardrobe is obvious, you have to lug it around all surfaces, especially the evil cobblestones, and not only is it tough on the luggage but your arms get really tired. You could cab everywhere but then you don't really see your surroundings or get a lay of the land. 
Most people subscribe to the roll-your-clothes method, but I prefer the flat method. I fold my clothes like they do in stores and stack them. Socks are stuffed in my shoes, I had tennis shoes on my feet and a pair of 3/4 ankle waterproof boots and a pair of flats in the daypack. Underwear was in the bottom-zippered compartment of the backpack. As for clothes, I took two pairs of jeans (one blue and one gray), a jean skirt, the yoga pants I wore on the plane, a lightweight nightgown, and two or three shifts for each pants/skirt. My coat was a hooded, waterproof zippered jacket. Toiletries were in a zippered pouch and were mostly travel size; you can replace them as needed easily. We aren't big on souvenirs. The only thing I bought was a golf shirt at St. Andrews in Scotland.
I know most people think this is crazy, but the less you worry about your stuff, the more you engage in your surroundings. 
As usual, great advice from my mom! I think the only tip I would want to add (though this an attitude they clearly have) is not to pack thinking about every worst-case scenario. Simply put, don't waste room packing sweatshirts for Portugal in July on the off-chance that an unseasonable cold snap comes out of nowhere thanks to, say, a volcanic eruption that blocks out the sun. Instead, remember that stores still exist and you can always buy a damn sweater.
By the way, I can absolutely attest to my parents' inter-trip laundry habits after seeing my dad hanging his newly-washed socks out to dry in Cefalu and receiving about thirty reminders not to let him leave them there. (He didn't). Nicely done, guys!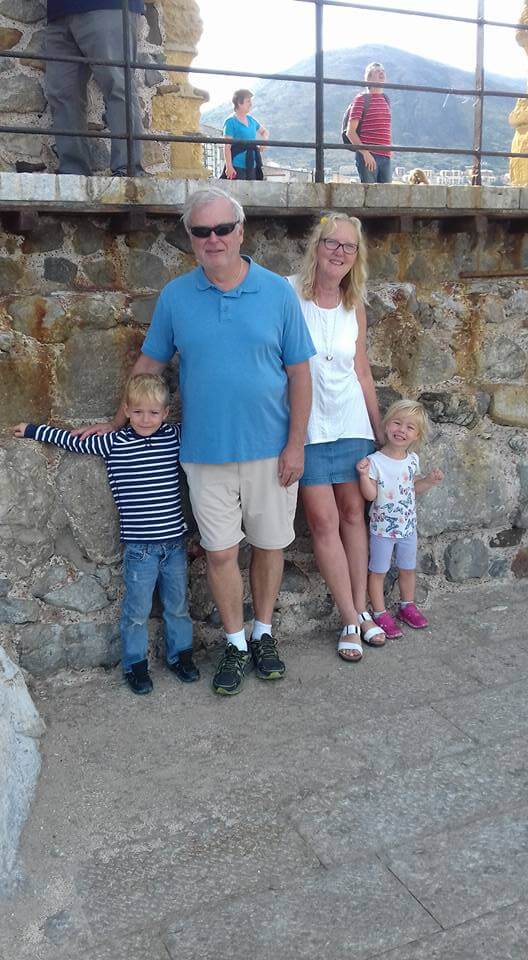 Cefalu!
Now, I'd like to hear from you! What are your tips and tricks for packing for a trip?
Pssssst! Like this post? Sharing is caring! Please also consider following me at my Facebook page, Babies With Backpacks, so you never miss a post (plus additional content!).