If you are following me on my new Instagram, you probably have already figured out we spent last weekend in Venice. We had fun! While Venice is perhaps better known as a destination for couples, we found there was plenty of stuff for the whole family to do. And despite my concerns that one weekend would be too little time in the city — we arrived midday Friday and left Sunday evening — we also found that two nights there was more than enough to get our fill of the city. Especially considering how pricy this city is!
In another post I'm going to talk about some the practicalities of visiting Venice but for now we are going to focus on just the fun stuff — seeing the sights! Update: find the details of our transportation, lodging and more in this post. 
In honor of my son turning 5 last week (how??) I told him it was time for him to start earning his keep around here. To that end, I sought his advice for other kids who are going to visit Venice. His suggestions:
"Go on lots of canal rides." (Fair enough)  
"Get an apartment so you don't have to walk around all the time and can eat dinner." (This seems to be a reference to Saturday night when Owen was "tooo tiirrrrrrrrred" to walk places and we ended up making the kids chicken nuggets at the apartment so they wouldn't have to sit through a dinner. Details on the nice apartment he liked so much here.)
"Go to lot of chocolate and ice cream stores" and "buy lots of ghost cookies because they are really yummy." (Easy to see what sticks out to him) 
"Go potty a lot." (Accurate, though true for every single outing ever with two preschoolers)
Well, we have a little overlap in our lists at the very least! At any rate, if you are planning to visit Venice with your kiddos these are my own suggestions.
1. Chase pigeons in Piazza San Marco 
I'm actually shocked this didn't make it into Owen's list, as he and Fiona enjoyed chasing those damn birds everywhere we went. And I do mean everywhere — there were a bunch underfoot even inside the crowded bar where we stopped for pastry and espresso every morning. Since people don't really love it when you are chasing birds near where they are dining (ask me how I know …), Piazza San Marco is the spot to go — especially since those of us old, boring people can drink in the sights rather than pawing at rats with wings.
I should probably mention that feeding pigeons in the city is banned, but people still do it and as a result these birds are now tame enough that they'll land on people. Owen and Fiona were both eager for a bird to land on them, but when any came close they chickened out at the last minute. They liked watching other people with birds on their heads though!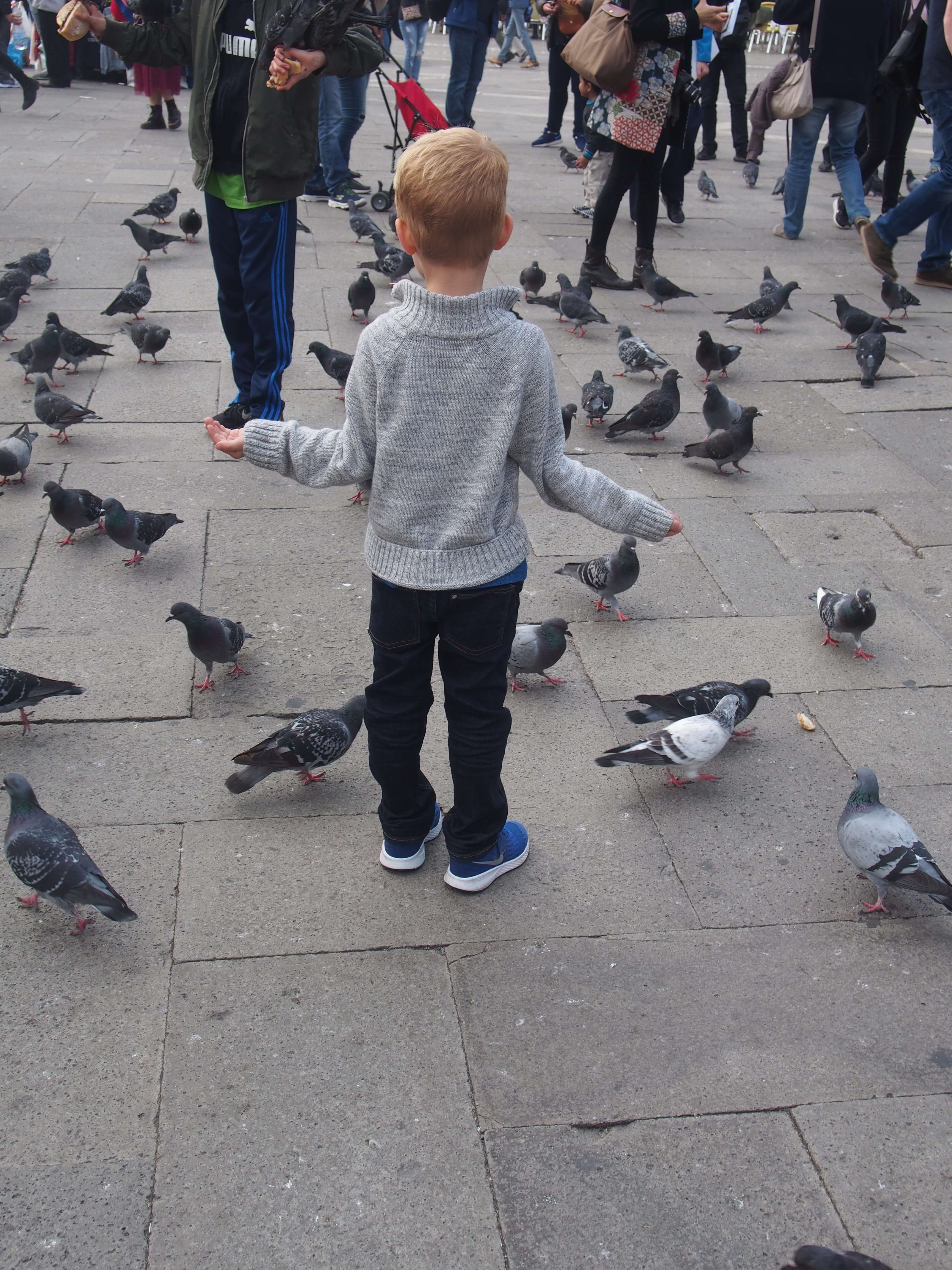 2. Take a boat ride 
I'm going to echo my son here in suggesting that no visit to Venice is going to be complete without a ride on the canals! During the course of our days there, we took the Alilaguna and vaporetto water buses (which I talk about here) and a gondola ride. The gondola ride seemed like the thing to do since we were there, but to be honest I don't think that we (or the kids) would have really been missing anything if we skipped that one. It was obviously really cool, but apparently it didn't even warrant an individual mention from Owen in his list! Ha.
Our ride took us under the Rialto Bridge, the oldest of the four bridges that span the Grand Canal. 
I'm not saying that to put you off or anything, as it was a cool experience and I'm glad we went. I just don't want anyone to feel like they are missing something if they decide it isn't worth it. Price-wise, it is expensive like just about everything else in the city. Before 7 p.m., prices are set at 80 euro for a 30 minute ride (up to six people per boat). After 7 p.m., the price rises to 100 euro for 35 minutes. I wanted an evening ride but didn't want to pay an elevated price, so we ended up shooting for a 6 p.m. boat. We had to wait for one to show up, so we ended up getting in just under the wire at 6:30 p.m. Victory!
Our gondolier pointed out sights to us (though we couldn't always quite catch what he was saying), and told us about how the bridges are sometimes impassable during the acqua alta times.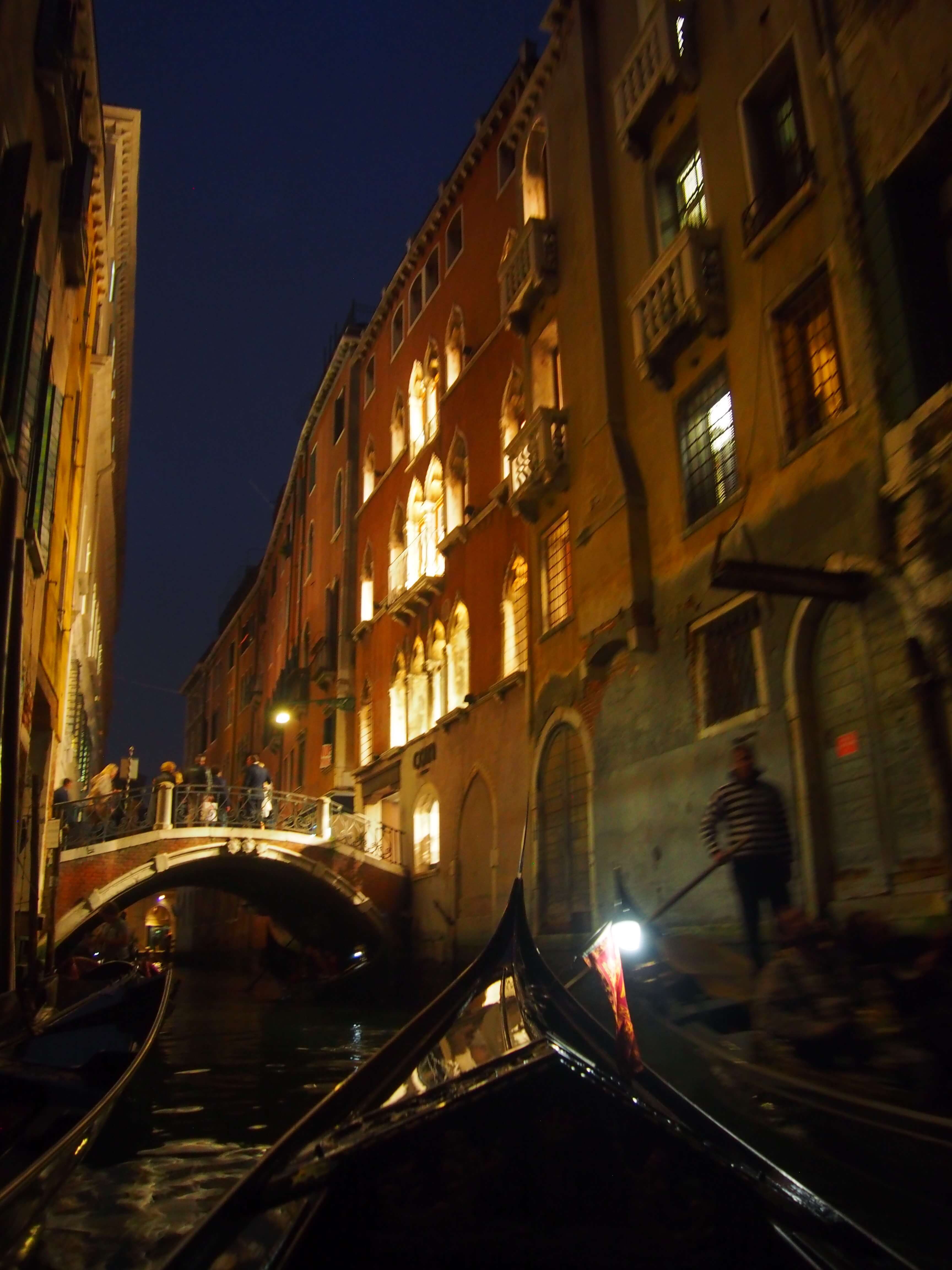 3. Watch glass blowing in Murano
If you are going to Venice, a day trip to nearby islands should be near the top of your must-see list! The island of Murano (well, islands — like Venice itself, it is made up of several islands clustered togehter) is only about a mile from Venice, an easy 10-minute ride from Venice's Fondemente Nove station by vaporetto. We got off at the first stop, Colonna, which led us immediately to streets full of glassmaking shops. Several were offering glass-blowing demonstrations, and we stopped at one of them. The kids were fascinated!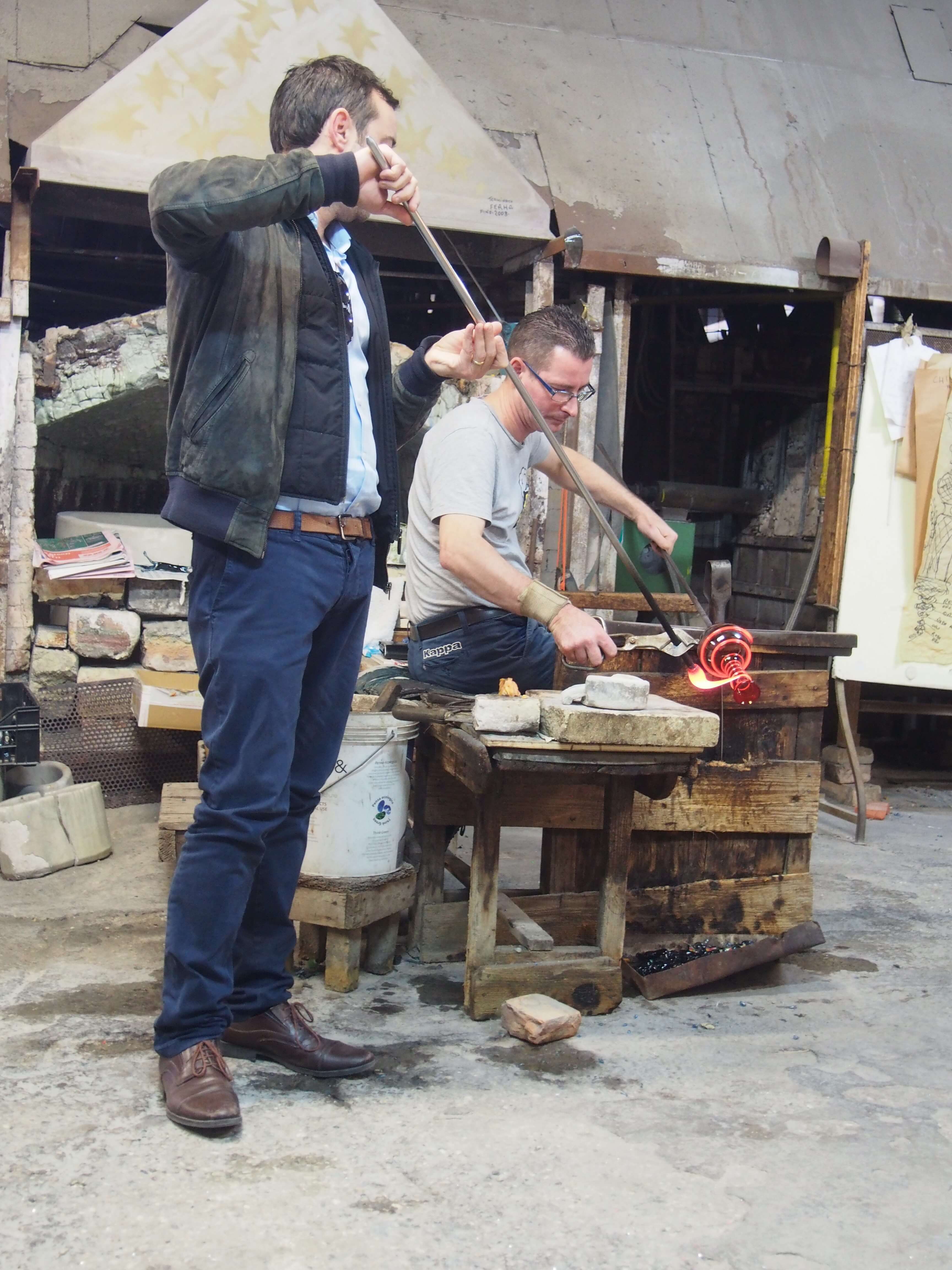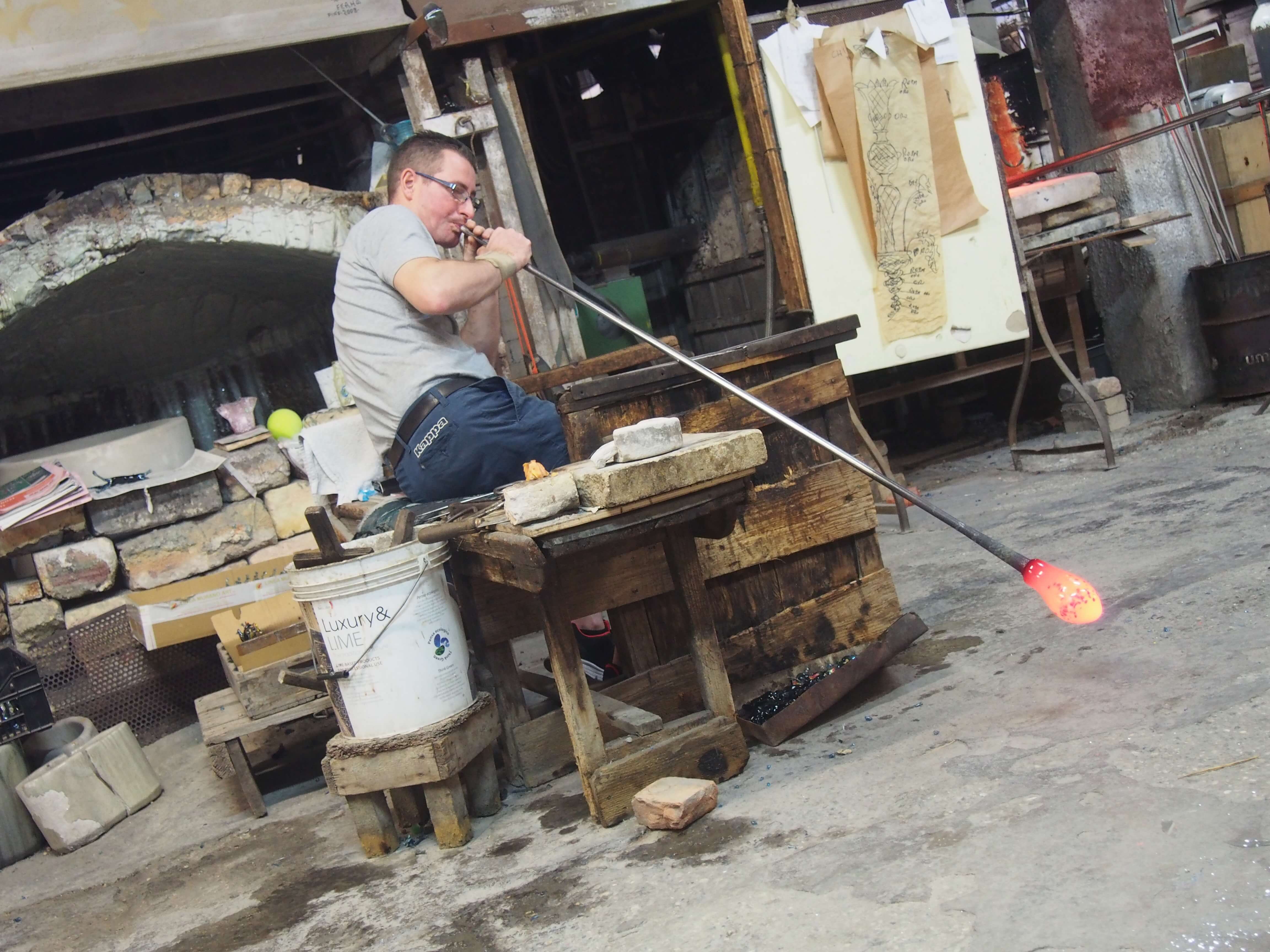 Murano has been known for glassmaking for centuries, in particular since the fear of fire led Venetian officials to order all glassmakers to moved from the city center to Murano in 1291.
In addition to watching the glass blowing demonstration, we mostly walked along the streets looking in shop windows. We did go in a few, but as you can imagine having a pair of boistrous preschoolers in a shop filled with extreme breakable, extreme expensive things was fairly stressful. Almost as stressful as the prospect of me, an excessively clumsy adult, knocking over a bunch of shit myself.
There is a glass museum on Murano, but we opted to skip it because, honestly, we just weren't interested enough. However, a highlight of the day did come when we ran into this sculpture, "Comtet Glass Star," which Owen would end up demanding to take 10,000 pictures of.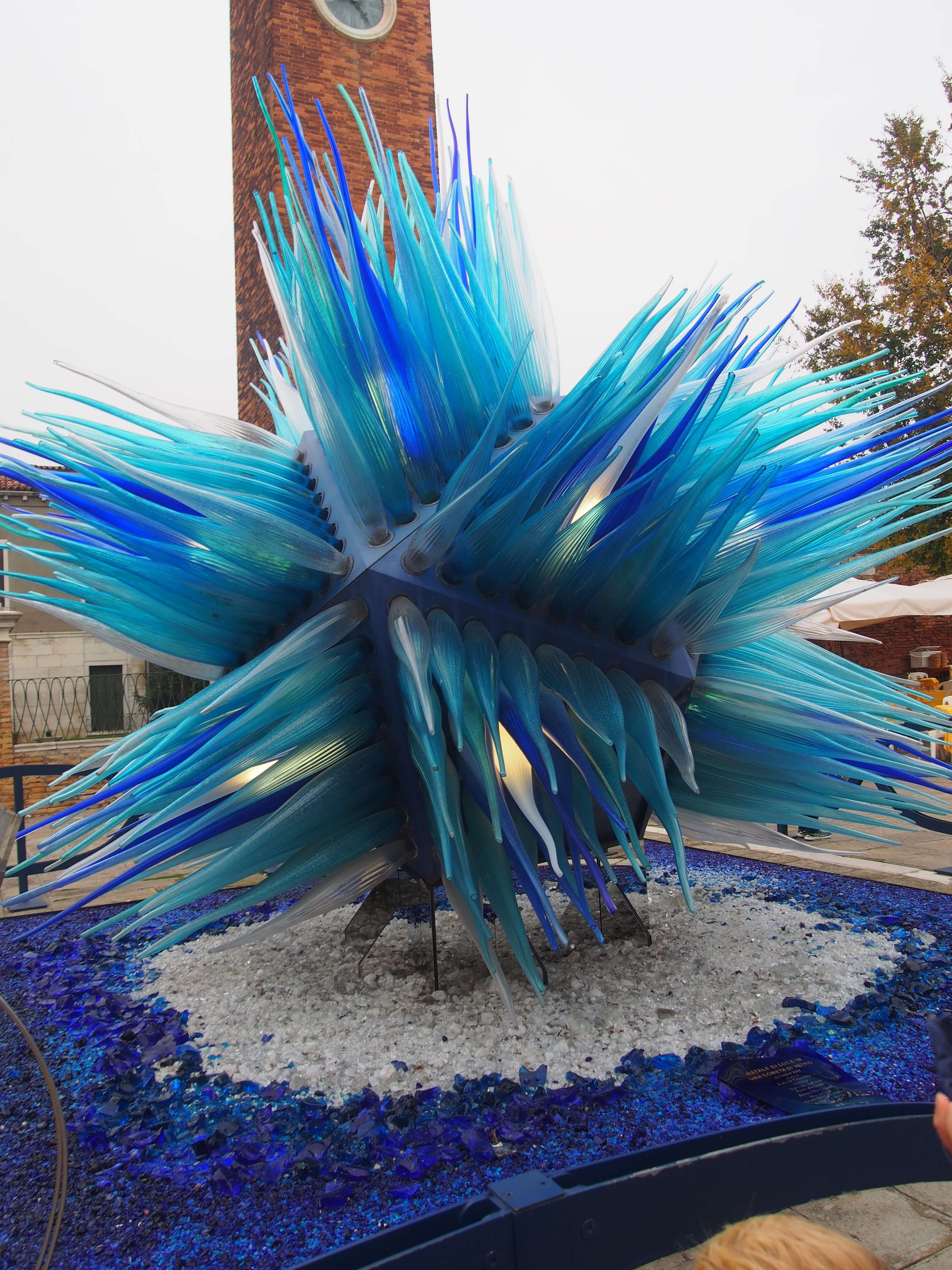 4. Visit Basilica San Marco and the Campanile 
Chasing pigeons in Piazza San Marco is all well and good, but eventually I do recommend you leave the birds behind and head inside. It is free to get into Basilica San Marco, but once you get inside they want to charge you to see various parts of it. We paid 3 euro or so to see the treasure, but skipped the rest, such as going upstairs to see the original bronze horses from the facade (they were removed because pollution was damaging them and replicas put up. This was after they'd been retrieved from Napoleon, of course). I also paid 2 euro each to buy skip-the-line passes into the basilica online after reading some horror stories about two- to three-hour lines, though on the day we were there it wouldn't have been nearly that bad.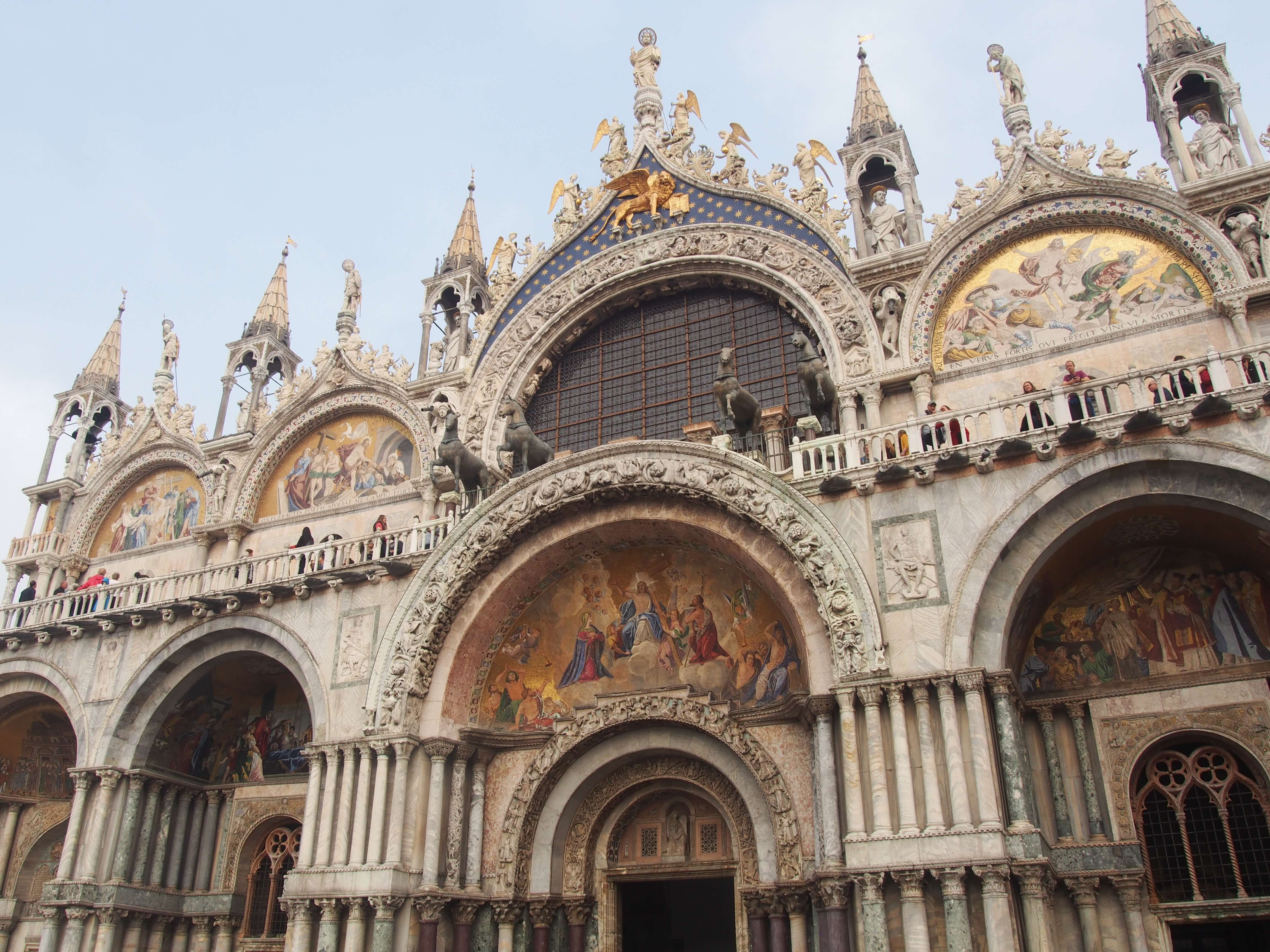 The horses I mentioned are just above the central arch. 
The basilica is absolutely magnificent; per usual, the photos don't even do it justice. Even more impressive is its age. Churches were built on this site, directly next to the Doge's Palace, as early as the mid 800s.The five-domed building in its present form was probably built about 1063, though that is apparently debatable. No matter how many fantastic old structures I see, I never ceased to be amazed that they could have been created without the benefit of modern building equipment and tools.
Photos aren't allowed inside the basilica (though, rather like with the pigeons, everyone was dong it anyway) so as a result I only have a couple of shots from the interior of the exterior, if that makes sense. It should give you an idea of the gorgeous gold-glass mosaic that covered almost the entire ceiling within, however. At this point we've been in an awful lot of churches, but this ceiling was something to behold.
As I mentioned, we also paid a little extra to see the treasure of Saint Mark's, which was easily the kids' favorite part. Predictably, Owen was most impressed with a massive sword. I was impressed by the opulence of the treasures, but even more so by the various relics — mostly bones — on display within the treasure. Chris, on the other hand, found the body parts a bit creepy.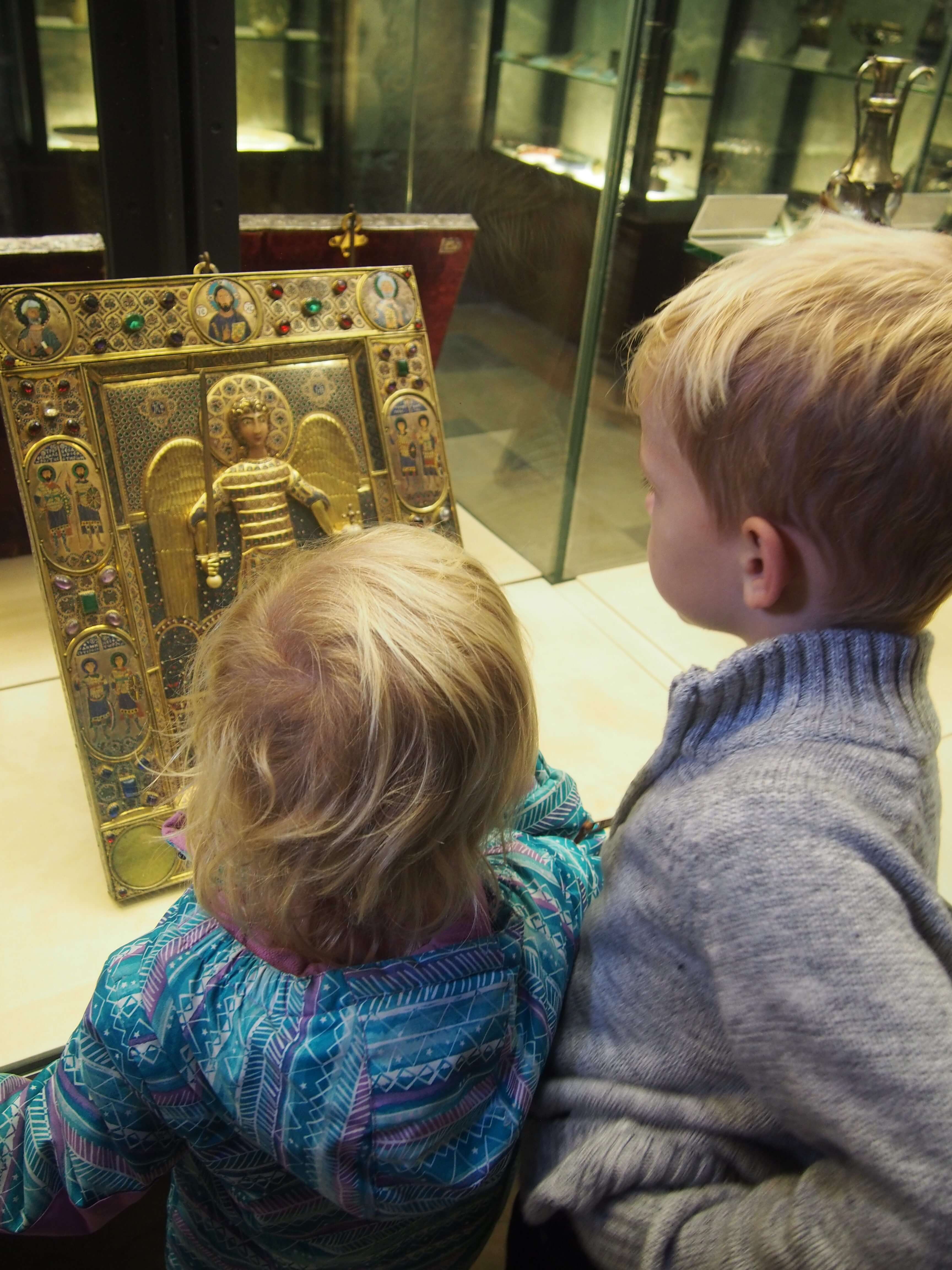 If you are visiting in summer, I would definitely recommend skip-the-line tickets. Also, remember that the church has some dress code requirements — no exposed knees or shoulders.Obviously that wasn't a big concern for us since it was in the 50s and 60s when we were there, but keep it in mind if you are visiting when it is warmer.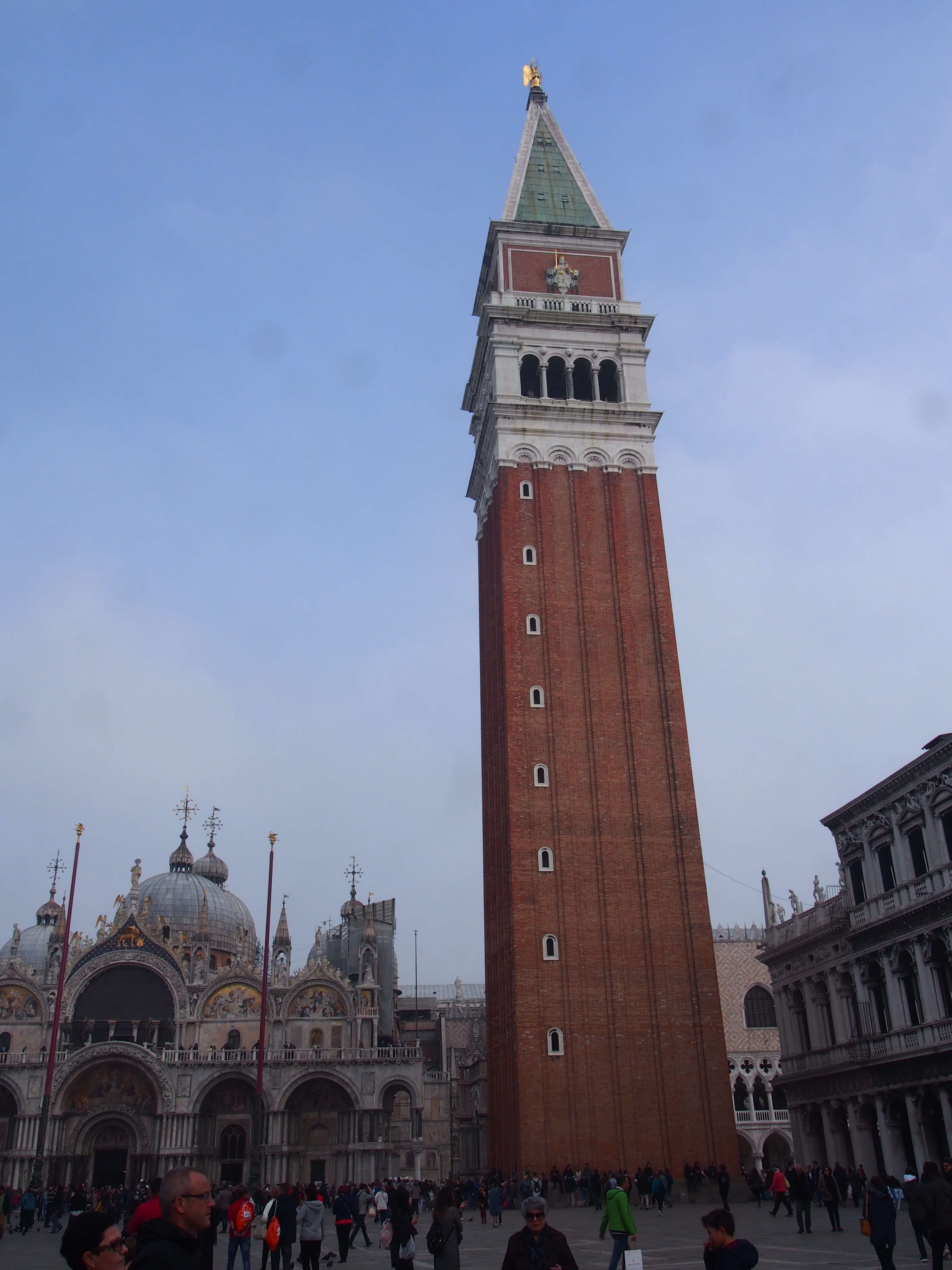 After the church, we walked the few feet to the Campanile di San Marco, St. Mark's bell tower. The early iterations of the bell tower were built in the 9th Century, but it reached its current look in the mid-1500s. Today's 323-foot tower is actually a reproduction of that original tower however, as the 15th Century one collapsed in 1902 and was rebuilt 1912.
Honestly, to me the Campanile wasn't especially thrilling — it is just an elevator ride up to the top of the tower to look at the views — but for whatever kid-reason, Owen and Fiona absolutely loved it. I guess there is something thrilling for kids about being up high? After all, they are still talking about "being on top the Eiffel Tower's head" to practically every new person they meet.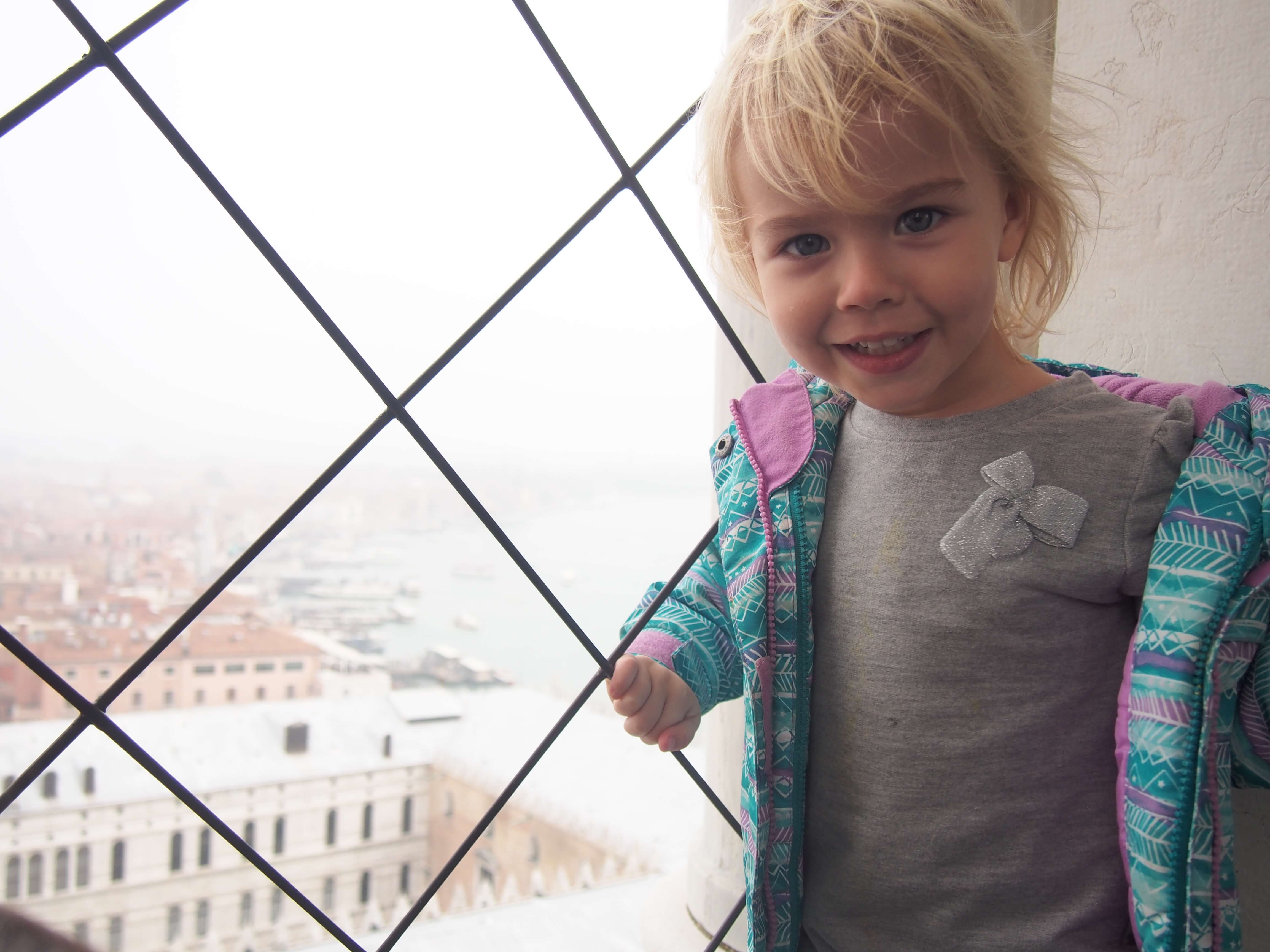 5. Visit to Burano 
While the kids loved Murano, another island was my personal favorite: Burano. Admittedly there isn't a ton to do there, but for me it was all about drinking in the beauty of the town. Historically it has been a fishing village and one known for lace-making, but what drew me in was the colorful buildings. To be honest, the kids weren't super impressed by this place but file this one under "it's our vacation too!"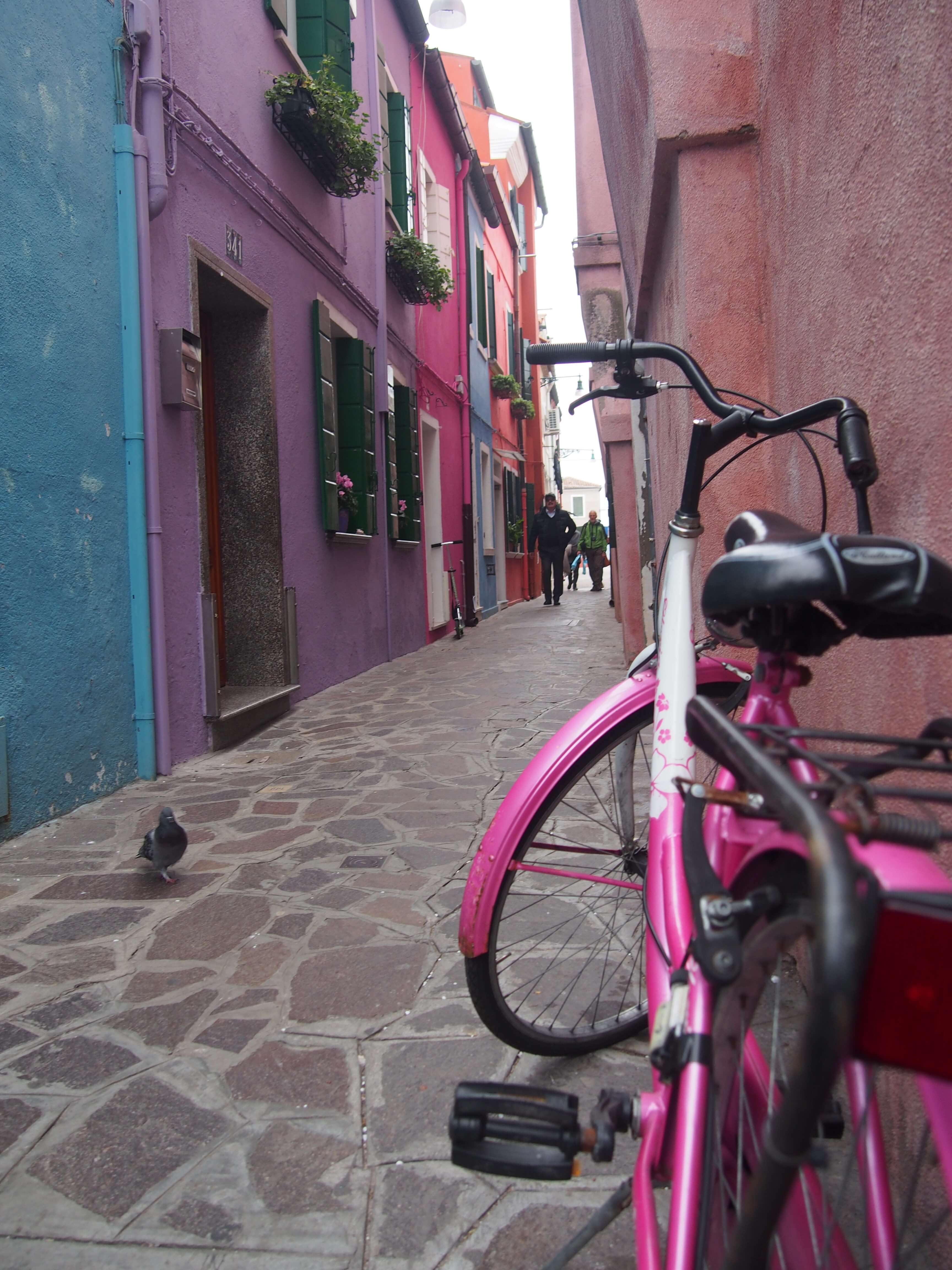 We took the vaporetto from Murano's Faro station to the Burano stop, which took about 40 minutes or so. The return to Venice took about an hour on the way back. Worth it!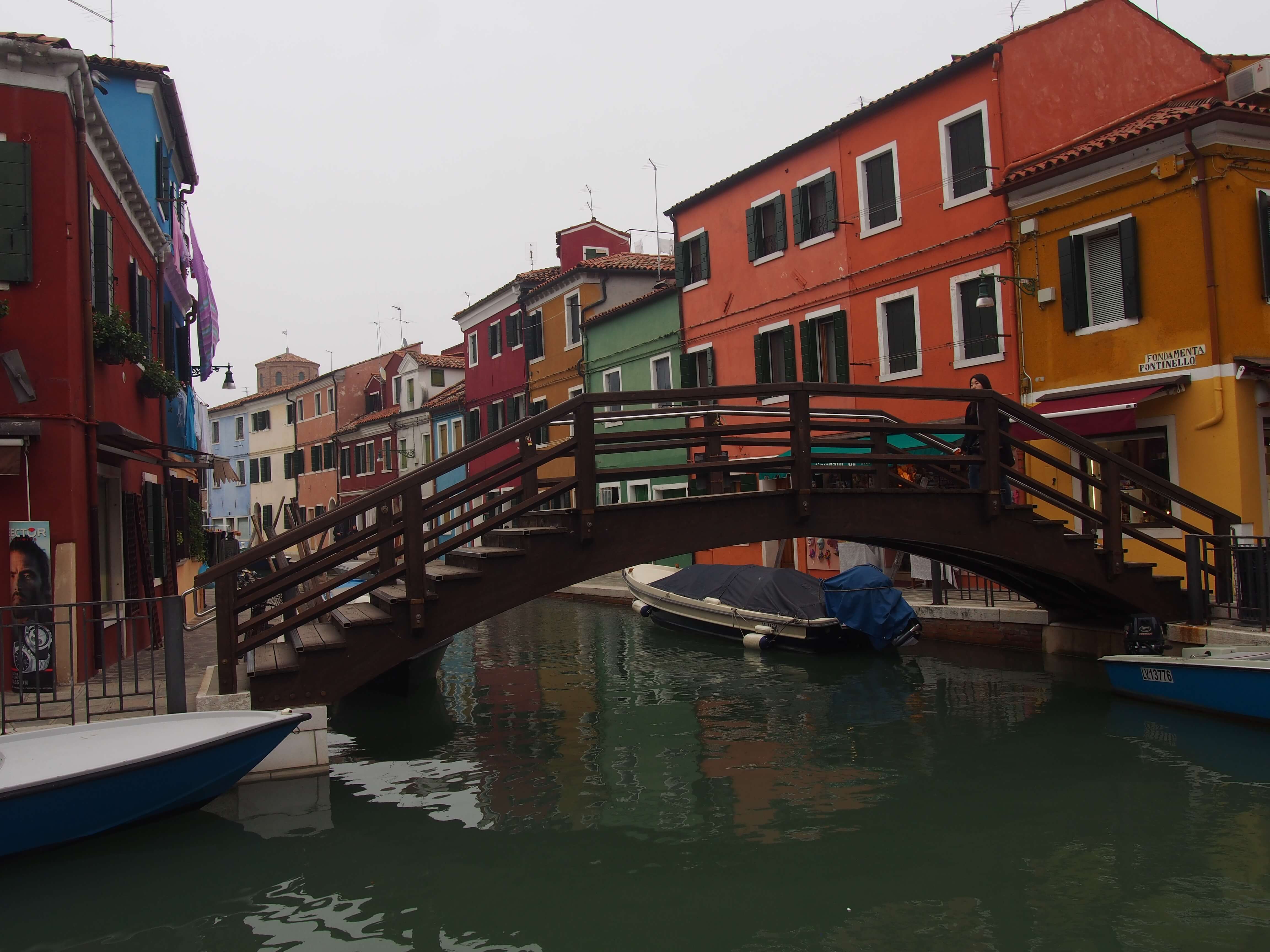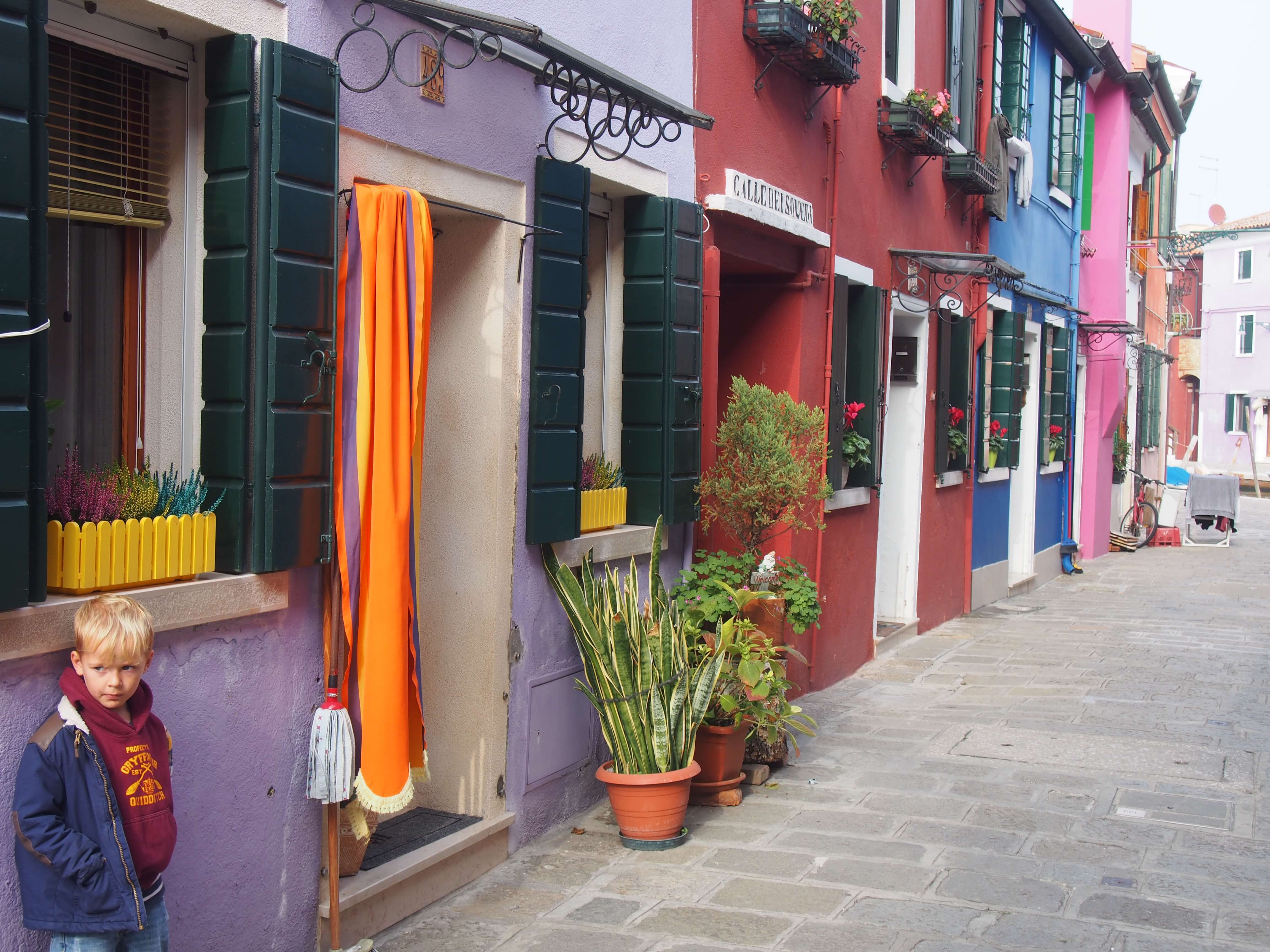 6. Visit the Doge's Palace 
I spent an absolutely unreasonable amount of time obsessing over whether or not to take a tour of the Palazzo Ducale, the Doge's Palace. On the one hand, I much prefer to know what I'm looking at while visiting a historical site. On another, even the cheapest tour (36 euro) was still a bit expensive for something that I questioned whether the kids would make it through. In the end, we decided to go with the one-hour tour in the hopes that Fiona would chill out in the carrier during most of it like she has in the past, such as at the Kilmainham Gaol. In the end she didn't last too long in there, but I still felt it was worth it even if I missed chunks of what our guide said. As to whether you want to go that route, it is simply a judgement call on your part — you know yourselves, and you know your kids.
At any rate, I definitely recommend visiting the palace even if you don't do a tour.
The Palace is right next to Piazza San Marco and is actually connected to the basilica, which was originally the doge's chapel before it was consecrated as a cathedral in 1807. It has been rebuilt in whole or in pieces many times throughout the year, thanks to its nasty habit of catching on fire (what is with that?). The public areas were built to impress upon visiting dignitaries the wealth of the trading nation, and from looking at it I have to imagine that it worked.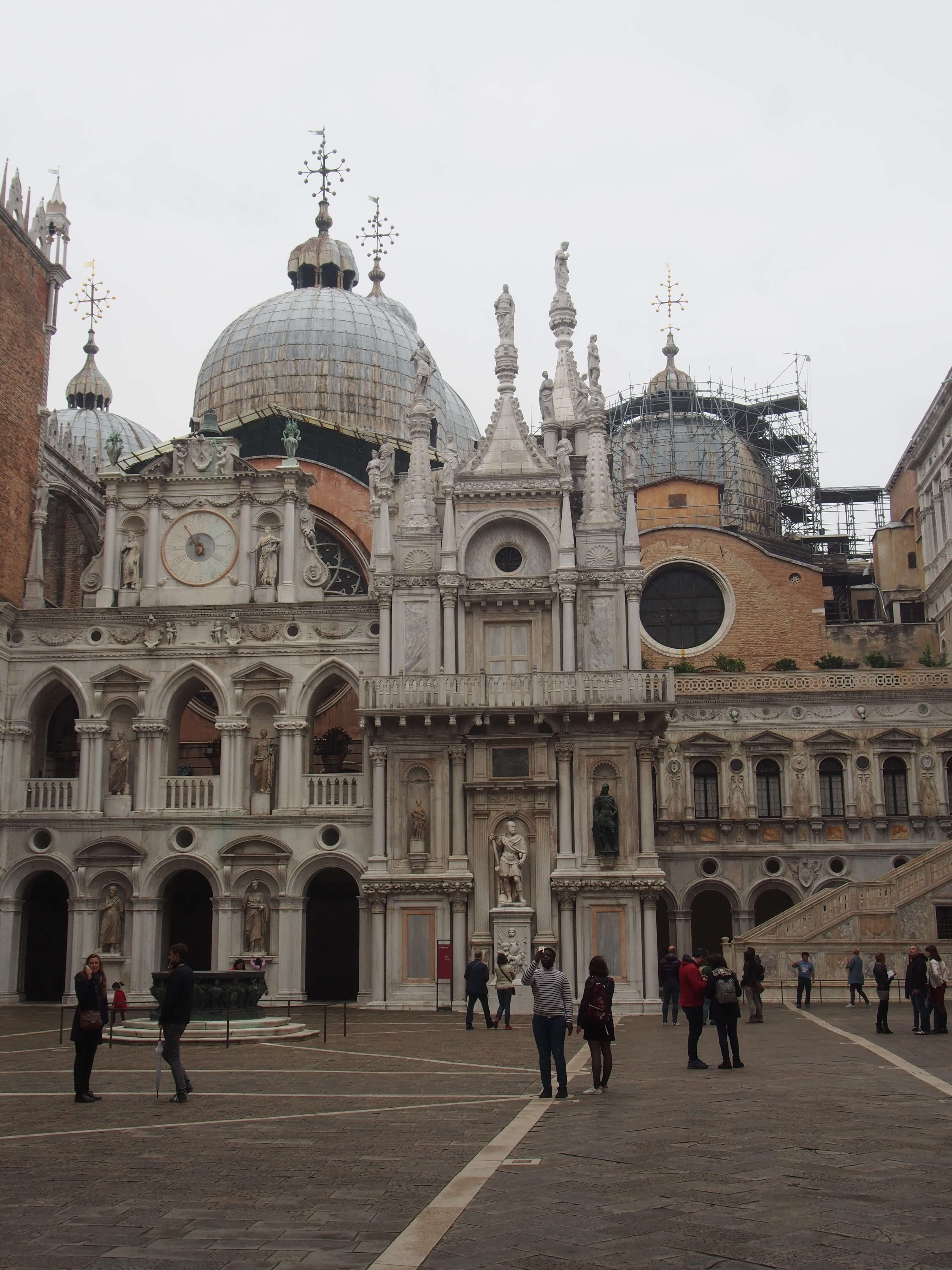 Entrance to the basilica from within the palace's courtyard.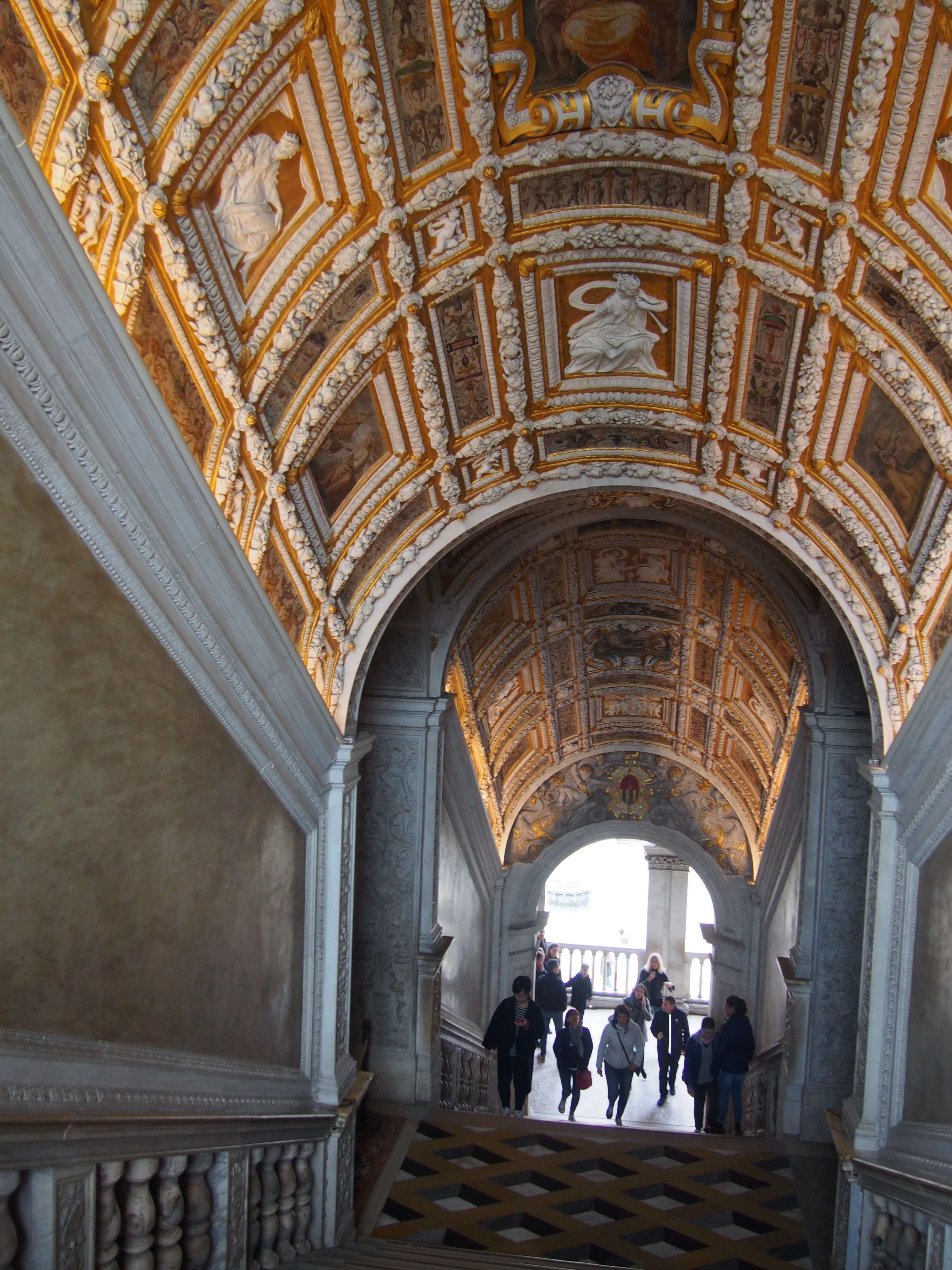 The ceilings were entirely covered with gold-framed portraits of the doges, all of whom are portrayed on their knees in a gesture of humility. Venice herself is portrayed as a beautiful blonde woman. 
Our guide, Gina, did a nice job of telling us about the history of Venice and of the building itself. I won't bore you with the details, but it was quite interesting — especially some of the details of how the Venetian Republic influenced the United States Constitution.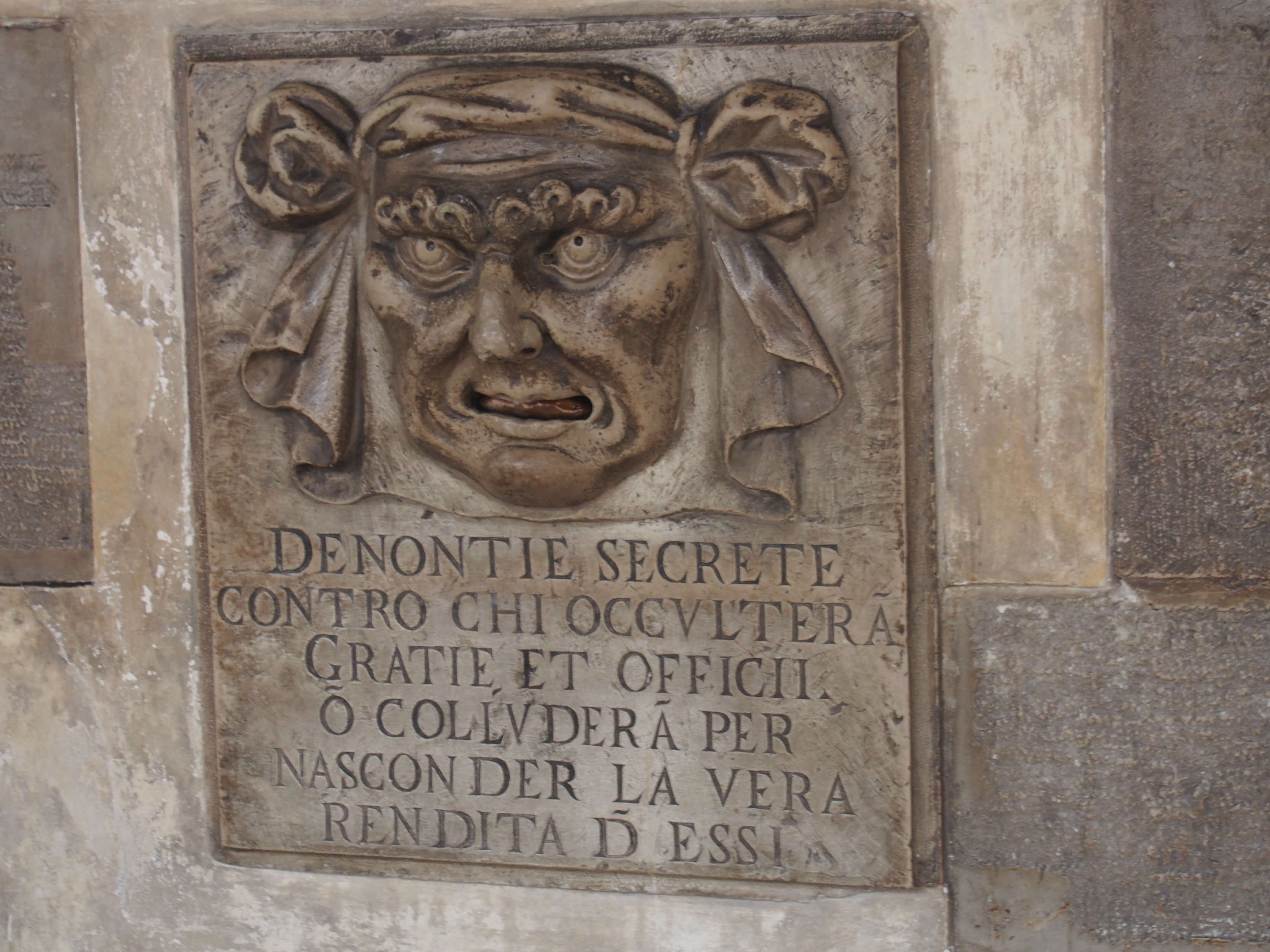 This is a box in which Venetians could accuse their neighbors of not paying their taxes, a death-penalty offense in Venice! However, anonymous accusations were not allowed and if you were found to have made an unfounded accusations — well, you were in trouble instead.
The last stop was a walk across the "Bridge of Sighs" that connects the interrogation rooms of the doge's palace with the prison next door. Lord Byron dubbed this the "Bridge of Sighs" because of the notion that prisoners would here be able to take their last look at the beauty of Venice before execution. Our guide, however, assured us that Venetians were a very practical, no-nonsense people and certainly would not have given the bridge such a fanciful name themselves. Ha!
7. Wander the city 
Seeing the "official" sights of Venice is all well and good, but in my view the most important thing you can do in Venice is simply to wander. Head down little alleys, stop and take a million pictures on some of Venice's 400-plus small bridges, people-watch or pigeon-chase in various small plazas, stop and watch gondaliers in action — whatever strikes your fancy. Of course, if you are like us "your fancy" is likely to be stopping for snacks or wine more or less constantly.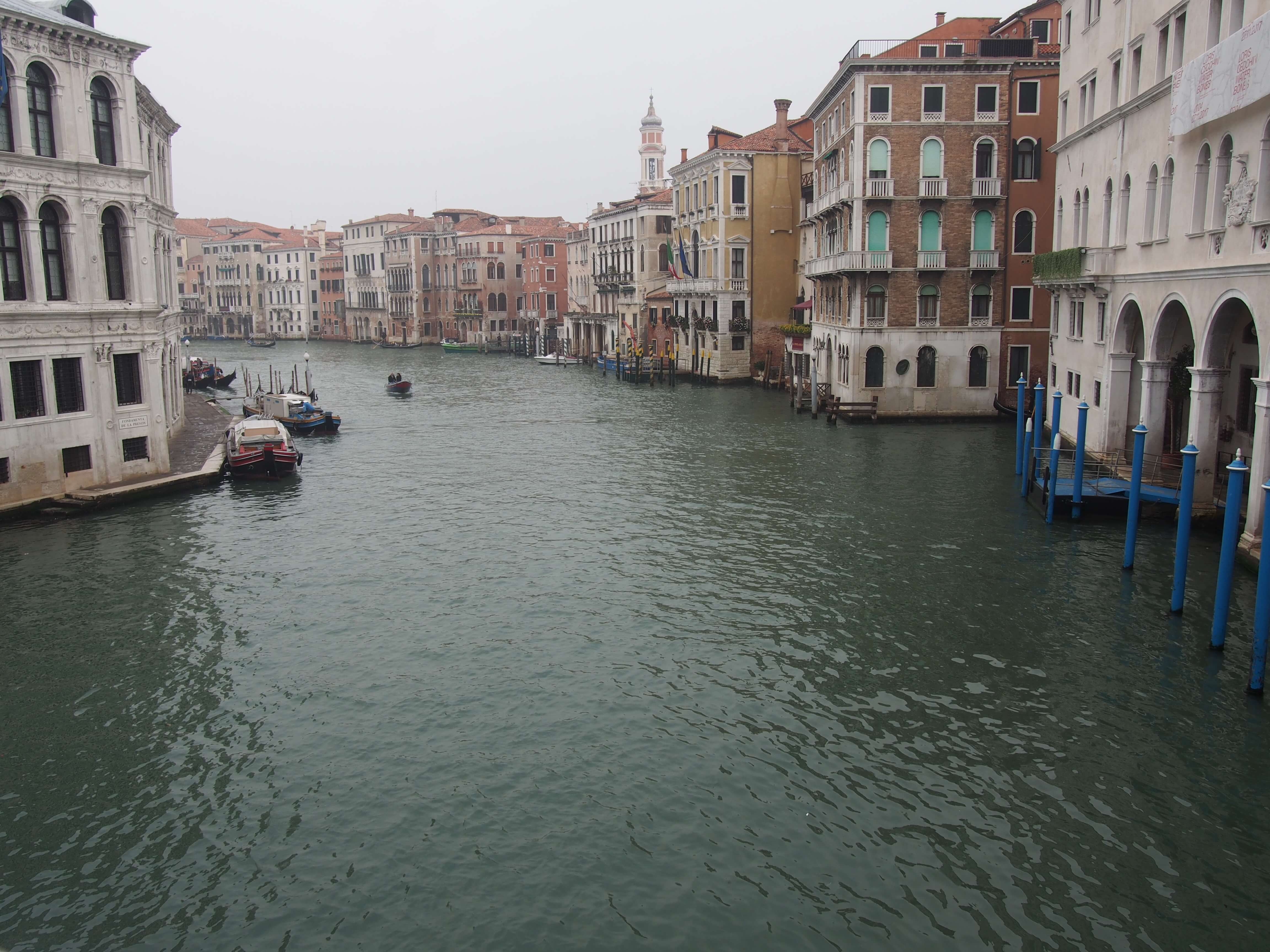 If you are going to be in Venice before November 26, 2017, I'd also highly recommend seeking out "Support," an enormous public art installation by Lorenzo Quinn. The piece is a statement about the risks of global warming and humans' power to affect change, and it is truly impressive-looking in person!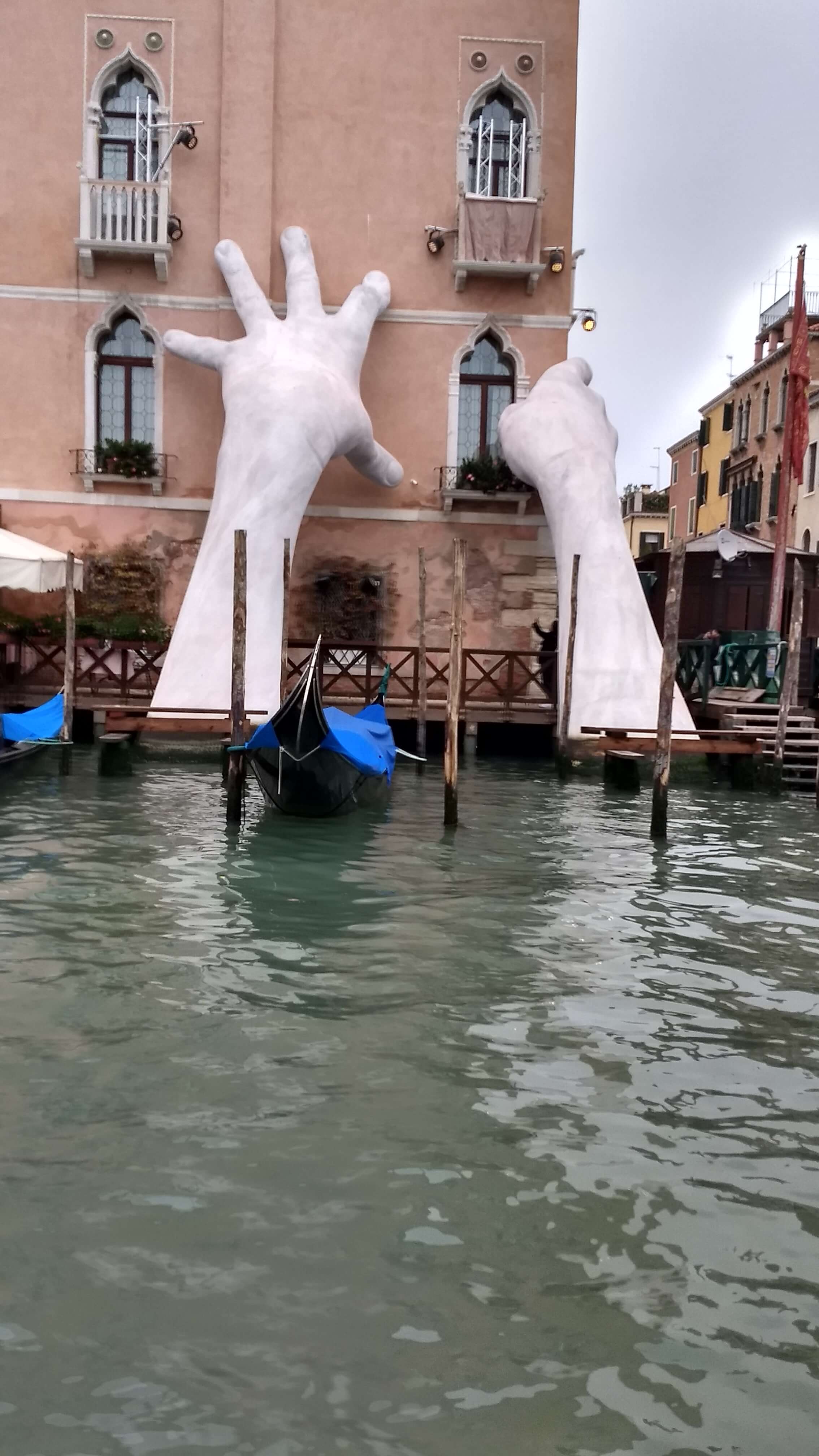 Another fun stop to check out as you walk is the Libreria Acqua Alta, a book shop known for keeping some of its books in gondolas for times when the high water floods the shop. It was pleasantly chaotic the way old bookshops tend to be, and we spent a little time poking around in there. Out back there are also book steps, which are pretty good fun to climb on. This was only about a five-minute walk from the Doge's Palace and Google Maps managed to lead us there quite easily.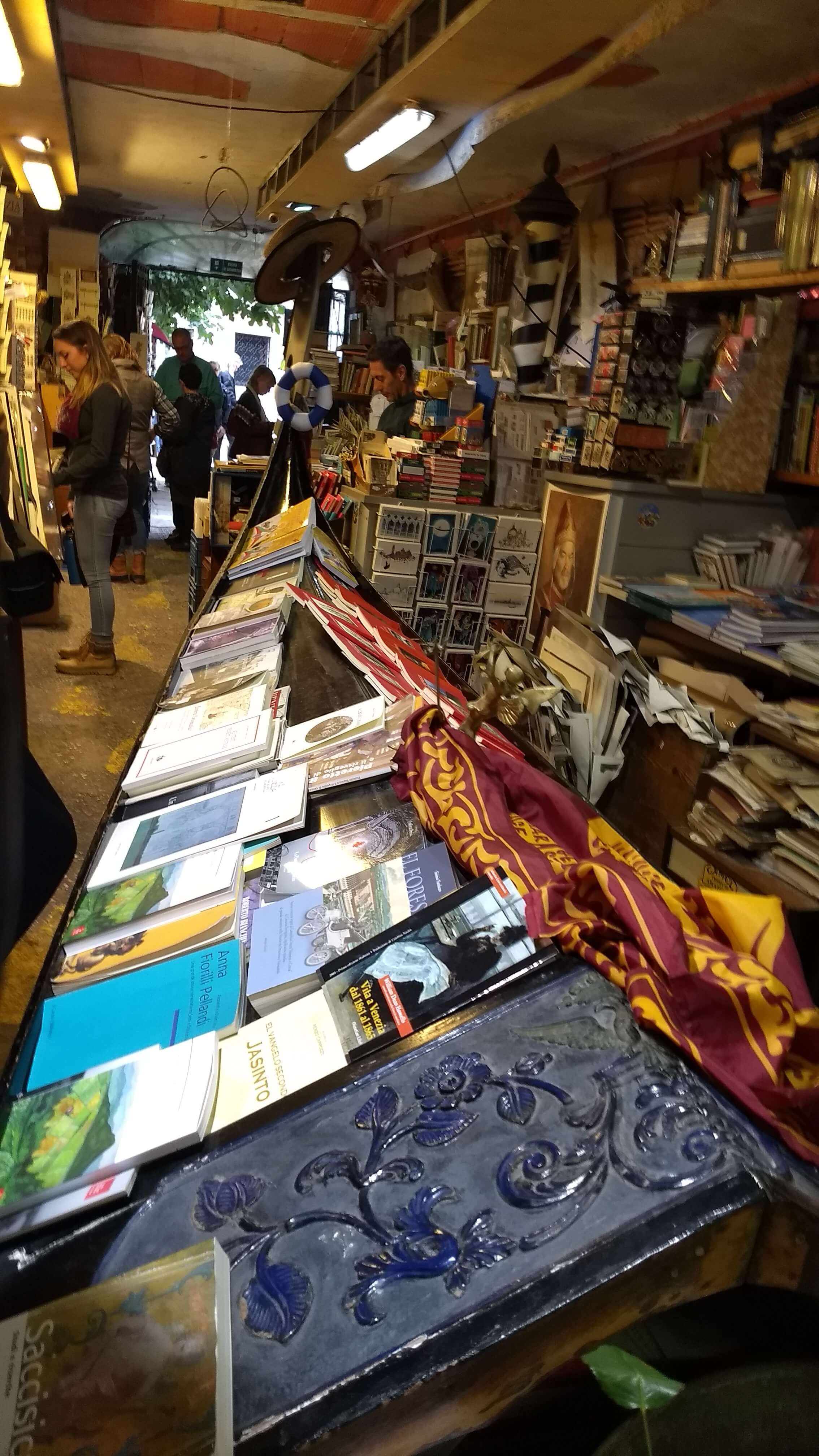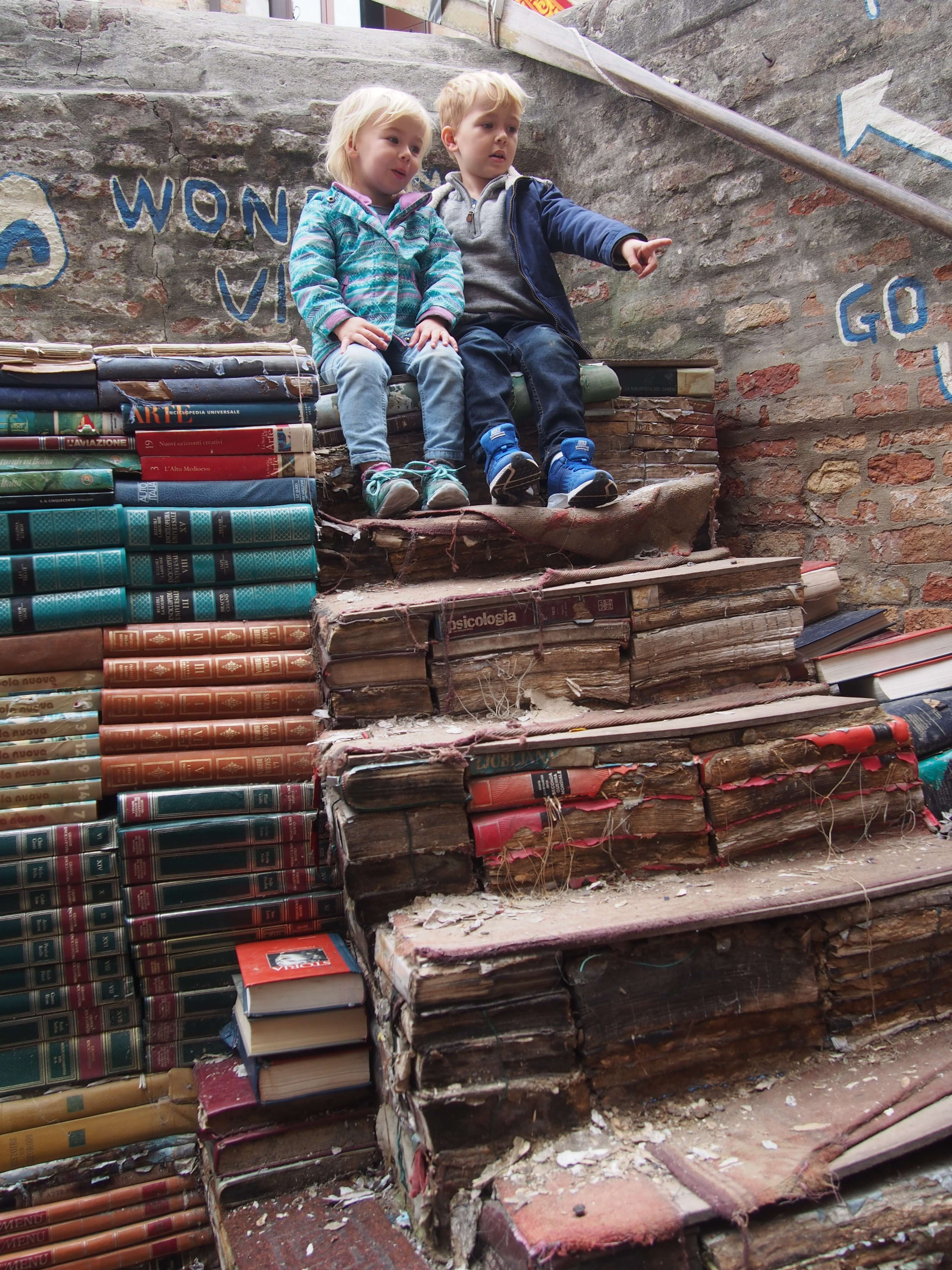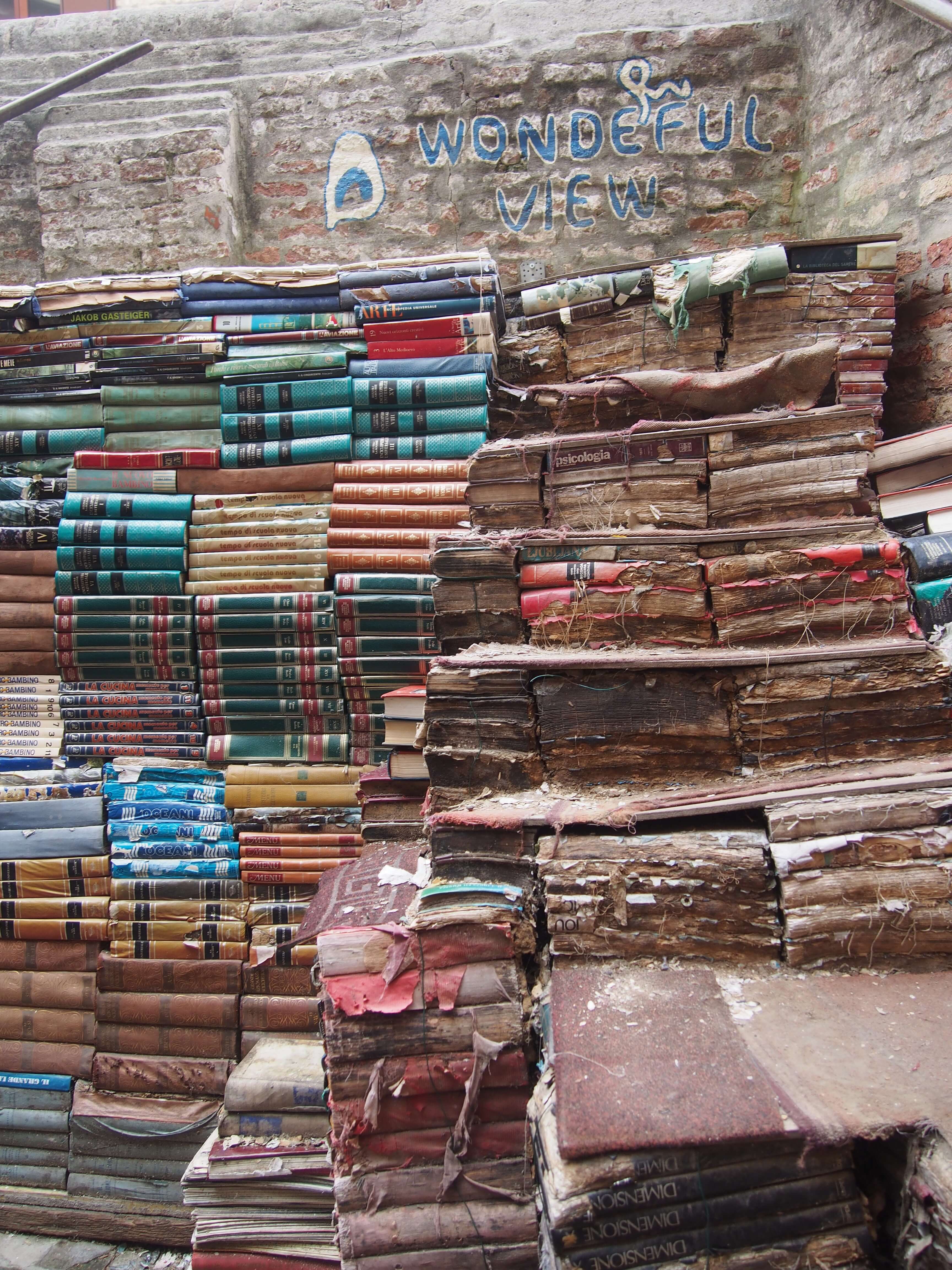 Overall, the four of us really enjoyed Venice. It is a nice little weekend trip, though I'd urge anyone thinking of going to wait for the shoulder- or off-season to visit. The crowds weren't too bothersome during a chilly weekend at the end of October, but I have to imagine that during the height of cruise ship season it would be absolute madness. In our view, three days/two nights was also plenty of time to see what we wanted to — certainly there are other sites we could have seen both inside and outside of the city, but we felt like we got to see the highlights without feeling as if we were rushing around too much. One last note — I realize that I've mentioned a few times in this post that things were quite expensive in Venice, and they were. However, it is worth mentioning that children ages 5 and under were free on public transportation and to get into every activity. Thats just one more benefit of traveling with small children! 
Happy travels!
*Pssssst! Like this post? Sharing is caring! Please also consider following me at my Facebook page, Babies With Backpacks, so you never miss a post (plus additional content!).