Planning to go to Venice? Good for you! We had a great time on our trip and found that things went pretty smoothly for us because we'd done the research ahead of time on how to get to where we wanted to go. Now, I'd love to help you do the same!
I already touched on the fun stuff we did in Venice in this post, but in here I'd like to talk about some of the boring-but-important details.
*This post contains affiliate links. 
Who is ready for the details? You are! 
How we got there: We took a direct flight from Catania to Venice on Volotea, a flight we booked during one of the budget airline's many fare sales way back in March. Their fares are already pretty cheap, but they often have promotions like "kids fly free" or "one-way fares for 5 euro." The fare sale we took advantage of was the latter, and though naturally the return fare was more expensive than the 5 euro one-way option, our final price tag was less than 40 euro per person. Not bad! It certainly is a "no frills" experience, but for us price tag is a much bigger factor in our decision making than whether a snack is included or whether the plane will be missing seat-back pockets. If you are going to fly Volotea, do remember that checking any bags will significantly increase the price and be sure to pay attention to the fine print — checking in at the airport desk rather than checking in online, for example, will cost an additional 10 euro per person. If you are interested in checking out Volotea, consider using my referral link to save $10 on your first purchase. 
Travel from the airport: There are a few options for getting from Venice's airport (actually located on the mainland) to the islands of Venice themselves, including regular buses and taxis and even the (VERY EXPENSIVE) boat taxis. I'd recommend taking the Alilaguna water bus like we did; just follow the signs for "water transport" and "water bus" and "Alilaguna" within the airport and you'll find it easily.Tickets are 15 euro one way for adults, but kids 5 and younger are free and prices are reduced for those 6 to 14 years old. Tickets can be purchased from machines at the Venice airport or within the city (also at counters if you prefer humans), which are easy to find and user-friendly. We took the Linea Arancio to the Rialto Bridge stop, which took less than an hour. One caution: on two occasions we had to take a later water bus because it was already full and we couldn't fit. They run pretty frequently so it wasn't a big deal, but if you have to be somewhere at a specific time I would caution you to budget plenty of extra time just in case.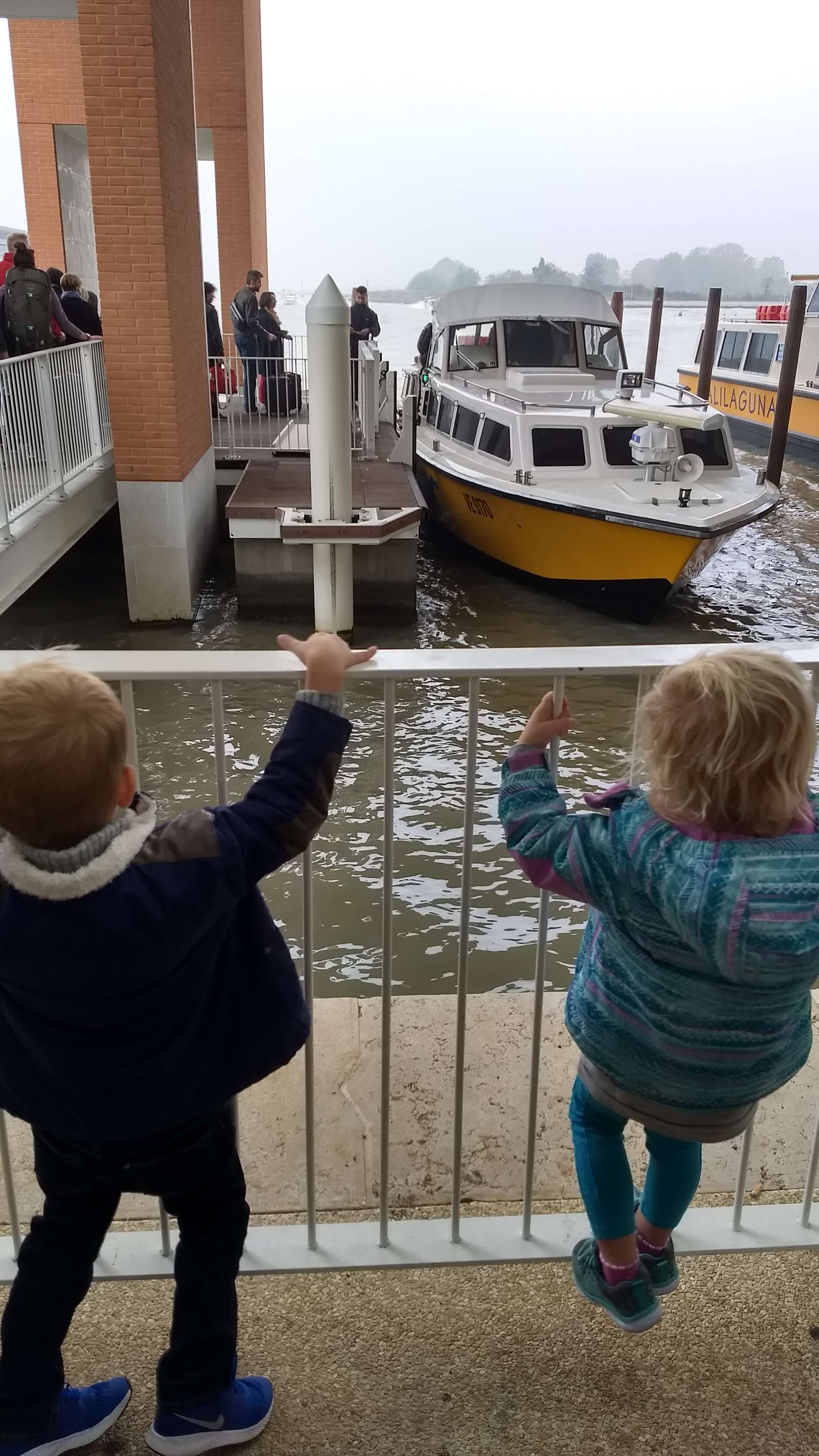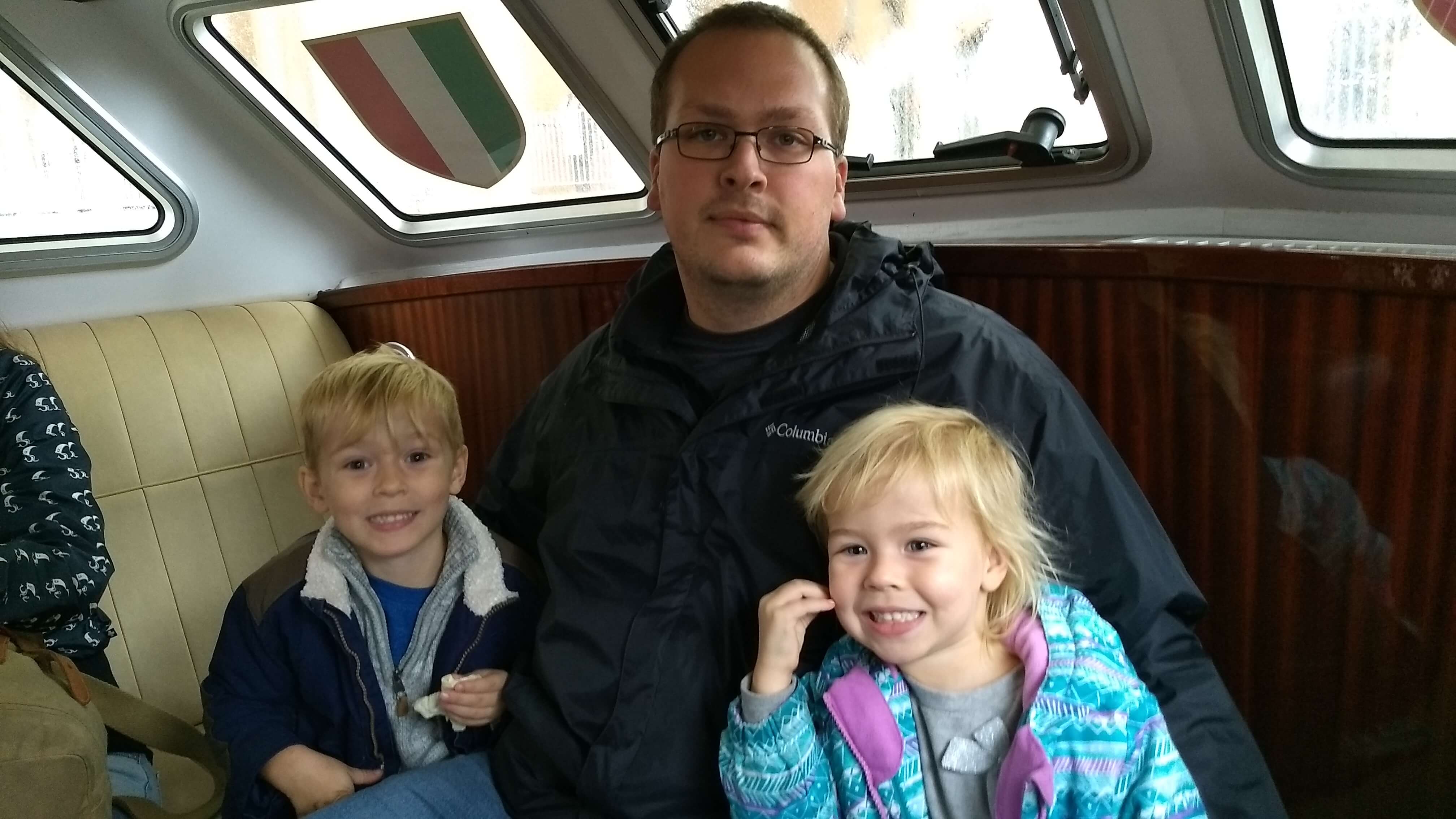 The ride itself was perfectly nice, and included cruising through the Grand Canal as we neared our destination. It actually ended up being a good thing that we didn't make it on to the first boat as planned, because we were then the first ones on the next boat and got our pick of seats. Considering how overloaded some of those boats looked, we preferred Option B!
Where we stayed: 
Venice is notoriously expensive, but we were quite pleased to find an excellent place to stay only about six minutes' walk from Piazzo San Marco! As I've mentioned before, we prefer to stay in apartments because separate living areas mean that we can put the kids to bed but stay up later ourselves. In this case, I found a place listed as the "Venice Dream House". Although it was listed on the hotel website, it is actually a bunch of apartments in different buildings in Venice, mostly in the Piazza San Marco area. We chose the one labeled "Executive Apartment — San Marco Area, Bolero" and paid $159 per night. Admittedly this is a bit more than cheap me likes to pay for hotel rooms, but frankly things are generally just expensive in Venice and I really felt like we got our money's worth with this place. It wasn't especially fancy, but it had a bedroom with a large bed, reasonably-large living room with a sofa bed where we put the kids, a nice bathroom and a fully-equipped kitchen. That last item was helpful on Saturday night in particular because our kids where exhausted and whiny, so we decided to buy them some food at cook it at home rather than drag them to a restaurant.
Where we ate: 
So, Venice isn't exactly known for its food (though seafood is supposed to be decent). We made plans to eat at exactly one fancy spot — the well-rated Trattoria al Gatto Nero — but when that fell through we didn't seek out anything fancy. A good quick-eats spot was the Dal Moro's Fresh Pasta-to-Go, which is a chain but still pretty tasty. You pick your noodles, sauce and any other additions you want and they cook it up for you and hand it to you in a cardboard box like you'd get at a Chinese takeout place. We ate it in the street right outside the shop.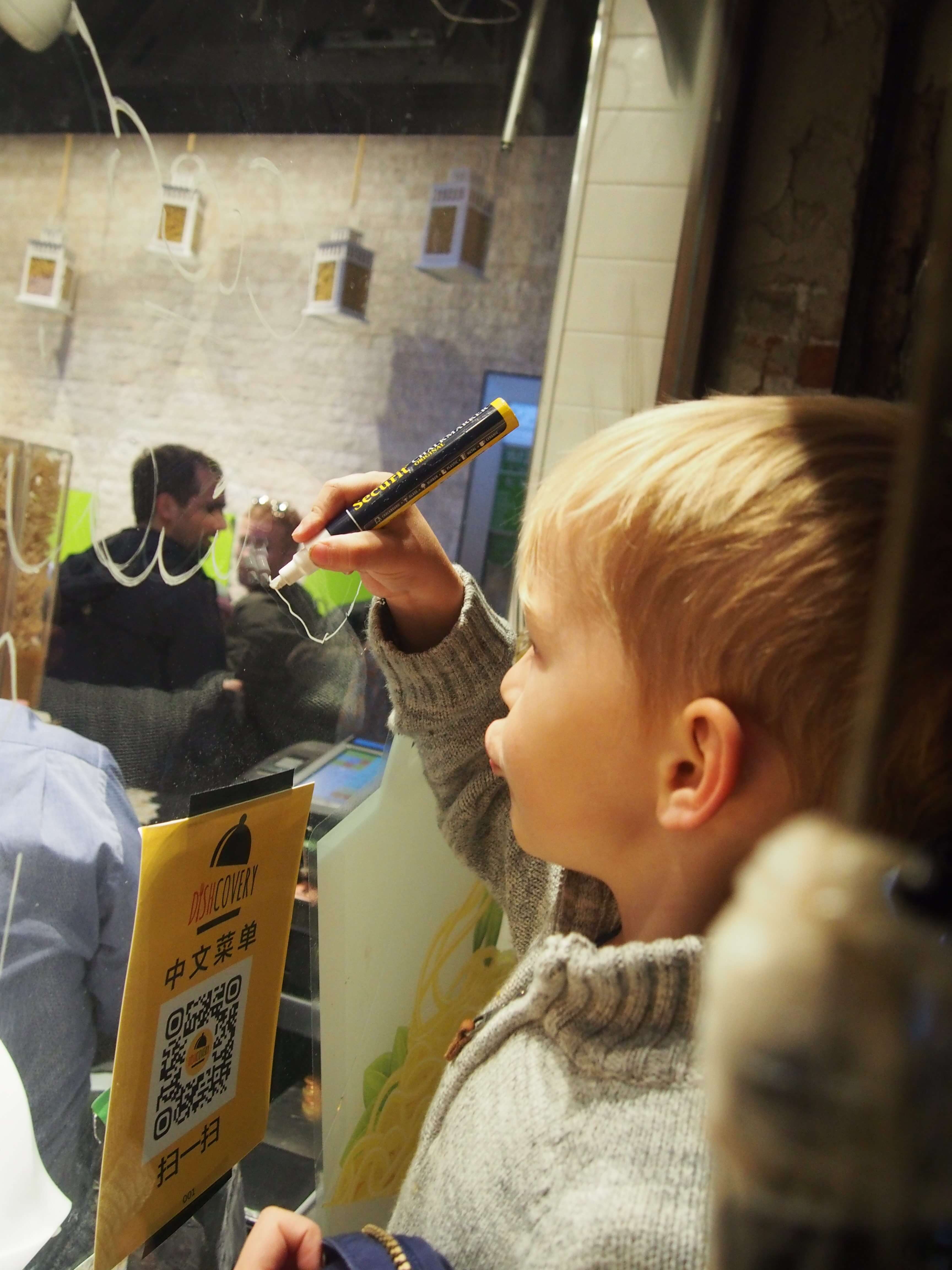 The kids' favorite part was being allowed to draw on the shop window! 
Other than that, our meals were fairly unremarkable. We made lunch our bigger meal of the day and avoided eating in Piazza San Marco or at places along the Grand Canal. I'd recommend doing both these things if you are making an effort to save money in Venice!
How we got around: 
As always, walking is our favorite mode of transportation and in Venice it was especially nice to be able to do so without fear of being smashed by a speeding scooter. Our worries, then, were limited to making sure the kids didn't plummet into the filthy canal water, which would no doubt be on accident in Owen's case or on purpose in Fiona's.
Visiting the islands, of course, did require transport. For this, Chris and I each got a 24-hour pass for the vaporetto (water bus) that allowed us to go from Venice to Murano to Burano and back on Saturday. We took the 4.2 vaporetto line from Fondemente Nove to Murano's Colonna stop, then took one from Murano's Faro stop to Burano. The waterbuses can get a little confusing, but the officials on each were very good about being clear which water bus was going where (even if it didn't necessarily match the timetable we'd read). We could have ridden the vaporettos all day and gone to the islands of Torcello or of San Michele, the cemetary island a few minutes from Venice, but we were pretty exhausted and glad of a restful one-hour return trip on the vaporetto from Burano to Venice's Fondamente Nove.  Day passes cost Chris and I 20 euro each, but the kids were free. I mentioned this in my other post, but I'll say it again: if you need to be somewhere at a specific time and are using the vaporetto, leave very early. On almost every occassion, Chris and I couldn't get onto the very first vaporetto that arrived because it was too full and had to wait around for the next. It isn't a huge issue given they come pretty often, but if I was trying to make it to a reservation or something it might have stressed me out.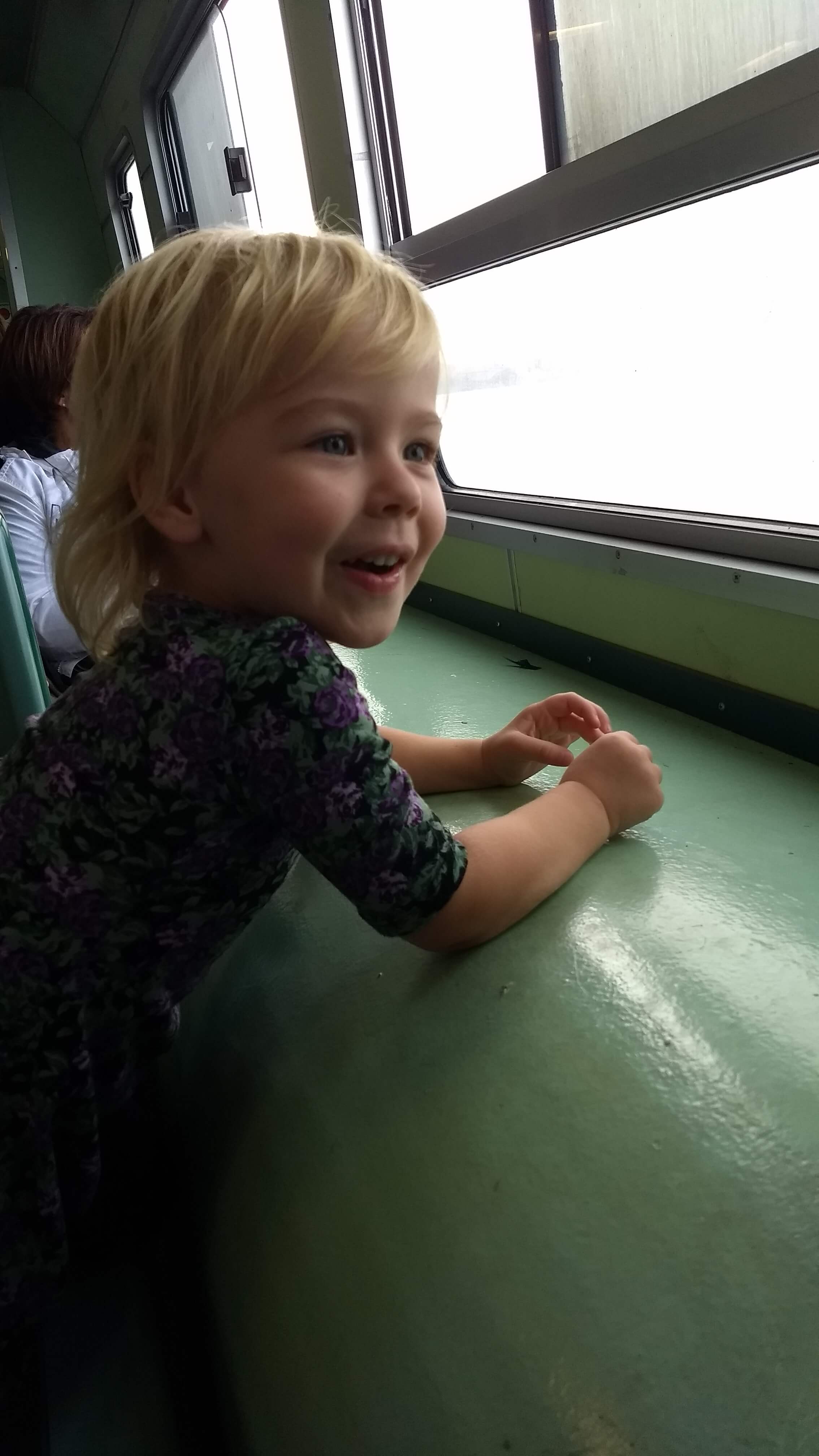 Fiona loved looking out the window! 
Well, I think that about sums it up! Have you been to Venice? If so, what did you like? What didn't you?
*Pssssst! Like this post? Sharing is caring! Please also consider following me at my Facebook page, Babies With Backpacks, so you never miss a post (plus additional content!).