If you glance through our library of kids' books, you'll notice an awful lot of them have to do with children who want to see the world. I can't imagine why!?
With the Christmas season approaching — and books being my absolutely favorite gift for kids no matter the season — I thought I'd share some of my recommendations for books to make your kids want to see the world! This particular list is aimed at toddlers and preschoolers because that's how old my kids are, but perhaps in the future I'll do one for older kids as well. All of these I either have on my shelf or I've found after scouring the Internet — and promptly added to my own Amazon shopping cart.
*This post contains affiliate links.
1. The Snail and the Whale, by Julia Donaldson. This books is more about travel generally than any particular place specifically, but it is so lovely and soothing that it had to make the list. Lovely images, beautiful rhyming prose.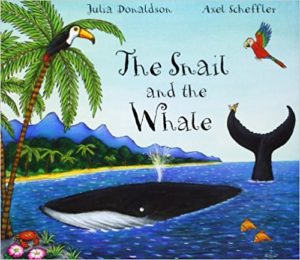 The Snail and the Whale is available at Amazon for $15.19 as a hardcover and $6.99 as paperback at the time of this article.
2. Busy, Busy World, by Richard Scarry. These are the books of my childhood; I remember very specifically reading What Do People Do All Day? over and over at my grandpa's house growing up and I was so touched when my mom gave me a copy when I was pregnant with my son. So it seems super weird that I'm only just now realizing there is one with 33 stories from all over the world. It is already in my Amazon cart!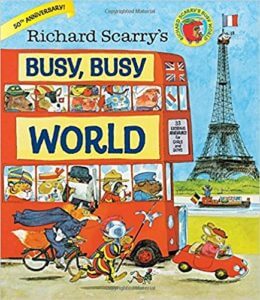 At the time of this writing, Busy, Busy World is available on Amazon for $13.12.
3. Madeline (and Madeline in London and Madeline in America!), by Ludwig Bemelmans  I bought this book for my daughter long before we moved to Sicily just because we loved it, but reading it right before our Paris trip was fun because we knew we'd be seeing the sights in person soon enough! A good pick for piquing your kids' interest in visiting France and — if you go with one of the sequels — London or America.
At the time of this writing, Madeline is available at Amazon in hardback for $13.66 or paperback for $8.94
4. My Aunt Came Back, by Pat Cummings. I receive this book as a gift from my aunt, and we love it! The aunt in question is coming back from places that kids are less likely to have heard of — Kathmandu and Bucharest, for example — and my crew and I had fun finding each place on the map. The bright colors and rhymes should appeal especially to younger kids.
My Aunt Came Back is available on Amazon for $5.51 at the time of this writing. 
5. Around the World with Mouk, by Marc Boutavant. This gorgeous book follows Mouk the Bear on a journey that starts in a French cafe and leads all around the world! It is more interactive than most books, with search-and-find challenges and reusable stickers. Super cute!
Around the World with Mouk is available on Amazon in hardback only for $13.78.
6. At the Same Moment, Around the World, by Clotilde Perrin. This gorgeous book has two benefits: giving kids a peek into people and places across the globe, and teaching them about time zones as well. The art is stunning even online and I can't wait to get my hands on it in real life.
At the Same Moment, Around the World is available at Amazon in hardback for $14.37 at this time. 
7. This is the World, by Miroslav Sasek. This book is a compilation of a lot of kids books that Sasek has written about various cities across the world. It was a Book of the Year finalist and looks absolutely gorgeous. I will warn that it is listed as being for older kids (10+) though I've never been one to follow those recommendations too much.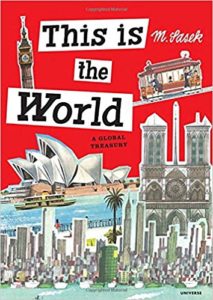 This is the World is available on Amazon in hardback only for $27.40 as of Nov.4, 2017. 
I'd like you all to know that I'm resisting very hard — despite my deep affection for the books — the urge to include the illustrated versions of the Harry Potter books on the grounds that a) They aren't particularly travel related, except perhaps to encourage people to want to visit London and b) most people aren't reading them to their younger children. (Though Owie and I have been reading them since he was about 3.5).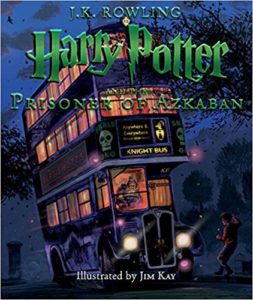 Ooops! It seems resistence was futile. Sorry, but I couldn't help myself. Owen and I are currently reading the third illustrated book (they are being released one-per-year each October, and this one just came out for 2017) and, like the other two, Jim Kay's art is breathtaking. If you are a fan, you need to own these books.
Harry Potter and the Prisoner of Azkaban: The Illustrated Edition is available at Amazon right now for $21.30, and is 100 percent worth every penny.
Sharing is caring! Know a family of bookworms, travelers or traveling-bookworms? This is the list of them! And if you aren't already following my Facebook page at Babies With Backpacks, please consider changing that so you can keep up with our shenanigans between posts.