Going on a long (or, let's be real, any) flight with little kids anytime soon? It doesn't have to be as miserable as you fear if you are packing properly. We've crossed the Atlantic with toddlers/preschoolers about five times in the last 13 months and we've made the mistakes so that you don't have to. I've detailed my best advice for surviving a flight in this post, but in the meantime let's focus on what you are carrying onto a flight with toddlers or preschoolers. See below for our definitive packing list!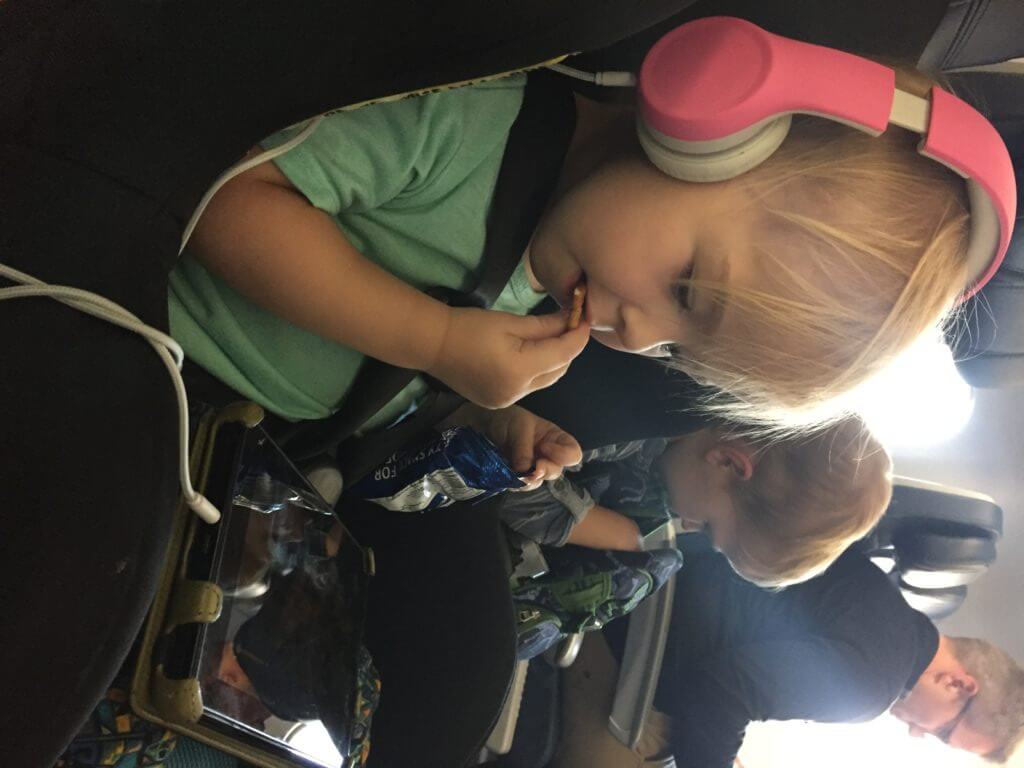 Planes with Children: A Packing List
A car seat for your toddler. If yours is bulky or heavy, I'd suggest investing in a cheap, lightweight option to use for trips. We have the

Evenflow Tribute LX

Convertible

Car Seat, which cost less than $50 on Amazon and is much less bulky than the one we have for her in the car.

Car seat travel cart

.

 I talk about this here, but this has become an essential for us.
iPad/Kindle/Tablet/Phone. If you are crossing the ocean, you'll probably have a built-in entertainment system. Still, it is better not to bank on it as we had one situation where Owen's was broken. I'd suggest downloading movies or shows on the iPad/Kindle/whatever ahead of time — as well as kid-friendly games — so that you aren't depending on having wifi available.
Headphones. Don't count on using the ear buds provided by the airline; kids' ears are too small to use them comfortably. We have the

Nenos

brand ones and have been really happy with them — they link together so if there is only one device you both kids can hear — but I have a friend who swears by a V-Tech brand as well.
Change of clothes. Because kids are going to dump stuff on themselves. I'd suggest bringing the clothes that you can roll up as small as possible, such as leggings. For this last flights I packed stretchy Halloween leggings and a Halloween shirt on the theory that either child could wear it in an emergency. If you have a baby with you, obviously pack several outfits and a couple of shirts for yourself.
Suckers. These are specifically for take-off and landing, they help the kids deal with the ear pressure. We used to use Dum-Dums but they were crunching through them too fast, so now we are on to Tootsie Roll Pops.
Snacks and food. I've talked about this at length in my other post, but for real — lots and lots of food.
Baby wipes. Even if your kids are past diapers, these are good for wiping up the mess when the airline decides to give them ice cream for some godforsaken reason.
Wad of paper towels. Because when your kids dumps his entire meal into the aisle and everyone else is pretending they don't see it, you don't want to be trying to clean it up with the pitiful airline napkins. Again, ask me how I know. 
Two large Ziplock bags. For messes or for play-dough storage — just trust me, they'll come in handy.
Medicine. We've never given our kids Benadryl or anything before a flight so I can't speak to that, but I would absolutely pack some children's medicine in case they start feeling sick on the plane. If old enough, tablets are better than liquid.
TOYS. Ah yes, toys. I have a bunch of recommendations on this, so I'm actually going to break it off to a separate category.
Our Plane Toy Recommendations
So, in my opinion the most important characteristics for toys to play with on planes are small, relatively new to the kid and easily replaceable. Don't bring any super-special gifts from Grandma because you don't want to be frantically reaching under people's seats looking for them when the kid inevitably drops them. These are our tried-and-true best toys for planes.
Plus Plus. I've talked about these before, but we love these little Danish plastic bricks and they keep the kids occupied for a long time. We try to save them for planes or restaurants so they don't lose their appeal.
Coloring books and crayons. This was counter-intuitive for me this last flight because I figured it would be annoying when they kept dropping the crayons. Turns out, Owen is very responsible and Fiona's car seat kept them contained. This kept them entertained for a surprising amount of time.
Sticky creatures. A friend gave Owen a box of rubbery, gummy frogs and lizards (like these) more than a year ago and he's still playing with them. They work well for planes because they don't roll away.
Blind bags. These usually contain kind of dumb toys, but the novelty of it being new and also unknown means we get a lot of mileage out of them. For those not in the know, "blind bags" are just small plastic bags that contain an unknown toy, usually one requiring the kid to put a few pieces together to construct it. They are very cheap and there's one for practically every cartoon or fad out there.
Play-doh. The miniature ones (like you'd get for a party favors) so they don't take up much room. I will warn that there is an outside chance that security will confiscate these; they are NOT banned, but it is up to the discretion of the the TSA agent apparently. We haven't had a problem, but I pack them in my own carry-on and make no promises about them in case it gets taken away.Owen with Plus Plus and his coloring stuff. 
I'd like to hear from you! What are your personal must-haves when packing for a flight with kids?