Ah yes, it's been too long since we had a ridiculous Sicily driving story, hasn't?
(Though the rabbit incident should have been enough to fill my driving-stories quota for like a year and a half).
Caltagirone is a city in central Sicily (about an hour from Sigonella) that is known for its gorgeous painted pottery. Chris and I took the kids there in March. Its biggest attraction is an enormous 142-step staircase on which each step is decorated with its trademark painted ceramic pottery.
Beautiful, right?
Yeah, we almost ran it over. Almost. 
At worst, I'd say we nudged it.
Backing up — my friend Amanda and I decided to head to Caltagirone for  some Christmas shopping this morning while our kids were in school. Amanda graciously offered to drive her small SUV, which is most likely the reason I am at home writing this right now instead of still stuck inside my minivan in a situation like this: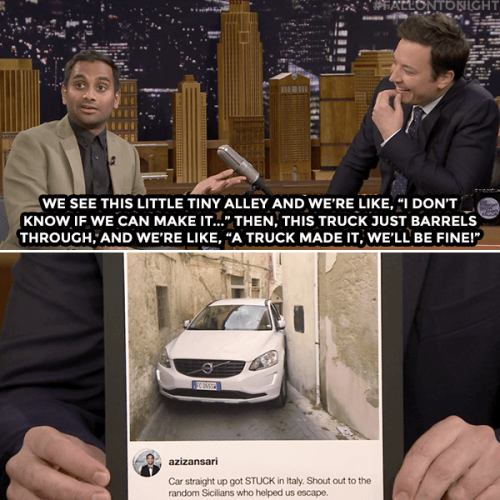 Though actually we did have a random Sicilian of our own to help us. Lucky for Amanda, Aziz and I that Sicilians are so helpful!
Anyway, I was navigating and blindly following our Google Maps directions to the general direction of the staircase. We didn't realize that we were being led (through numerous small streets) to the top of the stairs until we looked right and bam! There it was. Like, right there.
So, locals told us we couldn't park up there so we decided to uh, just figure out how to get to the bottom. Which was fine! Admittedly we had to stop a few times to pull in mirrors and I at least held my breath through quite a few suuuuper tight turns, but all was fine.
Until we looked ahead and sticking out into the narrow roadway … a stoop. Or what we thought was a stoop. Until we got closer and realized it was the bottom of the fucking staircase.
So I got out of the car in an effort to help Amanda thread the needle and avoid smashing the stairs. Turns out I suck though, so Random Guy across the street started shouting instructions instead and we all found that a much better strategy. We made it out having just, I'd say, nudged the stairs. And then basically dissolved into hysterics.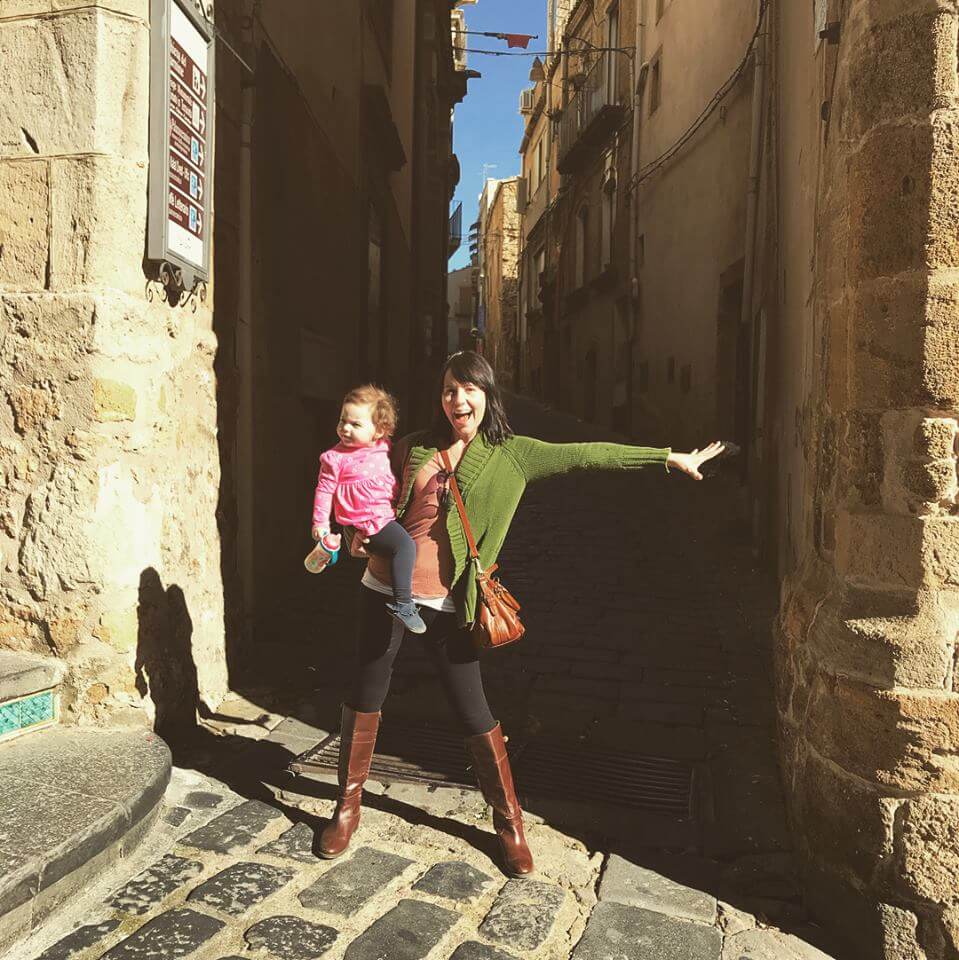 The fabulous Amanda and her daughter Maggie! Arms stretched for scale. On the bottom right, the stair we nudged. Fortunately, this one didn't have ceramics on it, like the one directly above.
Anyway, we had a fabulous and super quick visit. I finished up a bunch of Christmas shopping at Ceramiche Artigianali di Salvatore Gurreri and also got a quick tutorial from an employee there.
Gorgeous, no? But I'm not telling what came home with me!