Siracusa (Syracuse) is one of my favorites towns in Sicily, but it recently occurred to me that I've not posted nearly enough about it or Ortigia (though you can find some information here and here). It also seems like a good way to kick off a new series I'd like to do on the best places to visit in our beautiful Sicily. So — let's talk Siracusa and Ortigia!
I would also like to note that while this doesn't necessarily have any historical significance, this town is where a 2-year-old Fiona stabbed her brother in the head with an ice cream cone on Mother's Day 2017. Hands down one of the funniest damn things I've ever seen in my life.
Why go? Siracusa is a quintessential Sicilian town, a UNESCO World Heritage Site and — at least in my opinion — one of the prettiest ones Sicily has to offer. It has something for everything, whether you are interested in history, eating, boating or just soaking in the scenery. It is also less than an hour from the Catania airport and is an excellent jumping off point for a bunch of other cities on the eastern and southern parts of Sicily, including some of our favorite beaches: Fontane Bianche, Cassabile and the "fancy beach" in Noto.
Where to park: For the archaeological park, you'll see a lot quite near the entrance where you can park for a few euro. In Ortigia, I'd suggest Parcheggio Talete near the seaside.
Where to stay: Siracusa is a good day trip for us, but if you are visiting from further away it also makes a great spot to stop for a day or two. I'd recommend staying in a hotel or apartment on Ortigia; the island is small enough that you can walk everywhere easily and prices are quite reasonable. Check out this one as a possibility — good location and great reviews.
Where to eat: La Volpe e L'Uva (The Fox and the Grape). Hands down, my favorite place to eat in Siracusa! They have pizza around the clock — most restaurants in Sicily don't have pizza until evening — and everything I've had there has been delicious. The restaurant is right on the main piazza in Ortigia, directly across from Duomo di Siracusa. Sit outside under the umbrellas, have some wine and eat everything.  I recommend ordering the The Fox and the Grape pizza. (It's Chris' philosophy that if a restaurant gave a particular dish its name, it's the one to order. In this case, he was definitely right!)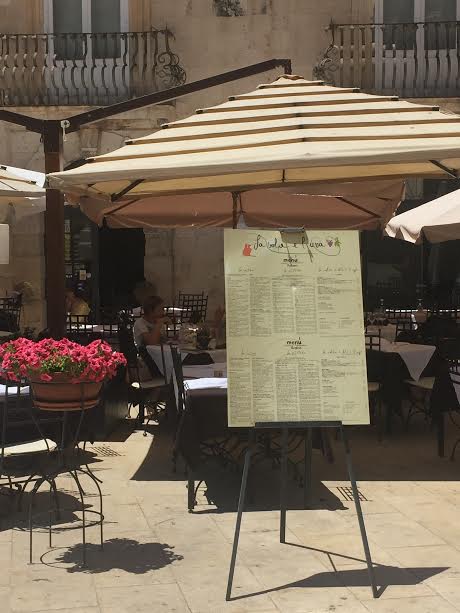 What to do: Everythin
1. Visit Siracusa's archaeological park (Parco Archeologico Della Neoplis)  to see its 5th century Greek theater, Roman theater and the Orecchio di Dionisio, the "Ear of Dionysius."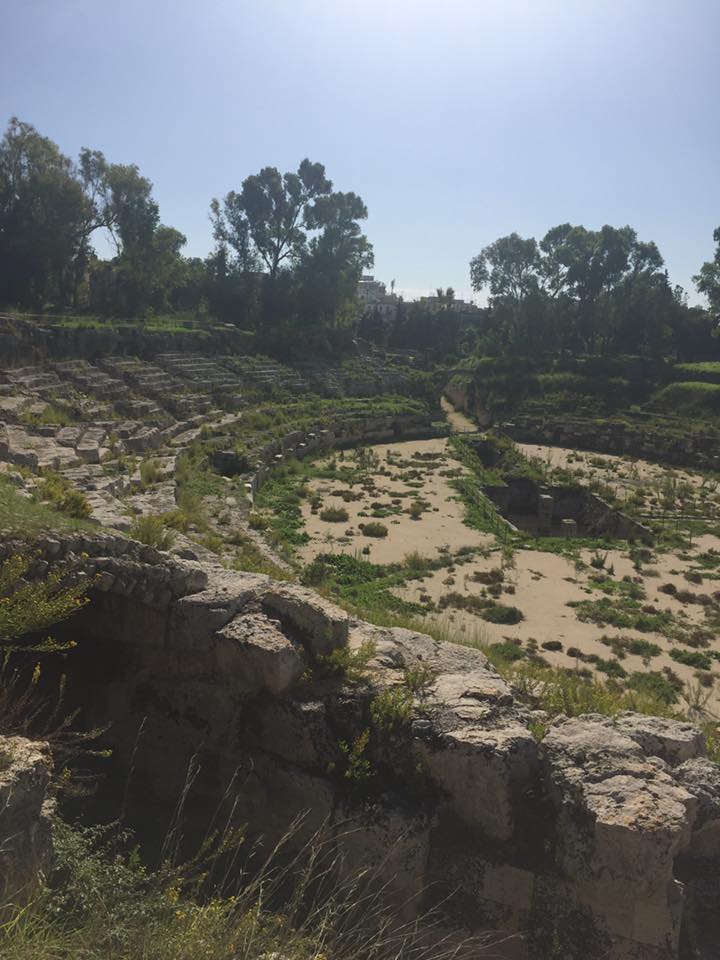 The orecchio is a limestone cave that looks like an ear, you can walk in (and if you are my kids, you shout loudly).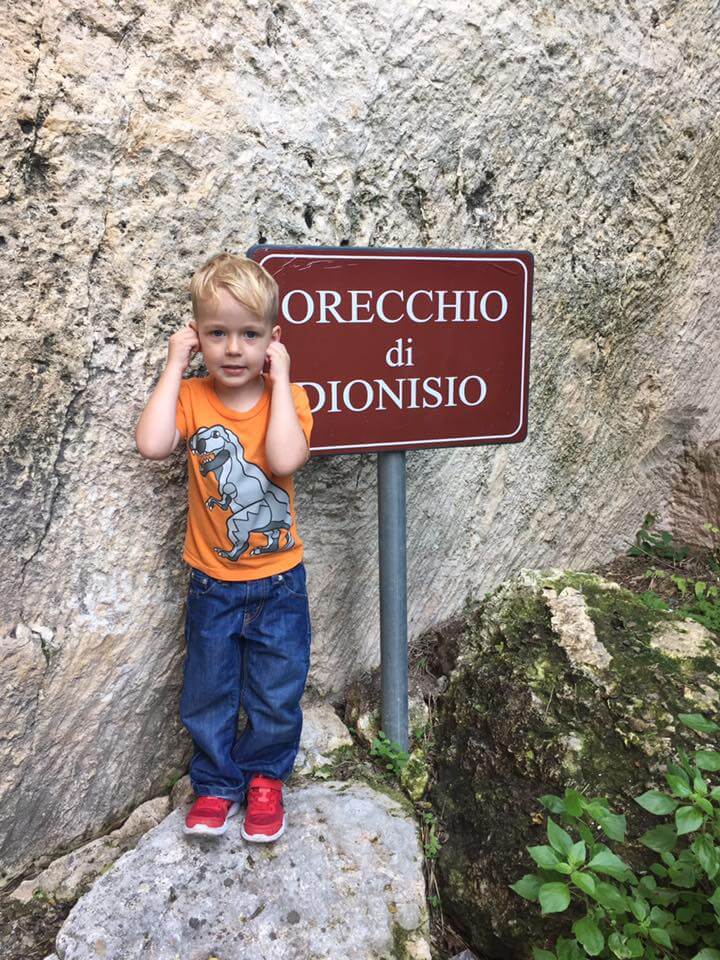 It's 10 euro to get in, and definitely worth a visit if you are interested in history! We were there shortly after we arrived in Sicily in October 2016 (hence why my kids look like babies in these pictures!).
2. See the Duomo di Siracusa. For this, you need to head to the island of Ortigia, the heart of Siracusa and my favorite place in the city. Siracusa was once among the most powerful and populous cities in the world, but it has changed hands many, many times over the centuries. The Duomo di Siracusa reflects this heritage. The exterior is the lovely Baroque style that we see frequently on the east side of Sicily as a result of the 1693 earthquake that destroyed so many buildings in this area. On the inside, however, you find elements from its varied past, which included being built on the site of a Temple of Athena in the 7th Century, being turned into a mosque by the Moors, and then going back to being a church after the Norman conquest. It's fascinating to see where the original stone columns from its earliest days meet more the more opulent and (comparatively) modern gilded additions. Outside the church you'll also find the gorgeous piazza: I'd recommend taking a stop there to having some gelato, granite or dine at La Volpe e L'Uva.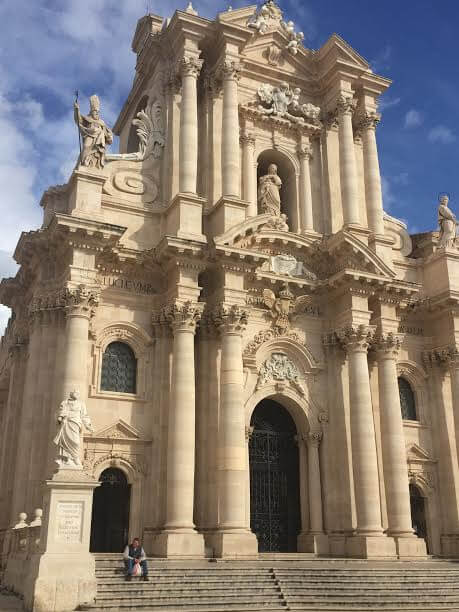 3. Visit the Castello Maniace. This castle (I'd almost describe it more as a fort? It was also used as a prison in the 15th century.) dates back to the 1230s and was built by Frederick II, Holy Roman Empire on the island of Ortigia's promontory. It isn't furnished/restored inside like some castles we've been in, but it is still fun to check out, especially with kids. Ours particularly enjoyed peering out windows or over the walls to look at the sea. 
Here's a fun fact I literally just read on the Siracusa tourism website: "In 1448, after a splendid banquet held in the halls of the Castle, Captain Giovanni Ventimiglia had all the guests killed, accused of treason." How very Game of Thrones. 
4. Visit the Tempio di Apollo. According to legend, the goddess Leto gave birth to one or both of her twins — Apollo and Artemis — on the island of Ortigia. Appropriately enough then, today you can see a temple dedicated to Apollo that dates back to about 570 BC (excavated  in the late 1930s). If you walk from the Parcheggio Talete through the farmer's market (see next), you'll run right into it.
5. Take in the sounds, smells and flavors of the Farmer's Market. If you park at Parcheggio Talete as I suggest, you'll basically cross the street and walk right into the farmer's market. You'll see fresh fish (still wiggling, sometimes!), fruits and veggies, spices, nuts and all manner of clothing, bags, accessories and more. I suggest picking up some fruit to munch on as you walk around.
6. Stop by the Fountain of Diana. As you walk toward the center of Ortigia and the Duomo di Siracusa, you're bound to pass the Piazza Archimedes and there you'll run into this fountain depicting the goddess of the hunt, Diana/Artemis. It was created in the early 1900s.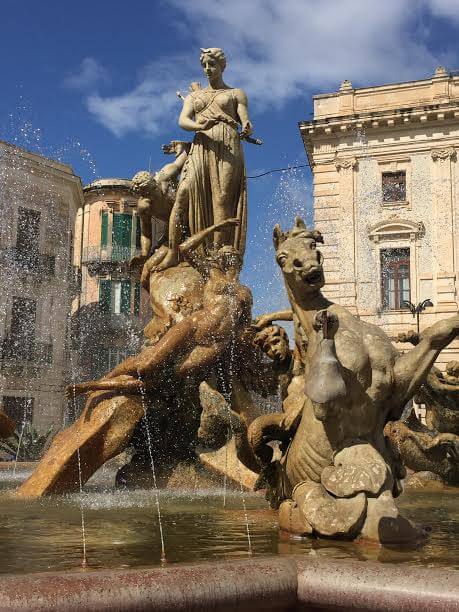 7. Take a boat ride. This is actually one activity that I haven't had a chance to try yet, unfortunately. However, I have friends who have gone and really enjoyed the opportunity to see Ortigia and the surrounding area from the water. You'll see these advertised everywhere as you drive over one of the two bridges that links Ortigia with the rest of Siracusa.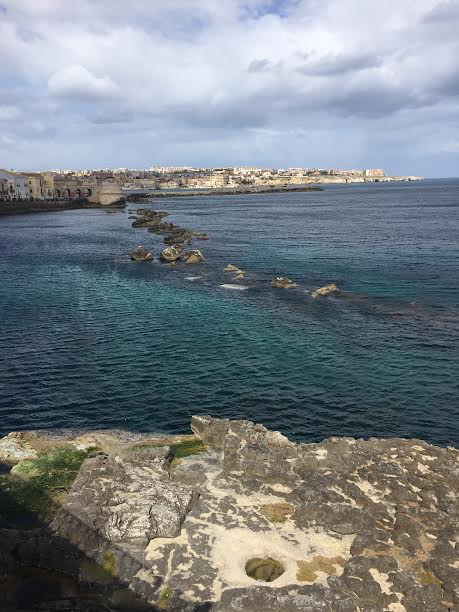 8. Visit underground attractions. Despite visiting at least three times so far, this is one we haven't managed to do yet but I plan to. Right next to the Duomo is the entrance to the Hypogeum, an series of underground tunnels created by both natural cisterns and stone quarrying. During World War II, these tunnels were used as air raid shelters. There are also apparently catacombs below the city of Siracusa; the catabombs of San Giovanni are located near the archeological park and are available to see via guided tour. Given Owen's strong interest in the Catacombs in Paris, we'll have to make a plan to visit this one soon!
Sharing is caring! Check out my page on Facebook, Babies With Backpacks, or pin this post on Pinterest for later. Thanks!