First, Merry (belated) Christmas, all! We hope that you are all having a wonderful holiday season.
This was our first year in Sicily for Christmas (we went back to the States last year) AND our first year celebrating the holidays without extended family. It was different and we missed our families, but we did enjoy our relaxing holidays at home with the kids!
Since we were going to be here for the holidays, I asked our Italian tutor about what Sicilians would typically eat at Christmas time so we could give it a try. The answer was there were two can't-miss Sicilian Christmas items, so obviously we completely overdid it and got enormous quantities of both. Ooops?
Panetonne/Pandoro 
This traditional Christmas cake is so insanely popular that I can't even really explain it, other than to tell you that when I went grocery shopping on the 23rd every single person I saw had at least one in their cart. More often, they had several. The local grocery story I go to had a huge section with mountains of the boxed cakes, and I even saw them sold in stalls on the side of the road.
A fraction of the cakes on display. 
So the cake looks a bit like angel food, but it has a somewhat tougher consistency. Panetonne contains raisins or other dried fruit, while pandoro lacks the fruit and is instead dusted with powdered sugar. Chris first picked us up a pandoro to try …
(Which surprised him by including the wine on the box, ha! Merry Christmas to us.)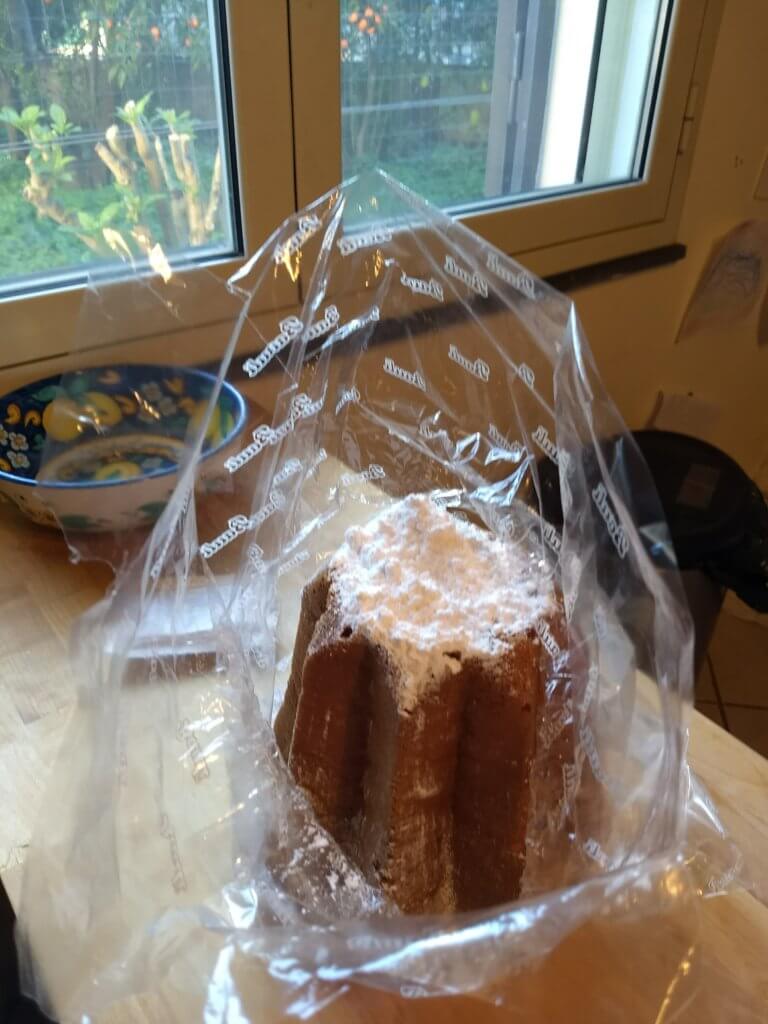 It arrives plain, then you take the packet of sugar, dump it on top and shake it within its plastic bag to coat. Fiona loved every part of this process.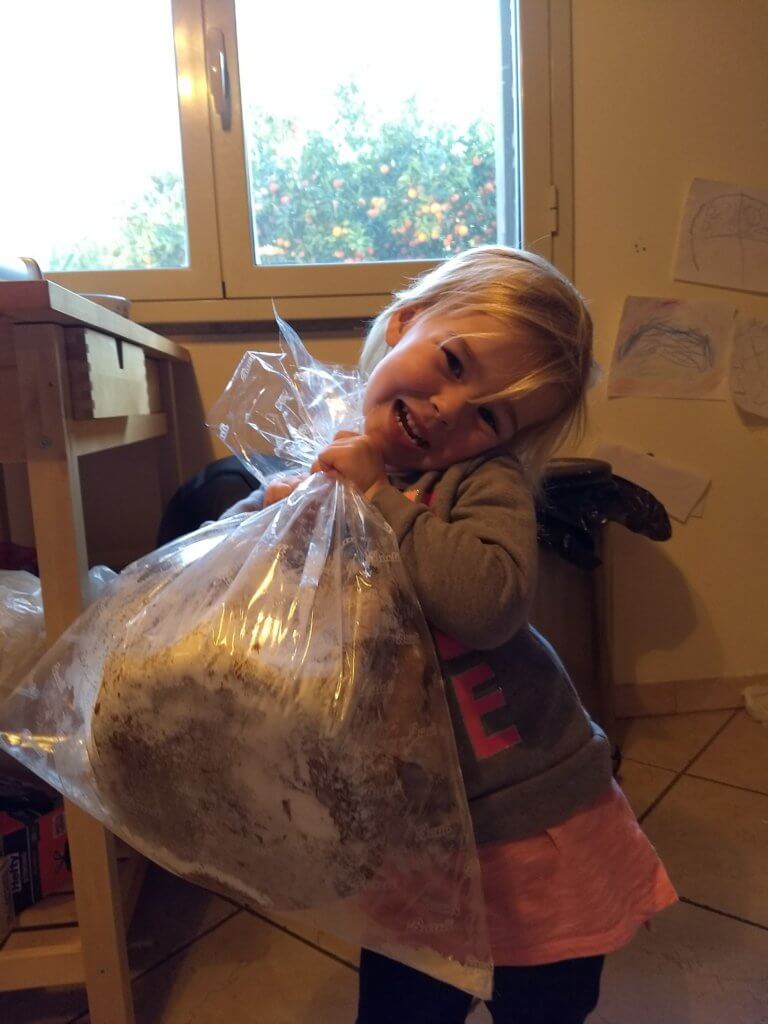 And I mean every part. For the last couple of days, she's been randomly bringing up how much she likes the cake and how "I could eat a whole one BY MYSELF." I thought it was tasty but man, not to the level she did!
My preference was for the "fancy" panetonne we had this year. Sicily is known for all things pistachio, and the best pistachios come from Bronte. Our sweet friends were going to Bronte to pick up a pistachio cake for themselves and graciously offered to grab us one too. Hands down, the best one we had!
Forgot to take a picture BEFORE we started cutting this beauty. 
Schiacciata (here's hoping I have the spelling right)  
Rossana also told us that most Sicilian families order schiacciata for Christmas Eve dinner, then munch on the leftovers for days afterwards. Basically it is like a pizza with a top crust, stuffed on the inside with cheese and other toppings. At Rossana's recommendation, we planned to order one that was stuffed with half potatoes and half broccoli. Our bakery turned out to not do halves, so they talked me into ordering two. At the time, I thought the total cost would only be 22 euro so I figured, "why not?"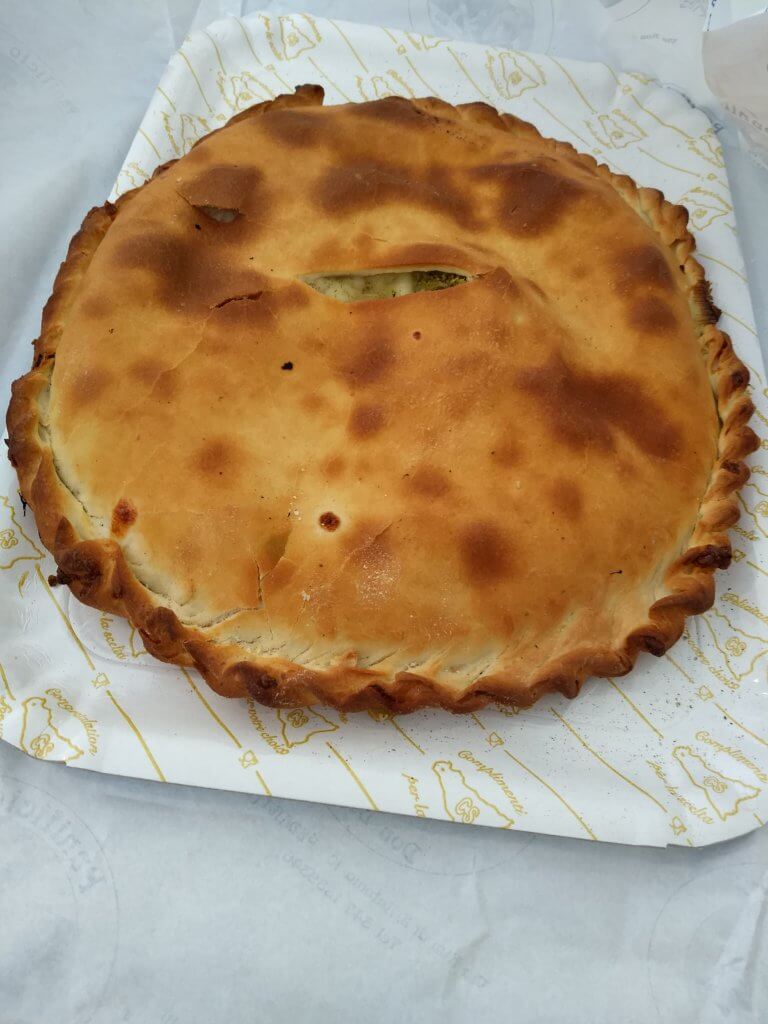 Yeahhhhhhh. 'Bout that. Turned out I misinterpreted something somewhere along the way because the total was more than 50 euro. I'm  wondering if the price was maybe 22 euro per kilo? These things were quite heavy.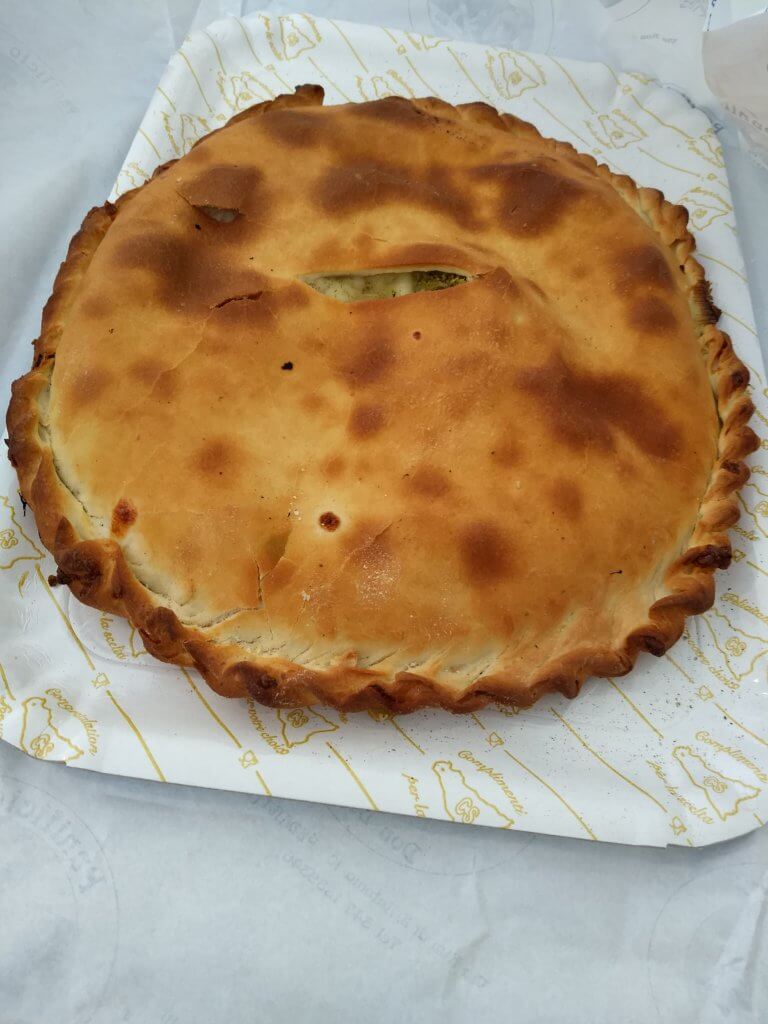 I would say that both of them were decent, but if I'm being honest I didn't really love either (though Chris liked them pretty well). Of the two though, we definitely preferred the potato one.
The rest of our food
So for the rest of our meals, we pretty much just pleased ourselves with a combination of our favorites! In Germany, we really enjoyed weiner schnitzel with berry sauces on top, so for Christmas Eve we did a version of that with Owen's favorite cotoletta di pollo (fried chicken scallopini) with homemade cranberry sauce, plus veggies and a potato casserole recipe from Chris' side of the family. Christmas Day, we went with beef tenderloin as my family usually does (which seems to be cut a bit differently here, but I was insanely pleased to have been able to correctly ordered it from our butcher!), plus mashed potatoes, carrots, and asparagus. For a first course, we also made a pistachio pasta (this recipe) and had fresh mozzarella. When in Sicily, after all!
What are your holiday food traditions?